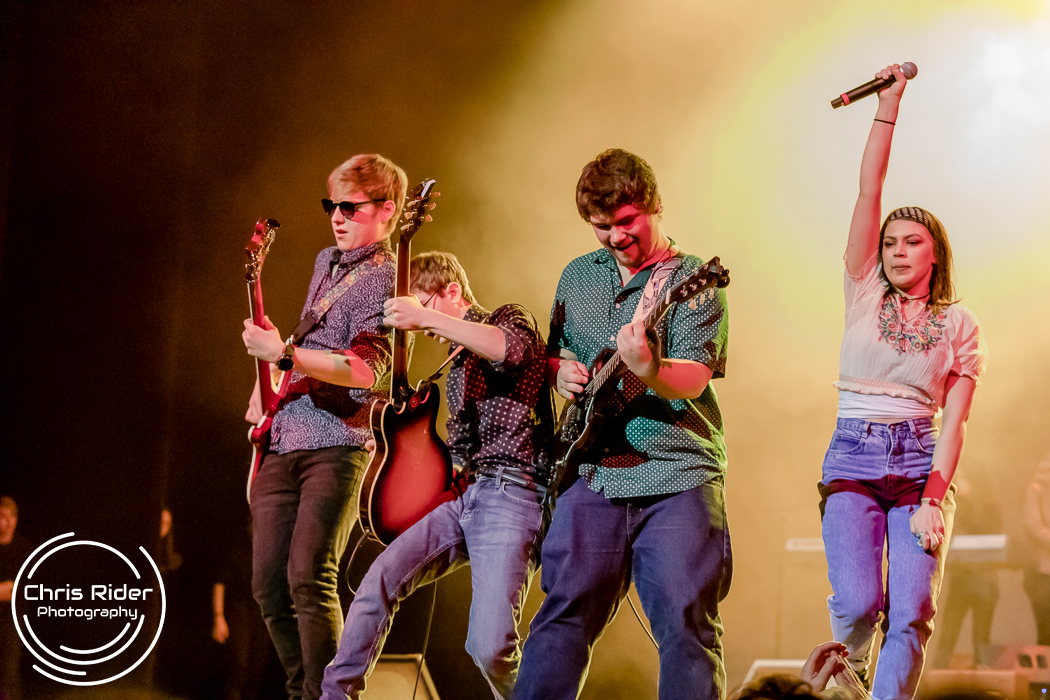 ---
By: Michele Kelley
April! The most exciting time of year for me! Color is coming back to Earth; temps. are warming and venues having outdoor music! April was a month of celebrations! We kicked off the month with Chris's birthday where we were able to surprise him with a small party at Que Brew in Selinsgrove. During their Thursday Mash Bash, a few close friends attended, along with assorted musician friends from Becky Blue Band, Prairie Dogma, Earthbound Misfits, Ed Varner, owners from Que Brew, our friend Michelle from Spyglass Ridge Winery, photography friend Jeffrey Solomon and a few other musicians that came for the Mash. Owner and Editor, Josh Noll and infamous Rachael Rocks helped us make this celebration one he will never forget. It was a fun night and I am so grateful to all our friends that helped me pull it off in under a week. Happy Birthday Chris Rider!
The following night we landed at The Abbey Bar in Harrisburg. Chris wanted to check out D.C., Black Masala. Opening for them, Harrisburg band, Ben Brandt Trio. We had never heard of them before but were pleasantly surprised. They are a 3-piece band consisting of Joe Shattls: Drums, Kevin Koa: Bass and Ben Brandt: Guitar/Vocals. They play Blues/Funk/Rock. They performed some brilliant originals and did an effortless cover of Stevie Ray Vaughan's, Tightrope. These guys were great! I needed to know more about them, so I looked them up and discovered we would have another chance to see them the following night. They were opening for The Record Company! Obviously, I have been in the dark, not discovering them sooner.
Black Masala then took the stage. They are a 7-piece band, mostly comprised of brass. They are hard to classify with the variety of styles they perform from Rock, Funk, and Soul to something else I could not place. I finally looked them up (apparently a night of research) and they describe the sound I heard as a style of Bhangra, which is a fusion of music and dance from the Punjab region of India and Pakistan. It was interesting and very diverse. Whatever it is they described, one thing is for sure, they had a lot of energy and the crowd was groovin'.
The next night we were at Club XL in Harrisburg. This is the night we have been looking forward to for a couple of months. As mentioned earlier, Ben Brandt Trio was opening for The Record Company. Ben and guys took the stage and gave the packed house a huge treat. Everyone loved them and I heard many people in the crowd give them high praises! Great job guys! Keep it going! We will be out to see them again soon!
The Record Company was up next. They are a Grammy-nominated band from L.A. that formed in 2011. They have shared the stage with some big names like John Mayer, BB King, Buddy Guy, Bob Seger and many more. We were able to sit down with Lead Singer, Guitarist and Harmonica player, Chris Vos, before the show. Even though these guys are living in L.A., 2 of the 3 members have PA roots. Bassist/Vocalist, Alex Stiff is originally from Wayne, PA. He attended Bucknell University where he met Drummer/Keyboardist/Vocalist, Marc Cazorla. At Bucknell they formed a few bands and played the area before they both decided to move to L.A. Chris grew up on his family's dairy farm in Wisconsin. He and his wife lived there until she landed a job in L.A. After the move to L.A., Chris found it difficult to connect with people musically. He was ready to give up performing to find something that gave him an income, when his wife wrote a Craigslist ad for him. Alex answered the ad and they became friends. They later formed what is now The Record Company, a blues-based, rock-n-roll band. They have released several albums over the years, the latest one, "All of this Life" released in June, 2018 and they are making their way around the world promoting the release. The latest hit from this release is "Life to Fix" which Chris explains as a song of self-healing and overcoming lifes daily challenges. When I asked Chris if he had a favorite song off this album that he likes best to perform live, he responded, "Whatever I am playing at that moment. It sounds like a cop-out but I think you need to completely invest your concentration, heart, soul, and energy into that very note that you are playing in the moment and you can't think about the next one or the one that just happened. You just ride along with it and then after the performance, you may think, 'well that one was really fun, but not during. If you go into a performance with an idea of what is going to be your favorite moment, you're not giving the other moments the opportunity to shine and they might surprise you". Chris explains that he looks at performing on stage as "One less time, not one more time. It keeps you hungry and knowing what's happening. It's a privilege to do this and you're not going to do it forever. It's just the facts of life. So, you play every show like it's your last one". And they did just that! This show was full of energy and Chris Rider was able to capture those moments in his photography. Check out his Facebook page @ChrisRiderPhotography and see for yourself.
The following Thursday, we arrived to another packed house at Club XL and this time for 3 bands. The first band we covered back in January and we were excited to see them again. Sun & Rain, a Funk/Rock band from the Harrisburg area. They formed in late 2016 and have since gone through several changes with their line-up. The night we saw them the band consisted of the 3 main members, Patrick Bowman: Guitar/Keys/Songwriting, Liam Galiano: Bass and Carl Scott: Drums. Two part-time members joined them; Natalie Ahearn: Keys and Mike Candela: Guitar/Vocals, from Frederick, MD. Going forward, they will perform mainly as a 3-piece band with a new sound of groovy electronics, drums, and bass. Other musicians will be joining them periodically adding more guitar and synth. Sun & Rain will be kicking off their tour in May with dates set in PA, MD, VA, WV, OH and NY. Their next local show will be on June 6th at the Appell Center for the Performing Arts in York with EXMAG. Check out their tour dates on Facebook!
The next two bands were also great. Opening for Papadosio, was an up-and-coming Jam-Band from Brooklyn, NY., Space Bacon. They mixed Funky Jam with Electronica Fusion that caught everyone off-guard and had everyone dancing. They were a tight and very skilled 4-piece band that supported Papadosio for the month of April. Papadosio is a high-energy, 5-piece band from Asheville, NC. They weave different elements of Psychedelic Rock, Jam, Electronica with a little Jazz, making for one unique sound. They spend much of the year on the road performing at venues and festivals around the country. Since forming in 2006, they have released 7 albums, the latest album released in 2018, "Content Coma". They are currently touring to promote their album.
Since we started with the magazine, I have been wanting to cover a performance from Uptown Music Collective. I have very strong beliefs when it comes to kids and music, so I was excited to see what this organization is doing for our younger generation. To the parents/guardians, hats off to you for getting your kids involved is such an awesome place. Now, you may be wondering, what is Uptown Music Collective? It is a non-profit School of Music in Williamsport. They enroll students of all ages, as young as 3. Their mission is "Providing exceptional music education and high impact musical experiences that instill a love of music, and an understanding of the importance of discipline, hard work, and community". On April 12th & 13th, UMC presented one of their final performances of the 2018-2019 season. Their tribute performance, "Runnin' Down A Dream: The Music of Tom Petty". It was held at The Community Arts Center in Williamsport, with over 1,500 people in attendance. There were 26 Performers, 11 Techs., along with Dave Brumbaugh: Founder/Executive Director, Jared Mondell: Assistant Executive Director/Marketing Director, Brendan Mondell: Admission Director, Bre Eisenhardt: Marketing Assistant Willi Ort: Technical Director and Alexis Best: UMC Alumna. This show was directed by two Uptown Music Collective Seniors; Samantha Peters and Shayne Williams and Sophomore, Isabella Cole, along with Leadership Committee members; Leah Batman, Izzy Brumbaugh, Alexis Carnevale, Molly Chapman, Andrew Head, Cece Lutz, Kenni Powell, Julia Sauers and Eli Wilk. Check out their Facebook page at @uptownmusiccollective for recaps of the show. Their page has a phone number posted if you are interested in enrolling or if you would like to place a donation. A special thank you to Jared Mondell for his hospitality and the accommodations he made to allow us to be there and cover this show. Truly an outstanding job by everyone! I cannot say enough about this organization and the exceptional students. I only wish this existed when I lived in the area!
The following Thursday, we were back to Club XL in Harrisburg to see the band Yam Yam open for Lotus. Another packed house on a Thursday night! We have covered Yam Yam twice before, so if you have not heard me rave about how great they are or have not listened to them, you are really missing out! Members include Mike Dempsey: Keys, Tom Fuller: Guitar, Tyler Fuller: Drums, Jason Mescia: Sax and Xander Moppin: Bass. These guys are phenomenal musicians from the Harrisburg area! I could not have picked a better band to open for Lotus. Yam Yam had a great, supportive following show up to cheer them on. Lotus may have brought in more fans but I think it is safe to say, Lotus fans are now Yam Yam fans! Great job guys! You killed it!
Lotus then commanded the stage with a great performance. They are a national band performing a multi-genre of Rock, Electro-Pop, Funk, and Jam. They formed in 1999 in Indiana, and are now based in Philadelphia and Denver. They tour all around the country and have completed six tours to Japan. The band performs between 90-115 shows a year including several festival appearances. Each show is different from the next. This show was upbeat and electrifying, so much that it killed the power! XL had it all under control though and had the show back up and running in no time. Lotus took the stage again and picked up right where they left off. It was great night of music!
The Whitaker Center in Harrisburg is hosting "Whitaker Unplugged" once a month for 3rd in the Burg. I am honored to be an official judge for the remainder of the competitions. April 19th was my first time judging this competition. Also joining me as an official judge, Frank Schofield, Director of Music and Media Services at Harrisburg University. Pat Cusick, a seasoned musician, who performs as a solo artist and in the trio, HIP 450, joined us as the 3rd judge for the evening. April's winner was Josh Krevsky! Josh shared the spotlight with his friend Anthony Pieruccinis on guitar. Josh will be moving on to the finale on August 16th. Congrats Josh! A big shout out to solo artist Tim Lengel, Virginia Masland and Steph Landis of Cumberland Honey and to Anne Franklin and Scott Erskine of Strangest Hearts. It was a fun night and all contestants did an outstanding job! Come join us on May 17th for some more great music. General admission is only $5 in advance or $8 at the door. Each of the contestants will have 20 minutes to perform. The winner receives $100 cash and a paid gig at Strawberry Square. Each month's winner will return to compete in the finale. The winner of the finale gets $500 in recording time at the Green Room and a main stage spot at Kipona! Contact them at info@whitakercenter.org with any questions you may have or if your business/organization is interested in becoming a sponsor of this event.
The final band we saw was Earth, Wind and Flannel at Que Brew in Selinsgrove. They were an acoustical couple that started in 2014 under the name 'Whiskey Beaver' and decided to take a break in 2017 to focus on their family. They started back up in summer of 2018 under the current name. Joe and Allison Reichenbach put on a hell of a performance, covering just about every genre from Adele, Ozzy, Johnny Cash, Maroon 5, Metallica to Britney Spears, along with several others. If you recall, last month, Royal Benson covered Britney Spears but I refuse to admit that it is a sign! Some of you may know Joe from the band Audiobox. Audiobox will be releasing an album in June and I am excited to get my hands on that one! After all the big-named bands and crowds the last couple of months, it was the chilled evening that we needed. Thank you, Que Brew and Earth, Wing & Flannel! We had a great time!
In other news, we would like to wish Club XL a Happy 1-Year Anniversary! We are looking forward to spending many more with them! A lot of new shows are posting on Facebook and our calendars are filling up quickly! Heartland Drive will be at Fero Winery, Lewisburg on May 4th, Marco Benevento is coming to The Abbey Bar, Harrisburg on May 11th. Harrisburg University will be wrapping up their Spring Concert Series with Joan Osborne at the Whitaker Center, Harrisburg on May 14th. No worries, HU has more cool shows coming up, so keep an eye open. Que Brew in Selinsgrove will have Jason Yoder on May 18th and Becky Blue Band on May 25th. Club XL has 3 bands scheduled on May 23rd – Savoy Brown, Nate Myers & The Aces and Switch Fu. Shade Mountain Winery in Middleburg will be opening their deck to music, May 24th with Kimbo, Chris and Co. and Waynestock in W.V. is happening May 31st-June 2nd with The Mighty River Band. Tons of great music around PA and it will certainly keep us busy. Catch you next month!