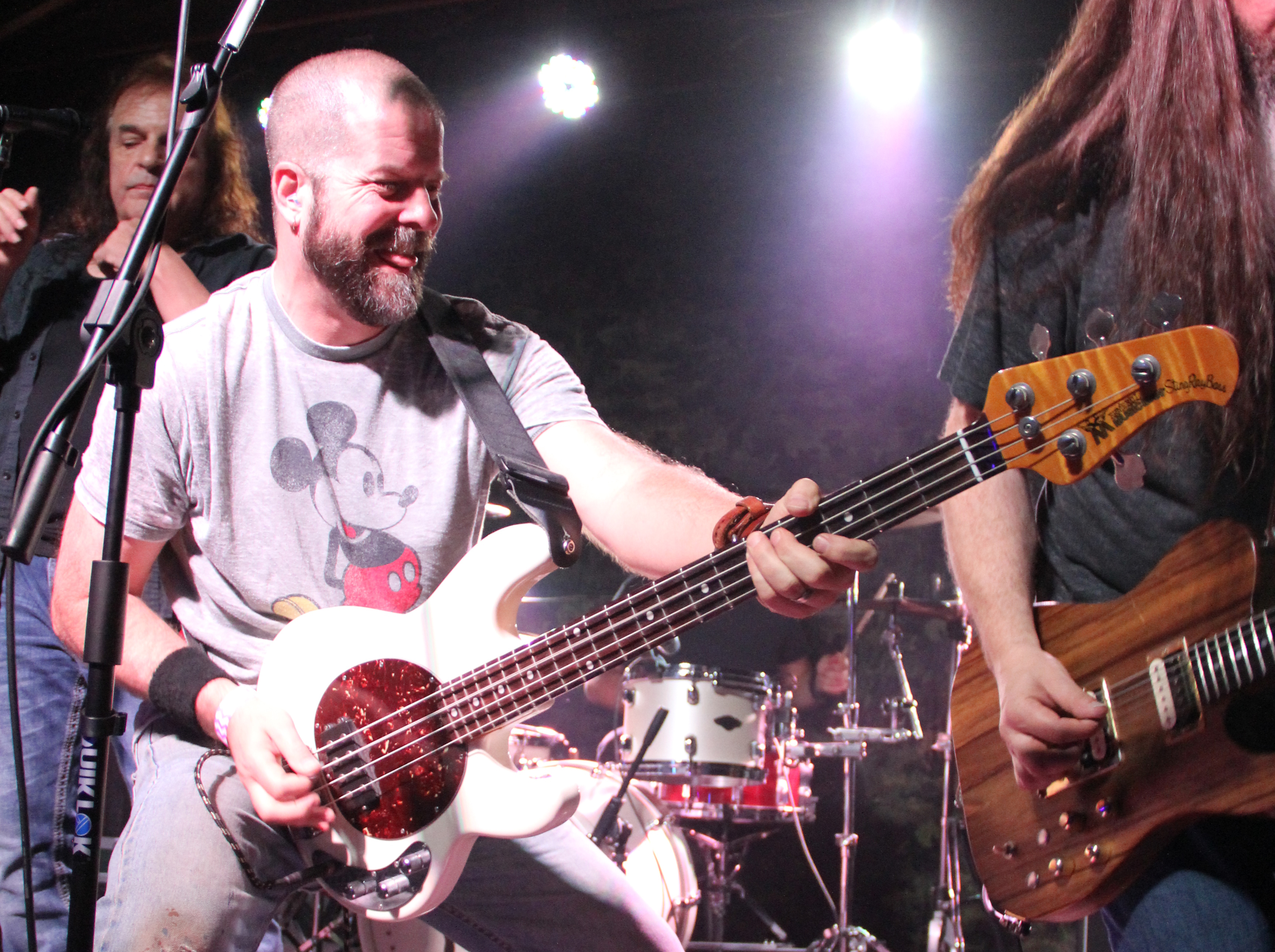 ---
By:Rachel Rocks
Another month of music madness in the books. I'm very excited to see more options for going out to listen to live music during the week. A lot of different venues are offering Open Mics all different days of the week, plus there are other small acoustic shows all over the place. Club XL has been having amazing shows not only Fridays and Saturdays, but you have to keep a close eye on their schedule because they have plenty of odd day shows too, depending on when these amazing artists are passing through town.
My first show this month was at Club XL. I was very excited because Maiden America and Steel were finally getting a chance to play on the big Club XL stage. Unfortunately, due to a family emergency I missed their sets, but I did make it in time to check out Age of Destruction, a Guns N' Roses tribute, from New York. I'm glad I at least got there for a few of Age of Destruction's songs. I heard awesome comments from lots of different people about how great Maiden America and Steel's shows were, I hope to see them both back on the schedule at XL Live soon!
I didn't stay too long at XL because I wanted to be able to catch a new advertiser, Cold Spring Union at Blarney's, and I'm very glad I did. Cold Spring Union is a new band to the area that you really need to go check out ASAP. They have an Americana sound, but it's mixed with some real gritty country, and even some deep fried southern rock! They are led by Cody Wilt and John Rossey, both on guitar and both share the lead vocal duties, but their constant harmonies on vocals and guitar are jaw dropping! You definitely can't forget about their bass player and drummer who kept the beat and also added in their own harmonies. The whole band is extremely talented, and it definitely shows. I know close to the end of their show when they just blew the roof off of Blarney's with their emotional rendition of "Whipping Post" I wasn't the only one who definitely joined "the union" and I'm telling ya, you really should too! Keep an eye out for these guys! You won't be disappointed.
My next night was a special Thursday night adventure up to Selinsgrove to surprise Chris Rider for his birthday bash at the Isle of Que Brewing Company, aka Que Brew. Que Brew is a cute little place with a nice stage in the corner where they regularly host live music, sometimes it's bands, open mics, or this night was referred to as a Band Mash. Anyone could bring their instruments and just sign up to jam. There was a lot of talent in the room, so we were definitely treated to a lot of great music. I finally got to meet Michael Lundy, the lead singer for Prairie Dogma, and a couple of his band mates. Chris looked naked without his camera, but it was nice to see him have a night off and was taking the time to just enjoy the music and hanging with his friends. It's always fun getting out and about in a new area. It never gets old just hearing different musicians with all of their unbelievable talent.
Another new band to my ears was The Juice! They were playing at Three Pines Tavern in Mt. Holly Springs, so it was also another new venue to check out. They had a nice big band area with plenty of room for The Juice to rock out and have a good time. The Juice play a lot of your favorite classic rock hits, but since they have Tammy, a female lead singer, they were able to tap into some great songs you don't hear too often from Stevie Nicks, Bonnie Rait, and beyond. With 4 singers in the band there were plenty of great harmonies happening, and I always think it's a plus when bands can switch around the lead vocal duties, it just really adds to their versatility and their talent. The Juice have been getting more shows throughout the area, they are another band to keep your eye on!
After The Juice I headed to Blarney's for Road Case. The last few times I've seen these guys they are always opening for someone at XL Live, it was about time I saw them headlining in all of their glory on the stage at Blarney's. It was awesome just hearing these guys rock out all night long! It worked out great for them playing in their own backyard, all of their friends and fans were out in full force to support them which is awesome because they definitely deserve it! It's always awesome to see a full band that knows how to rock! These guys have been around long enough they know everyone has to be giving their all on stage, and they always put on a great show. Road Case has been rockin' all over central PA at lots of different venues, make sure and check out their full schedule in this issue, and check these guys out! In June they will be playing in the DAM party! This year the DAM Party is 2 days!! Road Case will be playing Saturday, opening for Pat Travers!!! Check out all of the details for that special show in this issue or at www.damparty.net.
Blarney's recently started having acoustic Thursdays and every last Thursday of the month is open mic night. When I stopped by DMC Duo was on stage. Marissa does a great job at singing lead on most songs and helps out with different percussion instruments when she can. While I was there Darrell even sang some John Cougar Melllencamp! This duo is growing in popularity, and I'm sure you'll see them playing at your favorite watering hole soon!
The next night out was the return of Go Go Gadjet at Club XL. It was awesome to watch them observe the crowd and change their whole show on the fly. Their purpose is to make sure their crowd is having the best night of their lives and at a Go Go Gadjet show, you definitely do. Tonight was a 90s night for sure! Besides for a few staples it was practically a whole new show from the last time I saw them. I can't imagine the amount of songs they have floating around in their brains. I'm so glad Go Go Gadjet has a new place to play in Harrisburg. Hopefully their spin-off band Magical Mystery Doors works their way to the burg too!
The following day I went to an early show at the Allen Theatre in Annville. It was a special Battle of the Bands show. The show was hosted by a local musician and overall music lover, Lou Fabrizi. For his 1st big show, Lou pulled it off effortlessly, everything ran smoothly and on time. Kudos to Justin Hershey of Hershey AV Solutions LLC and Logan Summey for keeping the sound and lights on point, and for their super speedy and amazing band switches.
I unfortunately missed the first few bands, but my first band was Nothing Planned. I saw these guys at the MMC and I was glad our paths crossed again. For a group of young guys they are really writing some great original music. Their songs, combined with their high energy, stage presence, and large fan base, earned them a 2nd place finish in the Battle.
Next up were the Moonlight Mutts. This was the first time I caught their show, but I was instantly impressed. They only play out for special occasions, they love playing benefits for Vets and Pets whenever they can. Their songs were powerful and filled with emotion. Their songs had more of an Americana/Rock feel. If you need a great band for your benefit, give the Moonlight Mutts a call.
The next band and the big winners of the competition was Tomato Face. They came rolling (literally out on the stage in their special outfits. The band only consists of a bass player and drummer, but between the two of them, they make one heck of a sound. Chase's bass playing is unlike anything I have ever seen. I'm not sure how Jake keeps up with him or how they can play so in sync. It's a crazy attack on your senses that even they call "freakyfastfoodfunk." They definitely caught us all by surprise. Congrats again on the big win!
Switch Fu took the stage next and they did a great job at keeping the show on fire! I've heard a lot about Switch Fu and talked to their lead singer and harp player, John Merx plenty of times, so I'm glad our paths finally crossed. They laid down the rock and blues fast, loud, and proud. You can feel their music right down to your soul. It was a bummer it was only a 15 minute set, hopefully some day soon our paths will cross again.
We also had some awesome acoustic music throughout the day. One of those artists was Katelyn Hemphill, she was only 13 years old, but wowza, that girl could sing! And she already wrote her own original music. She was a special treat for sure. We also heard Suzi Brown play while the judges did all of their tallying. Suzi is always a pleasure to hear. I'm not a big looper fan, but some people are. I sort of miss the old style of Suzi's basic simple songs, but some people like the more complex fuller sound. Suzi is a great guitar player and singer songwriter. She definitely has her4 own unique style and sound.
Overall it was a very entertaining day! Kudos once again to Lou Fabrizi for putting it all together and pulling it all off! Keep an eye on the Allen Theatre for other special events coming up in the future. If you want to host your own event, you can also contact the Allen Theatre. It's an awesome theatre with a small café with food and milkshakes!
Since that was an early show, the night was only just beginning. Next, I zoomed down to River City for Nineties Entertainment System and The Redacted. I got there in time for the last few songs of NES. Obviously, they play all of your favorite 90s hits. Trust me when I saw they cover songs that most other bands don't! Nineties Entertainment System were a great band choice to get the party started!
The Redacted took the stage to finish off the night. I've seen The Redacted once before at The Pour House, so it was nice to see them be able to spread out a bit and rock the stage at River City. Sarah, the lead singer is definitely a secret weapon for The Redacted, man that girl can sing! Having an amazing female lead vocalist allows them to cover songs from Pat Benetar to AC/DC and everywhere in between and beyond. You really don't know what you're going to hear next. They focus more on all of your 70s and 80s favorites and they know how to get the crowd up dancing and moving along to all of their favorite hits! I'm glad to see The Redacted's schedule filling up fast, you can check it out for yourself in this issue and get out there and support them! Or you can also see their booking information so you can get them booked for your next show or special event!
Another special, early show this month was the Whitaker Unplugged Competition. Local musicians are competing for cash, a show at Strawberry Square, and ultimately a show on main stage of The Kipona and $500 in recording time at the Green Room! Super cool. The competition takes place every 3rd Friday, March-July, with the big finale on August 16th. The performers tonight were Anne Franklin, Josh Krevsky, Cumberland Honey, and Tim Lengel.
I unfortunately missed Anne, but I was there in time for Josh Krevsky. Josh was playing with his right-hand man Anthony Pieruccini. Anthony did a great job on the guitar responsibilities, while Josh rocked the singing and guitar playing. I saw Josh once before at the MMC, and I'm glad I got the chance to hear him again. Josh was the big winner this night, so keep an eye out for his show at Strawberry Square, and come back and cheer him on, August 16th.
Next was Cumberland Honey. These two ladies have a super sweet sound with great vocal harmonies. They are quite unique playing the mandolin and stand up bass and sharing their lead vocals. Their songs were very well written and filled with meaning. I was surprised to see their full schedule. I can't believe I've never seen them before. Their music was definitely as smooth as honey!
Everyone was so quiet and so reserved, it was a real shocker when Tim Lengel took the stage. Tim introduced himself as a guy stuck in the 80s and his whole music style is definitely that! His songs were hilarious and definitely woke up the room. He sang a whole song just about his cat that had everyone laughing. If you're tired of the same music and want things a little on the wilder side, reach out to Tim and get him scheduled at your venue.
All of the musicians were so talented. Kudos to all of the judges, our very own Michele Kelley, Frank Schofield from Harrisburg University, and Patrick Cusick, it is never easy being a judge of anything, and they all did a marvelous job! Congrats again to Josh Krevsky for the win! If you're looking for an early gig on the 3rd Friday of the month, check out the 3rd in the Burg and get out there and support Whitaker Unplugged.
Friday night craziness continued with a quick trip to Cliff's for Steel and to hang with all of my crazy friends! Steel rocked the stage in their full regular style. Everyone was still talking about their great show at XL. Hopefully they'll get back there rockin' the big stage soon! Steel will be playing as part of the DAM Party on Friday, May 31st, opening up for Back in Black! Check out all of the info in their ad in this issue. My Friday nights have been insane trying to keep my kids under control and go see bands, but I'm thrilled to announce my hubby got a new job and he's back on 1st shift, so hopefully things will be able to go back to as normal as it can be.
My last night of the month started early again with Jake Puliti at Hannah's Ice Cream Shoppe in New Cumberland. For those of you not aware, Jake just got back from finishing in the top 66 of American Idol! It was awesome watching snippets from the show and seeing a local hero on American Idol. It's amazing how many doors have opened for Jake. By the time this hits the streets Jake will be on his way to his new home in Nashville! Good luck Jake!!! We'll be watching through the interwebs to see where your journey takes you. On a side note, if you need a great ice cream treat, make sure and hit up Hannah's Ice Cream Shoppe. It's an old style ice cream shop with booths to sit down and eat with your friends, and they are also hoping to add music into their regular schedule.
For my last band of the month I went to Blarney's for The Famous. It was Easter Weekend, and The Famous had Blarney's hopping! The Famous have been rockin' area stages with all of their favorite hits from the 70s, 80s and beyond! Blarney's is a great venue to go to in the Summer. You have a nice roof over your head if you need it, or you can easily stand out on their massive deck under the stars and still enjoy the show! If you haven't checked out Blarney's yet, check out their full entertainment schedule in this issue and get out there and support local music any Thursday, Friday, or Saturday night!
Well that's all for this month. I know Josh is already gonna roll his eyes at how long this article is. But one last big plug is May 17th I'll be heading over to our neighbor New Jersey for the Jersey Shore Music Festival. If you're band is going to be there, hit me up and let me know where to go!! See ya at the shore!! And Out and About in Harrisburg and beyond! Get out there and Support Local Music!!!!