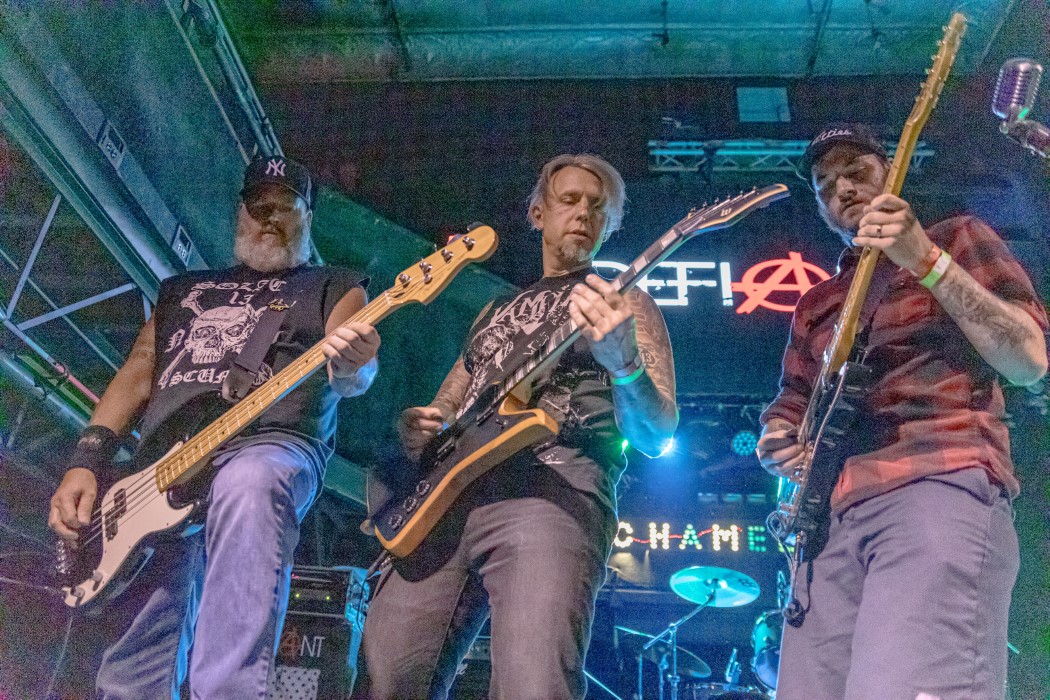 ---
By: Michele Rider
Hello Autumn! While sitting on the porch with my daughter Ashley, enjoying the cooler weather and sharing music, which has become a regular thing for us, she shared a cool video from one of her favorite bands PUP. What makes this video so cool is that they included their fans in the process of writing one of their songs, 'Free At Last'. How they did this was unique. They posted the title, along with lyrics and a basic chord chart and asked their fans to come with their interpretation of the song. 253 people submitted entries and all of them completely different from one another. Throughout the video they included clips of the fans performing their versions and at the end provided links to 14 hours of all the clips and gave credit to every single one of them. Now that's cool stuff! One of my many proud mama moments. It's nice to see how being raised in a household of music can shape a kid. Even though she is now 25, she will always make her mom proud!
On to the live music we got to see in September. First up was a show at The Chameleon Club in Lancaster that was put together by Defiant. This was their first time organizing a show and they did an outstanding job! Talk about attention to detail! On the bill first were Audiobox that traveled from Williamsport to Lancaster to perform. This 3-piece, Alternative Rock band are not just a bunch of cool dudes playing together but also ones I consider friends. Including drummer Jason Maurer, who grew up down the street from me and oh could I tell you stories! Ha! Matt Colegrove: guitar/lead vocals & Joe Reichenbach: vocals/bass, I met later in life, but it's always cool to see a band from your hometown many miles away. You can pick up their new CD 'Lesson Learned' or find them on Spotify, iTunes, Amazon and YouTube.
The second band that evening was Voice the Chaos, an energetic alternative metal band from Dover that formed in the early 2000's as high school friends. Members include Chris: vocals, Rob: guitar, Bryon: guitar, Trag: bass and Eric: drums. Every few years the band would reform until they decided to hit the studio and record and release their first self-titled album. The night of this show they made available their first physical CD. You can also find them on CD Baby, Amazon, Spotify, iTunes and YouTube.
Next up was the metal band Gallowglas from York. Members include J William Heitmann: vox, Don Belch: lead guitar, Brian Faychak: guitar, Brian Durost: drums and Duy Loufik: bass. This is also a new band that just formed this spring and already released their first CD 'Let The Fire Dine" and can be found on all major streaming platforms and can be followed on Facebook. They have a full-length release in the works, so keep your eye out for this. To see where they will be next look them up on Bandsintown.
The fourth band was one I have not seen in a few years and one seems to be popping up everywhere right now, Suicide Puppets! If you have not seen these guys perform yet, then you have been living under a rock! This industrial metal band formed in 2005 and has been rocking stages pretty much everywhere. Looking at these guys in full makeup on stage may be a bit intimidating to some but once you talk to them, you quickly find out they are the sweetest guys and so fun. Members include Twisty: guitar/vox, Jonny: bass/vox, Steven: guitar. Tattuicide: guitar, Donnie: guitar and Veritas Suicide: drums. They will be returning to the studio this November to record at least three more tracks for an early 2020 release. Stay tuned on show announcements. Some pretty cool things are happening with these guys!
The headlining band, Defiant, and the ones that brought this show together took the stage and killed it! I have seen these guys a few times now and I can honestly say that the best part about this gig is seeing newer bands from the beginning and watching the progress with each performance. I have always felt this band was good, but something happened with these guys since the last time I saw them perform. It's a pretty cool thing to witness a band clicking and coming alive on stage. Members include Albert Halterman: vocals/guitar, Joe Defiant: guitar, Paul Barlowski: bass and Paul Cochran: drums. These guys are always coming up with clever marketing ideas. Follow them on Facebook to see what they come up with next. Buy their EP 'The Anarch' and check out one of their shows!
The following night we landed at HMAC to see Stabbing Westward. The first band to open was a local hard rock/metal band, World of Cold from New Oxford. Members include Patrick Stambaugh: vocals/guitar, Kriss Owings: guitar, Eric Wan Valenburgh: Bass, David Allen Cherry: drums. In May they released their first studio mix 'Rolling Thunder' in honor of the Armed Forces and service personnel who gave the ultimate sacrifice for our freedom. The band references the numbers "664, The Coldest Days" in their bio. When asking Patrick about this, he explained the band was discussing the number of measures in the song 'Living Thru My Hell' and the verse added up to 6 measures in the first, 6 measures in the second and 4 in the third. The numbers 664 kept popping up everywhere for the band members. Upon further research, they discovered the meaning of those numbers and that when these numbers repeatedly appear in your life, it means an angel is trying to communicate with you. The band could not ignore this with all the 'cold days' the members were experiencing in their personal lives. So they adopted those numbers as a reminder of their guardian angels.
The next band on stage was another rock/metal band from South Central PA, 1818. They formed in 2015 and were great. They had a really cool stage presence with a ton of energy. The singer was very good at engaging with the crowd and even brought up a kid to the stage to join in on some screaming. Members include Paul Saliga: vocals, Jim Taylor: bass, Cody Wright: guitar and Oren Cessna: drums. If you like heavy, in your face kind of music, this is your band!
The following band on stage was Suicide Puppets. I won't get into this one too much since we already covered them above and again later in the month. Told you they were popping up everywhere! It's really cool to see the same band on different stages and see the different interactions with fans. I think it is safe to say, they had a lot of fans there to see them at HMAC!
And finally, Stabbing Westward. They are an Industrial/Alternative rock band from Chicago that formed in 1986. If you missed this show, you should kick yourself! I absolutely loved these guys! They had a verity of sounds from Depeche Mode to NIN to Filter. I didn't realize how many songs I actually knew until I was there. Very cool stuff. Check them out.
The following Thursday we headed to Blarney's in Mechanicsburg to do an outdoor photo shoot for Road Case before it started to downpour. We didn't get to get the shots the band wanted outdoors, so we decided to stick around to hear them play. These guys are such nice guys and do a great job covering 80's and 90's rock. They play all over the place, get out there and catch a show.
After Blarney's, I begged Chris to take me over to XL Live to catch Supersuckers play and I am so glad we made it. We missed the first band play, but we were just in time to catch The Hangmen. WOW! I loved these guys! They are a rock-n-roll band with a punk flare from LA and they were so much fun to see. Their music took me back to the days of running around town and hanging out at the skate park. So funny how music can transport you back in time!
Up next was Supersuckers! Established in 1988, this rock/punk band is originated in Seattle and in 1997 gave an introduction into country music with their song "Must've Been High". They made a stop at XL Live while on their "The Evil Powers of Rock 'n Roll Tour" and their technical skill was effortless and timeless. Definitely one to catch if they return to the area.
On the 20th we were back at XL Live for the Tyler Bryant show. The first opening band was Volume to Nothing from York. The members of this band have all played together in various projects spanning over 15 years. Members include Shawn Williams: vocals/guitar, Peter Vaughn: guitar/vocals, Nate Jones: bass/vocals and Dan Myers: drums. VTN recently released its debut 5-song EP titled "Nascency". The recording features genres from 90's Alternative Rock and grunge sounds. These guys were really good, and I had the opportunity to speak and hang out with Shawn after they were done performing and let me tell you, he is a super charming guy. It's always nice to watch a great band and then find out they are really cool people also. You can find their music on all major streaming outlets.
Up next was the band Coal from Red Lion/York area. They are an alternative Pop/Rock band that does a great job of keeping the old-school grunge/rock sound while keeping things fresh in the modern-day world. Members include Dal Dawn: vocals, Mark Williams: guitar, Ryan McDonough: guitar, Dennis Matos: bass and Josh Freeburn: drums. These guys were good and take their job as musicians very seriously. Aside from Pennsylvania, they have also drawn a fan base in Maryland. Their latest release, "Yes, Mistress" can be found on all major streaming outlets. Check out their website to keep up to date on shows and news from these guys! www.coalmusic.net
Finally, Tyler Bryant and The Shakedown. Besides The Hangmen, these guys were one of my favorite finds for the month! This was their 2nd time to XL Live and the turnout was slightly disappointing but better than the first time around. If people only knew the level of musicianship that comes in and out of this area! They are a rock and roll band that formed in 2009 in Nashville. They were so entertaining to watch on stage. Tyler really knew how to perform to the crowd, and I have to say, this was the first time I witnessed a drummer standing on his base drum to play at certain times throughout songs. Crazy good! They are touring to promote their latest record "Truth and Lies". This one is a must to pick up! My favorites from this band are 'Ride' and 'Drive Me Mad'. Both are musically and lyrically brilliant. See for yourself!
On September 21st, Chris attended the 2nd annual VogFest in Liverpool. Jim Cleveland and Ryan Hayes created VogFest last year in celebration of their friend David Vogelsong who passed away in 2017 due to a car accident. The event started off with a motorcycle ride beginning at the Meiserville Inn and ending up at The Facktory in Liverpool. Approximately 40 motorcycles participated in the ride and over 100 people attended the event. There was a vendor show and silent auction, chicken dinner, 50/50 raffle, as well as 5 bands throughout the evening. All proceeds this year went to benefit Harleys 4 Heros, with over $800 raised. All 5 bands have been featured in our article in the last month or two and all did a great job. Many thanks to Corina Aucker, Throwback 202, World of Cold, Madness at Midnight, and The Suicide Puppets for their performances.
While Chris was hard at work at VogFest, I took the night off to hang with my dear friend Mylinda at HMAC for the evening. Nick Myers from 717 Entertainment put a last-minute show together there and did a fine job! Since it was my night off, I was not really prepared to cover any bands, but I feel it necessary to at least give them a mention. First on stage was The Hybrid Child, a Progressive Rock/Metal band from the Reading and York areas. These guys were already on stage when we arrived, so we didn't get to see much of them but what we did see was pretty cool.
Up next was 2BB, also known as '2 Beards and a Bitch'. The name alone is hilarious! When Mylinda and I arrived, we met 2 girls in the bathroom and started up conversation. We later found out that one of them was the sister to a member of the band. These girls were so much fun to hang out with and had so much energy. They got everyone out on the floor dancing. The band itself is from Towanda and do a mix of rock, hard rock, and alternative metal. Members include Spenser Puzak: guitar/vocals, Callie Shumway: keys/vocals and Toby Quick: drums. After their performance we got to talk with Toby, and he is such a nice guy. Look them up on Facebook to get their upcoming events. They will be playing at HMAC again on November 10th, so get out and see them.
The third band of the night was our friends from Defiant. You have heard all about them from me, so I won't get into another review. They are simply great guys playing their hearts out and having a great time doing it. I also got to see them on September 28th at The Gamble Farm Inn in Jersey Shore. Jeff Pittinger from Pennsylvania Pipeline Music-TV and his team did an interview with Defiant and recorded live footage of their performance. This should be available within the next few weeks. This show also included Mycenea Worley, Unknown Legend, and the headliner White Witch. WZXR was also in the house and the event was sponsored by Coors Light. Great job Jeff for putting this event together! Jim Price was also attending the show and I am sure he will go into much more detail about this show.
Going back to the 21st, the headlining band Eximious. This was their debut show at HMAC. They are a rock band from Lancaster area that formed in 2018 and members include Colby Bennett: vocals, Dan Kecki: guitar/ keys and Brady Hearn: drums. You may recognize some of these guys as they used to be former members of 'From Ashes To New'. They spent an entire year developing the band and fine-tuning things before entering the studio to record the bands first two debut singles. 'Mind On Fire' and 'Anywhere But Here'.
Well, that wraps up another month. There is a ton of great music coming to the area in October! Keep picking up your copy of the magazine and check out where shows are happening! Get out there and support live music and musicians, put your pennies together to place an ad in the magazine. It literally costs next to nothing! Josh will hook you up with putting things together. If you see me out, please stop and say hello and introduce yourself. Until then, influence everyone in a good way! Peace!