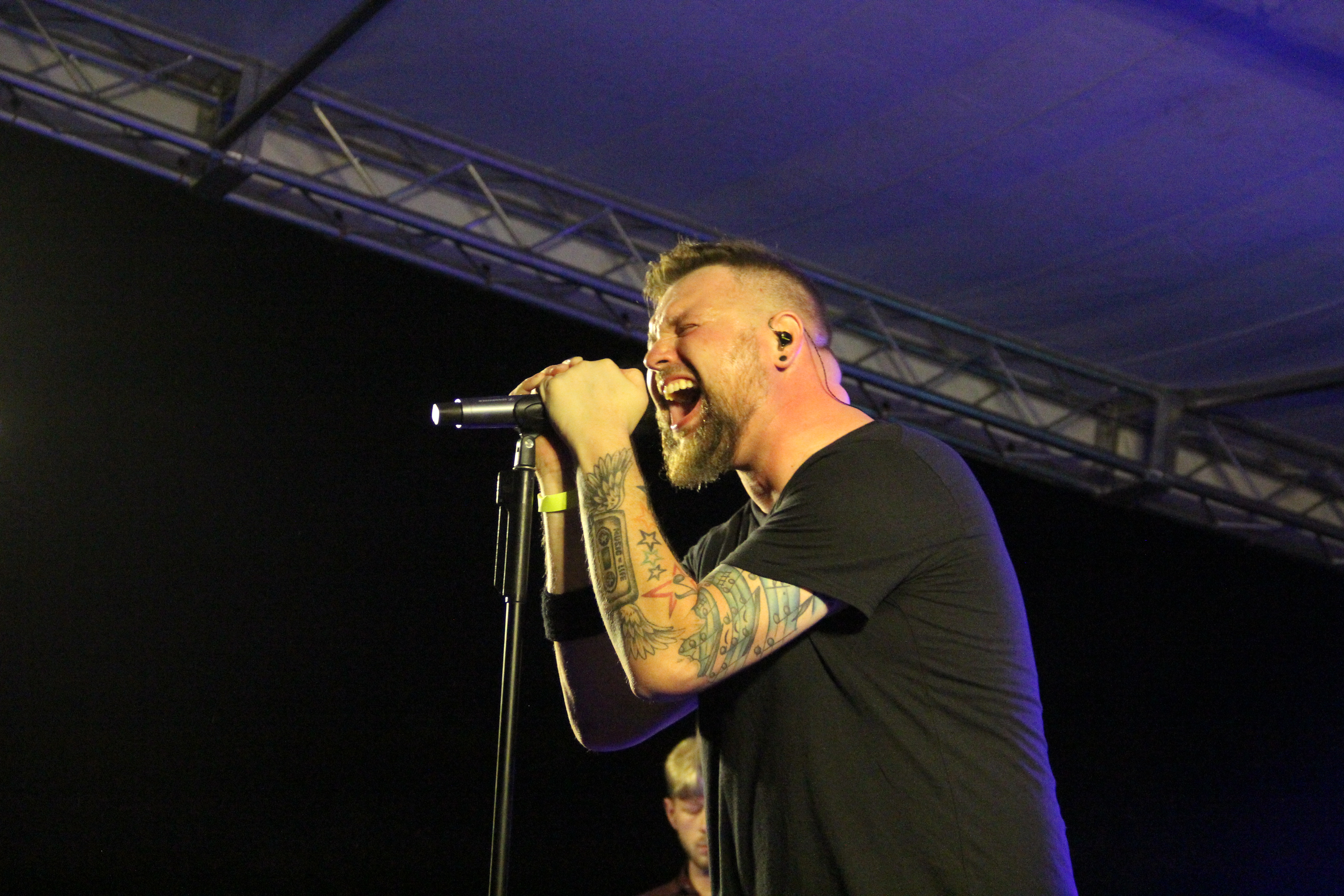 ---
By: Rachel Rocks
Rocktober has arrived! Time for rock 'n' roll and hoodies! Even though I love all of the beautiful seasons of PA, I'd have to say there is something special about slipping on a nice, big, fluffy hoodie! And of course we all know how much I love some good ol' rock n' roll!
This month started out on Labor Day at the Kipona Festival in Harrisburg. This was the 103rd year of the Kipona. I remember going to Kipona when I was super young and sitting on the banks of the Susquehanna to watch the fireworks and of course we were there to see the live music too! Kipona has always been a great place to eat lots of food and hear various music throughout the festival. I unfortunately didn't have a lot of time to be at the Kipona, but the sounds of The Second Time Thru really caught my ear. They were playing on the State Street Stage, I was also mesmerized by the Bubble Show, they were making bubbles up to 70 feet high with their fancy gadgets. It was a perfect combo. The State Street Stage is a cool little ampitheatre where there is plenty of built in seating or people could also bring their own chairs. Second Time Thru were playing an acoustic version of all of your favorite classics. It was a cool twist to your typical classic rock, plus all the vocalists had strong voices to help complete their acoustic style.
The next weekend Harrisburg had an awesome opportunity to see The Sugarhill Gang for their 40th Anniversary Tour of "Rapper's Delight" at XL Live. I know there are plenty of youngins out there who have never heard of the Sugarhill Gang, but do yourselves a favor and google them. "Rapper's Delight was the first rap single to become a Top 40 hit on the Billboard Hot 100. It helped introduce a wide range of people to sounds of hip-hop music. The Sugarhill Gang put on one heck of a live performance at XL Live. It was awesome to hear them between songs talking about how music is what brings people together, they were trying to spread the word to spread love not hate. The room was filled with people of multiple race and ages just dancing, singing along and having a great time! I've said it before but you really need to pay close attention to all of the venues around us, they all get amazing acts, from all over the US and beyond, maybe you never heard of them before, but Google them, I'd almost guarantee you, you will be impressed.
After The Sugarhill Gang we zoomed over to Blarney's for the last set of Calling Off Doug. It's awesome watching their schedule filling up with more venues! Calling Off Doug has been making their mark on the area as one of most entertaining party bands out there. They have so much vocal versatility with so many lead singers in their band, but even when they are not mixing things up Stephanie has such a crazy amazing range she can sing just about anything! If you haven't checked out Calling Off Doug yet, do yourself a favor and check out their schedule and get out there to see them soon!
The next night I headed over to Johnny Joe's for Fell From Zero. It's hard to believe I only get a chance to see these guys about once a year! I wish my life wouldn't be so crazy, but sometimes it just is! Fell From Zero plays more modern rock songs, and even turns songs that aren't regularly rock songs into rock songs with their own twists and turns! By the way, Happy 5th Year Anniversary to Fell From Zero! It's hard to believe these guys have been rockin' around the midstate for the past 5 years! If I'm not mistaken they've also had the same line-up for 5 years! That is impressive!! Fell From Zero doesn't play a lot of shows, so make sure and check out their schedule in the DenMother Music ad, and get out there and support them, you won't be disappointed!
The following weekend I headed over the mountains and through the woods to the 6th Annual Fall Jam. This is a great event hosted by Bald Rob. I've heard a lot about it, and since it was absolutely amazing outside I decided to check it out. After hearing a little teaser of the Breaking Benjamin songs at the Fell From Zero show I was glad I made it in time to hear Bob Patterson singing in his Breaking Benjamin tribute band, Next to Nothing at the Fall Jam. I always say I think it takes some serious skill to be a tribute band. There is a lot of pressure when everyone knows all of the words and exactly how each part is supposed to sound. I was amazed at how perfectly they played all of their big hits. I've been wanting to see Next to Nothing a while now, and I'm so glad I finally did.
Y2Kids took the stage next. I never even heard of these guys, but was pleasantly surprised. All of their songs are from the 2000s. So many bands are playing Classic Rock, not too many take the time to learn the newer songs, let alone have a full show of new music. It was cool to see a generally younger crowd dancing and singing along. This is another project Ed Allison is involved in. I saw a Facebook post from him that he has a Saturday Off, does anyone need a solo, duo, full band, DJ.. anything. The guy is everywhere and is always willing to play something! Pretty awesome seeing his drive and desire to push music any way he can, and he's good at it!
Another band I've been trying to see for a little while now, Sonic Highway took the stage next. Talk about a guy with a million bands/projects, Steve Junkins and Mitch Hood are on guitars, Tony Blauch is on the kit, Jeff Lawrence on bass, and it was awesome seeing the lungs of Trevor Schubert on lead vocals, I've missed hearing him sing! Sonic Highway is a Foo Fighters tribute band, and they also killed it! They were definitely making the Foo Fighters proud! Tony was banging those drums so hard he literally had steam pouring off of him! Kate, Jeff's wife, made a special appearance and sang "From Can to Can't" it was quite a surprise, and she did an amazing job! It was super awesome seeing the hubby and wife on the stage together. Hopefully I can catch Sonic Highway again soon!
I was very excited to see Observe the 93rd on the stage again. They were the only original band of the night. It was awesome to see so many OT93 fans out in their gear, ready to support these guys. I love their new CD "Alive", and it's always even better when you see them rockin' their songs live! Even though the tribute bands did a crazy good job, there is something about seeing a band playing their originals! Especially when they have so many fans singing every song note for note!
The last band of the night was the Rad Hot Chili Peppers. In case you couldn't figure it out they are a Red Hot Chili Peppers tribute band. I guess they've played the Fall Jam before and a lot of people were excited to see them play again. I don't know too many songs by Red Hot Chili Peppers, but everyone seemed to be loving them. Overall the Fall Jam was a blast featuring 22 bands across 2-stages! Plus vendors, cornhole tournament, food, wine sampling and so much more! I was bummed I couldn't come back for Day 2 on Saturday, but next year I plan on staying all weekend at Deer Run Camping Resort to enjoy the festivities!
Next up was another one of those super sneaky, posted everywhere, Thursday night shows when Sebastian Bach came to XL Live. Sebastian Bach was the lead singer for Skid Row just in case people weren't aware. He definitely didn't disappoint! What a show!! This was his 30th Anniversary tour 1989-2019 and he performed the first record "Skid Row" in its entirety! Plus he had so much fun playing for us that he couldn't resist and played a few extra songs. It was pretty hilarious when he said, "Whose idea was it to play a whole night of songs I sang 30 years ago! There's a big difference between 19 and 51!" He might be 51, but age is just a number.. he can still rock like he's 18! It was very cool how they had a slide show of old pictures playing behind him during the show. It was a great show, it was totally worth staying out late on a school night!
The next weekend started with a special trip down to Racehorse Tavern for Willow Hill. Jim has supported Lovebettie/Willow Hill for years and he considers them part of the family. He's always promoting them and harassing me every time they come to town to come down and check them out. I'm so glad I finally did! Many years ago, like at least 10 or so, at the Millennium Music Conference, I met the band Lovebettie. For probably close to 10 years they toured all over the US and beyond and had all kinds of amazing opportunities like playing Sturgis along side bands Queensryche and The Cult, being direct support for Pat Benetar and Rick Springfield, and so much more. Two of the members Alexandra and C.T. become husband and wife and the duo started writing more songs together, and eventually realized they wanted to try playing a little bit of country, and hence only for about a year or so ago, Willow Hill was born. They are getting a lot of play time in Europe, so this past Sunday they were heading over to Europe for the 2nd time, and this time they are on a 25 day tour! Willow Hill is truly amazing with Ali's soulful voice and C.T.'s crazy guitar riffs! You really should check them out. They try to make an appearance at Racehorse Tavern every couple of months at least, so make sure and keep an eye on Racehorse's schedule and get out there and support them. In the meantime, you can check out their website, willowhillfamilytree.com, where they are releasing a new song at least once a month! They are definitely a busy duo, that's for sure!
The last, but definitely not least band of the month is Six Bar Break. I took another voyage over to the Fredericksburg Eagle Hotel for a rockin' good time! It's actually been quite a while since I heard the full band rockin' out in all of their glory! When I arrived Six Bar Break had quite the dancing duo helping to keep everyone entertained! For a little while they even had a 2nd guitar player in the band, it might've been an air guitar, but man he was amazing! Halfway through the night a local wedding reception ended and the after party came to the Hotel. It was awesome to see so many people come in to the dining room to sit back and enjoy the music. Even though they tried requesting covers they seemed to appreciate the fact that Six Bar Break is an original band, and they were even commenting how much they liked their music and the crowd kept growing all the way til the end of the night. It's always awesome seeing an original band get so much love, and Six Bar Break definitely deserves it! You can check out videos, music, and their next gig dates on their website at www.sixbarbreak.com.
So many amazing shows this month and every month!! One big show not to miss is the Rebels For a Cause Benefit at Blarney's. It is a benefit supporting a lot of great friends who are fighting against Cancer and other medical issues that have the bills racking up! It's sad to see people that have health issues struggling to pay their bills or struggling to decide which comes first food or meds. Let's get together and support those that are always out there supporting us. It's an amazing day and night of great music for only $10 at Blarney's!! Check out the ad for all of the details in this issue. Also, a side note, this is the last full month of music at Blarney's. In just a few short months we lost Double K, Cliff's Tavern, and now Blarney's. The music venues are getting fewer and further in between. Please get out there and support live music!! Support the venues! We need them just as much as they need us.
Thank you for reading and supporting the PA Musician Magazine! If you see me Out and About please stop me and say Hi! I love meeting our readers. It makes me realize that maybe my blood, sweat, and tears over writing this article is worth it! Have a great month!! Support Local Music!!!!