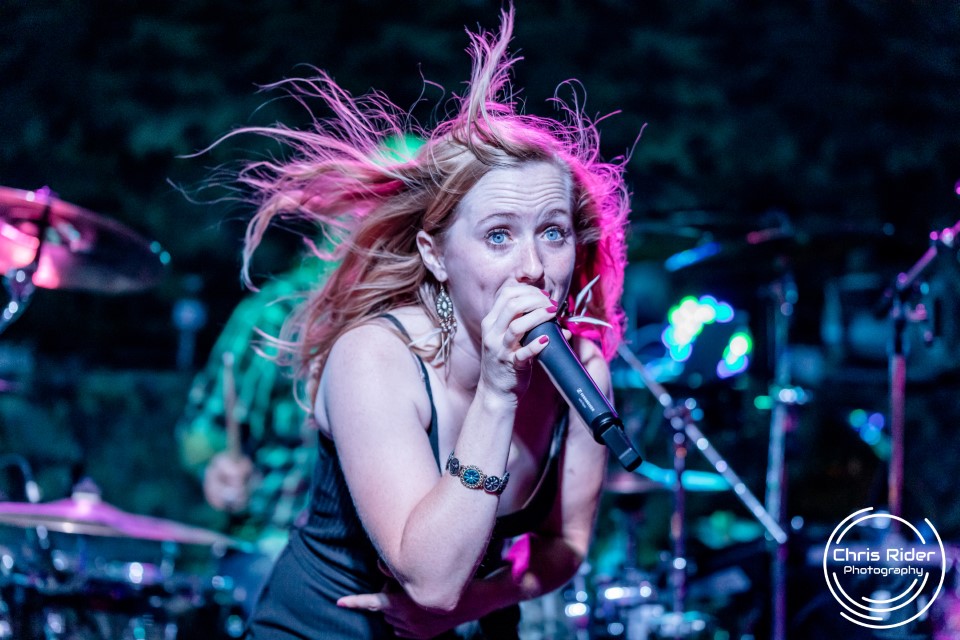 ---
By:Michele Kelley
Did you know that Queen Elizabeth is a trained mechanic? Or that every lamppost in Central Park contains 4 numbers and acts as a compass? The first 2 numbers indicate the closest street and the last 2 the direction you are in. The even numbers represent the East and odd numbers the West. How about this, the first sales pitch for the Nerf ball was "You can't hurt babies or old People". So why am I talking about all this? Often, when I write my article, I experience what some may call "writers block". I can talk endlessly about music and bands, but getting started on this first paragraph is always a struggle for me. I like reading about interesting facts so I thought I would start off by sharing a few with you. But before I get started on the music, I will leave you with this. The 'Journal of Applied Behavior Analysis' published a paper titled "The Unsuccessful Self-Treatment of a Case of 'Writer's Block.'" It contained zero words. Ba dum tss!
The first band we caught in August was Corina Rose at Blarney's in Mechanicsburg. This was a special night for Corina as she was debuting her single "Replay". Corina was in last month's article as she competed and won a spot as a finalist in the Whitaker Unplugged competition. I'll talk more about Whitaker Unplugged in just a bit. Joining Corina on stage was Matt Danner: drums, Joe Nestor: bass, Cobrette Bardole: lead guitar and Lee Straw: rhythm guitar. Both guitar players were fill-ins that evening and only had one rehearsal together. That said, they did a good job! Corina has mostly been a solo, country singer/songwriter. She has featured in many bands in the area and is continuously being told by fans that they want to hear her doing her music with a band behind her. So, she gave them what they wanted. After seeing Corina sing and play solo, and doing an outstanding job at it, I was looking forward to seeing her with a band myself. Corina fed off the crowd's energy and really took on a different light that I have not seen before and she was outstanding! Look for this girl to really take off!
The following weekend, we headed to HMAC to see a killer line-up of bands. Sinful Lilly were first on stage. This tight alternative, hard rock, 3-piece band from Richmond, Kentucky knew how to bring the rock'n 'roll and they did not disappoint that night. Forming in 2012, current members include Fredi Handshoe: guitar/vocals, Nikki Valklix: bass/vocals and touring drummer Jimmy Wooten. They are currently touring and promoting their upcoming single "California Man" that is set to release this fall. Be sure to check it out!
The second band of the night was Kiss, Kiss, Bang from Bowling Green, Kentucky. This band formed about 4 years ago and classifies themselves as "a raw and electric modern slam band with monstrous guitars and Eagles-style vocals that carry near constant three-part harmonies". I would say they are a bit heavier than The Eagles but the harmonies these guys had were on-point. They have an EP out called "Hearts on Fire" and you can find it on all major streaming platforms. One of the tracks on this EP "She's Bad" just went to active rock radio this month! These guys wanted me to add that they had a really great time in Harrisburg and are looking to come back! Make sure to check them out when they do!
Liliac was the final band for that evening and the one everyone was waiting for. Most refer to this band as a modern-day Partridge Family, but they are so much more than that. They are a 5-piece band of siblings from Downey, California. Members include 20-year-old Sam on lead guitar, 18-year-old Aby on drums, 17-year-old Melody on bass and vocals, 12-year-old Ethan on guitar and 11-year-old Justin on keys. Their father, Florin Cristea, music producer and now manager for the band, started his kids out by bringing them to the studio. Trying to give them an activity other than video games, he had them choose an instrument and sent them for lessons. They started playing to audiences at the Santa Monica Pier doing metal covers and quickly drew a lot of attention. After seeing them on stage, it is safe to say, the intensity of their performance does not match their age. At one point, I watched to see if they were lip synching or if the tracks were prerecorded because there was no way these kids were as good as they sounded, but I was so wrong. These kids were outstanding both on and off stage! Great job guys! Keep up the great work!
The following evening, we headed north to Sunbury to Rt. 61 Roadhouse to check out the concert series from Peace of Mind. Peace of Mind started out in 2011 as a music festival in Halifax. This year they opted to not have a festival but a concert series instead. When I asked the coordinator, Krystal about Peace of Mind, she explained it as more of a community than a festival. Later this year, they plan to open a music-themed café in Millersburg, named after the festival "Peace of Mind Café". I will definitely be swinging over their to check that out when they open.
First on stage was The Stonewall Vessels from Lancaster. Members include Darrion Washington: Vocals/Guitar, Josh McNamee: Guitar, Luke Krizner: Guitar, Jake Salinger: Bass and Ian Cornele: Drums. We caught these guys at Millennium Music Conference back in February and really enjoyed seeing them play. There really is no way to describe the kind of music they do. These are the kind of bands I love to go see, the ones that don't fit in any box. The band is currently working on a new album. The singles from the album "Eastern Milk" and "Oxygen & Aging" can be found on all major streaming platforms. Really good stuff! Check it out and when you do, let me know what genre you think they fit into!
The next band is a band I had never heard of before but I absolutely fell in love with their sound. Mojo Bozo's Electric Circus from Annapolis, MD. These guys are so cool. They play a little bit of everything from surf rock to progressive rock. Member's include Ryan Walsh: guitar/vocals, Shane Walsh: drums and Jeremy Hayes: bass. Shane is recovering from surgery so this night they had a fill in on drums with Austin Geithner. They have one album titled "Electric Circus" that was self-produced and can be found on Bandcamp and all streaming outlets. The latest release was a live EP that was recorded in July at Rt. 61 Roadhouse. They are also in the process of writing new material to be released later.
Finally, Medusa's Disco from Lancaster took the stage to put on a great high-energy show! I am sure this show was not as exciting for them as the night before, where they opened for Godsmack at Musikfest, but they showed no signs of disinterest. Members include Wynton Huddle: vocals/guitar, Hunter Root: guitar/vocals, Alex Aument: drums and Justin Wohlfeil: bass. Medusa's Disco just released a new single "Book Upon My Shelf" on 8/14/19, the first in 3 years. All three of the bands that played this evening, with the addition of Chestnut Grove, will be playing together again at Medusa's Disco's Release Party at XL Live on October 11th! The new album "Orphic Grimoire" will be available for purchase along with other album related merchandise October 11th. Don't miss getting your copy!
The following weekend was a bit of a marathon for us covering bands. Friday after work we headed over to the Whitaker Center in Harrisburg for the finale of Whitaker Unplugged. For the last 5 months, singer/songwriters have been battling it out to get to this night. I had the honor for the last 4 months to be a judge in this series and the level of musicianship is truly mind-blowing. I was so thankful I did not have to make the incredibly difficult decision in judging the finale. Things kicked off with Justin Angelo, followed by Sarah Fiore of Indian Summer Jars, Cody Wilt of Cold Spring Cold Union, Antonio Andrade, Corina Aucker, and Josh Krevsky. All the performers were truly outstanding! In the end, the judges and the audience decided the winner would be Josh Krevsky! Josh will receive $500 in recording time at Green Room Recording Studio and will also perform at Kipona on the main stage on Sunday, September 1st at 5pm. Congratulations Josh! The next series will begin in January 2020. If you are interested in details or would like to be considered as a contestant, email info@whitakercenter.org. Hats off to Amy, Deb and the whole crew at Whitaker Center to doing an astounding job on their first series of Whitaker Unplugged!
After Whitaker Unplugged, we drove up to Muncy to Hull's Landing to catch Audiobox. Audiobox is a 3-piece, Alternative Rock band that formed in 2008 in Williamsport. Members include Matt Colegrove: guitar/lead vocals, Joe Reichenbach: vocals/bass and Jason Maurer: drums. We have tried more than once to catch these guys play and every time, something prevented it from happening. When I saw they were having a CD release show, we made it a point to see them and I am so glad that we did! Their first set featured their raw originals which were catchy and polished and showed their effortless talent and skill. Their second set was all covers and they are not afraid to share the stage with some of their die-hard fans. I must mention that while playing, Joe broke a bass sting but that did not stop him. He continued playing while someone put a new string on for him during the song and compensated without affecting the song. Very impressive! These guys play all over the place, including a show that Defiant put together at The Chameleon Club on September 6th. Pick up your copy of their new CD 'Lesson Learned' or find them on Spotify, iTunes, Amazon and YouTube.
The next day we found ourselves at the 11th Annual DrunkenPuppet Show put on by Jonny from Suicide Puppets. Despite the hot, humid weather, it was a great time with lots of food, friends and music. We arrived a little late to the party and missed the first band Link Lancelot but we were able to catch Dead Cowboy, Throwback 202, Madness at Midnight and the beginning of Decipher Life. We had to head out to catch another show, so we missed Suicide Puppets and Awesomely Strong play as well. We will be catching Throwback 202, Madness at Midnight and Suicide Puppets when they play at Vogfest so I will have more to include on them in the next issue. There was a memorable moment I feel I need to talk about. While Throwback 202 were playing, Ariana Troni got up on stage and blew everyone away. Wow, that girl can sing!! I didn't really get a chance to talk with her but I am sure we will cross paths again very soon. Great job Ariana!
That evening we headed to XL Live with our friends Brian and Michelle. The opening band was a band I have heard of but never had the opportunity to see, The April Skies from the Hershey/Harrisburg area. Members include founding member Jake Crawford: guitar/vocals, Jason Leidich: bass/vocals, Mark Higgins: keyboard/vocals and Mitchell Curry: drums. Originally formed and inspired by college/alternative radio in the late 80's, they came to life in the early 90's. They played several originals along with covers from REM and The Cure which made me a happy camper. I had every intention on talking with these gentlemen after their show but I was called backstage and missed my opportunity. I was able to connect through Facebook and they told me they are working on a new release. They are available for gigs and actively playing tour dates throughout the northeast. Be assured, I will be keeping an eye out on this one for any local shows! You can follow them on their website at www.theaprilskies.com
The final band for the evening was an INXS tribute band called, KICK – The INXS Experience. They are from Greenville, SC and are the USA's only internationally touring INXS tribute band. Lead singer Cory Massi auditioned for the show Rockstar: INXS in 2004 and although he did not land the role, he continued to respect and admire the late Michael Hutchence. 10 months after returning home from the audition, he put together this band. Along with his bandmates Don Leslie, Johny Dee, Mark Goodnough, Todd King, Jason Taylor and Tom Wheat, they managed to capture the sound of INXS. It was a fun show and made me realize how many INXS songs I knew!
That wraps things up for us in August. We packed a lot in this month in a very short time and now we are off the rest of the month to unwind in the woods and get caught up on some things around the house. Look for us out in September and be sure to say hello! Hopefully, September brings cooler temps. and bigger crowds! With school starting, it's the perfect excuse to take a break from the kids and homework and support our local music scene. Peace out, Girl Scouts!