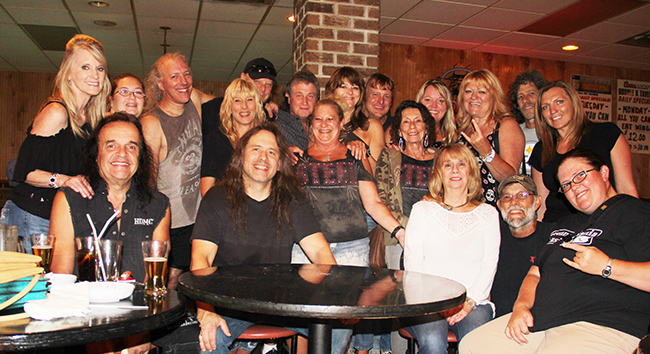 ---
September is here.. Back to school, back to crazier than the craziness I've already been experiencing. My son decided to play football for the 1st time, so I'm also squeezing in practice, games, and all the good stuff! I didn't get out much in August, but the few days I was in town I took full advantage and saw as many bands as I possibly could.
It all started a while ago on a Friday night at Colonial Country Club to see Derek Henry playing an acoustic show out on their patio. It was an amazing night for an outside gig, so I couldn't resist. The Colonial Country Club has a very awesome covered patio area with a full band. It has a full bar, and it's open to the public! Plus, to sweeten the deal, Fridays, when they have acoustic acts, is also Prime Rib night, so it's a Win! Win! Derek did a great job playing solo. He was able to take requests from the crowd and even called up some back-up singers once in a while. Everyone was thoroughly entertained, you could quickly tell how happy the crowd was from Derek's overflowing tip jar!
Since Derek's show was an early one, the night wasn't over yet! Next, I headed over to Johnny Joe's for the metal maniacs, Suicide Puppets! I haven't seen these guys for a while and they have tons of stuff going on. They recently released a new song "Armed" and we were able to hear it live for the 1st time! It's another great hit by the Suicide Puppets! They also recently signed on with Distilled Entertainment out of California. They are planning a lot of great things, and they sky is the limit for these guys! I'm glad they are finally getting some much-deserved attention. Check out Suicide Puppets ad for their full schedule, but on September 7th they will be opening for Stabbing Westward at HMAC! The tickets are only $25 and they are selling like hotcakes! Sept. 21st they are also at Vogfest. For all of us Perry Countians Vogfest has a special place in our hearts. It is a Party and a Memorial Poker Run in honor of David Vogelsong. There are 5 bands, vendors, all kinds of fun! All of the proceeds benefit Harleys for Heroes! Check out the Vogfest ad in this issue for all of the details.
Decipher Life was back at it again and closed out the night at Johnny Joe's. Even though we only stayed for a couple songs, it was cool to see and hear them back on the stage. They have some new faces in their line-up but they still now how to rock. Their originals are ones that rock you to the core because all of their music is so relatable. They'll be playing again at the Helping Little Hands Benefit, Saturday October 12th.
Sticking with the theme of rocking bands, the next night I headed out to my last night of live music at Double K for Steel. Double K has been a staple to my article the whole 13 years I've been Out and About. I'm truly bummed that yet another live music venue will be no more. The VERY final day will be sometime in mid-September I'm told. Super HUGE thank you and shout out to Karen and Jim for all of the support and love to not only this magazine and me personally, but to all of the bands, and fans they support. Eclipse gum is going to really take a hit, I can't imagine how many pieces of gum Karen handed out at the door at the end of the night. Double K is truly a place filled with friends and family. Hopefully we find a new watering hole to hang out and reconnect. Double K will unfortunately be torn down and more townhouses are going in. I wish Jim and Karen a very much deserved Happy Retirement! Now back to the music, Steel had us all back up on the dance floor, and since it was Steel's last show at Double K, the Steel family was out in force. One member of our family that was missing was Scott Sprankle, who unfortunately lost his battle with cancer just a day after this show. Scott was a cool guy to talk to and joke with. He always was the silent sound guy that just did everything exactly how the band wanted it. Steel never even did sound checks because they knew Scott always had everything under control. He will be greatly missed, but I'm sure Steel will continue to rock the area stages, one show at a time!
On a Thursday night after I got Mason at practice I popped in to St. Thomas Roasters to check out The Austens. Right away I was impressed just by their appearance. Even though their outfits make them look like they stepped right out of the 50s/60s era, don't let it fool you, they are a very classy mix of Buddy Holly meets Modern Rock, all the way back and around the corner to Johnny Cash and June Carter. Stefanie and Nick's vocals create amazing harmonies, and even though Stefanie has most of the lead vocals, Nick also leads a few songs himself, all while the amazing percussion man creates his own unique sound on his cajone. It was also cool to see Nick switch from the guitar to a uke for a couple songs. There aren't too many bands with a uke on stage in the area. The Austens are ready to entertain at your venue big or small.
On a Friday night Terri and I decided to take a little road trip up to Shy Bear Brewing Company to go see FolkenPhunk, they unfortunately had to cancel due to car troubles, but we still decided to make the trip anyhow. Jason, Shy Bear's owner, just so happens to be a drummer, so he called upon his old band mates, Snooky and BZ, and the original Mr. Jimmy Trio took the stage and entertained us throughout the night. Shy Bear has an awesome outdoor set up for music. It's very relaxing with yard games nearby, and you can choose to sit at regular tables, picnic tables, or even at the outdoor bar. Their nachos are extremely delicious! I highly recommend them! And of course their beer is pretty amazing too! Their beer has been creeping it's way down here to Harrisburg, I've seen it on tap at Ted's Midtown. Keep an eye out for it and give it a try!
Of course when we got home there was still time left to zoom to Chick's in Hummelstown for the last half of Yak Bone's show. I'm so glad these girls are out playing again. They are so much fun! They definitely play full sets of danceable, sing-along music that makes you laugh, smile, and just forget about the day's troubles! I got there in time to witness the special "kitty" song, it's definitely something you need to see! Ro, Sandi, and Patty are having a blast on the stage and it definitely shines out to their fans! If you want a super fun, party band at your venue give these girls a call! They have a show coming up on September 13th at Middletown Moose! They do open to the public for their shows, so stop on it and check it out. You can check out all of the details in their ad in this issue.
The last event of the month was the Finding Freedom Festival. Music was finally back on City Island! Now we no longer have to say that Kiss was the last band to play on City Island. Hopefully this show was just the beginning and we will see more music on FNB Field! I unfortunately couldn't be there all day because of a football game, but I got there for the 2nd half of the show. It was a pretty cool set up, the stage was literally on home plate, and the fans were sitting in the stands. I wish they would've lowered the netting blocking foul balls. It looked like the old bars you see in the movies where the band is playing behind chicken wire to protect them from bottles people would throw at them. All of the bands were awesome in this line up, so they definitely didn't need to worry about that. Kudos to Ron Duszak and his team for putting on such a great event. The event was to raise funds and awareness for Just For Today which provides Recovery and Veteran's Services. Kudos to all of the bands for donating their time and talent to the cause and for playing in the sweat pit! It was definitely an extremely hot day!
The first band I saw was Road Case. It was awesome to see these guys on such an awesome outdoor stage! If you regularly read my article you know these guys are frequent fliers to these pages. Road Case has been racking up the gigs lately playing all over the place. These guys definitely play a great mix of all of your rock and roll favorites. I appreciate about Road Case is they play songs not many other bands play. It's refreshing rock done right! Check out Road Case's ad in this issue and get out there and rock and roll all night and party along with Road Case!
Next on the bill was a new band, August. This is Bob Richardson's latest project. They even threw in a couple originals from his Cell 15 project. Another familiar face in this project is Jason Shaffer. I personally always love watching Bob slay the keys. He is an amazing pianist. Another instrument you just unfortunately don't see enough of. The keys just add in so much dynamic to any song. When I talked to August after the show they said they'd probably pop back up in the area to play a few shows here and there, but that was their first show! Wow! All of them just clicked and played so great together. I can't imagine how great they will be if they decide to start playing regularly.
Alice-In-Sane took the stage next. I think it's pretty obvious they are an Alice in Chains tribute band, but just thought I'd clarify. It was awesome to see all of these guys back on stage and rocking their faces off! Tommy K Hall was on vocals singing his heart out! Jay Acri on bass, Sean Padelsky on guitar, and Lonnie Eckert on drums! Lonnie's hair was all cut short, but that didn't stop him from banging the crap out of those drums. It was my first time seeing them and I was impressed! Hopefully our paths cross again soon!
Next up was Penntera. I haven't seen Penntera in way too long! It's so awesome that Space has a clean bill of health with no signs of cancer!! He was back to his normal self just rockin away! Jason of course got a little too crazy, but you always have to have one wild maniac in the bunch! Penntera was rockin' the stage so much the whole thing was shaking! I'm glad it all stayed up and they were able to rock it as hard as they could. By the time they went on it was good and dark and it was very cool to be able to see the musicians up on the jumbotron! Penntera has a few shows coming up here in September. Check out their ad in this issue and find out where you can go bang your head! On September 27th they will be playing in the Headbangers Ball Tour with VAtallica & Show No Mercy at HMAC. So many cool shows in September!! Make your plans now!
The last band of the festival and this month for me was Maiden America. I'm sure Gordon was given specific rules before he took the stage, but he didn't let his stage limitations stop him, he still put on one heck of a show! Maiden America finally has a new permanent bass player and a 2nd guitarist. They definitely have all of the kinks worked out and they were able to put on one heck of a show and a perfect ending to the Finding Freedom Festival! Overall it was a great show! The fans all seemed to love it and for the most part it looked like it all went pretty smoothly. Hopefully this show was just the beginning and we will see a lot more music on City Island!
Before I go, I wanted to tell you about 1 more big festival coming up on Saturday, September 14th, the 6th Annual Fogleman's Wounded Warrior Music Fest. It's an all day, family friendly event. This is one of the most well-organized events I've ever seen, and every year it just keeps getting bigger and bigger. The opening ceremony starts at Noon. Your ticket price includes food and non-alcoholic beverages, but you can also BYOB, canopies, tents, whatever. There is a whole play area set up for kids, so you can bring the two-legged ones, but leave the four-legged ones at home. You can check out all of the details in their ad or on their website, www.foglewwfest.com. So far they've only had 5 years worth of festivals, but they've been able to donate $60K dollars straight to the PA Wounded Warriors. Do yourselves a favor and get out and support a great cause!
Well that's all for this month. This is a big staff birthday month, so get ready to help us celebrate, Me, Meredith Kaminek, and Eric Hoffman all have birthdays throughout September. So, if you need a reason to come out and have some fun, there it is! Come out and celebrate with me!! Also, a super happy birthday to my son Zack! I can't believe my baby will be 17 on September 11th. Happy Birthday son.. you sure do make your Mamma Proud! If you see me Out and About this month please stop me and say Hi. As always get out there and Support Local Music. Don't forget you can read all of our articles on our website, www.pamusician.net, and you can see all of our submitted pics eventually on our facebook page, facebook.com/pamusicianmagazine.