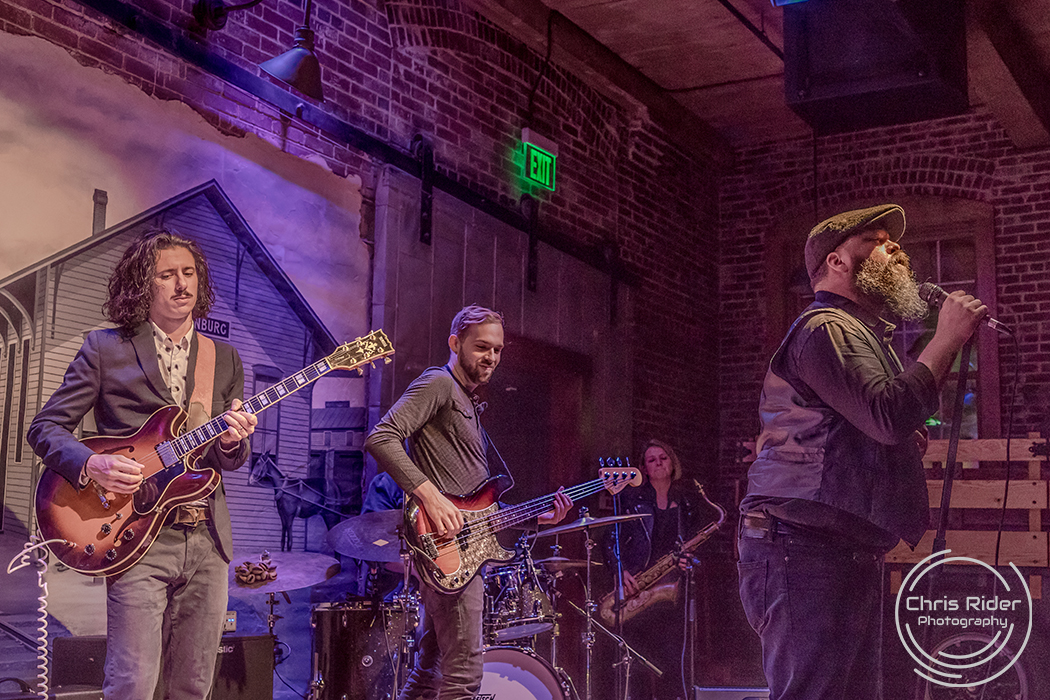 ---
October was a busy month with lots of events going on. We were worried about getting the time in to cover some bands but we did it. I wanted to first start off with something that has been on my mind and heard a few times since we started with the magazine. While talking with several musicians, concerns were made about how they would fit since the magazine primarily covers hard rock/metal bands. The magazine is open to us covering whoever we want and anyone that knows us will not be surprised to hear us say "challenge accepted"! This magazine is for all genres of music. Please give us the opportunity to share that with you.
The first band, The Commonheart, we discovered 3 years ago in Johnstown at a music festival. They are from the Pittsburgh area and originated 4 years ago with 5 members and have continued to grow as musicians and have since doubled in members. That's right, 10 members, and sometimes performing with as many as 14 members. When we originally saw them, we wondered why these guys are not much bigger than they are. They played at Rusty Rail Brewing Company in Mifflinburg on October 5th, which is a huge place with great food and beverages. 9 members were present for this show that included Clinton Clegg: Vocals, Nate Insko: Trumpet, Vocals, Shawn McGregor: Drums, Antone DeFade: Bass, Mariko Reid: Vocals, Kenny Stockard: Vocals, Abby Gross: Sax, Vocals, Lucas Bowman: Keys and Mike Minda: Guitar. They play a great mix of soulful rock 'n' roll with some bluesy tones. Their originals are from their 2016 album 'Grown'. Clinton's gritty voice along with Mariko's very powerful voice paired with the horns and rocking guitar riffs is pure magic. One of their covers, Joe Cocker's, "With a little help from my friends", was by far, the best I have seen and heard live. They also covered "I'm a Ram" by Al Green, which was later brought back to life from my all-time favorite band, Gov't Mule. Please check out this phenomenal band if the opportunity arises. They are amazing and very entertaining on stage. The Commonheart is currently working on a new album that will be released soon. Their music is available at http://www.thecommonheart.com and on Spotify, iTunes and Amazon.
The next day was packed with some more great music. We got off to a late start but were able to catch the Harrisburg band, Yam Yam, at Little Buffalo's Arts & Music Festival in Newport. These guys have the coolest groove that mixes Jazz and Funk "Junk" with some R&B groove. I really enjoyed watching these guys play. They formed in 2015 and members include Mike Dempsey: Keys, Tom Fuller: Guitar, Tyler Fuller: Drums, Jason Mescia: Sax and Xander Moppin: Bass. Their self-titled debut album is set to be released on November 21st. They will also be performing that same night at The Abbey Bar at Appalachian Brewing Company on Cameron St in Harrisburg. I am very excited to pick up my copy!
Next on stage was someone I did not recognize until my friend Jarrod pointed out who he played
with. The Cris Jacobs Band are from the Baltimore area. They play Bluegrass, Americana Soul with a little funk and they were amazing. Once I put the pieces together I was blown away. Some of you jam/blues fans may know him from being in the band The Bridge that has released 5 records. Cris also released a solo album in 2012 titled 'Songs for Cats and Dogs" and another in 2016 titled 'Dust to Gold'. He has toured and played with several big names like Steve Winwood, Sturgill Simpson, Phil Lesh, Leftover Salmon, Anders Osborne and so many more. In 2017, Cris recorded a collaborative album with Ivan Neville under the band name 'Neville Jacobs'. A huge thank you goes out to the entire crew and volunteers at Little Buffalo's Arts and Music Festival. The amount of time and effort given every year, to put together this free, public event and great new music is extraordinary.
We then headed to Harrisburg to Club XL to check out Who's Bad, The Ultimate Michael Jackson Experience. Before Who's Bad went on stage, we saw the opening group M3G also known as Melodic Minds Music Group from York. These guys were so much fun! They are a Hip Hop, R&B, Soul, Pop group. They started out with some old school covers like 'My Prerogative' by Bobby Brown and 'Poison' by Bell Biv Devoe along with a few newer songs and originals. They had everyone up dancing and having fun. They formed in 2012 and members include Anthony Dorm, Jarrett Kinard, Manny Feliciano and Courtney Kinard. Courtney was not able to make this performance but the 3 guys put on a heck of a show. Great job guys!
Next up at Club XL was Who's Bad, The Ultimate Michael Jackson Experience from Chapel Hill, NC. They are the world's longest running Michael Jackson Tribute Band and have been going for the last 14 years. They are also the only musical and dance group to predate Michael's passing. You can tell these guys paid special attention and studied every move and sound of Michael Jackson and his band. We wanted to give a special thank you to owner, Phil, of Club XL and Manager, Chris, for their hospitality. We always have a great time at Club XL!
After leaving Club XL we decided we would meet up with some friends at Stoney Creek Inn, in Dauphin, for their final show before closing their deck. We only got to see the last few songs from The Mighty River Band but will definitely be catching a full show in the near future. We really enjoyed what we heard. They cover songs from The Grateful Dead, The Beatles, Allman Brothers, Phish, Dylan and more. The members have all been playing for many years but only formed this group about 3 years ago after getting together to explore compositions of the Grateful Dead. They had a couple jam sessions on Shelley Island along the Susquehanna River and people started showing up as if it were a concert. They were involved in some fundraisers for "Save the Islands" and were approached several times to play shows, festivals and private parties. Members include Josh Thompson: Guitar, Vocals, Aaron Daniel Gaul (ADG): Guitar, Vocals, John Bigham (JB): Keys, Marcy Thompson: Vocals, Jeremy Pierce: Bass, Travis Bossler: Percussion and Michael Culp: Drums. JB was not able to make this show but Mike Zook filled in for him.
On October 19th, we made a stop to eat at River Bend Hops and Brewery. It is a really cool, century-old barn that was turned into a brewery and taproom. It's located outside of Newport along the Juniata River. They opened their doors in September 2017 and are a great family-friendly place to kick back, listen to live music and grab a bite to eat. If you haven't made it to this venue yet, I recommend checking it out. While eating, we caught the band Sam Pryze and the Never County Band. The band members are from all over Central PA. Sam Pryze: Singer, Guitarist and Kiki: Drummer are from Lewistown. Justin Casper: Bass and Justin Aurand: Keys are from Danville. Rich Price also joined them on guitar for a few songs and he is from Harrisburg area. This was their very first performance all together and they are already working on their first album! Talk about enthusiasm! They sang a great mix of originals and cover songs from Van Morrison, Goo Goo Dolls and Bob Dylan. They also covered some Violent Femmes which was really cool. I am glad we were there to see their first performance and really look forward to seeing this group grow. They are good and have what it takes to be great. Great first gig guys and keep it going!
To end the month, we were excited to go to The Abbey Bar at Appalachian Brewing Company in Harrisburg to meet up with a band from Iceland, Berndsen. Before we get to them, I wanted to mention the two bands that performed before them. Warning, conservativeness should be checked at the door. This type of show requires an open mind and included adult content, not intended for the meek or young children. I'm not sure I was even prepared for what I was about to witness when we walked in the door.
First on stage was Big Gorgeous. They are a newly formed act from San Francisco, CA, originally from the Harrisburg area, and are wrapping up a tour with Berndsen throughout the U.S. To sum them up, I would say they are an entertaining, theatrical, musical duo that some really enjoyed while others watched with one-eye open. They are sure to give you a shocking experience.
Next up was a band called Knitebitch from New Berlin, PA. In an effort to keep things fresh, I thought I would let one of the audience members give their take on the next band. I asked fan Abby Christensen about her take on watching this band. She stated "I have seen this band perform a few times. They are an eccentric, quirky group of talented musicians that leave you asking yourself 'what did I just see' while wanting more. Every time I see them it's very entertaining and I can't wait to see them again". Thanks Abby! I couldn't have worded it better!
Finally, Berndsen, from Reykjavik, Iceland took the stage. This was our 3rd time seeing these guys. The first was a couple years ago for a private party that Chris had the privilege of photographing. We got to spend the weekend with them and I can honestly say they are truly the nicest, sweetest guys you will ever meet. Earlier this year, they completed their first U.S. tour and we got to catch them at The Facktory in Liverpool, PA. They decided to wrap up the year with a 2nd U.S. tour. When we heard they were going to be in Harrisburg, we made it a point to see them. Members include David Berndsen: Vocals. Hrafnkell Gauti Siguroarson: Guitar and Sveinbjorn Thorarensen, better known as Hermigervill, or Svein as we call him: Synthesizer, Drum Machine. Their genre is new wave, 80's synth-pop. Berndsen is an iconic pop figure in Iceland, well known in many other countries and quickly gaining popularity here in the U.S. They have 3 albums. The first one was released in 2011, titled 'Lover in the Dark' and in 2013 they released 'Planet Earth'. Their latest album titled 'Alter Ego' can be found on iTunes and Spotify.
To wrap up this month's article, I would like to thank The Abbey Bar and all the venues we made a stop at for your warm welcomes. Please continue supporting local musicians and LIVE music! If your venue or band is interested in advertising, reach out to Josh and he can get you set up. Don't forget to order your PA Musician T-shirts and hoodies when talking with him!