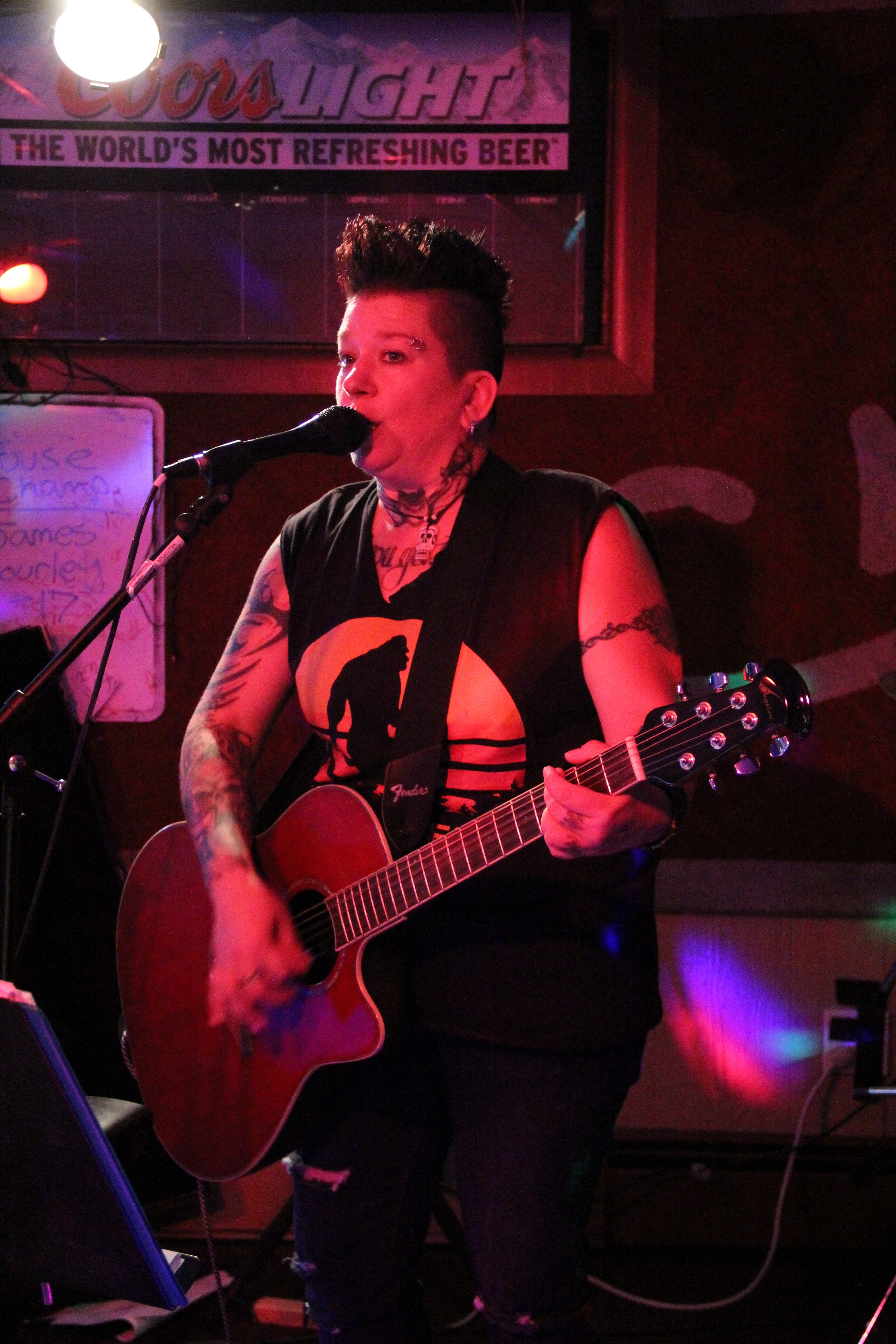 ---
Let me tell ya.. Rocktober was definitely rocking!! I saw more bands in October than I've seen in a very long time. I went to a few festivals and bigger events with multiple bands, but it's still a lot to cover so I better get crackin!
It started off many moons ago with Yak Bone at Chick's. I picked up 2 friends on the way and took them to Chick's for the first time. When we arrived there were plenty of shenanigans going on already. If you danced you were given a Yak Bone sticker and people were stickin' their stickers all over the place! Obviously a little incentive goes a long way, because the dance floor was busy all night long! Yak Bone plays a lot of your sing-a-long favorites and gets the crowd involved and having a good time. You can check out Yak Bone's ad in this issue, like them on Facebook and get out there and get your free sticker! A little side note.. Congrats to their lead singer Rochelle and her beautiful wife Cindi.. They got married on October 20th!
The next day was a SUPER busy one.. It started off with a trip down to York for the Roosterpalooza Fall Music Festival. I'm so glad I finally made it down to this event. It was extremely well organized by Mark Sutherland and the rest of his crew. There were vendors, delicious food, and of course lots of great entertainment! I got there in time to see Latimore Sky. I'm so happy they finally got a new bass player, Mike Stem, worked in to the line up so we will hopefully see more of Latimore Sky, and I'm sure they'll be cranking out new originals before too long. Sid, Rhyan, and PJ are still jamming their hearts out playing with as much emotion as humanly possible. It's always a special treat seeing these guys on stage. A little extra shout out to PJ, thanks for sharing your chairs and hanging with me for the day. It's always a good time with Latimore Sky. The next band was Conviction with Kathy behind the microphone. Holy Shmokes! Kathy can definitely sing!! It's not too often you can hear a woman belting out so much old school metal and she did an amazing job and had the dance floor rockin. Side Piece with yet another female lead singer had some pressure to keep people on the dance floor, but it wasn't a problem for them. Side Piece is filled with seasoned musicians I've seen in different bands thru the years so these guys were ready to keep the party happening. Side Piece surprised people with some of the songs they were able to cover, songs you definitely don't hear other bands playing in the area, but yet are your favorites! The last band of Roosterpalooza for me was From Dawn Till Death. I've heard of these guys for quite a while now, and after taking a hiatus to basically form a new band, they are back and ready to rock your faces off. Overall it was a great afternoon of entertainment! I'm so glad I finally made it down to a Roosterpalooza. Hopefully I'll see you all again at the next one!
The day wasn't over yet, I made it home in time to help a friend move a couple hours, and then I headed over to the NEW Cliff's Tavern (old Gullifty's) for Six Bar Break's CD Release Party. Six Bar Break did everything they could possibly do to promote the release of their new album, "Cleaner Than I Feel". They even screen printed their own merch in their kitchen! They are completely DIY!! They had Sweet Corn & Peanut open the show. These two have got to be one of the cutest acts in the area. The vibe between them is so amazing and the way they can harmonize is simply something you need to see. It was a great way to get things started. Six Bar Break took the stage and played through their whole album, it was cool to hear it all in order with the meaning behind why each song was written. "Jesse James" is one of my faves on this album, but a close second would obviously be "That Woman Knows." Overall it's a great album and I hope the world pays attention and gives these guys the listen they deserve! Check out their ad in this issue to see where they will be rockin' next and get out there and support some amazing original music! And, buy their album!
The following weekend was another crazy busy day with the Robert E. Morris Sr. Memorial Ride
& Music Fest. After the unfortunate passing of Bobby Morris Sr., his family started the Bobby's Benefit Foundation and they decided to put together this crazy festival to get everyone together to hear the music we love and celebrate Bob's life. It was a chilly yet amazing day, and I'm sure Bob was smiling down on us and loving every minute of the day. It started at 11am with a Memorial Ride from Susquehanna Harley to the Festival site, the Campbelltown Fire Co. I ran over and snagged a couple pics of the ride and then came home to warm up and snuggle my puppies. I tried to get to the festival in time to catch TH3, but since I'm a slacker I only heard them playing while I was walking over from my car. One of these days I will catch a full show, please don't give up on me! The first band I did see was the Colt Wilbur Band. Colt had some new band members, but it's been quite a while since I've seen them play. Colt Wilbur Band plays a lot of your favorite classic country songs and throws in some originals along the way. They are always a pleasure to hear, I'm glad I finally saw them again. The Famous took the stage next, these guys and gal cover songs from the 70's, 80's and beyond! With so many vocalists in one band it's awesome to hear anything they play. They are also another one of those bands that have so many seasoned musicians that have played a stage or two in their day, and they know how to get a crowd's attention and keep the party hoppin! Next to take the stage was Road Case. I know there were quite a few Smokin' Gunnz fans that were excited to see Chris DellaPorta on the stage again. I'm sure Road Case made quite a few new fans after their set. They rocked the stage in true Road Case fashion playing your favorite rock and roll that you could feel down to your soul! Road Case is another band with lots of other familiar faces. Tony, who also sings for Back In Black is the lead singer, and Jeff Lawrence and Ed Piccolo who are both from the band End of Silence are on bass and drums. We know all of these guys can rock a stage, and seeing them all rock together is always a special treat! Check out Road Case's schedule in this issue and get out there and see this talented band for yourself! As it started to get dark and even colder, the Matt Creter Band took the stage. I saw these guys last month, and I have to say I was more than happy to see them again. They play your favorite classic rock songs mixed with a slight twist of the blues with such crazy precision. You don't see the Matt Creter Band out playing regular gigs, they only come out of hibernation for special gigs, and I was lucky to see them two months in a row! Chapel Hill took us all back to the boot scootin' country songs. Chapel Hill plays more modern country songs with Roy Bennett on lead vocals. I just caught a full show of Chapel Hill last month at Blarney's and when you only hear a short benefit set, it just makes you wanting to hear more! I'm sure all see them again soon. The last band of the night, truly a bittersweet moment, Smokin' Gunnz took the stage. Mike Brady and Rick Marko were the only two original members, they brought in help on lead vocals and drums from the band Rock Candy based out of the Reading area. I was thrilled to hear the first song and hear how great they all sounded together. They played a lot of the deep friend southern rock the original Smokin' Gunnz would've played, for sure, making Bob proud. Katelyn's main goal was to get all of Bob's fans together in one place listening once again to music that Bob would've loved, and I'd say she accomplished her goal! All proceeds of the event went to Juvenile Diabetes Research and the PA Wounded Warriors in Bob's name. It was truly a great day of music and entertainment! I heard there is a chance to keep an eye out for Bobby's Benefit Foundation to throw another shindig next year. I'll definitely be keeping my eyes and ears open for that!
Next up was another trip down to York to Racehorse Tavern for their Autism Benefit. Autism effects quite a few of my friends and their families, and I was more than happy to travel down and contribute to this event. Another big inspiration to drive down was to see Space, aka Eric Dengler, back behind the drum kit! (He's been kicking a scare with cancer and after some extensive surgery he is cancer free and back rockin' the drums again. He still has a long road to recovery with lots of PT, and he's already been off work quite a few weeks and has medical bills stacking up to the ceiling, so I heard that there will be a benefit for him in December. Please keep your eyes out for that show too!) When I arrived Maiden America was just taking the stage, and you could tell I wasn't the only one happy to see Space back where he belongs! Maiden America rocked their set harder than ever and the response from the crowd was as equally intense! Gordon does a great job belting out all of your favorite Maiden songs. After just a short break, Space had to take the stage again with Penntera. It had been way too long since I've seen Penntera, it was my first time seeing Jason on vocals and I was impressed. It was awesome to see the whole group back together and rockin' the stage! The dance floor was intense, with even a mosh pit at one point. Hopefully we'll be seeing more of Penntera at the Racehorse! They have a show coming up on November 17th at the Dawg House in Waynesboro. To get the details and rock out with Penntera, check out their ad in this issue, and plan your next head banging adventure! Earlier in the night I was talking to two guys from Gun Metal Gray, Christian Koch and Ed Allison, I guess my head has been under a rock because I had no idea they were two of the guys in Enema – the Premiere Blink 182 Tribute Band. Apparently they've been around quite a while, but what do I know. I'm glad I finally got to hear them. I love Blink 182, so it was an awesome way to end the night. I'm so glad I made the trek down to Racehorse Tavern once again, every time I do I'm always impressed by the bands I see and the club. Jim runs a tight ship at the Racehorse and it shows. Even tho the room is packed, there are always plenty of staff working to keep the patrons happy and protected. The Racehorse is one of the few clubs that still have live music at least every Friday and Saturday night. You can check out The Racehorse Tavern's ad in this issue and plan your next night out on the town!
One thing that is usually a challenge for me is getting out early enough to see the opening bands,
but this was another night where it all worked out, when Road Case and LeadFoot were opening for ZoSo – the ultimate Led Zepplin Tribute Band at Club XL. I already wrote about Road Case earlier, but this night they actually had 2 fill-ins, Chris Redding from Steel was on vocals, and Todd Vukmanic was on bass. Even with fill-ins these guys didn't miss a beat and rocked the big stage. It once again just proves what kind of top notch musicians they all are. It was a great show and for those that were seeing Road Case for the first time, they would've never known the difference. It's been a while since I've seen LeadFoot and when they took the stage I noticed they have a new guitar player, Justin Sparks. I'm not sure how long he's been part of the band, but he fits right in and shreds on his guitar like he's been in the spot for years! When LeadFoot was on stage the crowd started creeping closer towards the stage and even started dancing before their set was over. ZoSo had one of the better crowds I've seen at Club XL for a few shows now. That room is just so huge it's hard to make it look "full" or busy. The die hard Led Zepplin fans had the stage area packed all night, singing along, so to me that confirms that they must've been giving Led Zepplin justice. Club XL has been bringing in amazing talent, if you haven't checked it out yet, you really should check out their ad in this issue and get out there and support live music. When you look at the schedule make sure and check the date, as big national acts are passing through town sometimes they play on odd nights, like Thursdays and Sundays. Also make sure and like them on Facebook. A lot of time Tuesdays they run specials where they might be selling Two for Tuesdays where you can buy one get one free, or they might even be having Ticket Giveaway Contests!!
My next adventure I decided to check out a new venue and a new band. I headed up to Halifax to the Corner Pocket Pub to check out a new advertiser, Nineties Entertainment System (NES). I know the drummer, Luke Barnhart, from his old Asking Andy days, and I knew I could count on his amazing wife Kristy to be there supporting his show, so I knew I'd know at least one person there. Sure enough Kristy was there with some of their other family rockin' to the 90s! I love the 90s, it's one of my most played playlists on my phone. I was amazed at the broad range of songs that Jon could cover. They definitely played my favorites, and with a whole night of the 90s I was shocked to hear some of the songs because not too many bands in the area play all 90s all night long! The Corner Pocket Pub was a cool little venue with plenty of free parking and free CHEESE CURLS! (The white cheddar ones too!) They recently put in a nice sized stage, so I'm sure you'll be seeing a lot more bands play there in the future.
Finally, I made it to the last night of the month, and it was sure to be a Spooktacular one! There were so many Halloween parties happening everywhere it was so hard to decide. I wound up making a quick stop at Johnny Joe's and wound up seeing Rabid Assassin, who I saw for the first time, I'm not sure if they were dressed up for Halloween or they always look like that, but no matter how they looked they were thrashing the stage with their hard core metal. They calmed things down for a set and put ZZ Top, oh I mean Six Bar Break on the stage, that were dressed like ZZ Top! RT had his own built in beard, but Ben had to borrow one… Even tho they were the calmest band on the bill this night, they still kept the stage rockin' and had everyone's attention. Unfortunately I had to leave before Amish Puppets (Suicide Puppets dressed in full Amish Gear) took the stage, but I hear Josh and Missy made an appearance to support the show.
I wanted to zoom over to Club XL to check out the My Chemical Romance Tribute Band, DEAD! I saw plenty of YouTube videos of these guys, so I knew it was going to be a good show, but I was amazed at how great it truly was! Justin Hershey the sound engineer had to bring in some more mixing equipment because there were so many instruments on one stage! Luckily his Dad Greg is in the business and could help him out. He did a great job getting everything tuned in and it all sounded and looked awesome! I'm not sure if I even counted everything correctly, but they had at least 3 guitar players, bass, 2 drummers, a keyboard, and for some songs they even had full brass! It was intense and very well done! It was cool to have the big screen behind them showing clips from the actual My Chemical Romance playing behind them. They played through the whole Parade album, and even through a couple more songs in the end. It was another great night of entertainment at Club XL and another packed house!
Well that's all for this month, and I desperately have to get to work. Please check out the magazine, check out all of the schedules and plan your night out on the town. If I influenced you in any way to go check out a band or venue, please let them know that you read about them in the PA Musician Magazine. We need all the advertisers we can get to keep this magazine alive!! If you have any words of encouragement, or want to let me know about your show, email me at RachelRocks@pamusician.net. With covering over 24 bands and only having space for about 20 Hot Shots, there is no way I can possibly put all of the pictures of every musician in the mag, so make sure and check out our Facebook page at facebook.com/PAMusicianMagazine so you can see all of the Hot Shots in color, from not only me but Jim Price and Chris Rider Photography too! Have a rockin' month.. and get out there and SUPPORT LOCAL MUSIC!!