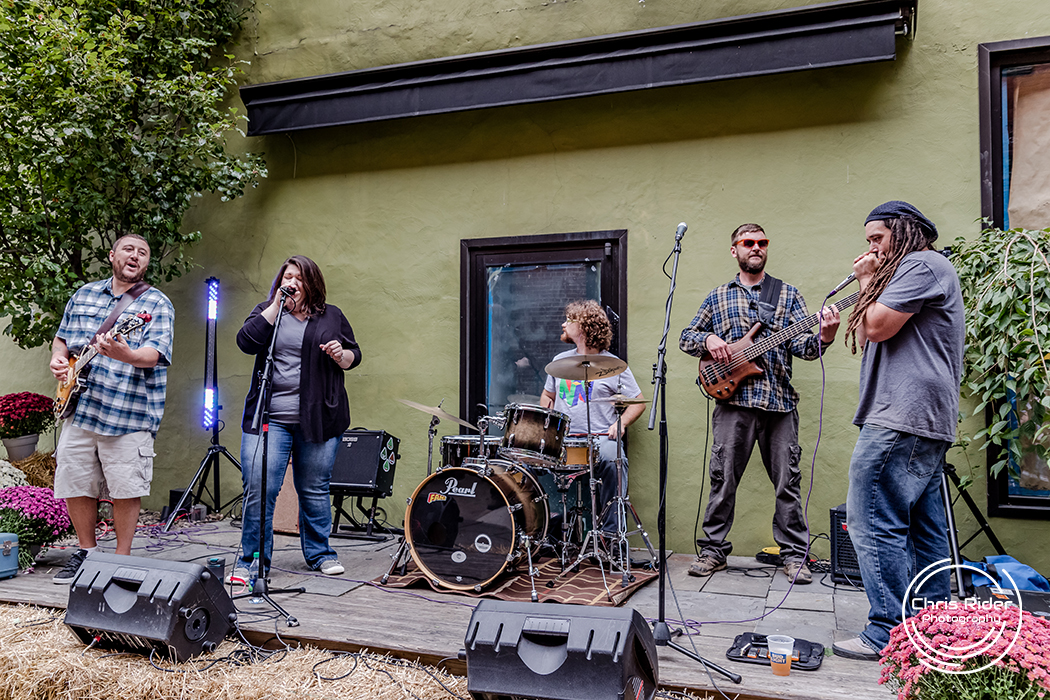 ---
By: Michele Rider  Photos By: Chris Rider Photography
First Friday in Williamsport
We started off September making a last minute decision to venture up to Williamsport for their First Friday. We ate dinner at The Brickyard Restaurant and Ale House. Franchesko Marx Band, a Williamsport based band was set to play. They are excellent musicians with an Indie, folk, rock, jam, funk kind of sound. Members consist of Brett Schneider: Percussion and Vocals, Nick Klem: Guitar, Vocals, Clay Minier: Electric Guitar, Percussion, Vocals, and Levi Stove: Bass. They formed as a 3 piece band in 2016 and later adding the 4th player in 2017. They recently released a self-titled, five-track EP that is available on Apple Music, Spotify and iTunes. It will not be long before these guys break out into the festival arena and I can't wait to see what the future holds for them.
While at The Brickyard, a friend insisted we go see two musicians play at Franco's Lounge, Restaurant and Music Club. He told us that we would not regret it. So we walked over to check them out and that is where we heard this incredible duo, Stacia Abernatha and Sean Farley. He was 100% correct! Stacia has a beautiful, silky voice that I could listen to all day long! Sean has a soft rasp to his voice that is just incredible. Both play guitar extremely well and will blow you away!
Stacia Abernatha is a singer/songwriter from Williamsport. She sings an eclectic array of styles & genres, with her passion in blues/Americana & world music. Stacia began performing at a very young age. She recently performed on Beale Street in Memphis, TN at The International Blues Challenge, qualifying for IBC the semi-finals! Stacia performs locally with many fellow musician friends. Stacia has shared the stage with legendary blues artists Tas Cru and The Nighthawks. For the last couple of years she attended The Silkroads Global Musician Workshop in Greencastle, IN at DePauw University's School of Music. Stacia has had the honor of working with musicians and teachers like Balla Kouyate, Shane Shanahan, Aoife O'Donovan, Edward Perez, Bruce Molsky, Abigail Washburn and Bela Fleck. She currently serves on The Billtown Blues Association's Talent & Hospitality Committees and is a vocal instructor at The Uptown Music Collective. She has an upcoming show on Oct 11th at Elk Creek Café and Aleworks in Millheim. Check her out on Facebook at Stacia Abernatha Music for more upcoming shows! She is a must-see!
Sean Farley is a singer/songwriter, guitarist and luthier. His style could be categorized as Blues, Rock, Funk, Soul, and Americana. Sean started on keys and violin at a very young age, sang in the school choir then played drums and percussion, and finally the guitar. Sean has been playing guitar and singing in bands since the age of 15. He's competed in the International Blues Challenge four times. Sean attended Roberto-Venn School of Lutherie in the fall of 2010 where he studied the art of hand-making stringed instruments. He is now the owner of "Guitarley's Custom Guitar & Repair" in Williamsport. Sean spends most of his spare time on the road touring as an independent act and has mastered the art of "looping" to create the full band sound. Sean is also the guitarist, singer/songwriter in his regional band "Lynn & Farley 5". He was also the guitar player for the "Georgia Songbird" EG Kight and recorded on her album "It's Hot in Here" in 2008. He sang a duet with her on the album "Southern Woman and a Nawthern Man"! Sean has recorded two solo albums. His latest "LIVE & Temperamental" was recorded in front of a studio audience in Geneseo, NY. You can listen to and purchase these songs on all major online music stores and streaming sources!
Get The Led Out, Spyglass Ridge Winery, Sunbury
On September 8th, Get the Led Out, a Led Zeppelin Tribute Band from the Philadelphia area,
played at Spyglass Ridge Winery. To be honest with you, Chris was way more excited about seeing this show than I was. It was cold and rainy and I have never been much of a fan of tribute bands, as most tribute bands don't sound like the original band, but I kept an open mind and I am glad I did!
We first arrived at the winery and the staff greeted us with a warm welcome and was very accommodating. We talked with the staff and owner Tom, who encouraged us to come back for future shows. So, watch for some more great shows at this venue! We were introduced to some of the band members and I will admit, I was pleasantly surprised by how kind and humble these guys are. When talking with bass player, Phil D'Agostino, I was given the history of the group. They have been playing together for over 15 years. They are considered the premier Led Zeppelin act and tour all over the U.S. Their mission is to bring the Zeppelin studio recordings to life in concert. Band members include Paul Sinclair: Lead Vocals, Paul Hammond: Guitar, Mandolin, Jimmy Marchiano: Guitars, Vocals, Adam Ferraioli: Drums, Eddie Kurek: Keyboards, Guitars, Vocals, Phil D'Agostino: Bass, Vocals and Diana DeSantis: Special Guest Vocalist that was not able to make this show.
When talking with guitarist, Paul Hammond, about performing and if licensing of songs ever gets in their way, he explained the band pays a licensing fee for every show they do. He also added that he has had conversations, along with other members from the group, with Jimmy Page and that the present original members are aware of them.
As the band took the stage, I was really impressed. These guys are excellent musicians and really did sound exactly like Zeppelin. They played note for note the way it was recorded and really gave an amazing tribute to Zeppelin. If you ever get a chance to see them, do not hesitate! What a phenomenal show! I didn't see that one coming. I love being surprised!
Oktoberfest in Pine Square, Hosted by The Brickyard Restaurant and Ale House, Williamsport
We have been trying to see this next band for almost 2 months but our schedules never aligned. When we saw these guys were playing September 22nd, and we were free, we jumped at the chance. The Cadillac Cats was worth the wait. They formed in 2013 from founder Blair Mitcheltree. This is a great blues band that mix in sounds of rock, R&B and some country. Members of the band include founder Blair Mitcheltree: Guitar, Urie Kline: Drums, Scott Myers: Bass, Dave Thompson: Harmonica and Becky Wool: Vocals. Dave was performing in Memphis and not able to make this show but Shawn Strickland, Harmonica Player from The Dirty MoJo Blues Band, filled in and did an incredible job. They will be hitting the studio to record their first album that is set to be released in 2019.
Next up for Oktoberfest was the band I have never heard of before and was interested in seeing. Felix and The Hurricanes is an incredible group of seasoned players that formed in 1989 and have shared the stage with some great bands including: Blue Oyster Cult, Kentucky Headhunters, Robert Randolph, Little River band, Tab Benoit, JJ Grey and Mofro, Halestorm, Molly Hatchet, and many, many more. They play a mix of southern-styled blues/rock. Band members include founder Felix Kos: Vocals, Guitar, Jeff Clapper: Bass, Vocals and Bob Watters: Drums, Vocals. The Hurricanes have a great chemistry on stage and never use a set list, so each show is different. They base the next song off the crowd's interest and it always keeps the show alive. They are always interested in growing and learning as a band. Quoted from Felix on their CD, 'Travelers Not Forgotten', "To grow is the greatest experience of any living being…If you stay put, you will die in your own tracks. You gotta move on and grow!" This three piece band has so much soul and you could tell they have a blast on stage together. Albums include 'The Feeling' released in 2001; 'Travelers Not Forgotten' released in 2003 and the third album is currently being recorded.
The final act for Oktoberfest was Royal Benson from Lewisburg. Royal Benson formed in 2007 and performs a mix of funk, jam and rock with a touch of jazz along. Members include Tim Myers: Bass, Vocals, Adam Tarin: Keyboard, Vocals, Matt Fern: Guitar, Vocals, James DeVoss: Percussion. They have two albums out; a 2010 release: (Long) Drive and a 2013 release: Dominoes & Gravity. They can be found on Soundcloud, iTunes and Amazon. We really enjoyed the diverse musicianship these guys have and can't wait to see them perform again. We had two other bands to check out so we were not able to stay long to soak in all they had to offer. We will be catching another show with them in the near future, so stay tuned!
Barrel 135, Williamsport
After leaving Oktoberfest, we swung by Barrel 135, to check out the band The Jug Funk Boys. This duo from Gettysburg consists of Ash Phipps; Bass, Vocals and Jimmy (Jug Funk) Petrohilos; Guitar, slide, Vocals. The name explains the music they perform perfectly, a mix of jug band music, funk and acoustics. Their influences are Hot Tuna, The Grateful Dead, Bob Dylan and The Band. They are a new, Americana group, with solid vocals. Great performance guys! We really enjoyed seeing them.
The Genetti Taphouse, Williamsport
To close out a very long day of great music, we stopped by The Genetti Taphouse to see The Sue Bloom Band. This band has been around since 1983 and band members include Sue Bloom: Lead Guitar, Vocals, Dave Bloom: Guitar, Mandolin, Banjo, Vocals, Beth England: Fiddle, Mandolin, Rock Anello: Bass, Vocals and Bert Smeal: Drums, Percussion, Vocals. They cover a variety of music from New Country, Classic Rock and some Sue Bloom originals. She is known by fans and local media as the "Susquehanna Valley's First Lady of Rock-N-Roll". She has toured the east and west coast and her music has been heard nationally and internationally. She toured with the rock/metal band Borderline in 1980. She released an album "Fairytale Lies" that included a range of rock, new country, and acoustic folk and progressive rhythms. Sue was able to hand pick the musicians for this album from all the experience and artists she has met over the years, too numerous to list. Sue can also be seen in her group, Sue Bloom Acoustic Trio, covering the genre of New Country, Folk and Rock. It was truly an honor to see her on stage.
A special thank you to all the venues we attended this month. We were received with a very warm welcome from all of them and they are excited to see Pennsylvania Musician Magazine with a presence in these areas again. Any bands or venues that wish to advertise, please reach out. This is a free publication and is paid for solely on advertising. Prices, sizes and contact information can be found online. Thank you all for supporting LIVE music!