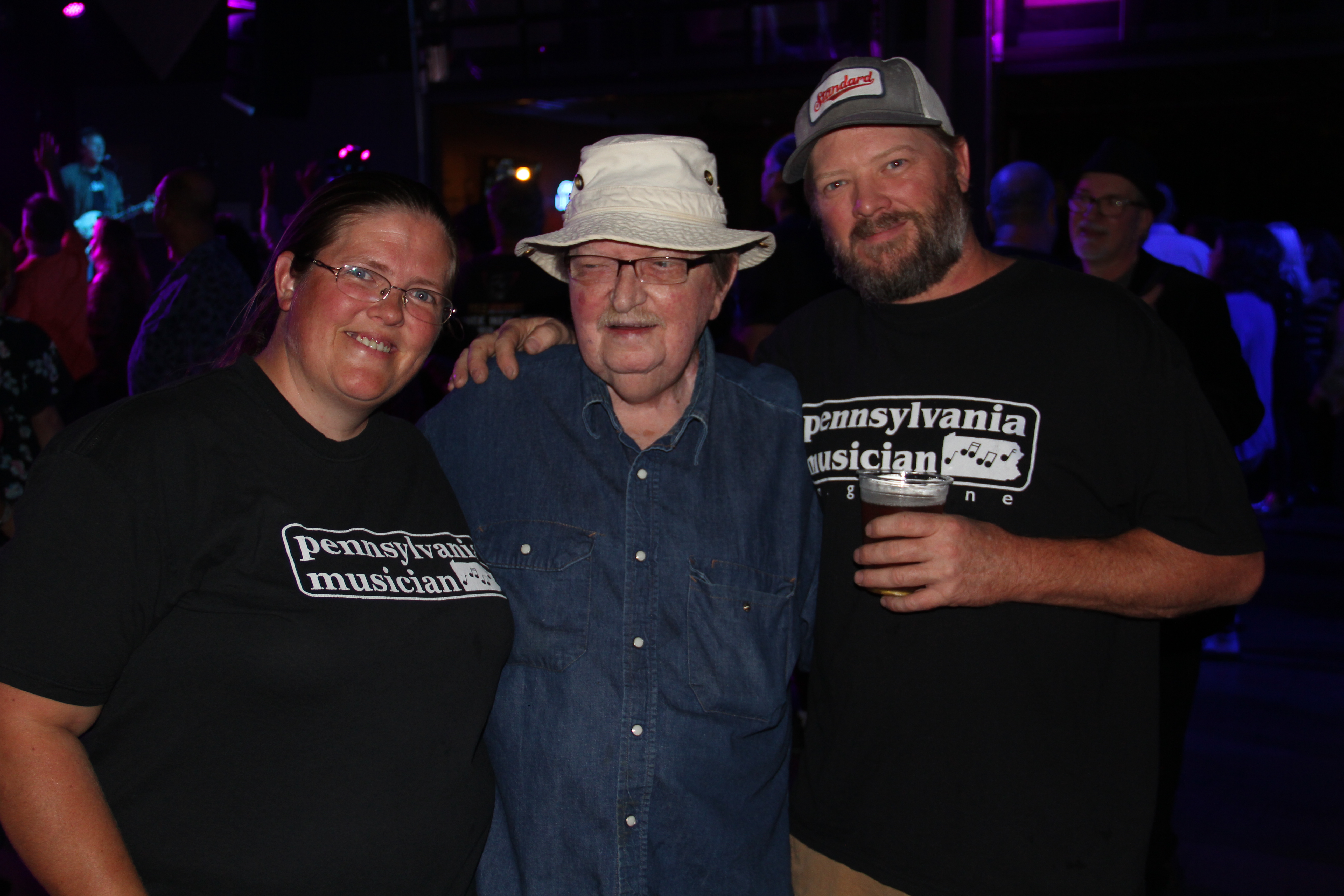 ---
By: Rachel Rocks
October article already!?! How is that even possible? It's amazing how the first day of Fall came and I immediately had to put on a hoodie. I do like slightly cooler days, but I'm still hoping for an Indian Summer. I'm not completely done with Summer yet, especially since we didn't really have a Summer, just a Rain… Speaking of which I hope everyone is dry and safe, or at least recovering. I know I've seen quite a few benefits for flood victims popping up. Keep your eyes out and if you can, please get out there and support them. It's crazy how the flash flooding effected so many people that don't even live anywhere close to a major waterway! I know we had a crazy couple of days just trying to get the magazines delivered. I can't imagine having a house or business under water.
One night of the flooding I managed to get over to the Park Inn/Blarney's to check out Rattletrap Jack. These guys are an up and coming band from the Williamsport area that have been sneaking down this way, and I'm glad they are! They are so good and so refreshing. As a group they might be 'new' but as musicians, they definitely are not. They've all played in bands for a few years and their music definitely shows their talents. They play intriguing originals and covers. A lot of bands say they play songs that no one else does, but I can tell you, that's definitely true with these guys. When I was trying to explain their genre of music I said it was like Cajun-country, Southern Rock, but they actually describe themselves as Hickabilly! Whatever it is I can tell you it will definitely get you up dancing, boot scootin, and everything in between and beyond! If you want to hear a band with some refreshing music, check out Rattletrap Jack.
The next day I was in for an adventure! For my son's 16th birthday, he said if I wanted to make it the best birthday ever I would get him tickets to the Made in America Festival in Philly. He originally said he wanted me to get tickets for him and his friend Jake, but I said no way am I letting you go to Philly alone, so I decided to email the promoters and to my surprise the Mitch Schneider Organization (MSO) invited us come in as Press. They let Zack come in as a Jr. Reporter and I was his photographer. It was definitely a day and experience we will never forget. I am very thankful to everyone hosting/staffing the event that made Zack feel so welcome. I was impressed by the event as a whole! It was so well organized, even with 4 different stages and 1,000s of people! Early in the day I asked how many tickets have been sold and at that point it was already at 15,000 and it was still early on Day 1, it was a two-day festival. I was definitely one of the oldest people there, but it was an awesome experience to see Zack have so much fun. To read all about the festival please check out Zack's first Jr. Reporter article about his Made In America Festival Experience in this issue.
The next weekend started out with a Friday night trip to Chick's in Hummelstown for Banished for Life. The word in the venue is that after their next few gigs Banished for Life will be no more. It is heartbreaking because these guys are always tons of fun to watch. They just rock out to the songs they love, and obviously their fans love too! When you've played together for well over 20 years you form a bond unlike any other. I'm glad I made it out to one of their final shows. Even though Steve Austin is going to take some time off, Doug Geyer and Sam Sweigart will keep things rocking and our joining forces with Bob Hermanson in a new project called, the New Bad. Doug and Bob have been plucking away at the new project since 2016 and even released an EP in 2017. So obviously this will be more of an original project, but I'm sure it will still be very entertaining!
The next day out was another big event, Fogleman's 5th Annual Wounded Warrior Music Festival. I've been to a lot of festivals, but this one was truly one of the most organized festivals I've seen. In the first 4 years they've raised a whopping $137,000 for the PA Wounded Warriors. They feel like this was the biggest year yet, but they were still processing all of the totals as of press time. These guys literally thought of everything. The website was very thorough with easy directions. The parking was well marked and the entire festival area was lined with 100 flags, all of the flags were in honor of someone's loved one, you could see the full list on their site, it literally gave me goosebumps when I saw them. The parking was well marked with parking attendants. The grounds themselves were all mapped out and very organized. Your ticket included all the food you can eat, and I couldn't believe ALL of the food, non-alcoholic drinks, and even candy bars for dessert. You could BYOB which is very helpful and everyone was very respectful and having a great time. I appreciated how with the raffles they just picked the ticket and taped it to each item, so you could just go check and see if you won your baskets, etc. instead of having to sit and listen to them call off each winner and wait for them to walk up and claim their prize. It was very appreciated by a lot of people! Matt Creter from Creter Music was the Entertainment Chair and he had an amazing line-up of bands, and a great stage crew to make sure everything ran flawlessly!
I arrived late in the day, but the first band I saw were Flamin' Dick and the Hot Rods. They were playing some oldies but definitely had the crowd up and dancing along. They are known as a 50's and 60's Rock-n- Roll Party Band. There definitely aren't many bands around that can play the big soulful hits of Chuck Berry, The Righteous Brothers, Jerry Lee Lewis, and more, but Flamin' Dick and the Hot Rods, played the hits flawlessly. I miss the local oldies channel, Mom and I used to love listening to it, so I heard a lot of songs I listened to on long delivery days with Mom.
The next band to take the stage were the Honkytonk Medics. They have been playing more and more in this area and I've had the privilege of catching them play a few times before. They stepped up the music quite a few decades playing Modern Country and Southern Rock favorites. It was a beautiful day until they decided to play Luke Bryan's song "Rain Is A Good Thing".. and literally it started raining. I think we are all so used to rain at this point that it didn't even phase us. The party continued and the crowd still stuck around and enjoyed the show.
The last band of the night was the Matt Creter Band. I've heard a lot about these guys, but this was the first time I finally got to see them in action. It was unfortunately raining during their set, but again the fans weren't phased and the show continued. They are all seasoned musicians and really played some amazing music. They only play a few shows a year, most of which as far as I know seem to be benefits. So when you see them on a bill you should really get out there and see them and support them. Their next show will be October 13th they are on the bill for the Robert E. Morris Memorial Ride and Music Fest at the Campbelltown Volunteer Fire Company . This is Bobby's Benefit Foundation's first hosted event, and from what I've seen it looks like it's going to be a great time. You can check out their ad in this issue for more information.
Since the benefit was done earlyish, I decided to swing in to Double K for Booby Trap's 20th Anniversary Show! 20 years of rock-n-roll!! They were playing a lot of their originals and had the crowd all riled up by the time I got there. It was a great night of music and their fans were out in droves to support them. If you haven't heard Booby Trap's original music you are really missing out. They are well written songs not only musically but lyrically as well. The lyrics sort of catch you off guard and when you are listening to them live for the first time you almost want to say, "Umm.. did you just sing what I thought you did?" The answer most likely is yes.. They are entertaining musicians for sure. If you haven't caught a Booby Trap show yet, make sure and get out there and support them soon!
The next night out was a big one at Club XL, the Metron Reunion. Now that Dad, Whitey Noll, is on Facebook he heard about the buzz from the upcoming show and decided to head out for a night on the town with Josh to see some old friends and introduce Josh to the masses. It was cool to see the shock on people's faces when they saw Dad Out and About! He had quite a few people coming up and reminiscing about the Metron days and beyond! Swatty even brought a picture from the Devil's Hole Jam in 1991 of Dad, John Harris, and Swatty himself. DJ Ray Rossi was hosting the event and was thrilled to see the turn out. He made sure to mention that in December they will be doing another Metron Reunion, so for anyone that missed it this time, make sure and keep your eyes out for the next Metron Reunion.
Not only were the Metron fans out, but the musicians were too. The Luv Gods were playing a special night of their 80s favorites. Shea even pulled out some of The Sharks favorites that quickly had the crowd singing along. The Luv Gods put on an amazing show like usual, they also had some guest musicians throughout the night. Jimi K, Kyf Brewer, and I'm told after I left Jeffrey Gaines even showed up. Overall it was an amazing night of music and entertainment. So many old Metron Fans have been waiting a long time for a new venue that hosts bands the Metron would've hosted, and even bigger bands, now that they got them there, hopefully they will come back and get the live music scene moving and grooving throughout Harrisburg and beyond.
The very last band of the month is Stonewood. I haven't seen these guys and gal for a few months, but I'm so glad our paths finally crossed again! They were playing at the new Cliff's Tavern (old Gullifty's) in New Cumberland. It was my first time to Cliff's and I was impressed. The sound and lights were looking and sounding marvelous, and when I got there the fans were all having a dancing, partying good time, so the bartenders and waitresses must be doing a good job too! I have to admit those Stonewood fans are some of the craziest fans I've seen in a long time. I saw some flips, headstands, and even a slide into home plate! There was lots of singing and dancing along. The band was having such a blast that they just played right through their set break. When Kenny, the guitar player, left the stage during the bass solo to go order drinks for the band, I knew they weren't stopping anytime soon. Luckily Shannon and Martini do a great job switching off lead vocals here and there so Shannon could get a break too and get out and dance with her crazy fans. If you want to see their crazy show for yourself, check out their ad in this issue and get out there and support live music!
Well that's all I got for this month.. Make sure and flip through the pages and check out all of the amazing shows happening throughout the month of October! I know Racehorse Tavern is super busy with benefits this month, one of those is a 2 day event, The Big Austim Beneift, October 19th and 20th. Check out the Racehorse Ad for all of the details. Bobby's Benefit Foundation Show is October 13th, lots of great bands, a motorcycle ride, and other fun stuff going on. There is way too much to write about, that's why people pay to advertise so turn the page, and check it all out and get out there and Support Live Music!!! Check out all of our Hot Shots on our Facebook page: facebook.com/pamusicianmagazine, check out our website, www.pamusician.net. Advertise TODAY!! Call 717-636-4203!!!! Support US so we can Support YOU!!