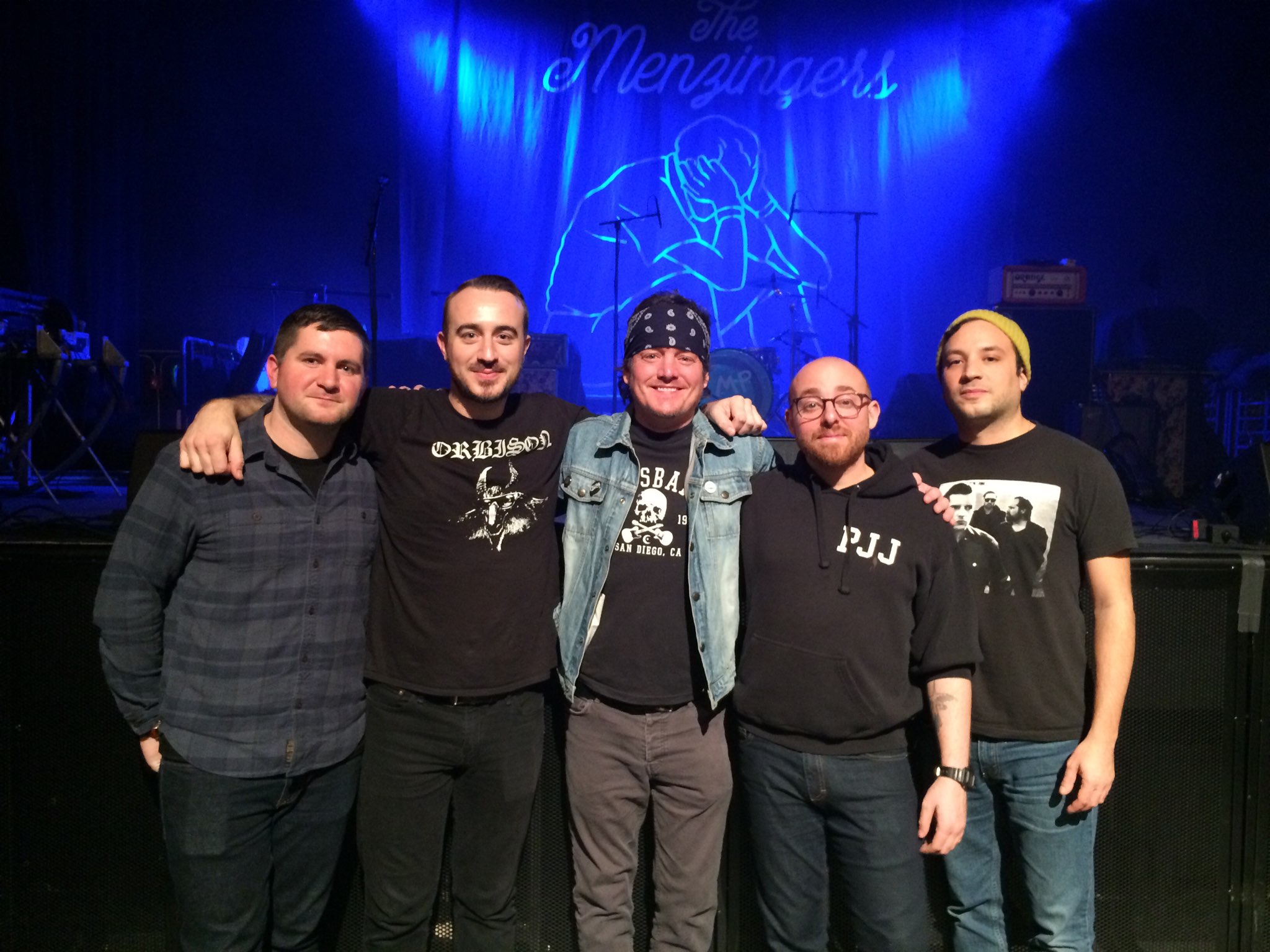 ---
By: Eric Hoffman
Greetings Rockers 'N' Rollers! Last month began with two separate shows on the same night within the same venue. Lancaster's Chameleon Club hosted Sebastian Bach of Skid Row on the main floor and had punk band Teenage Bottlerocket downstairs in the Lizard Lounge. Sebastian Bach sang all the hits fans would expect "Slave to the Grind," "18 and Life" and "I Remember You." Teenage Bottlerocket were amazing, playing such a small room before joining Descendents on tour. TBR have been around since 2000 and they play so fast, which is very reminiscent of the Ramones.
It's that time of year where National shows are less prevalent than summer tours. Thankfully there were plenty of local bands this past month in Harrisburg playing live. The Give Take, Gonz, Anthrophobia and Super High Tech Jet Fighters all put on great shows at Club XL and JB Lovedrafts, which by the way is a fantastic venue. Its been years since Smalls bar closed downtown and now it seems Harrisburg has got a good punk venue again with JB Lovedrafts. Club XL had some major shows in November including the return of England's The Struts on the 21st and the annual visit from KIX on Black Friday the 23rd. Both shows had huge crowds and Club XL keeps improving bringing bigger and better shows.
The highlight show of the month was The Menzingers at Philadelphia's Union Transfer on Nov 24. This band formed in 2006 in Scranton, PA but have relocated to the city of Philadelphia. They just completed a Fall tour of the entire U.S. with 22 shows in 1 month. The Menzingers do have one last show this year with their annual NEPA Holiday Show in Scranton on Dec 22. The band donates all proceeds to benefit youth art and music programs in NEPA. The Menzingers have released five studio albums, with the latest After The Party released in February 2017 on Epitaph records.
Hershey Concerts have already begun to announce shows for the Summer 2019 Series. June 8th – Ozzy Osbourne and Megadeth. June 13th – Carrie Underwood. July 6th – New Kids On The Block – MixTape Tour with Salt N Pepa, Naughty By Nature, Tiffany, & Debbie Gibson. Aug 18th – Backstreet Boys. There are rumors of possible shows by Metallica, Luke Bryan, KISS, Jason Aldean and Pink at Hersheypark Stadium.
NATIONAL NEWS: The Rolling Stones are bringing their No Filter tour to U.S. stadiums in 2019. "It's a thrill when we play stadiums in the States," Mick Jagger said, "the energy is always amazing!" Adds Keith Richards, "I've always loved playing the states. It's a great crowd." The 13-show tour will mark the band's first extended run of shows in the U.S. since 2015's Zip Code tour. The Stones spring let tour of Europe grossed $116 million, proving the band is absolutely still one of the biggest draws in the world. Drummer, Charlie Watts, will turn 78 years old before the 2019 tour concludes. Jagger stated he never thinks about stopping. "I'm thinking about what the next tour is, I'm not thinking about retirement." The Rolling Stones visit: May 31 – Washington, D.C. @ FedExField and June 4 – Philadelphia, PA @ Lincoln Financial Field
Joe Perry of Aerosmith felt short of breath after joining Billy Joel on stage at Madison Square Garden. Paramedics backstage gave the 68-year-old guitarist oxygen and used a tracheal tube to clear his airway before taking him to the hospital. Perry recently tweeted to fans, "Doing well, thanks for the love and support." Perry is expected to return to the road for a solo tour this month.
U2 just completed their 'Experience + Innocense: tour' on Nov. 13 after six months grossing $126.2 million in sales. The iconic Irish band sold-out over 59 performances in 30 arenas in the U.S. and Europe. The final ticket count from the tour hit 927,034. With those totals, the band is on track to rank among the highest-grossing arena tours of the year, joining such artists at Pink, Bruno Mars and Justin Timberlake. The wrap of the Experience + Innocence tour marked the end of a four-year span on the road for U2 that began with the Innocence + Experience trek in 2015. Along with this year's jaunt and the 2017 stadium run to celebrate the 30th anniversary of The Joshua Tree album, the band's total number of headlining concerts reached 185. Combined sales from all three tours total $594 million from 4.9 million total tickets.
Billy Idol became a U.S. citizen in Los Angeles, while holding the American flag as he took the Naturalization Oath of Allegiance. The 62-year-old White Wedding singer was born William Michael Albert in the U.K. and moved to New York in 1981 to launch a solo career. "It's a nice day for a naturalization ceremony," the USCIS wrote in a punny tweet. "Congratulations to Billy Idol on becoming a #newUScitizen in Los Angeles, CA."
Dropkick Murphys has revealed the dates for its annual St. Patrick's Day Tour. Celebrating the band's Celtic folk influence, the tour begins in February and concludes with four performances in their hometown of Boston Mar. 14-17. "Pack up the van (okay, okay, it's a bus), we're rolling again and looking forward to bringing the party to your town this February and March 2019," Dropkick Murphys vocalist, bassist, and founder Ken Casey said in a statement. "It's our favorite time of year to play for the best, most dedicated fans on Earth. God bless you all. We promise to leave it all on the stage again this time around!!!!" Dropkick Murphys play Freedom Hall in Lancaster, PA on March 11.
After postponing several shows this year because of a hand infection, Ozzy Osbourne has announced the second North American leg of his "No More Tours 2." The tour is to be Ozzy's final worldwide tour as a solo artist, though it is expected to continue into 2020. Megadeth will open all shows. Osbourne recently played Allentown on Aug. 30 selling 8,336 tickets and grossing $761,332. Ozzy will play Hersheypark Stadium on June 8.
KISS's "End Of The Road" farewell tour capping off a 45-year career has announced the initial 44 arena dates of the North American leg. This is not the first time KISS has said goodbye, as the group did a farewell tour with its original lineup in the early 2000s, but Paul Stanley and Gene Simmons decided to keep the moniker and act alive afterward. KISS kept ticket prices between $35 and $85 that tour and gross more than $61.6 million. KISS will play Philadelphia's Wells Fargo March 29 and Pittsburgh's PPG Paints Arena March 30.
UPCOMING SHOWS: Steel @ Harrisburg River City Dec 8. The Virus @ Philadelphia The Fire Dec 14. Eddie Money @ Reading Santander Performing Arts Dec 14. The Bronx @ Brooklyn Music Hall of Willamsburg Dec 16. War on Drugs @ Philadelphia Johnny Brendas Dec 19 / Union Transfer Dec 20 / Tower Theatre Dec 21. The Give Take @ Harrisburg HMAC Dec 21. The Menzingers @ Scranton Cultural Center Dec 22. US Bombs @ Harrisburg Club XL Jan 3.
Follow Eric on facebook at facebook.com/Eric Hoffman.