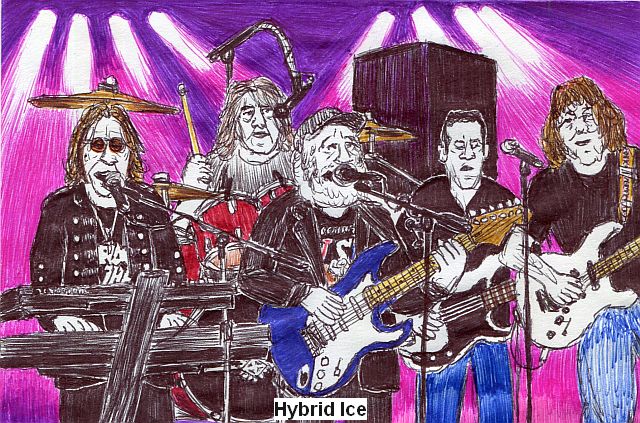 ---
By Jim Price
We're again upon that peaceful and reflective season of the year, as the world seemingly slows down for a few days and we prepare to turn the page into another year. It's a time of giving, charity, togetherness, thankfulness, celebration and contemplation; here's hoping all of our PA Musician readers enjoy a Merry Christmas, Happy New Year and safe, pleasant holiday season!
The spirit of giving was prevalent throughout the local and regional music scene in recent weeks, demonstrated by a number of benefit concerts and events where musicians, volunteers and the community contributed to help out charitable causes and folks in need. Bands, musicians and the community came together at Altoona's Jaffa Shrine in late October to raise money for the American Cancer Society during the 7th annual Striking Chords Against Cancer benefit. Full bands and smaller/solo acts alternated during the course of the evening. After Buzz on 27 – the new project featuring former members of Hello, Vixen – opened the night, Matt Pletcher & the PDX were on stage as I arrived. Matt on vocals and acoustic guitar, Kenny Murdick on lead guitar, Paul Rainey on bass, Nathan Beatty on keys and Randy Servello on drums mixed Matt's original songs with country favorites from Johnny Cash, Zac Brown Band, Darius Rucker, Luke Combs and more. Next was the acoustic incarnation of new area band August Wake, featuring lead singer/guitarist Matt Wagner, guitarist/singer Joe Scott and Eric "Dawg" Swander on percussion. The three musicians performed a short set of original songs that will be on their forthcoming debut EP. At this point, guest speaker Melissa Kruise shared the story of her young daughter Kaylee's courageous cancer battle, which reminded everyone in attendance what this night was all about. This Albatross then energized the room with their set, mixing high-energy rock, pop and country favorites. Singer Autumn Grooves Wagner demonstrated a stunning voice up front, especially on the group's fusion of Stevie Nicks' "Edge of Seventeen" with Blondie's "Heart of Glass" and "Call Me." Commencing with their ballad tribute to actor River Phoenix, "Rise River Rise," the duo of Dave Villani and Steve Oswalt then shifted gears into a milder vein, mixing pop and rock classics from Richard Marx, Simon & Garfunkel, the Beatles, Billy Joel and more. Steve, three-fifths of This Albatross (Philly Grooves Wagner, Kirk Robison and Shawn Gioiosa) and bassist Rich Johnson reconvened as Agent Smith to kick out their hard-rocking set. They mixed favorites from Stone Temple Pilots, Harvey Danger and The Cult, before morphing into their 'Agent In Chains' tribute to Alice In Chains for five of that group's classics, including Steve's dedication of "Rooster" in memory of his late father. Making another Striking Chords appearance, Drew Dodson's four-song acoustic set led to the nightcap performance by The Chrome Hearts, who kicked up the country with a mixture of their own original songs plus favorites from Miranda Lambert, Eric Church, Gretchen Wilson, Jason Aldean, Luke Bryan, Johnny Cash and more.
Also in late October, McGarvey's in Altoona hosted the Trick or FEED Food Drive Halloween Bash, as three heavy-hitting bands raised funds and non-perishable food items for the Altoona Food Bank. Organized by Hate Grenade, Trick or FEED kicked off with sets from Altoona's Fyre and Pittsburgh's Oceans to Ash. I arrived just before Hate Grenade's set; frontman Jeff Glace, guitarist Chuck Lavera, bassist Donny D and drummer Mike Powers scorched the walls with numerous tunes from their latest CD, The King Is Dead. They led off with the title track, and followed with "Burn," "Reborn," "Temptress," "Revelation," "Come With Me," "Watch Your Back" and more. As always, Hate Grenade delivered all-out intensity, totally investing in their performance and bringing the fury. Trick or FEED raised $300 and lots of non-perishable foods for the Altoona Food Bank.
Musicians and the community again converged at Altoona's Bavarian Aid Society last month for the 8th annual Patched Together: A Day of Music to Benefit the Healing Patch, which raised funds for Home Nursing Agency's Healing Patch, a peer support program for children and families who have suffered the loss of loved ones. Eight bands performed on two stages; comprised of musicians ranging in age from 11 to 17, youth rockers 80 Degreez kicked off the event impressively with their set of classic rock gems. Singer Gabrielle, lead guitarist Dino, rhythm guitarist Ian, bassist Mack and drummer Alex sounded tight and together as they performed numbers from 38 Special, Pat Benatar, Scandal, Blue Oyster Cult, Scorpions and more. 80 Degreez upped the ante as they went along, culminating in excellent renditions of Iron Maiden's "Wasted Years" and Ozzy Osbourne's "Crazy Train" to finish their set. Featuring the father-and-son tandem of Donny Burns Sr. and Jr. on voices and guitars, Time with Donny Burns continued with their interesting blend of rocking classics. Along with guitarist Nick Stahlman, bassist James Arroway and drummer Mike Hohnka, Time with Donny Burns did fresh-sounding takes on The Who's "The Seeker," the Black Crowes' "Remedy," the Allman Brothers' "Soulshine," Led Zeppelin's "Good Times Bad Times" and "Ramble On," and more. Railtowne shifted the musical flavor toward country with their set, welcoming guests onstage along the way. Singer/guitarist Ty Ayers, guitarists Kenny Murdick and Eric Wertz, keyboardist Nathan Beatty, bassist Paul Rainey and drummer Zac Grace triggered dance activity with tunes from Miranda Lambert, Randy Houser, Jason Aldean, Big & Rich, Brantley Gilbert and more. Alex Shumaker of 80 Degreez joined Railtowne on both guitar and drums, as well as his bandmate Ian and others. Also making their Patched Together debut, Negan fired off hard-rocking favorites from Stone Temple Pilots, Seven Mary Three, Live, Nirvana, Alice In Chains, a version of Iron Maiden's "Two Minutes to Midnight" and more. Returning favorites Jim Donovan & the Sun King Warriors continued to elevate spirits with their set, performing upbeat original songs off their latest album We See Through It and more. Namesake Jim on vocals and guitar, bassist Kent Tonkin, guitarist/harmonica man Dan Murphy, percussionists Bryan Fazio and Harry Pepper were joined by Jim's daughter Tupelo on backing vocals, guest guitarist Noah Myers and guest drummer Charles McClanahan. Greg Burley followed with his acoustic set, performing rock, folk and country numbers from Bob Seger, Three Dog Night, Lumineers, Drake White, Bee Gees, Steve Earle and more. Matt Otis & the Sound presented a mixture of original songs and select favorites. Also making his first Patched Together appearance, namesake Matt on vocals, guitar and keys, Kent Tonkin on bass, Alec Zander Redd on sax, Harry Pepper on percussion and Charles McClanahan on drums did versions of the Monkees' "I'm a Believer" and Buffalo Springfield's "For What It's Worth," as well as original songs favorites such as "Frozen Moments," "Home," "Make" and "The Most Important Thing." The Chrome Hearts then closed out Patched Together with their rousing country-rock mixture; doing original songs from their Oh No CD and country favorites.
I also took in last month's benefit concert for Harpo's John "Lloyd" Kistner at the Front Street Station in Northumberland. Four bands – Kinsey, Jesse, Sucker Punch and Hybrid Ice – donated their talents to raise funds and support for "Lloyd," Harpo's singer and keyboardist, on the mend after encountering stroke issues in August. Besides music, the benefit also featured basket giveaways plus a guitar autographed by the members of Harpo. I missed Kinsey's opening set, but arrived as Jesse was rocking a full house crowd. Rocking Susquehanna Valley stages for more than 40 years, Jesse – singer/guitarist Tom Inch, bassist/singer Scott Clark, lead guitarist Chooch Stanton and drummer Ken McCartney – had folks dancing and cheering to favorites from Lynyrd Skynyrd, Jimmy Eat World, Chuck Berry, Cheap Trick, AC/DC and more. Next was Sucker Punch, the hard-rocking side project featuring Harpo bassist (and show organizer) "Billy Rock" Kerstetter and guitarist Chris Silvagni, plus singer Bill Swartzlander and drummer Tim Conrad. Sucker Punch delivered fury, intensity and attitude on their set of modern heavy rock covers, lighting up the house with numbers from Godsmack, Pop Evil, Three Days Grace, Shinedown, Disturbed, Saliva, Linkin Park and more. A major highlight was when Sucker Punch welcomed Harpo drummer Richard Smith and Halfway to Hell (AC/DC tribute) singer Forrest to the stage for a rousing version of "Highway to Hell." In between songs, Billy expressed gratitude to the crowd for their support and celebrated his 50-year-plus friendship with Lloyd. After opening with their original tune "Leaving the World Behind," Hybrid Ice – Bob Richardson on vocals and keys (and a few times drums), Chris Alburger and Rusty Foulke on vocals and guitar, Jason Shaffer on bass and Rick Klinger on drums – saluted Lloyd with their version of Led Zeppelin's "Kashmir," a song Lloyd frequently performed with Harpo. Hybrid Ice proceeded to do what they do best, delivering arena rock classics from the 1970s and 80s from Styx, Journey, Boston, The Who and more. The band members sans Jason alternated singing duties, and capably delivered the vocals and harmonies. Rick stepped out from behind the drum kit (and Bob took over drumming duties) to sing lead on AC/DC's "Sin City." Hybrid Ice also strung together a lengthy medley of classics from Bad Company, Jefferson Starship, Aerosmith, Metallica, Guns N'Roses, Bon Jovi and more, culminating with the ending of the Beatles' "Sun King Medley." Chris then fronted the group on their popular signature tune "Magdalene," before an emotional Billy Rock returned to the stage to again thank the bands and fans for all the support. Hybrid Ice then slammed the lid on the day with their version of Boston's "Smokin.'" The atmosphere was charged and the room was full of positive energy throughout the benefit as people had a good time and showed love and support for Lloyd. Here's to his full recovery, and the hopes that we get to see him back on a performance stage soon!
Outdoor musical activities drew to a close as temperatures turned colder. Downtown Hollidaysburg presented its annual Pumpkin Festival in late October, with pumpkin-based food in the spotlight, numerous vendors and live music. Zach Wade & the Good Grief capped the day's music. With Graham Albright filling in on lead guitar for Rogan Allen, the group pleased passers-by, fans and onlookers with their mostly original song arsenal, mixing tunes off their @ the Bitter End EP with new tunes, and even a few Zach solo originals to start their second set. Graham generated some clean and impressive guitar solos along the way, and he, Zach, bassist Devin Pierce and drummer Keegan Allen were tight on the execution. Zach Wade & the Good Grief did at least two covers; a version of Prince's "Starfish and Coffee" during their first set, and Rusted Root's "Send Me on My Way" to close out their show. Also performing this day were the Joy Drummers, who pounded out west African drum songs, and kicking off the day's music, the Tussey Mountain Moonshiners with their mix of bluegrass and folk sounds.
Once in a while, my monthly PA Musician delivery duties coincide with covering a live music event. Such was the case in early November when I did my magazine foot deliveries around downtown State College as the city's monthly First Friday festivities took place. The main festivities were centered around Fraser Street to celebrate veterans and Veteran's Day. One U.S. Army veteran, Sgt. Bob Timney, performed at the Fraser Mini Mall stage. Strumming acoustic guitar and singing, Bob did a mixture of original songs off his Papa's Moon CD and rock, soul, folk and country favorites. I caught several of his songs, including versions of Sammy Johns' 1973 hit "Chevy Van," Jimmy Buffett's "Margaritaville," Bill Withers' "Ain't No Sunshine" and a song off his CD, "Empty Halls." I later encountered The Roof as they performed in front of the State Theatre on College Avenue. Singer/guitarist Frank Musaraca, guitarist Jacob Finkbiner and percussionist Skyler Scholl mixed songs from their newly-issued EP Tangled Lives with a variety of alternative blues, rock, funk and pop.
Speaking of the State Theatre, I made it inside that venue to see the legendary Dave Mason last month. Part of "The Very Best of Dave Mason" tour as he celebrates 50 years of live performing, Dave and his band performed some of the songs he created or helped to popularize. Joined by singer Gretchen Rhodes (who has worked with Mick Fleetwood for more than a decade), guitarist Johnne Sambataro, keyboardist Tony Patler and drummer Alvino Bennett, Dave did numbers such as "Only You Know and I Know," turned into a 1971 hit by Delaney & Bonnie; numbers from Traffic (which he co-founded) such as "Feeling Alright," "Rock and Roll Stew," a blues/soul duet take (with Gretchen) on "Low Spark of High-Heeled Boys," and a minor-key spin on "Dear Mr. Fantasy"; Blind Faith's "Can't Find My Way Home" and more. Now 72, Dave shared some stories and humor, and displayed stellar guitar work, while Gretchen displayed an excellent voice on many of the songs. When the State Theatre crowd called for an encore, Dave and the band returned, with Gretchen fronting an Aretha Franklin tribute with a version of "Chain of Fools," before Dave and the group finished the night with "All Along the Watchtower."
Another highlight for me in recent weeks was seeing Shane Speal & the Snakes last month as they raised the roof at Speal's Tavern in New Alexandria. I was already eager to see Shane and his band perform at his family-owned music venue. But Shane then announced that this night would also be the christening of his new Cigar Box Guitar Museum housed at the Tavern. I arrived as Shane gave his presentation and tour of the new museum, spotlighting new additions and musical artifacts; his "guitarcheology" as elaborated upon in his new book, Making Poor Man's Guitars. "This is our gift to the world," said Shane as he went around the room and introduced each instrument. The assortment of instruments was amazing, and each had its own story. Ham can guitars and ukuleles, one-string cigar-box guitars and violins, instruments made from gas cans, horse bridles, dresser drawers, biscuit tins, frying pans and more, plus unusual curios such as a saxophone-shaped mandolin, unusual double-necked guitars such as the "Devil Girl Double Neck" and "Earle, the Evil Double-Neck" (which had been found in the muck and devastation following Hurricane Katrina) and more. Afterward, the show itself was raucous and rowdy from start to end. Imagine Motorhead as a jug blues band, and you might have a general sense of what Shane Speal & the Snakes bring to the stage. Shane on his assortment of cigar box guitars and lead vocal howls and growls, Farmer Jon on washtub bass and Rick Stepina on cajon blasted through three sets of original tunes, interpretations of early blues tunes, medleys, and even raw early blues takes on select rock, pop, soul and country numbers. Highlights were many, from Shane and the Snakes' rendition of the "Star Spangled Banner" to many of the original songs – including the sinister "Strung Out, Drunk and Busted (And There's a Body in the Trunk)," "49 Years," "A Fat Man Will Love You (Like No Skinny Boy Can)," "Six Feet in the Hole," "16 Miles to Saltsburg," and a couple from the latest album Stay Primal such as "Drinkin' Beer" and "Quarter to Nine." Highlights also included the cover song arsenal; including Shane's early blues reworking of Rush's "Working Man" which incorporated pieces of Bo Diddley's "Bo Diddley" and Ace Frehley's "New York Groove," Jimi Hendrix's "Redhouse," plus tunes from Hank Williams, Depeche Mode, Led Zeppelin, Lionel Richie/The Commodores, and – to cap the night – Prince's "Purple Rain" and the fusion of The Doors' "Roadhouse Blues" and Joe Walsh's "Rocky Mountain Way."
Four area bands from the mid-2000s reunited onstage last month for the "2005" show at McGarvey's. This was a fun event, a sort of living photo album of a local music moment in time. Chapter 5 reprised their full-throttled brand of driving punk rock to open the night. Frontman/bassist Tim Mort, drummer Billy Mort and guitarist/singer Tom Noel brought back former furious tunes such as "Inside Out," "Buried," "Teenage Angst Rebellion," "2-Door Hardtop," "Compromised," "Hollow Song," "I Stand Alone" and more. Tim commented that it was fun and rewarding for the group to revisit and relearn these songs, and Chapter 5 sounded sharp and inspired on the entire set. Likewise, The Fisticuffs revisited their punk rocking glory and fired up the crowd and some pit action. Guitarist/singer Tyler Jenkins, guitarist Pat Orr, bassist Chet Lafferty and drummer Justin Burket slammed out vigorous tunes such as "Premonition," "Locked In," "Dead to Me," a cover of The Methadones' "Hygiene Aisle" and more. The Fury of Turd Ferguson then blended elements of alternative, punk, hardcore and scream. Five members strong, The Fury of Turd Ferguson had a large contingent of fans up front cheering and stirring up moshpit action with tunes that took erratic and chaotic twists and turns. The Hope Fallacy then closed out the night with their reunion set, blasting melody-geared power punk and pop. Singer and bassist Eric McCrum, singer/guitarist Adam Pielmeier, guitarists Adam Mueller and Evan Fredo, and drummer Trey Carruthers energized the house with their familiar original song favorites such as "Over and Out," "Behind Closed Doors," "Caroline Street," "Up All Night" and more. The Hope Fallacy fired up a happy dance pit and sent the show home with an upbeat vibe. Judging by the large turnout, all four of these bands made a clear mark on the area music scene and influenced musicians now on the scene – major kudos to Sean Stringer for putting this show together, an excellent night!
From New York City, Tragedy: Metal Tribute to the Bee Gees & Beyond returned at McGarvey's last month. After local 80s hair band practitioners Hair Force One opened the night, Tragedy gave the heavy-handed metal treatment to Bee Gees and various late 1970s disco-era hits, complete with glam, humor and bombast. Comprised of singer/keyboardist Disco Mountain Man, singer/guitarist Mo-Royce Peterson, bassist/singer Andy Gibbous Waning, lead guitarist Garry Bibb and drummer The Lord Gibbeth (plus utility infielder and towel boy Lance), Tragedy kept the 'Altoona City' crowd rocked and entertained with their crazed takes on "You Should Be Dancing," "How Deep Is Your Love," "Stayin' Alive," an AC/DC-tinged send-up of Oasis' "Wonderwall" and – bringing multiple ladies from the audience onstage – the night-ending, lid-slamming version of Village People's "YMCA." The outfits, choreography, energy, antics and humor propelled this into a wild, fun night.
Also at McGarvey's, I recently saw the triple-bill featuring Zach Wade & the Good Grief, Idle Kyle and The Crew Of The Half Moon. Calling both State College and Philadelphia their home base, Idle Kyle features singer, guitarist and keyboardist Nicole June and drummer Sebastian Goodridge. They crafted an intriguing sound rooted in indie folk and rock, but flavored with elements of jazz and other flourishes. Johnstown's The Crew Of The Half Moon introduced a number of new songs as they gear up to record their next album. Singers and multi-instrumentalists Katie Rhodes and Dan Oatman, plus drummer Jon Beard, mixed those new songs with tunes off their previous album, Blanket Fort Radio. And with regularly-scheduled guitarist Rogan Allen back on the stage, Zach Wade & the Good Grief closed the night strong with their blend of new and familiar original songs.
I caught my first look at Avenue of Kings as they rocked the Castle Pub in Ebensburg last month. I arrived just as openers Restless at Ten were wrapping up their set with Fall Out Boy's "Sugar We're Goin' Down," which had some dancers up and moving. Then taking the stage was Avenue Of Kings, the new area heavy-rocking project featuring Fyre frontman Matt Stoyanoff on lead voice, Chris Silva on guitar, Brad Jamison on bass and the return of former Flight 19 drum man Darin Hand behind the kit. This group lit things up on their two sets, doing a mix of classic, new rock and metal from the likes of Poison, Skid Row, Alice In Chains, Van Halen, Pearl Jam, Metallica, Motley Crue, Ghost A.D., Theory Of a Deadman, Sixx AM, Greta Van Fleet and more. Avenue Of Kings raised the bar as they went; by the latter stages of their nightcap set, they were dropping jaws to the floor with remarkable takes on Judas Priest's "Hellion/Electric Eye," Iron Maiden's "Wasted Years," Megadeth's "A Tout Le Monde," and – for possibly the first time ever covered on a local stage – Helloween's "I Want Out!" Matt was again doing unbelievable feats on the vocal end, Chris was blistering on the frets, Brad's bass lines were sturdy and clear, and – only recently coming on board – Darin sounded totally in control behind the kit. Watch out for Avenue Of Kings as they spread their rock throughout the region – very impressive!
Lancaster-based cosmic rockers Medusa's Disco brought their hard-rocking psychedelic sounds back to The Arena in State College early last month. This was a three-part show, with one of the group's two guitarists and singers, Hunter Root, opening with a solo acoustic set. He performed indie-folk/rock-flavored original tunes. The rest of the group minus Hunter – singer/guitarist Wynton Huddle, bassist Anthony Procopio and drummer Alex Aument – then took the stage as Halloween Moontown, playing just their second show as this configuration. In a similar vein to the mothership band, Halloween Moontown did their own take on psychedelic-flavored rock with an adventurous approach, mixing in curious time signatures, plus elements of jazz, reggae, even a waltz beat on parts of their song "Immortality." The full band – jokingly using the alter ego 'Corporate Scorpions' – then closed out the night with their freewheeling set, introducing a lot of new compositions toward their next album. Medusa's Disco's sound continues to be rooted in late '60s/early '70s experimental rock channeling Led Zeppelin and Wishbone Ash, distilled through the reckless abandon of Primus and the modern-day stoner rock of Queens of the Stone Age. Each song was a different adventure, and all of Medusa's Disco's tunes kept an excited group of fans firmly in front of the stage from start to end. Guest Nick Stahlman joined in to wail some harmonica on one number. Medusa's Disco again generated musical unpredictability and excitement; their next album should be issued next spring.
I caught up with Johnstown hard rockers Inside Out in late October as they rocked a Halloween party at the Sunshine Mine Inn in Coalport. The room was packed as Inside Out did their thing; frontman/guitarist Tim Frick, guitarist Cody Williams, bassist Larz Philip and drummer Mark Gindlesperger brought the thunder with some of their new original tunes such as the anthemic "Get Up," "Watch You Burn," "In My Blood" and "I Will Find a Way," and they drilled heavy-rocking favorites from Kiss, Avenged Sevenfold, Pop Evil, Saliva, Linkin Park, Disturbed, Kiss, Ratt, Van Halen and more. Inside Out is at work on their next CD, and they recently introduced their band brand of Cocho, a locally-distilled bourbon with a habanero bite.
Other performers I saw recently included Casey Gray & Tyler Shultz at the Dog House in Bellwood, and Felix & the Hurricanes during one of their weekly Sunday shindigs at Altoona's Black & Gold Tavern.
The area music scene was saddened by several passings in recent weeks…Longtime musician Jerry Mosey passed away on October 30 at age 60. Jerry played alongside his brother, Jim Mosey, for two decades in the Mason-Dixon Band, and also played bass in the group Cross Fire. Jerry was also the father of area drummer Jay Mosey…Steve Forgas passed away unexpectedly at his home on Nov. 20 at age 46. Steve played on area stages for more than two decades; he sang, played guitar and keys, and was a member of several Johnstown area bands over the years, including Ribbon Grass and Blue Collar Fate…And Steven Helsel, the operations manager of Altoona Community Theatre, died on Thanksgiving Day after a brief illness at age 63. Steven was a driving force behind Altoona Community Theatre as well as the local arts community, was involved in scheduling, public relations and fundraising for Altoona Community Theatre, and directed and acted in local theatre as well…Our thoughts and sympathies go out to the families, friends and colleagues of all three men.
News and notes…Following the success of last year's first compilation, A Johnstown Christmas, the organizers and the Johnstown Tribune-Democrat newspaper are issuing a sequel; A Johnstown Christmas Volume II features another Christmas song donated by former NBC "The Voice" finalist Josh Gallagher, as well as Christmas favorites and holiday-themed originals from The Moore Brothers Band, Smooth Sound, Jazz In Your Face, Walt & Jackie, The Mutual Fun Society and more. Proceeds from CD sales benefit the Tribune-Democrat's Santa Fund, providing for needy area children during the holiday season…Clearfield and Centre County musicians are finishing work on the long-awaited holiday season CD Lords a Leaping Vol. IV…Walkney has issued their debut EP; the five-song EP, called Oh No, is now available for purchase through iTunes…Darkness On The Radio have issued their first CD, the five-song EP New Murders, Old Crows… Altoona area classic rock specialists The Syrins have decided to part ways after a 14-year run on area stages to focus on families and other career opportunities…Pittsburgh-based indie rockers The Lampshades have gone on indefinite hiatus; the group's singer and guitarist, Jaren Love, will continue to perform songs from The Lampshades' recently-issued Astrology album as a solo performer, and introduce new song material to be featured in a forthcoming new project…One of Pittsburgh's first coffeehouses, The Beehive Coffeehouse, closes its doors at year's end after 28 years in business.
Please send correspondence and recordings to: Jim Price, 1104 S. Catherine St., Altoona, PA 16602. You can also e-mail me at jptheprofessor@gmail.com. And if you're into social networking, look me up on Facebook or Google+. SUPPORT LOCAL MUSIC! And HAPPY HOLIDAYS!