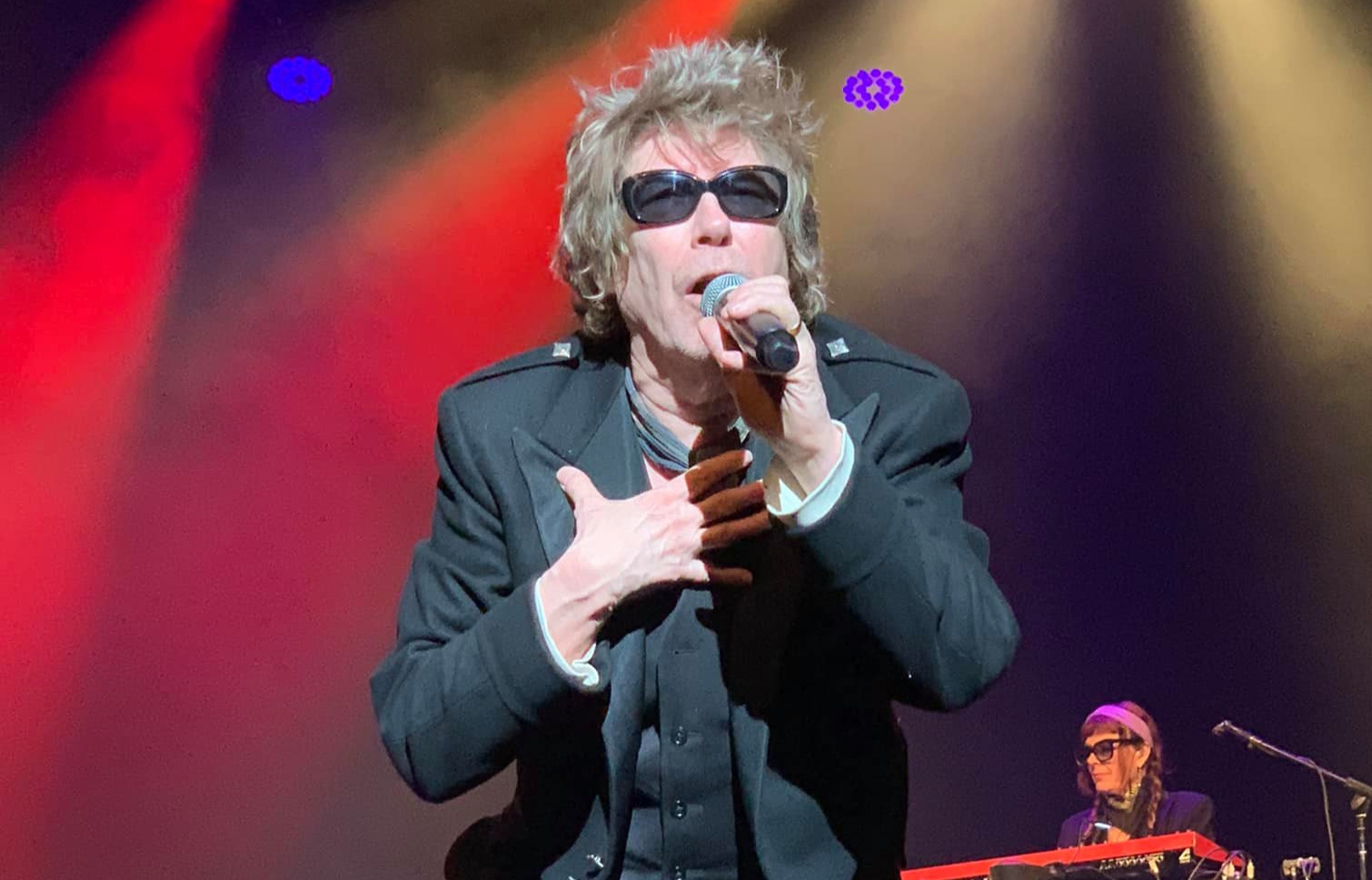 ---
By: Eric Hoffman
Greetings Rockers 'N' Rollers! Last month began with a great show at the Appell Center in York featuring the Psychedelic Furs and Royston Langdon (Spacehog). Langdon was incredible opening the show solo with an acoustic guitar and playing notable Spacehog songs, "In the Meantime" and "Cruel to Be Kind." The Psychedelic Furs also put on a fantastic show including their hits, "Pretty In Pink," "Heartbreak Beat," and "Love My Way." The British band formed in 1977 played many songs from their eighth and recent (March 2021) released album, Made of Rain. A massive thank-you to York legend, Keith Shipman, for the amazing seats!
Buckcherry made a visit back to the mid-state on November 9 to Harrisburg's XL Live. The California-based band is continuously on the road and currently in the midst of their Hellbound Tour. Josh Todd and the guys played well-known songs, "Lit Up," "Ridin," "Crazy Bitch" and then ended with a slew of cover songs including Bryan Adams "Summer of '69," Creedance Clearwater Revival "Proud Mary" and Icona Pop "I Don't Care." Buckcherry had last visited Harrisburg in March 2018 playing at Harrisburg Midtown Arts Center.
A great surprise was catching Indiana-based indie rock band Houndmouth at HMAC on November 13. A very impressive show from a band that's been around for 10 years. Houndmouth have a hit single, "Sedona" and have released four studio albums. Truly a very talented band who are touring in support of their latest album, 'Good For You', which was also released this past month on the 5th.
The legendary Bob Dylan came to the Hershey Theatre on November 16 to perform to a sold-out crowd. Dylan, now 80 years old, is in the beginning stages of a two-year worldwide tour called, "Rough and Rowdy Ways." The title of the tour comes from his 39th studio album released in June of last year. It is also his first album of original songs since his 2012 release, 'Tempest'. In typical Dylan fashion, he did not play any of his popular songs and barely addressed the crowd – but fans didn't mind and he was really great. Bob Dylan has been described as one of the most influential figures of the 20th century, musically and culturally.
Several great local bands performed last month as well, including Jet Silver at Metropolis Art Gallery in Mechanicsburg on November 6, with Tony Ryder and the Idle Saints providing support. Timmy's Creepshow played the new Lovecraft's Brewing Company in Mechanicsburg on November 13. And Johnny Stanec from Youngstown, Ohio played Harrisburg's ZeroDay Brewing on October 28.
NATIONAL NEWS: KIX drummer, Jimmy "Chocolate" Chalfant, suffered a heart attack at his home on the evening of September 29 and was rushed to the hospital. He had immediate surgery to insert two stents in his heart then another surgery the next day for another stent. Chalfant has spent the last month resting at home but has been cleared by doctors to play again. His first return show was at Harrisburg's XL Live, the day after Thanksgiving. KIX did not cancel any shows the past month and used Will Hunt (Evanescence, Black Label Society, Slaughter) and John Allen (Stone Horses, Child's Play, SR-71) as replacements.
Robert Plant and Alison Krauss released their second collaborative album, 'Raise The Roof', on Friday, and announced an accompanying tour. The duo's first tour dates in 12 years comprise a two-week early June U.S. trek including Merriweather Post Pavilion in Columbia, MD on June 11 and The Mann in Philadelphia and on June 12. 'Raise The Roof' follows Plant and Krauss' acclaimed 2007 album 'Raising Sand', which won five Grammys, including Album and Record of the Year.
The Bud Light Super Bowl Music Fest has returned for its third installment, with three nights at Staples Center ahead of the Big Game February 10th – 12th. The event kicks off Thursday with Halsey and Machine Gun Kelly. Friday features Blake Shelton and Gwen Stefani along with Mickey Guyton, and Saturday night boasts performances from Miley Cyrus and Green Day. This year's event promises surprise appearances by celebrities and athletes as well. The Super Bowl returns to Los Angeles for the first time in nearly 30 years.
Journey announced a 2022 arena tour that will take the Rock & Roll Hall of Fame band to 40 cities across the U.S. and Canada. "Freedom Tour 2022" begins at Pittsburgh's PPG Paints Arena on February 22 and plays Philadelphia's Wells Fargo Center the following night February 23. Billy Idol will support the first portion of the tour and Toto will assume opening duties for the second chunk of dates. "It's that time – time to get back to where we are used to being – on stage!" said Journey's Neal Schon in a statement. "We are looking forward to shifting into high gear and bringing you the best show possible. The band is running on all 12 cylinders and very excited!"
Twenty One Pilots celebrated the release of the deluxe version of their new album 'Scaled And Icy' by announcing the 23-city arena outing, "The Icy Tour 2022." Twenty One Pilots recently completed an unprecedented "Takeover" tour that saw the band literally take over 5 major-market cities, playing clubs through arenas in each city. The Icy 2022 Tour visits Pittsburgh PPG Paints Arena on August 31, Philadelphia Wells Fargo Center on September 2 and Washington DC Capitol One Arena on September 3.
The crowd at a Houston music festival surged toward the stage during a performance by rapper Travis Scott, squeezing fans so tightly together that they could not breathe or move their arms, hours after 10 people died in the chaos. The pandemonium unfolded November 5 at Astroworld, a sold-out, two-day event at the NRG Park stadium. An estimated 50,000 people were in attendance. It was not clear what set the crowd in motion. Houston Fire Chief said the crowd "began to compress towards the front of the stage" when Scott took the stage which triggered panic and caused some injuries. Then "people began to fall out, become unconscious, and it created additional panic." Seventeen people were taken to hospitals, including 11 who were in cardiac arrest. In a tweet, Scott said he was "absolutely devastated by what took place." The deaths called to mind a 1979 concert by The Who where 11 people died and about two dozen were injured as thousands of fans tried to get into Cincinnati's Riverfront Coliseum.
Britney is free. A Los Angeles judge ended the conservatorship that has controlled Britney Spears' life and money for nearly 14 years. The decision capped a stunning five-month odyssey that saw Spears publicly demand the end of the conservatorship, hire her own attorney, have her father removed from power and finally win the freedom to make her own medical, financial and personal decisions for the first time since 2008. Jubilation erupted outside the courthouse, with fans cheering and shouting after the decision was announced. The crowd chanted "Britney! Britney! Britney!" and fans sang and danced to Spears' song "Stronger." Spears made at a hearing in June when she passionately described the restrictions and scrutiny of her life as "abusive." She demanded that the conservatorship end without any prying evaluation of her mental state. Court records put her net worth at about $60 million.
Greta Van Fleet has announced the routing for the 2022 "Dreams In Gold Tour," kicking off with a round of dates in the band's home state of Michigan. Rival Sons and The Velveteers are coming along as support on the North American shows. "We are eager to celebrate with you again worldwide," Greta Van Fleet tweeted. Stops on the schedule include GIANT Center in Hershey on March 30. Greta Van Fleet's sophomore album, The Battle at Garden's Gate, released in April and debuted at No. 1 on Billboard's Top Rock Albums Chart.
Hank Von Helvete, the best-known singer of long-running Norwegian death-punk act Turbonegro, died at the age of 49 on November 19. Von Helvete, recorded several albums with Turbonegro while singer from 1993 to 2011 and led the band as a dynamic and successful live act, combining punk, glam, and hard-rock sensibilities with theatrical presentation. Upon leaving Turbonegro, he performed as Hank Von Hell as a solo artist and in the supergroup Doctor Midnight & The Mercy Cult.
Legendary photographer, Mick Rock, passed on November 18. He was Bowie's official photographer in the early 1970s, helping to make the singer's alter ego, androgynous alien superstar Ziggy Stardust, a sensation. Rock went on to take some of the most famous music photos of the era: a topless Iggy Pop on the cover of the "Raw Power" album; a spectral Lou Reed on "Transformer"; the members of Queen, their faces part-shadowed, for the cover of "Queen II." No cause of death was given. Graeme Edge, a drummer and co-founder of The Moody Blues, died at the age of 80. The band's frontman Justin Hayward confirmed Edge's death November 11 on the group's website. Hayward called Edge the backbone of the British rock band, which was inducted into Rock & Roll Hall of Fame in 2018.
Iman says she'll never remarry after David Bowie's death, stating "No, I will not. I still feel married. Someone a few years ago referred to David as my late husband and I said, 'No, he's not my late husband. He's my husband." They met on a blind date set up by a mutual friend in Los Angeles, "David said it was love at first sight," Iman, 66, said "It took me a few months but I got there." The couple married in 1992 and lived in New York City where the musician could "hide in plain sight" in his favorite book shops and walking their daughter, Alexandria, home from school.
UPCOMING SHOWS: Hooters – Harrisburg XL Live Dec 4. Glorious Sons – Harrisburg XL Live Dec 9. Anthrophobia – Lancaster Village Dec 17. Swisher Sweets feat Shea Quinn – New Cumberland Legion Dec 17. The Menzingers – Harrisburg Capitol Room HMAC Dec 18.