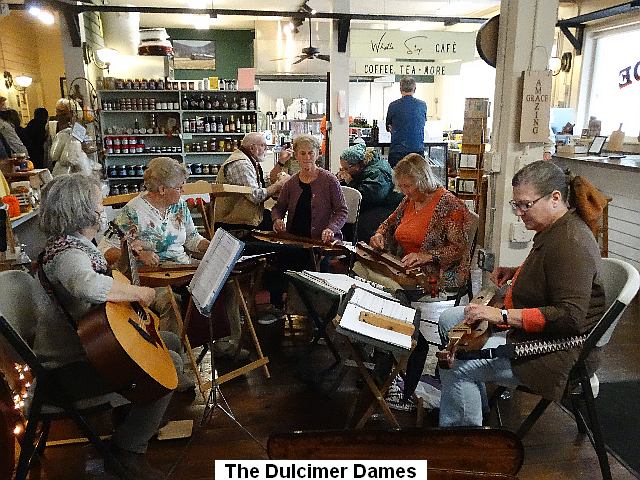 ---
By: Jim Price
As I write this, we are just past Thanksgiving, another holiday season has begun, and we enter the homestretch of 2021. I'm thankful for a lot of things – good health, a healthy car (which, closing in on 200,000 miles, just passed inspection for another year), employment in lines of work that I thoroughly enjoy, and all the people who make my world enjoyable – Thanks to all! As always, I look forward to "time slowing down" during the end-of-year holiday period, catching up with friends in a relaxed setting, and all the joy that is this time of year. I wish all PA Musician readers a Merry Christmas, Happy New Year 2022, and a safe and pleasant holiday season.
Musically, Hate Grenade and three other groups got into the holiday spirit early, bringing back their annual "Trick or FEED" food drive event to McGarvey's in Altoona on Halloween night. The event collected monetary and non-perishable food donations to help out the Altoona Food Bank during the holiday season. With howling vampire emcee "Professor Count JP Floyd" presiding, the night began acoustically with Ed N'Born. The duo of Ed Hofer on percussion and Sean Osborn on acoustic guitar offered their distinctive takes on numbers by Foo Fighters, Pearl Jam, Live, Smashing Pumpkins, Radiohead and more. They also broke out a version of Britney Spears' "Baby One More Time" (as 'The Count' howled, "Britney Spears, SCAR-EEEE!!"). Grampian next turned up the intensity with their set of agitated metalcore and punk. Lead guitarist Will Zimmerman, rhythm guitarist Sean Stringer, drummer Alec Plumley and Hate Grenade frontman Jeff Glace on bass generated the brutal wall of sound behind vocalist Chris Closson, who howled and snarled words to tunes from Grampian's original song arsenal. One of the originals was "Muffled Sound of Guerrilla Violence," and the group also did a torrid take on Smashing Pumpkins' "Zero." Everett-based metal rockers Paradigm followed with their powerful, scathing set. Singer Joel Gerber, guitarist Art Hollabaugh, bassist Josh Savage and drummer Tyler Hillegass piledrove original songs from their two CD's, along with a few new numbers that will be on their next album. Some of their songs included "Confine the Breathless" and "Harbinger" from their 2014 self-titled CD, "One Voice" and "DNB" off their latest "Monolith" album, and the new song "Five Will Get You 10." Hosts Hate Grenade finished the night with their relentless nu-metal assault, mixing songs from their CD's with a few new numbers. Frontman Jeff Glace, guitarist Chuck Lavera, bassist Donny Death and drummer Mike Powers throttled the house with numbers such as their newest, "Hollywood," songs from their "Reload" EP such as "Walk Away" and "Lies," "Killjoy" from the "Pull the Pin" album, and "Burn," "Rue," "Revelation" and "Bad Blood" from their most recent "The King Is Dead" CD. When the crowd demanded an encore, Hate Grenade responded with a Deftones number. This year's "Trick or FEED" successfully raised $250 plus a large collection of food items for the Altoona Food Bank to feed families and individuals in need this season.
Also on Halloween weekend, Shallow 9 presented their "Shalloween" party at McGarvey's. Costumed revelers occupied the dance floor as Shallow 9 mixed a variety of energetic and upbeat rock, hip-hop, funk and soul favorites. Erika Marino-Ankeny and Mike Stanley took front and center as they sang, rapped and rallied the party, flanked by guitarist, keyboardist and singer Ryan Weaver, guitarist Greg Larrimore, bassist Nate Nagle and drummer Todd "The Toddfather" Harshbarger. Shallow 9 mixed up rocking numbers from Yellowcard, Jimmy Eat World, Fallout Boy, Billy Idol, Wheatus, Sublime and others. The group also kept bodies moving on the dance floor with grooving funk and hip-hop medleys that fused together tunes from House Of Pain, Eminem, Michael Jackson, Cypress Hill and more. As always, Shallow 9 kept the music seamless with few breaks in the action, and their steady musicianship and enthusiasm kept the crowd festive for the entire night.
An informal post-Halloween party at the East Juniata Community Center in Altoona allowed me to get a preview of a new Altoona-based band, Captain 90s. Comprised of Colin Lennox on vocals and bass, guitarist and singer Tim Beahm plus drummer Shaun Shumac; Captain 90s lived up to their name, specializing in 1990s-era rock. While the group did some favorites from Bush, Harvey Danger, Green Day, Lenny Kravitz and Smashing Pumpkins, they also dug out a few deeper 1990s classics like Spacehog's "In the Meantime," Smashing Pumpkins' "Cherub Rock" and Southern Culture On The Skids' "Camel Walk." Captain 90s is gearing up toward their first appearance at McGarvey's later this month. Also performing this night was Drums of West Africa.
Four area singers and songwriters showcased their original songs before a receptive audience during the inaugural "Lyrics in Liberty: The Singer-Songwriter Series," which took place last month in the Liberty Hall at the U.S. Hotel in Hollidaysburg. The musicians – Matt Wagner, Conner Gilbert, Dylan Miller and Chet Denny – performed in a "round" format, with each doing one song followed by the next singer in rotation rounds. An emcee (yours truly) asked the musicians questions about their musical careers, their songs and the processes that created them. Through each round, the audience was able to discover all four musicians' distinctive styles and approaches to songwriting. Some of Matt's songs this night included songs he recorded with his band project August Wake; including "Mistakes I've Made," "Crazy in Love" and "Throne," along with "Conquer," "That'll Be Okay" and more. Conner did numerous songs from his latest CD, "Life in the Years," including "Here's to the Days," "All Alone," "Tonight," "Across the Wire" and "Still Gonna Find Our Way." Dylan's songs were rooted in traditional folk and early blues; among his original songs was "The Fruits of My Labor." And some of Chet's original songs included "Sticks and Stones," "Y.O.G.A. (You Own Great Assets)," "Make It," "Let Go" and "Hard to Figure." As the musicians entered the later rounds, they cut loose and interacted with each other – playing along as Dylan led into a cover of Robert Johnson's "Kind Hearted Woman," improvising as Chet introduced his unique version of Prince's "When Doves Cry," and jamming all-out when Conner kicked into Eagle-Eye Cherry's "Save Tonight." The audience appreciated all of it, paying full attention to each performer as they introduced and played their songs. This first "Lyrics in Liberty" was a success, and more of editions of this event are likely.
I paid my first visit to the recently-opened Moonshine Mine Saloon near Nanty Glo in late October to catch up with longtime area rockers Totem. Singer, guitarist and founding member Perry Sheesley nowadays gets to perform alongside his son, Corey Sheesley, who plays bass; with Gene Suto on keys and vocals, plus Tom Gajewski on drums. Totem kept the near-packed Saloon happy with a variety of rock'n'roll hits and favorites from the 1960s and 70s. Songs from Lynyrd Skynyrd, Steppenwolf, Cream, the Beatles, Them, Eddie Money, Bruce Springsteen, Golden Earring, the Doors and Mitch Ryder & the Detroit Wheels drew rowdy applause and had folks up and dancing. Totem's performance was solid and steady; Perry's vocals were strong, and Gene unleashed impressive keyboard work on renditions of REO Speedwagon's "Roll with the Changes" and Deep Purple's "Hush."
After Totem finished up, I made my way to the nearby Castle Pub in Ebensburg to get rocked by Avenue Of Kings. The roster of singer Matt Stoyanoff, guitarists Chris Silva and Rob Lynn, bassist Beau Cabassa and drummer Randy Wilson brought hard rock and metal favorites spanning the 1980s to present. Their song selection this night included numbers from Ratt, Whitesnake, Judas Priest, Alice In Chains, Van Halen, Volbeat, Ghost A.D., Motley Crue, Queensryche, Dokken, Megadeth and more. Matt displayed his vocal range early and often as he achieved the high notes on Whitesnake's "Still of the Night," the Iron Maiden triple-shot of "Two Minutes to Midnight," "The Trooper" and "The Wicker Man," Dokken's "Dream Warriors," the Queensryche double-shot of "Empire" and "I Don't Believe in Love," and more. Both Chris and Rob displayed strong guitar solo work throughout the show as well, with Beau and Randy powering the tunes with tight and forceful rhythms.
Homer City-based rockers Post Traumatik returned to McGarvey's last month. They brought musical friends with them in the form of Pittsburgh-based rock band God's Green Apples. Illness sidelined the scheduled third band, The Perkolators, from opening the night, so God's Green Apples frontman Jim McDonough began the night with an acoustic set. Offering a strong voice, charisma and presence, Jim blended original songs with select covers. One of his songs, "140 Miles," was inspired by commuting back and forth on western PA highways. Jim also did takes on Johnny Cash's "Folsom Prison Blues" and Bill Withers' "Ain't No Sunshine." Jim, guitarist Roby Rollison, bassist Mike Evans and drummer PJ Caruso – God's Green Apples – then followed with their brand of punk-driven, melody-geared rock. This was the group's first visit back to Altoona since performing at the Engine Room many years ago! Their songs mixed together elements of punk, rock, rockabilly, roots music and more. Some of their original songs included "Slow," "For Awhile" and an uptempo version of Jim's "140 Miles." Post Traumatik finished the night by introducing lots of new songs. This was the first I got to see this group since the recent addition of former One Adam 12 frontman and guitarist Lloyd Rummell. Lloyd, lead singer Chelsea Stiles, lead guitarist Joe Pribesh, rhythm guitarist Sean Murphy, bassist Tony Malandro and drummer Gregg Shotts powered forth many punk-driven new numbers, including "Ready to Explode," "Fight Fight Fight," "Flight of the Mothman" (which Lloyd created while with One Adam 12), and the group's popular hard-driving ode to their classic World Wrestling Federation heroes, "Running Wild," to end the night. The group also included one cover, their version of Hole's "Violet." Post Traumatik clicked on all cylinders, delivering groove and swagger; Chelsea delivered a hearty voice up front, and the group backed her with tight, fast-moving arrangements. Post Traumatik begins work soon on their next album; watch for it sometime in 2022.
Negan initiated their new drummer when they headlined a hard-rocking triple-bill last month at McGarvey's. Toby Hunter takes over behind the kit, replacing Damian Falatek. He joined singer Mike Davis, guitarists Bob Gray and Jeremy Ashurst, and bassist Josh Yahner as Negan slammed the lid on the night. Openers Tom Nevers Field had already completed their set by the time I arrived. Based near Harrisburg, Beer and Pretzels next delivered a freewheeling brand of music to the stage. Guitarist and keyboardist Chad Wright, bassist Jon Wertman and drummer Joshua Updegrove mixed rock, metal, jazz, funk and alternative flavors into an unpredictable, progressive-geared style and sound. These adventurers frequently gearshifted between frantic, metal-induced passages into jazzy interludes, keyboard and synth sojourns and more. Chad handled most of the lead vocals during this set, as well as provided color commentary as Beer and Pretzels shifted from song to song. Negan then brought their powerhouse brand of rock and metal to the stage, mixing original numbers with classic and modern rock favorites. Opening with Motorhead's "Ace of Spades," Negan fired through numbers from Stone Temple Pilots, White Zombie, Filter, Iron Maiden and more, plus performed all four songs from their "Burnt Pages" debut EP – "We," "Obsolete," "Where Do We Go From Here" and "The Devil's Calling." Negan delivered their rock with tight execution and force; Mike provided sturdy vocals up front, and Bob and Jeremy's guitar work and solos were clean and precise. According to Mike, Negan looks to complete and release their full-length new album in 2022.
When the Hurricanes were away, Stacy & the Rejects played. While Felix & the Hurricanes were bringing their blues-rock storm along the North Carolina coast one weekend last month, Stacy & the Rejects filled in for the Hurricanes' weekly Sunday night show at Altoona's Black & Gold Tavern. Group namesake Stacy Feighner sings lead vocals, backed by her "Rejects" – husband Tony Feighner on guitar and vocals, and the aforementioned Negan contingent of Josh Yahner on bass and Mike Davis on drums and vocals. Stacy & the Rejects delivered the musical fun as they entertained the audience with a variety of classic rock, classic and modern pop hits. Stacy's vocals were in great form this night; her voice showed the knack for reaching anywhere they needed to go throughout the night. Her highlights were numerous – including renditions of Jefferson Airplane's "White Rabbit" and "Somebody to Love," her own a cappella treatment of Janis Joplin's "Mercedes Benz" followed by "Me and Bobby McGee," Scandal's "The Warrior," Blondie's "Call Me," plus songs from Journey, Pat Benatar, 4 Non Blondes and Guns N'Roses. Mike and Tony also did good work singing lead on a few numbers, and Tony demonstrated tight and precise guitar solos and skills throughout the performance. Stacy & the Rejects triggered some dancing throughout the evening, and kept the crowd happy from start to end.
I can now say that I have seen a live music performance inside a greenhouse…The occasion happened when I checked in with State College-based acoustic duo Hops & Vines during their show at Uncle D's Sassy Glass Winery near Smithmill. Located at the Frailey's Greenhouse facility, Uncle D's performance area was inside one of the greenhouses. The pairing of lead singer Christie Clancy and guitarist Jonathan McVerry, Hops & Vines kept the wine-sipping audience happy with their mixture of classic rock and pop hits. Their variety included numbers from the Rolling Stones, 10,000 Maniacs, Johnny Cash, Ben E. King, Gin Blossoms, Tom Petty, Lumineers, Radiohead, Janis Joplin and many more. Christie displayed an excellent voice, showing her power and range on the crowd sing-along version of The Outfield's "Your Love," Led Zeppelin's "Whole Lotta Love" and more. Jonathan sang lead a few times as well, provided lower-register harmonies with Christie on a version of CCR/Ike & Tina's "Proud Mary," and also varied his guitar-strumming intensities to great effect on "House of the Rising Sun." The audience clearly enjoyed all of it; enough so that they coaxed Hops & Vines to stay and play a little longer at the end of the show.
The Giants Of Science's parties are always good times, but things get even livelier when there is a birthday in the band. Such was the case during the group's November show at Altoona's 4D's Lounge, when frontman, ringleader, guitarist and founding member Mick celebrated his "43rd" birthday. Mick, bassist and singer Johnny 5, keyboardist and singer Scotty B and drummer Steve brought the celebration to the audience with their mix of 1980s-era hits with a touch of other non-80s classics. The Giants Of Science kept the dance floor busy with tunes from Beastie Boys, Soft Cell, Wheatus, Chumbawamba, The Killers, Sublime, Rick Springfield, Green Day, Frankie Goes to Hollywood, Bruce Springsteen, Journey, A-ha and more. The Giants also welcomed a few guests onto the stage, including Steve Holtz and Brandon Kane of Pistol Peg & the Beer Kegs to join in on a song, and – in an extreme rarity – Mick was somehow able to coax me up on stage to help sing the choruses on the Rolling Stones' "Honky Tonk Women." (I must not have been too awful, I didn't see anyone holding their ears or running for the exits.) A quarter century of onstage musical lab experiments, The Giants Of Science still maintain a continuously busy performance schedule – watch for their return to the 4D's Lounge and other stages throughout the region.
I often like to ride excursion train trips during the fall foliage season…I traveled to the Potomac Eagle Scenic Railroad in Romney, West Virginia in late October, and did the railroad's day-long trip from Romney to Petersburg, West Virginia and back. Besides the colorful fall foliage and frequent eagle sightings (along a secluded stretch of the Potomac River called "The Trough"), I also got to enjoy live music when the train arrived in Petersburg. In this small city, the railroad depot is located at the Grant County Convention & Visitors Bureau building, and this facility welcomed the train riders with live music inside and outside. Inside, the Dulcimer Dames featured five women playing dulcimers and other folk instruments, doing traditional and old-timey instrumental folk numbers. Outside and behind the facility, local Petersburg-based trio JED Nation played rock'n'roll numbers under a tent, while the local high school basketball team sold chili, burgers and baked goods. The 'JED' of JED Nation represents the first names of all three band members – guitarist and singer Joe Crites, bassist Eric Houdersheldt and guitarist Donnie Carman. They entertained the rail visitors with favorites from CCR, Wilson Pickett, Dr. Hook, Eric Clapton, Van Morrison, Green Day, the "Scooby Doo" cartoon theme and more. JED Nation's presentation was friendly and upbeat, and their musicianship and vocals were solid.
Other performances I saw in recent weeks included the last few songs of Toledo, Ohio-based trio Jo Jo Stella's October performance at McGarvey's; they return in March…And Altoona 'dadcore' punk rocking specialists The Snipped last month, headlining a triple-bill with Treaties and The Daylight Society at McGarvey's. (I finally obtained one of The Snipped's popular grilling aprons, and was wearing it while grilling outdoors in the snow flurries just days later! I need to try out the group's brand of packaged coffee, too!)
News and notes…Fire destroyed a popular past live music venue, the former Wildwood Inn near Grampian, on November 15…The Root-Hovett Hall near Patton will host the "Toys for Tots Fundraising Bash" December 11; performing will be Coffee With Lions, Abstentious, Treaties, Deny Your Maker (Alice In Chains tribute), The Snipped and The Filthy Lowdown…The State Theater of Johnstown has announced a new series of concerts that will cover classic vinyl albums; the Classic Vinyl Concert Series kick off on February 5 of next year with Johnstown's Jeffrey Webb and his group covering Stevie Wonder's 1976 album "Songs in the Key of Life"…Angel Mariotti and My Hero Zero frontman Jason O have launched a new State College-based recording studio and independent record label, Happy Valley Song Lab Studios and its partner HVSL Records…Centre/Clearfield County rockers Vision to None will leave area stages after December; their final show happens New Years Eve at 120 Pub & Grub in Clearfield…Pittsburgh modern rockers The Hawkeyes announced that they are going on indefinite hiatus to pursue separate projects…Altoona-based heavy metal rockers SamarA have announced that their longtime singer, Nigel Dirt (Shawn Bowser) has decided to step away from the group; SamarA is seeking a new frontman to replace him…Western PA-based singer and songwriter Alyssa Hankey will release a brand new album in early 2022; she announced that she is recording the album with a full band.
The local and regional music scenes were saddened by several deaths in recent weeks…Robert "Zorbo" Slovikosky passed away on November 5 at age 65; Robert played bass for popular central PA rock band Cut The Mustard in the 1980s, and later played bass for the group Issues in the early 2000s…Andrea (Aslan) Burchette, singer and namesake of popular Reading/Harrisburg-based rock band Aslan in the late 1990s, passed away on November 19 after a brief illness; she was 52…One of the leading ladies of Pittsburgh blues, Jill West, passed away on Thanksgiving Day after a battle with cancer at age 68; Jill was a popular and well-respected performer who fronted several groups, most recently Jill West and Blues Attack, who issued several albums. Off stage, Jill worked as a pediatric nurse at Pittsburgh's UPMC Children's Hospital…And the area music scene was also impacted by the tragic death of local corrections officer Rhonda Russell, who lost her life in the line of duty on Nov. 17. Rhonda was the daughter of longtime area musician Ron Russell, and the sister of musician Brandon Russell.
Please send correspondence and recordings to: Jim Price, 1104 S. Catherine St., Altoona, PA 16602. You can also e-mail me at jptheprofessor@gmail.com. And if you're into social networking, look me up on Facebook. As always, SUPPORT LOCAL MUSIC! HAPPY HOLIDAYS!