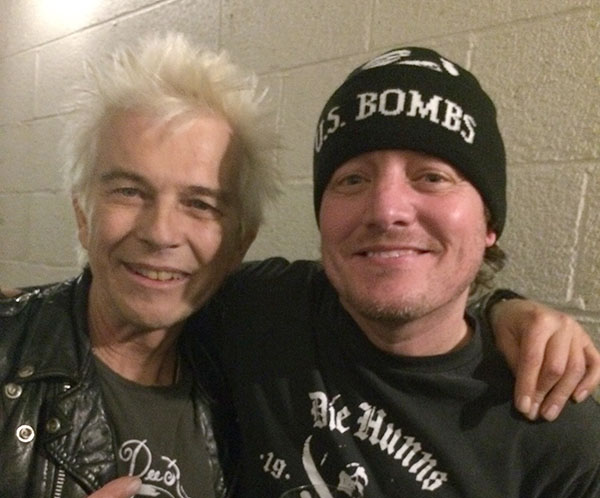 ---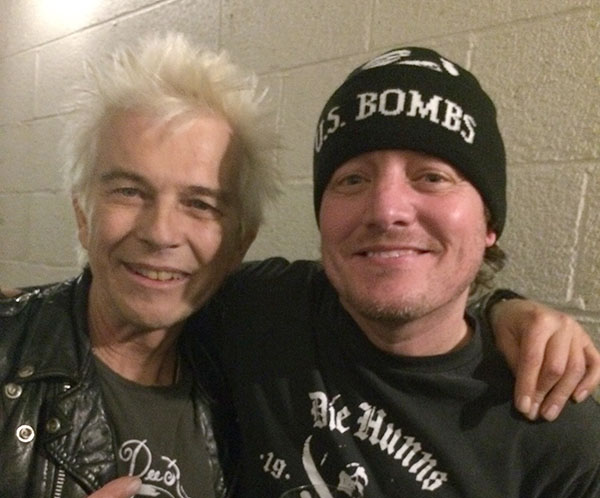 By: Eric Hoffman
Greetings Rockers 'N' Rollers! The New Year began with the return of the US Bombs! The iconic punk band from Orange County, California are currently touring for their latest album 'Road Case.' It's the bands first record in 12 years and was released last November. The US Bombs tour began in New Jersey last December and will finish in Phoenix, AZ on Feb 10. I was fortunate to catch two of their shows, including both Harrisburg and Pittsburgh. Legendary frontman Duane Peters was in great spirits and beyond grateful to be on stage again. The US Bombs current line-up is really great and incredibly talented. Thank you to everyone who supported the fantastic show at Club XL on January 3rd.
There was more punk rock this past month with the debut of local band No-Heads at Skid Row Garage in York, PA on January 11th. An awesome night of music which also featured Olde Tigers, The Possession and Systemic Abuse. I've visited this venue before and Skid Row Garage is a great experience with a DIY mentality and welcoming atmosphere. It's true punk rock and gives bands of that genre a platform to play live in an authentic environment. Future bands include: Just Die! Atomic Cretins, The Xiles, Tombtoker, GWAM, Disjawn, Direct Hit! and TxBxDx. Shows are sporadic but definitely worth seeking out on social media.
Don't forget February is the month for the annual Millennium Music Conference in Harrisburg, PA. The free event is in its 23rd year and will feature over 200 artists and acts via 28 local venues. The 3-night music showcase will take place February 21-23 with its headquarters at Park Inn in Mechanicsburg featuring music business panels, workshops, mentoring and trade show.
NATIONAL NEWS: Grammy-winning local hard rock band Halestorm has announced a month-long North American tour, kicking off April 12th. The closest local dates are May 17-19 in Columbus, Ohio. Palaye Royale and Beasto Blanco will open for Halestorm on the run of dates, which follow the Red Lion, PA natives' trek abroad in March with performances in Australia and Japan. Halestorm's latest album, "Vicious" was recorded last year in Nashville and released last July via Atlantic Records.
The place for the first possible Van Halen reunion concert has been revealed. Wrigley Field in Chicago on July 27th will be the first time since 1984 that the original line-up will perform together. Legendary singer David Lee Roth has previously said he knows of concerts at Fenway Park in Boston and at Yankee Stadium in New York. Original bassist Michael Anthony who hasn't been in the band for years, claims he hasn't heard from any of the other members; Eddie Van Halen, Alex Van Halen and David Lee Roth, regarding a reunion. However, sources claim no one wishes to leak information on the possible reunion, a multimillion operation.
The Grammys will be broadcasted February 10th on CBS. Album of the year nominees Cardi B, Kacey Musgraves, Janelle Monae and Post Malone are scheduled to perform. Kendrick Lamar is the top contender with eight nominations, followed by Drake, who is up for seven awards. Alicia Keys will host the awards for the first time and has won 15 Grammys in her career. She said in a statement, "I'm so excited to be the master of ceremonies on the biggest night in music and celebrate the creativity, power and magic."
The Who unveiled dates for a North American tour that will hit 28 cities for 29 shows. The iconic British rock band also shared plans to release their first album since 2006's Endless Wire this year. The Moving On! Tour will feature the band joined by orchestras to realize symphonic interpretations of their beloved catalog — though singer Roger Daltrey emphasized in a statement that Who fans shouldn't expect anything other than the group's energetic rock. "Be aware Who fans!" Daltrey said. "Just because it's The Who with an orchestra, in no way will it compromise the way Pete and I deliver our music. This will be full throttle Who with horns and bells on." Dates include: May 11 / Jiffy Lube Live / Bristow, VA and May 25 / Citizens Bank Park / Philadelphia, PA.
The NFL officially announced Maroon 5, Big Boi (of Outkast) and Travis Scott as the performers at this year's Super Bowl halftime show. This year's Super Bowl halftime show has been the subject of boycott and protest. Numerous acts have turned down the NFL in support of Colin Kaepernick and other players who have taken a knee during the national anthem in protest of racial injustice. The NAACP asked performers to reconsider their participation. More than 84,000 have signed an online petition urging Maroon 5 to withdraw from the Super Bowl "until the league changes their policy and support players' constitutional right to protest." The Super Bowl will be broadcast from Atlanta on February 3rd.
Woodstock and Michael Lang, the seminal festival's producer and co-creator, have announced the date for a 50th anniversary event August 15-18, 2019. The festival will take place in Watkins Glen, New York due to capacity issues from the original location of Bethel, NY. "I was desperate to keep it in New York," Lang stated. "I looked everywhere because I needed 1,000 acres of clear land with access and infrastructure." Lang added that the "perfect facility" reminded him of Max Yasgur's field, where the original Woodstock was held. This year's festival will feature three main stages and three smaller areas. The Woodstock team estimates they'll sell around 100,000 three-day passes. As for bands, Santana has been the only band announced. But don't expect a retread of Woodstock's original lineup. "It'll be an eclectic bill, featuring hip-hop and rock and some pop and some of the legacy bands from the original festival." The original Woodstock festival in 1969 drew more than 400,000 people.
UPCOMING SHOWS: Bark At The Moon (Ozzy tribute) @ Harrisburg Cliff's February 2nd. Swisher Sweets @ Harrisburg RockBass February 9th. The Dirty Place @ Mechanicsburg Johnny Joes February 10th. Back In Black (AC/DC tribute) & Outta The Cellar (Ratt tribute) @ Lancaster Village February 10th. Cheap Trick @ Bethlehem Sands February 17th. The Twindows @ Harrisburg River City February 23rd. Millennium Music Conference @ Harrisburg February 21st-23rd.