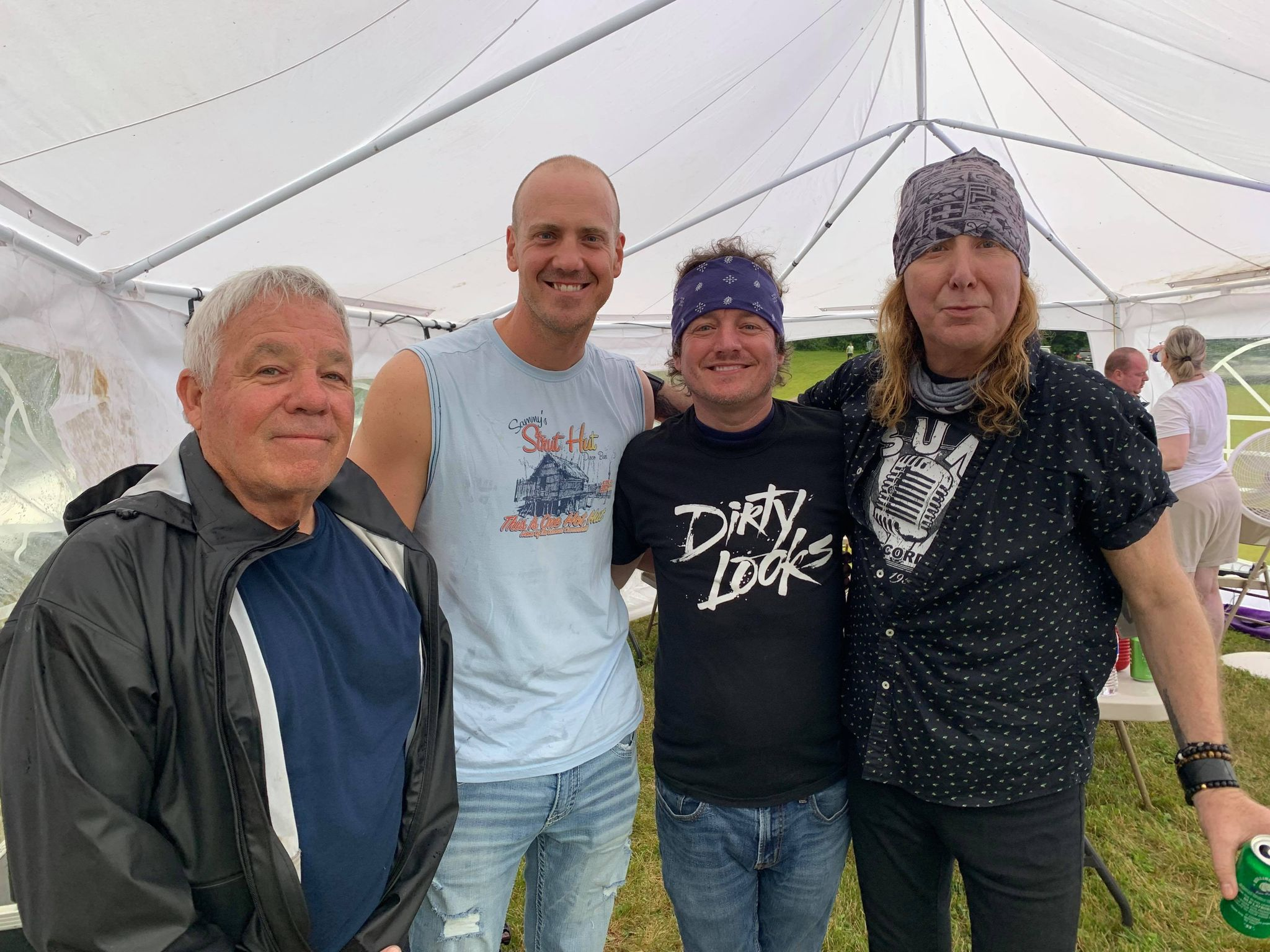 ---
By: Eric Hoffman
Greetings Rockers 'N' Rollers! Live concerts continue to roll in and gain momentum as society opens up from the pandemic Last month began with seeing the Grammy award-winning bluegrass Del McCoury Band in Cumberland, Md. The former York, Pennsylvania native now resides in Nashville but continues to visit the tristate area to his most loyal following. Del McCoury is the most awarded artist in Bluegrass history including 9 IMBA Entertainer of the Year Awards. The band went through a number of changes in personnel until the 1980s when the band solidified its line-up, adding McCoury's sons, Ronnie and Robbie on mandolin and banjo, respectively. In 2008, Del McCoury started DelFest, an annual bluegrass festival in Cumberland, Md. Del McCoury Band plays every night at each of the festivals. DelFest takes place this year Sept. 23 thru 26.
Other notable local shows this past month included: Jeffrey Gaines at XL Live on June 11, Double Barrel Bluegrass at United Birthday Club in Glen Rock, PA on June 12, The Super High-Tech Jet Fighters at XL Live on June 25 and a wonderful tribute to our PA Musician founder Whitey Noll on June 19. His Celebration of Life Music Festival brought together so many old friends in the music community as well as live performances from bands: Syn D' Cats, members of The Sharks, Martini Bros, Road Case and Suicide Puppets. A very happy day celebrating the life of someone who brought so much to the Central PA music community. It was awesome to hear songs from his album, "Between the Curtains and the Clouds," over the PA system.
Hardcore hip hop duo, Insane Clown Posse, visited Shiley Acres in Inwood, WV on June 26. The group hosted a special concert event titled, 'ICP's Chicken Huntin Hootenanny Hoedown Show,' and fans showed up in Hillbilly attire. ICP has established a dedicated following called Juggalos numbering in the "tens of thousands." The duo is known for its elaborate live performances including dousing the audience with three to four hundred two-liters of Faygo soda at every show. Insane Clown Posse has earned two platinum and five gold albums. The entire catalog of the group has sold over 10 million units.
Highlight of the month included a music-related trip to Rockaway Beach and NYC. We were fortunate to stay at the home of Adam Vomit of Toilet Boys in Rockaway Beach and hear band stories and see his amazing music collection. We also took a day to visit homes of musicians including Dee Dee Ramone, Madonna, Ric Ocasek, Sid Vicious and Patti Smith. Punk rock band, Toilet Boys, have opened for bands: The Ramones, Blondie, Rancid, Joan Jett, Motorhead, The Donnas, Red Hot Chili Peppers, Nashville Pussy, Orgy and The Damned. Their next show is Nov 27 at Webster Hall in NYC with the Lunachicks.
NATIONAL NEWS! Guns 'N' Roses have announced rescheduled dates as well as 14 new shows at stadiums and arenas this summer, bringing along Wolfgang Van Halen's band Mammoth for its touring debut. The trek runs July 31 through Oct. 3, with opening night at Hersheypark Stadium. The formerly sleeping giant known as GNR came back in a big way with its full original lineup in 2016, with the "Not In This Lifetime Tour" running for major chunks of three years 2016-2018 and into 2019. In 2017 the band gross just shy of $300 million on 267 million tickets on 81 shows, behind only the mighty U2 for that year.
Mark Hoppus bassist/songwriter for Blink-182, revealed in a social media post that he has been undergoing chemotherapy for cancer for a few months. Hoppus, 49, shared a photo of himself during chemotherapy that said, "Yes, hello. One cancer treatment, please." He then wrote a message, "For the past three months I've been undergoing chemotherapy for cancer. I have cancer. It sucks and I'm scared, and at the same time I'm blessed with incredible doctors and family and friends to get me through this. I still have months of treatment ahead of me and but I'm trying to remain hopeful and positive. Can't wait to be cancer free and see you all at a concert in the near future. Love to you all."
Britney Spears recently asked a judge to end the court conservatorship that has controlled her life and money since 2008. Spears called the 13- year conservatorship "abusive," and condemned her father and the others who have controlled it. "This conservatorship is doing me way more harm than good," she said. "I deserve to have a life." More than 100 fans from the so called #FreeBritney movement gathered outside the courthouse before the hearing, holding signs that read "Free Britney now!" and "Get out of Britney's life!" James Spears serves as co-conservator of his daughter's finances, and also had control of her life decisions for most of the conservatorship. Her father and his attorneys have emphasized that she and her fortune, which court records put at more than $50 million, remain vulnerable to fraud and manipulation. Under the law, the burden would be on Spears to prove she is competent.
Twenty One Pilots is ready to conquer the world with its "Takeøver Tour," which starts Sept. 21 and continues well into 2022. The tour has currently been announced in eight markets, (Denver, Los Angeles, Chicago, Boston, Columbus, Atlanta, Mexico City, London) with the band scheduled to play multiple venues, from clubs to arenas, in most cities. The tour will be promoting Twenty One Pilots' latest album, Scaled And Icy.
"Springsteen On Broadway," Bruce Springsteen's Tony-winning one-man stage performance, will return for a limited run this summer. From June 26 through Sept. 4, the legendary 71-year-old rocker will reprise his "Springsteen On Broadway" performance for 30 performances. The production will be staged at Manhattan's St. James Theatre, "I loved doing 'Springsteen on Broadway' and I'm thrilled to have been asked to reprise the show as part of the reopening of Broadway," said Springsteen in a statement. The initial run of "Springsteen On Broadway," was a smash, selling out 236 performances, selling more than 223,000 tickets from October 2017 to December 2018.
Winston Marshall, a founding member of folk-rock group Mumford & Sons, announced Thursday that is leaving the band so that he can "speak freely" about political issues. Marshall, who plays guitar and banjo with the group, said his bandmates had "invited me to continue with them," but he had decided to leave so that he could "speak freely without them suffering the consequences." "As long as I am a member of the band, speaking my mind on the evils of political extremism could bring them trouble. My loyalty and love for them cannot permit that." Formed in London in 2007, Mumford & Sons have had huge success with their jangly folk-rock and won the album of the year Grammy for their 2012 record "Babel."
Foo Fighters played Madison Square Garden's on June 20, the arena's first concert since March 10, 2020. The Garden's first concert in more than 460 days hosted a full-capacity audience of vaccinated fans. Foo Fighters also announced they will repeat the duties at the Forum in Inglewood, Calif. come July 17, when it plays the full-capacity show at the 17,500-cap venue in more than a year. The Dave Grohl-fronted quintet played well over three sweaty hours at the Garden show. Eagles have also booked two nights at MSG in New York on Aug. 22 and 24, in what will be the continuation of the band's "Hotel California Tour." The band will perform a set commemorating the 1976 album Hotel California with a full orchestra and choir, and will also perform a set of greatest hits from throughout the group's existence. See my facebook for more pictures.