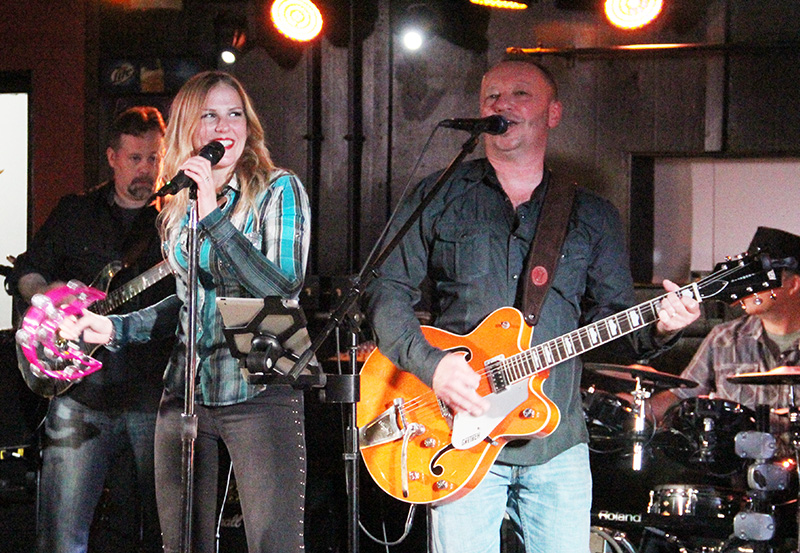 ---
By: Rachel Rocks
Wow! What an amazing beginning to Summer! I feel a little exhausted, but I wasn't sure why until I gathered together all of the bands I've seen this month and all of the crazy things I've done! Graduations, Anniversaries, Weddings, and BANDS! Lots of BANDS! Nothing to it but to do it.. here goes!
It started what seems like forever ago when we went to play Golden Girls Trivia at Spring Gate. Holly, Nikki, and I felt like we were the only ones who sit at home and watch the Golden Girls, but boy were we proved wrong. I couldn't believe all of the Teams, and I think we placed like 25th or something crazy! Haha! It's awesome to see all of the Trivia, Bingo, and Karaoke returning to the scene. After our major defeat we needed to feel better about ourselves so we headed to Duke's Riverside for Katz 22. It was awesome to see them once again! They recently had to replace their drummer, after quite a few auditions they finally found Jim Rhoads. I've seen Jim play solo and with a different band, he's definitely been playing throughout the area, but I'm glad he finally found his way back behind a drum kit! It was awesome to hear how Katz 22 was still as smooth and locked in as ever. Katz 22 does a great job at getting their fans out of their seats and onto the dance floor and this night was no different! If you want a great party band that will get your venue dancing and rockin' the night away, give Katz 22 a call. You can find their schedule and booking info in this issue.
The next night I headed down to BBQ Tavern to see Derek doing his acoustic thing. When we arrived Darrin was also on stage playing with Derek. It's always awesome to see the brothers playing together. I also saw Derek playing up at Sherman's Creek Inn this month. Shermans Creek Inn was packed for a 21st birthday and they loved "Country Roads" so much that Derek had to play it twice! Derek's shows are such a sing a long good time, although I know for sure, he wishes I wouldn't sing or do the Rachel Cackle, but that's the hard part about being a musician and putting yourself out there, you have to be able to remain professional and put up with crazy people in the crowd like me, and Derek does a fantastic job! If you want to get Derek scheduled at your venue his ad is also in this issue!
The following night it was a long adventure, but a great one. I stopped in and had a birthday dinner with my good friend Terri at Blue Sky Tavern, and then kept zooming down 83 to Hell in a Bucket Brewery in Wrightsville. My good friend Joseph Daub is bartending there and organizing all of the live music. It has an awesome little vibe and their only focus is music and beer! An awesome touch is he also has a cooler full of non-alcoholic beverages for any DDs or just people that need to hydrate before hitting the road. Hell In a Bucket Brewery's beers are strong and delicious! And when I stopped by Bjorn was just finishing his set. Wow! What an amazing musician. I've never heard him before, but I'm keeping my eye out for him now. It was also his birthday, so one of his fans broke out into Happy Birthday and of course the whole, packed bar was singing along. Hell In A Bucket is definitely a place where best friends get together to hang out, have a good time, and listen to amazing music. You can check out their ad in this issue for even more details, and to plan your next trip to Hell In A Bucket Brewery.
When that show was over I headed to Racehorse Tavern for Stephanie and the Wild Hearts. They are from the Altoona area so this was a special treat to get them down in our neck of the woods. Stephanie and Bob are husband and wife and also share the vocal duties for the band. It is beautiful watching them on stage together. They have amazing harmonies and just back each other up perfectly. It's awesome to see their love and unity on the stage. The whole band is really cohesive and they put on a great show. They are nominated for the Best Cover Band at the CPMAs in a couple days, I can't wait to see who all of the winners will be. This was Stephanie and the Wild Hearts first trip to the Racehorse, but even before they were done with their show, Jim was already talking to them about getting them back there! Keep an eye out for them, because you don't want to miss this special show. You can check out their full schedule in this issue.
My next night out was a highly anticipated event.. ROCK BANDS BACK AT XL LIVE! I unfortunately once again missed Hot and Dangerous, I promise I will get to a show one of these days.. But I did get there in time for Road Case and Back in Black. I can't even begin to tell you how rejuvenating it was to see these bands back on the big stage, with amazing lights and sound, and dance the night away! Holly, Matt, and I had so much fun that we went and saw both bands again at a private event in Lewisberry a couple weeks later. Welcome back to the stage guys! Thank you for the entertainment!
On a quieter night we went to New Fangled to see Jason Carst. Jason kept music alive and well thru all of his live streams during the Pandemic, but it is always so nice seeing him live and in person. He's getting pretty tricky with all of his technology. He still streams every show, which is super smart since he can also still collect tips from his fans at home. He also has a fancy looper machine whatever they're called. I'm always amazed at all of the sounds he can record and keep in time with. I can't even sing Row, Row, Row Your Boat with friends!
Friday night I headed back to XL Live for Smooth Like Clyde. It has been way too long since I saw these guys! It was their first time back on stage and they killed it! Kudos to all of you bands that have kept up your skills somehow while being trapped at home, and sometimes trapped away from each other. It has been a long time, but there were no dust on their amps. They killed it from beginning to end. I was exhausted from all of the dancing.. I'm the one who's out of shape!
The following week was a super special event, The Central PA Music Core Awards. It was a special pre-ceremony to the big event coming up, the CPMAs. The Core Awards focused on business awards, and also the Best Youth Artist. All of the Youth Artists played a song live during the show, even tho they were all amazing Addi Grace kicked butt with her version of "Creep". In the end, Addi won the award for Best Youth Artist, it was definitely well deserved. Some other awards went out to our very own Chris Rider Photography for Best Photographer, and even the PA Musician Magazine was given a Spot Award for the Best Music Publication. At the end of the night Shea Quinn and Friends got on stage and played a whole show. Overall, it was an amazing night of music, friends and recognition; all done in the absolutely stunning Englewood in Hershey. I can't wait for the big 2nd Annual CPMAs on July 1st!
We all know I go support a lot of Derek Henry's acoustic shows, and that was great to get us through a pandemic, but finally it was time for his full band Observe the 93rd. I was actually able to catch two shows this month! The first was at the Honey & the Hog Music Festival in Dillsburg. Tara and Greg Hildebrand also have a business called Honey Bee Friendly and they promote their products by hosting this festival. It was a beautiful day and everyone was loving the live music! The stage was manned by Rock Mill and Hershey AV Solutions (Logan and Justin). It was awesome to see them both! Observe the 93rd (OT93) has been putting out a lot of new music, and it was great to finally get the chance to hear them live. Their second show as at XL Live which I will mention later.
Another massive event that happened this month was Dad's Celebration of Life! I wish I had more space to express how thankful I am to everyone who came, played, and helped make this amazing day a huge success! Huge kudos to Dave and Linda for hosting the event on their private land. Thanks to Danielle Farhat for opening up the day with two of Dad's favorite songs: Amazing Grace and Waymaker. It was beautiful! Thank you to Pastor Tim Eshenour from Abundant Harvest Church in Duncannon for his beautiful service. Thanks to Dave Greene, Rick Beck, and Charlie Hood for jamming to a few of Dad's original songs. Thanks for listening to my debut uke performance. I promise I'll be more prepared next time, Josh sprung that idea on my about 30 seconds before I took the stage! Huge thanks to Keith Hummel for running sound all day and night. Thanks to Ray Rossi for keeping things flowing and on time and spinning songs when he could. Thanks to all of the bands for donating your time and talent: The SynD'Cats, Shea, Ian, Steve and Friends, The Martini Bros., Road Case, and Suicide Puppets. And thanks to everyone who showed up. Like Jen Shade said, Dad and the PA Musician Magazine have really created a beautiful, musical family here in Central PA and beyond. So many people came out to the event, even in the rain, and it was truly a magical day. THANK YOU ONE & ALL!!!
After all of that wonderful craziness, I was ready for some chill time, and it just so happened that DMC Duo was playing a special Wednesday show at the Hideaway in Mt. Gretna. They were playing out on the deck and it was a beautiful night. The Hideaway have a gorgeous and huge deck area with plenty of seating. There was a couple up vacationing from Maryland, but when they googled DMC Duo they were excited because of Darrell's strumming patterns they knew they'd be able to dance to their music. And they truly did dance all night long. It was beautiful. It was truly what I needed, just a nice, relaxing night, sitting back and enjoying the show.
Friday night it was back to XL for Medusa's Disco. I haven't heard these guys for a long time and I was definitely looking forward to their awesome stage energy and performance. Opening the night, I was finally able to catch The Super High Tech Jet Fighters. Eric Hoffman, our National's writer actually lets them practice in his basement, so I've heard all about them, and I'm glad I finally got to see them. Mojo Bozo's Electric Circus took the stage next. They had an interesting sound with a great keys player. They did a great job at getting the stage all heated up for Medusa's Disco. They might only have three guys in the band, but the sound that Medusa's Disco can make is amazing. It was a great show even though that was the latest I've been out in a really long time! Time to accumulate dust on my pillow again.. as the shows get later there is less and less sleep in my life.
We finally made it to the last night of the month. It started early in the day with my friends Michelle and Sherry's wedding. It was a beautiful ceremony officiated by my amazing friend Sabrina Kreps. The reception was at Boomerang's and it turns out Stoned Alice was playing at the same time on the outdoor stage. After all of my wedding duties I headed outside to see Stoned Alice. I thought they were more of an Alice Cooper tribute, but it turns out they play all kinds of your favorite classic rock songs. They had the patio at Boomerang's packed and there were quite a few Stoned Alice shirts in the crowd.
After their 1st set I zoomed over to XL Live for Madison Ryan and Observe the 93rd. Madison Ryan was on our cover back in January and I was looking forward to seeing her playing out live again. Both bands did an amazing job playing their original music and few covers. The amount of talent in both bands is just crazy. We once again had an amazing night of dancing, jumping, and having a fantastic time with friends!
It's hard to believe I finally made it to the end. I know my space is extremely limited, but I also wanted to thank TJ Rockwell's in Elizabethtown for letting me take over their deck area for the photoshoot for this month's cover with Casey Walton. Make sure and check out the cover story and check out Casey's new CD, "This Town".
Please get out there and Support Live Music! If you know of a show I should be at, or maybe you just have some advice for me, please email me at RachelRocks@pamusician.net.