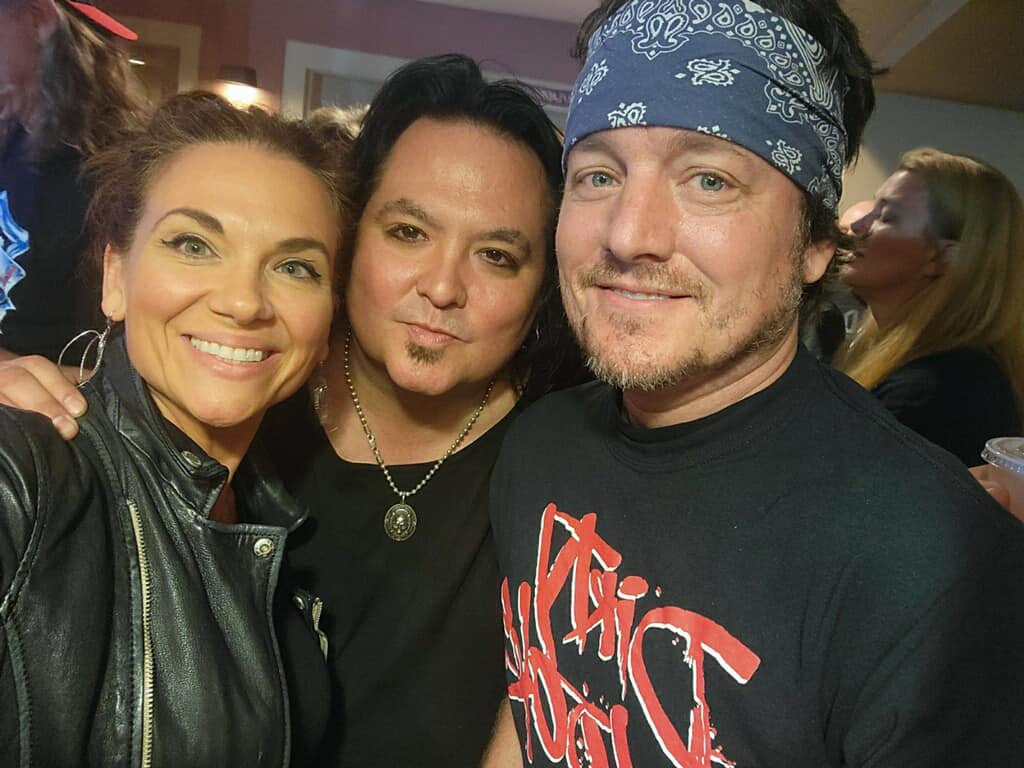 ---
By: Eric Hoffman
Greetings Rockers 'N' Rollers! The month of June began with the return of 80s alternative rock band, Gene Loves Jezebel, at Millersville' Phantom Power on June 7. The show proved for a very intimate setting with hits; "Desire (Come and Get It)", "Jealous" and "The Motion of Love." And quite a memorable night spending time with the band after the show catching up on the status of the band. The band, founded by twin brothers, Jay and Michael Aston, has unfortunately suffered trademark infringement lawsuits between the brothers over use of the band name Gene Loves Jezebel.
Harrisburg nightclub, XL Live, continues to be very busy and quite literally has filled its calendar for concert dates the remainder of 2022. Yam Yam played to a really big crowd on June 10 and KIX returned once again to a packed house on June 17. KIX shared their stage with openers Leadfoot and Dirt Cheap. Sadly, guitarist Ronnie 10/10 Younkins has yet to make his return to KIX, but continues to play in his other band Blues Vultures. Blues Vultures were meant to open for Jackyl at XL Live on June 24 but had to cancel due to guitarist, Jeff Worley, minor medical issue. KIX will return to XL Live in Harrisburg on Black Friday, November 25.
Los Angeles natives, The Bronx, returned to the East Coast opening for folk punk singer, Frank Turner. The pair played the Fillmore in Silver Spring, MD on June 18 and are currently touring together as Turner literally plays '50 States in 50 Days.' Australian legends, Midnight Oil, recently played their final shows in America as the band call it quits with their farewell 'Resist – The Final Tour.' A phenomenal show took place at NYC Hammerstein Ballroom on June 19 and the band played their last US date at Baltimore's National Harbor on June 25. Midnight Oil grew to fame in late 80s with the hit "Beds Are Burning" regarding the plight of their fellow indigenous countrymen. The band's music often details political issues and they have lent their support to multiple causes.
Tom Keifer, of Cinderella, made it back to his home-state with three PA shows this past month in Jim Thorpe, Glenside and Greensburg. Currently in the midst of his 'Sonic Slam Tour 2022' with LA Guns and Faster Pussycat. Keifer currently resides in Nashville but is originally from Springfield (outside Philadelphia) where he began 80s metal band, Cinderella. The Greensburg, PA show on June 20 consisted of 13 songs (10 of them being Cinderella) including "Shake Me," "Nobody's Fool" and "Gypsy Road."
American rapper, Rye Rye, returned to the stage for the first time in a decade on June 25 at the Ottobar in her hometown of Baltimore. Rye Rye began performing at the age of 16 and gained the attention of M.I.A. who then signed her as the first artist to her label N.E.E.T. Recordings. The song "Sunshine" collaborated both female artists becoming a huge hit. Rapper, M.I.A. is widely popular for her hit "Paper Planes" which rose to #4 on Billboard and sold over 4 million copies. Rye Rye, now 31, had left a promising career in music to become a full-time mom.
Members of the York-native band Live had their date in court dealing with legal issues. Singer, Ed Kowalcyzk, stated "I control 55% percent of LIVE. Chad Taylor is fired. He will never stop the music again. Thank you for all your amazing love and support." Kowalcysk said to fans, "I cried multiple times reading your comments and messages – it really meant the world to me and I thank you all from the bottom of my heart."
Ryan Adams returns to touring after 3 years. After playing a series of largely unpublicized dates including a stop at NYC's Carnegie Hall earlier this year, Ryan Adams is taking the next step in resurrecting his career with an eight-stop Midwest tour in the fall. Adams has largely been out of the spotlight since the New York Times published in February 2019 accusations by several women, including ex-wife Mandy Moore and singer Phoebe Bridgers, that the singer/songwriter had engaged in abusive and sometimes harassing behavior with them, all in the context of the then-burgeoning "Me Too" movement. Adams, who has publicly struggled with drugs and alcohol over the years claims he has been sober for at least nine months.
Paul McCartney has the top tour currently in the world on the strength of reported box-office results from four recent sold-out concerts on his recent "Got Back" tour. It was his first road effort since the pandemic and consisted of 13 cities in the U.S.. McCartney sold an average of 30,894 tickets each night and grossed nearly $7 million per show. The former-Beatle played Baltimore's Oriole Park this past month on June 12.
Justin Bieber has been forced to postpone the remaining U.S. shows on his "Justice Tour." The superstar addressed his fans via Instagram on June 11 to explain that he's suffering from Ramsay Hunt syndrome, a rare neurological disorder that's caused by a virus attacking his ear and other facial nerves. He demonstrated in a video how half of his face is paralyzed, and said, "For those who are frustrated by my cancellation of the next shows, I'm just physically obviously not capable of doing them. This is pretty serious as you can see. Obviously my body's telling me to slow down. I hope you guys understand, and I'll be using this time to just rest and relax, and get back to 100%, so that I can do what I was born to do."
After releasing his fourth full-length album, Twelve Carat Toothache, Post Malone is gearing up to hit the road for the "Twelve Carat Tour." The 33-date tour kicks off September 10 in Omaha, Nebraska and concludes November 15 in Los Angeles. Roddy Ricch is scheduled to be the opener for select dates throughout the tour. Dates include: 10/04 – Capital One Arena – Washington, DC and 10/06 – Wells Fargo Center – Philadelphia, PA.
The Rolling Stones canceled their concert in Amsterdam on June 13, just hours before it was due to start after lead singer Mick Jagger tested positive for COVID-19. The band announced the cancellation in a statement, saying the 78-year-old Jagger tested positive "after experiencing symptoms of COVID upon arrival at the stadium" on the outskirts of Amsterdam. Some fans were already in the stadium when it was announced that the show had been scrapped. The veteran rockers are touring Europe with a show called SIXTY to mark six decades together.
Foo Fighters will honor the band's late drummer Taylor Hawkins with The Taylor Hawkins Tribute Concerts – one at Kia Forum in Inglewood, Calif., and the other at Wembley Stadium in London – in September. The shows will mark the return of Foo Fighters to the stage after the Hawkins' sudden death at 50 on March 25 during a South American tour. Taylor's wife, Alison, took to social media to thank the band and its fans for their support. "In celebration of his life, is now up to all of us who loved him most to honor Taylor's legacy and the music he gave us."
Andy "Fletch" Fletcher, the keyboardist who for more than 40 years added his synth sounds to Depeche Mode hits like "Just Can't Get Enough" and "Personal Jesus," died at age 60. A person close to the band said Fletcher died Thursday from natural causes at his home in the United Kingdom. Fletcher formed the group that would become giants of British electro-pop along with fellow synthesizer players Vince Clarke and Martin Gore, and lead singer Dave Gahan, in Basildon, England in 1980. Depeche Mode was inducted into the Rock & Roll Hall of Fame in 2020.
Harry Styles and Live Nation will donate $1 million to Everytown For Gun Safety Support Fund in the wake of Uvalde, Texas, school shootings, and announced all 42 shows on his groundbreaking "Love On Tour 2022" traveling residency have sold out. The fund supports the education, research, and litigation arm of Everytown for Gun Safety, the largest gun violence prevention organization in the country. "Along with all of you, I have been absolutely devastated by the recent string of mass shootings in America, culminating at Robb Elementary School in Texas," Styles said.
JULY SHOWS: Bush / Candlebox – Grantville Hollywood Casino July 3. Rick Springfield – Charleston WV Sternwheel Regatta July 3. Tommy Conwell & Young Rumblers – Lancaster Roots & Blues July 9. Motely Crue / Def Leppard / Poison / Joan Jett – Hersheypark Stadium July 12. The Cult – Washington DC Anthem July 19. Broncho – Philadelphia Johnny Brendas July 21. The Cult – Philadelphia The Met July 22. ZZ Top – Grantville Hollywood Casino July 24. Dirty Looks – Selinsgrove Susquehanna Center July 30.