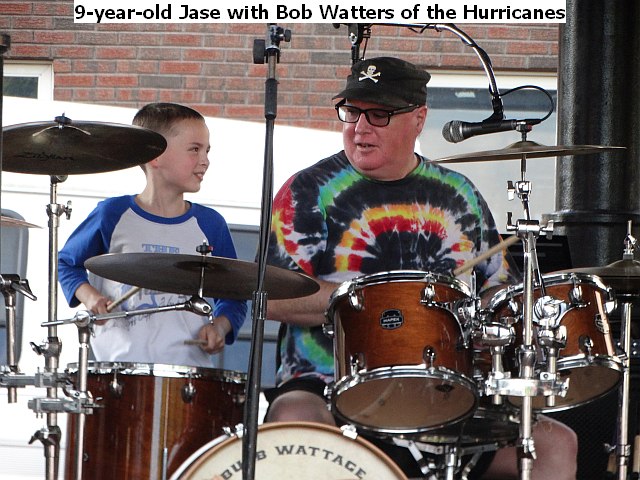 ---
By: Jim Price
I don't think any literary epics like "The Adventures of Tom Sawyer" or "Adventures of Huckleberry Finn" will result from it, but I started constructing this month's PA Musician writ just mere feet away from the Mark Twain Study on the campus of Elmira College in southern New York. I'm hoping that maybe some of Twain's aura might affect me and prompt the words to come out a little easier.
I visited Elmira, as well as a few nearby locations, immediately after departing from Quiet Oaks Campground near Cross Fork following last month's Smoked Country Jam Bluegrass Festival. Again providing a major highlight to my summer, Smoked Country Jam provided three days of live music on two stages, plus camping, food and fun in the northern PA Wilds, while raising money for the Lupus Foundation of America Philadelphia Tri State. This year I got to see all of the 21 scheduled performing acts at least once. While billed as a bluegrass festival, Smoked Country Jam presented a wide scope of musical flavors stemming from the bluegrass tree. Traditional bluegrass was again represented well by such festival stalwarts as Lock Haven's Lockport Drifters (who have played 17 years at this event); Morgantown, West Virginia favorites the Hillbilly Gypsies (who have played at every Smoked Country Jam), and numerous other groups that incorporated traditional numbers from the catalogs of Bill Monroe, the Stanley Brothers, Flatt & Scruggs and others into their sets. One of this year's new names, North Carolina's Unspoken Tradition (featuring former Altoona area musician Sav Sankaran on upright bass), evolved their original music style from traditional bluegrass and folk. Other groups demonstrated varying degrees of "newgrass" progression and experimentation during their performances – notably this year's headliners, Asheville, North Carolina's Fireside Collective. During their three performances, this group – Pennsylvania natives Jesse Iaquinto and Joe Cicero on mandolin and guitar respectively, resonator guitar player Tommy Maher, upright bassist Carson White, banjo player Alex Genova, and guest Dean Mahoney on cajon – frequently stretched their songs into side journeys and instrumental explorations, pushing the parameters of their instrumental skills in the process. While Fireside Collective demonstrated traditional roots flavors from time to time, they never stayed in once place too long and made each of their sets an adventure. Making their first Smoked Country Jam appearance, Pittsburgh's Buffalo Rose base their sound in traditional folk, while exploring avenues including alt-country and even touches of rock'n'roll. Another first-time festival group, Millheim-based Wicked Chicken, blended elements of bluegrass, jazz, Americana and rock'n'roll into another unique style and sound; teaming with his brother Huck in this project, fiddler Gus Tritsch has performed at Smoked Country Jam since he was 5 years old. Also making Smoked Country Jam debuts in 2022 were Driftwood, the Clyde Canton Band, Philadelphia's Pocono Jones & the Bear, the Private Stock Trio, North Carolina's Alex Leach Band, Pittsburgh's The Shameless Hex and Ferdinand the Bull, Into The Fog and Johnny Lit's Jerry Duty. Also providing highlights were Mama Corn, Colebrook Road, Bug Tussle, Doug Forshey, Van Wagner and Dead Horse Revival…And during the presentation of the annual Pennsylvania Heritage Songwriters Contest (PHSC), Philadelphia's Artese & Toad captured first and second place with two songs themed in the Altoona area – "Altoona" (the winner) and "Ghost on the Track" (second place), while Munhall-based songwriter Bruce Hoffman captured third place with his song, "Homestead Revisited." This year's Smoked Country Jam raised more than $6,000 for the Lupus Foundation. Next year's event will take place June 15-17, 2023.
After missing the previous two years due to COVID-19, Boalsburg – credited as one of the birthplaces of Memorial Day – brought back its annual Memorial Day celebration in late May. Activities and events happened throughout Memorial Day weekend, including a festival and live music on Memorial Day Monday. I arrived in time to see the first set of OverheaD's performance outside Boal Mansion. The multi-instrumental cast of Rick Plut, Kevin Fagley, Tom Mallouk, Eileen Christman and Doug Teti performed a wide range of material, spanning numbers from the Beatles, Three Dog Night, The Who, Cowboy Junkies, ELO, Dave Matthews Band, original songs and more. Highlights included the group's cover of "Catch A New Wave," a popular local 1980 song by former State College rockers Backseat Van Gogh; and Eileen breaking out the violin on songs from the Beatles, Kansas, the Animals, the original song "Not Too Late" and others…I then headed to the downtown Boalsburg Memorial Day Stage and festival, where a surprise performance was in progress. Pure Cane Sugar was scheduled to wrap up the afternoon's music, but when illness sidelined part of the group's roster, singers Natty Lou Race and Kate Twoey teamed up with fellow State College blues-based rockers The SKOAL Brothers, resulting in the first-ever appearance by "Pure Skoal Sugar." Natty Lou, Kate and SKOAL frontman Julian Allatt did much of the lead singing and harmonies, backed by keyboardist John "JT" Thompson, bassist John "JK" Kennedy and drummer Stubby Stubbs. Some of their songs included the fusion of Pink Floyd's "Time" into Neil Young's "Down By the River," Bruce Springsteen's "I'm On Fire," the Grateful Dead's "Sugaree" and the lively merger of "Iko Iko" with Harry Belafonte's "Man Smart (Woman Smarter)" to finish the set. The day then concluded with the solemn and reverent remembrance ceremony at Boalsburg Cemetery.
The Pennsylvania Roundhouse Rally's Summer Series 2022 kicked off over Memorial Day weekend at Roundhouse Harley-Davidson near Duncansville. The two-day rally featured five bands, with Friday featuring a 1980's music doubleheader. Giants Of Science kicked off with their celebration of '80s-era rock and pop. The cast of ringleader Mick, Johnny 5, Scotty B and Steve quickly had folks dancing in front of the stage with '80s favorites from Gary Numan, Greg Kihn Band, Simple Minds, Men At Work, Modern English, Soft Cell, Men Without Hats, Billy Idol and more. Toward the end of their performance, the Giants welcomed up guest Shannan to sing lead on Journey's "Don't Stop Believin.'" Hair Force One then followed with their '80s hair band party, rocking the Roundhouse with numbers from Motley Crue, WASP, Def Leppard, Poison, Ratt, Guns N'Roses, Kix, Ugly Kid Joe, Twisted Sister, Bon Jovi and more. Singer Victor Synn, guitarists Michael J. Cox and Milo Nuttz, bassist Peter Fitzwell and drummer Shawn Toppuver kept the rocking energy high from start to end, resulting in a packed dance floor for the duration of their performance…Three bands then performed on Saturday, starting with young Altoona upstarts Sweet Desire. Singer Jordan McCaulley, guitarist Kenton Lewis, bassist Joshua Simpson and drummer Trey Boore root their sound in the late 1960s/early 1970s hard, experimental and psychedelic rock tradition, and demonstrated that angle with their mixture of original songs and cover material. Sweet Desire broke out some familiar favorites from the Rolling Stones, Doors, Beatles, Free, Big Brother & the Holding Company and Led Zeppelin, but also unearthed "Need Some Love" off Rush's 1974 debut album, and the 1971 Cactus version of Willie Dixon's "Evil." Their original songs this day included their title song "Sweet Desire," "Long Black Train" which led into Trey's drum solo display, and their set closer "Down Days," culminating in a wild distortion and feedback-laden finish. Next was Ages, continuing the classic rock flavor with numbers spanning the 1960s to 1990s. Singer Mike Castine, guitarist Tyler Bryan, and the father-and-son rhythm section of drummer Jerry Naugle and bassist Jacob Naugle kept the rock strong and constant with numbers from Deep Purple, ZZ Top, Doors, Seven Mary Three, Black Sabbath, Ted Nugent, Jimi Hendrix, Cream, Black Crowes, White Zombie and more. Capping the music was Raleigh, North Carolina-based AC/DC tribute Shoot To Thrill. Demonstrating that "Girls Got Rhythm" (and they did that song), these five women delivered a fun, feisty and fiery display of "thunder from Down Under," performing many AC/DC favorites. Opening with "Live Wire," Shoot To Thrill – singer Kara, schoolgirl outfit-clad lead guitarist and "Angus" Susan, rhythm guitarist Wendy, bassist Jai and drummer Katie let loose with numbers from both AC/DC's Bon Scott and Brian Johnson eras; including "Squealer," "It's A Long Way to the Top (If You Wanna Rock'n'Roll)," "Night Prowler," "Thunderstruck," "Have A Drink On Me," "For Those About to Rock (We Salute You)," "Back in Black," "Big Balls," "You Shook Me All Night Long," "Highway to Hell" and many more. Shoot to Thrill delivered the energy, movement and enthusiasm throughout their set, keeping the crowd fired up and excited. After the group played "Shoot to Thrill," the crowd demanded more, and Shoot to Thrill quickly returned to finish out the night with "Hells Bells."
The second year of Altoona's Rockin' the Yard Concert Series launched early last month in the upper lot of Altoona's Jaffa Shrine. Opening the night was Altoona's Jack Squat, performing hard-rocking classics from the 1970s through 1990s. Singers and guitarists Scott Imler and Ron Dalansky, bassist Todd Batzel and drummer Dan McConnell triggered stage front rocking and dancing with numbers from the Scorpions, Tesla, Fastway, AC/DC, Alice In Chains, Jackyl, Silverchair, Judas Priest, Whitesnake, Krokus and more. Headlining the night, Separate Ways the Band came, saw and conquered this audience with their incredible Journey tribute show. From the get-go, singer Dan Gagliano proved that he likely has the best Steve Perry singing voice out of anybody not named Steve Perry! (And a few observers suggested that he probably sounded more like vintage Steve Perry than Perry himself does now.) Backing Dan was lead guitarist Mike Corsaro (who was equally impressive scorching out the Neal Schon guitar leads), keyboardist Mick Loro, bassist Paul Vassa and drummer Tom Stewart. Together, this group brought the Journey experience as they performed the group's catalog of hits and classics – opening with "Separate Ways," and proceeding through such favorites as "Only the Lonely," "Stone in Love," "Open Arms," "The Party's Over," "Be Good to Yourself," "Girl Can't Help It," "I'll Be Alright Without You," "Lights," Feeling That Way/Anytime," "Lovin' Touchin' Squeezin'" and many more. This crowd was hooked and connected; at one point, Dan started singing the opening words to the Steve Perry solo hit "Oh Sherrie," and was taken by surprise when the audience immediately started singing the rest of the words back to him. The mood was ecstatic during the homestretch; after Separate Ways performed "Anyway You Want It" and "Faithfully," the crowd yelled for one more, and the group closed out the night with "Don't Stop Believin.'" Proceeds from Rockin' the Yard benefit Shriners Children's Hospital, Combat Vets Association and nonprofit youth organizations.
I encountered Felix & the Hurricanes three times in recent weeks…The first happened on Memorial Day eve, as they entertained a large community audience of all ages on the gazebo stage at downtown Altoona's Heritage Plaza, presented by Levity Brewing Co. Lead Hurricane, singer and guitar Felix Kos, bassist and singer Jeff Clapper, and drummer and singer Bob "Bulb Wattage" Watters mixed a wide variety of rock, pop, blues, country favorites and original songs – everything from The Temptations/Rare Earth's "Get Ready" to Paul Simon's "50 Ways to Leave Your Lover" to ZZ Top favorites like "Tush," the 'Bulb'-fronted "La Grange" and "I'm Bad, I'm Nationwide" and "Heard It on the X," requests for the Allman Brothers and Lynyrd Skynyrd, and everything in between. Highlights included a 9-year-old named Jase joining 'Bulb' behind the drum kit during John Mellencamp's "Authority Song" and Skynyrd's "Sweet Home Alabama," the Hurricanes dedicating their original "Coming Home" to American servicemen who made the ultimate sacrifice, and seeing a community enjoying music and fun together…The Hurricanes also entertained as part of last month's "For Pete's Sake" event at Hollidaysburg's Legion Park. Presented in honor of Pete Dannenberg, American Legion Post 516 Hollidaysburg presented "For Pete's Sake: Let's Put an End to Soldier Suicide" to raise awareness of soldier suicide, and to benefit the organizations Stop Soldier Suicide and TAPS (Tragedy Assistance Program for Survivors). The event began with a solemn opening ceremony featuring guest speakers, with the Hurricanes entertaining and lifting spirits afterward…And I obeyed a signal from nature; when a flock of wild turkeys crossed before me on a rural road while I was delivering last month's PA Musicians, per my tradition I took it as a sign that I needed to see the Hurricanes later that Sunday night at Altoona's Black & Gold Tavern. The Hurricanes will open for Washington, DC blues legends The Nighthawks on July 29 during the next PA Roundhouse Rally weekend at Roundhouse Harley-Davidson near Duncansville.
Rising last month from the ashes of former Altoona area party band favorites This Albatross was Autumn Rising, who played their debut show before a large outdoor crowd of revelers and onlookers during the Patton Firemen's Jubilee. Most of this group's members are This Albatross alumni – lead singer and group namesake Autumn Shiffler, guitarist Kirk Robison, bassist PJ Kelly and drummer Shawn Gioiosa; with Scott Imler filling out the roster on guitar and lead vocals. Autumn Rising quickly escalated their maiden voyage into a lively street party, as folks of all ages moved and grooved to the group's mix of rock, pop and country favorites. Songs by Aerosmith, Joan Jett, Gretchen Wilson, Blondie, No Doubt, Bruno Mars, Shania Twain and many more kept the energy level at a constant high from start to end. Autumn was clearly happy to be back on the microphone, singing her heart out and rallying the crowd. The group pulled out a few surprises, such as the Autumn-Kirk duet on Bryan Adams/Tina Turner's "It's Only Love," and their rocking take on Madonna's "Express Yourself." And near night's end, guest singer Melissa Nagle joined Autumn to help belt out Janis Joplin's "Me and Bobby McGee." Autumn Rising's debut was an exciting and triumphant one; watch for increasing sightings of this group on area stages in the months ahead.
Started early last year as a side gig project, Stacy and the Rejects quickly generated a following and the attention of venue owners, and has become an in-demand name at various western PA venues and other situations. During last month's show at the Castle Pub in Ebensburg, group lead singer and namesake Stacy Feighner and her "Rejects" – husband Tony Feighner on guitar and vocals, bassist Josh Yahner, and Mike Davis on drums and vocals – brought the dance party with their mix of classic rock, pop and country favorites. People were up and dancing quickly as the group did energetic numbers from Nena, Smithereens, Elle King, Outfield, Billy Idol, Journey, Poison, Tom Petty, B-52s and many more. Handling most of the lead singing duties, Stacy's voice showed excellent range, power and steadiness; I was especially blown away by her performance on Jefferson Airplane's "Somebody to Love." Mike and Tony also sang lead on several numbers along the way. The dance floor increased as Stacy & the Rejects' performance continued, and the crowd didn't want this band to stop when the end of the night arrived.
Father's Day themes surfaced during my live music journey this past month, as I witnessed a few musical fathers, sons and grandsons in action. I took in the final day of last month's Holy Name Church Festival in Ebensburg, making its return after missing the past two years due to COVID-19. Performing this day was the man who taught me to play accordion and read music, Mario Crocetti, and his trio. Now 94, Mario is still a master of the accordion keys and buttons, and was making his instrument sing in a multitude of flavors this day. Accompanying him was grandson Joe Krug on drums, Brian Regala on saxophone and – also in his 90s – Jack Dominick on lead vocals. This was a fun afternoon, as the group entertained a seated audience and passersby with a variety of pop standards, country and polka favorites spanning the 1940s through 1970s. Jack had fun with a group of cheering ladies; dubbing them the "Toot-Tooters," he led them on several sing-alongs, including the Italian novelty song "Eh Cumpari (Dippity-Dippity-Dot)," "Rocky Top" and Louis Armstrong's "Hello Dolly." He also belted out strong voice on the Frank Sinatra classics "New York, New York" and "My Way." The group also did numbers from Dean Martin, Elvis Presley, Tony Bennett, Glenn Miller, Eddy Arnold and more. The Mario Crocetti Trio will perform a free show at Carrolltown's Legion Park on Wednesday, July 13.
One weekend after seeing the Mario Crocetti Trio perform, I got to see one of Mario's sons in action, as Mike Crocetti provided the drum beats for Hot Wax as they performed at the Woody Lodge Winery near Ashville. Mike, along with singer and guitarist Mike Zerbee, and bassist and singer Chris Myers, generated good time rock'n'roll for an eager audience of wine-sipping revelers. Hot Wax triggered dance action with favorites from Billy Joel, Jimmy Buffett, Eagles, John Mellencamp, Old Crow Medicine Show, Wilson Pickett, Johnny Cash and many more. And the group welcomed another of Mario Crocetti's grandsons, Jake Yarnish, up to the drum kit for a side journey of Hot Wax's sister group, Irish rockers Full Kilt – as Jake, Mike Zerbee and Chris did the Irish triple-play of Van Morrison's "Brown Eyed Girl," "Whiskey in the Jar" and U2's "With or Without You."
I also witnessed a father-and-son double-bill last month at downtown Huntingdon's Bryan Park, as singer and songwriter Ron Russell teamed up with his son, Brandon and his band Neon Hotel. Armed with acoustic guitar, Ron started off with a mixture of his original songs and select covers. Some of his original tunes this day included "Blue Collar Blues," "5 A.M." and "Jesse James." And with a sudden guest "Professor" beckoned to join in on cajon, Ron also did versions of John Mellencamp's "Small Town," Eric Clapton's "Wonderful Tonight," and Procol Harum's "Whiter Shade of Pale." Neon Hotel – Brandon ("Neon") on lead vocals and guitar, "Atlas" on bass and vocals, Vincent on guitar and vocals, and James Grove ("Dante") on drums – then played mostly original songs plus one cover, a version of Lit's "My Own Worst Enemy." Neon Hotel demonstrated an alternative rock/punk style on their original numbers, as they did such songs as "Worlds Behind," "Feeling Odd," "Follow the Leader," "Quarantine," "Anthem," "Summer Girl, Autumn Grave," the retro-flavored and pop-toned "I Don't Know How to Think About It," "Mediocre at Its Best," the punk-driven "Knotted Yarn," "Voodoo Doll" and more.
Altoona-based Sunset Over Mars continues to build their following. During their Memorial Day weekend performance at Altoona's 4D's Lounge (with Skyline Drive opening), Sunset Over Mars brought the energy and had folks moving and grooving in front of the stage. They mixed a number of their original tunes with rock and punk covers. Some of their originals included "The Gun," "The Worst," the hard-driving "Party Hard," their debut single "Stereo" and "Going Home." They also did tunes from the Gin Blossoms, Good Charlotte, Neon Trees, Maroon 5 and others. Sunset Over Mars was boisterous – singer Stevey St. John delivered the voice, sass and personality up front, while guitarist Zachary Piper, drummer Nikolas Plowman and stunt bassist Kevin Neely (wearing a space helmet for part of the night in keeping with the group's 'Mars' theme) brought the instrumental fury behind him. (A fearless performer, Kevin is fast becoming the "Evel Knievel" of local bass players, as he launched into several reckless abandon moments on the stage and on the dance floor during this show.) Sunset Over Mars' music and feverish energy successfully fired up the party; watch for their return to the 4D's soon.
And two more shows I witnessed recently included the late May reunion of songwriters Pat McGinnis and Jason McIntyre for an enjoyable evening of music at Al's Tavern in Altoona…And Pittsburgh's Legendary Hucklebucks, delivering their rip-roaring rock'n'roll at McGarvey's in Altoona during Memorial Day weekend.
News and notes…A cancer walk for former area drummer and percussion instructor Mark Morningstar took place in Huntingdon last month, as Mark's former students Richard Kane and Jordan Canner walked 54 miles encircling Huntingdon borough to raise funds and awareness for Mark, who was diagnosed in December with Stage 3 liver cancer, and needs a liver transplant. Shortly after the walk, good news arose, as another of Mark's former students, Shawn Campopinao, stepped forth to donate his liver to Mark; both Mark and Shawn will undergo their surgical procedure on July 21…Centre County's Arts Festival weekend returns this month after two years away, as both the Central PA Festival of the Arts in State College and People's Choice Festival of Pennsylvania Arts & Crafts return July 13-17; People's Choice will take place at a new location, Grange Park in Centre Hall…After 8 years away, the Blair County African American Heritage Festival returns on July 23-24 at Altoona's Railroaders Memorial Museum; The Pennsoulvanians and Da One Band (from Washington, D.C.) are among the entertainers…The Spin Doctors, Railroad Earth and Vanessa Collier are among featured performers at this year's Flood City Music Festival, happening July 29-30 at Johnstown's Peoples Natural Gas Park…Featuring 23 groups and performers over three days, this year's Route 22 Rock and Blues Festival happens July 15-17 at the Lincoln Caverns Campground near Huntingdon…After falling dormant for nearly 50 years, former outdoor music venue Musselman's Grove in Claysburg returned to action last month with a day-long grand re-opening concert event…Centre County-based rock and pop band TV Blonde is seeking a new drummer to replace Blaine Martin, who is leaving the group…Guitarist Tom Buck is rejoining Cambria County rockers Fuse…Altoona-based rock and metal artist Jakob Vladimir is releasing his new album, "Heart Shatter," this month…State College-based roots country and Americana artist Kristi Jean has announced that she will be issuing a new album in the fall…The Altoona area music scene mourned the passing of Jeff Smith on May 20; he was 56. Jeff was an early lead singer for popular 1990s Altoona-based rock band Bottoms Up, and is survived by a daughter…And also sad news from the Pittsburgh music scene, as former Gathering Field bassist Eric Riebling passed away on June 8 after a two-year battle with brain cancer. Eric was a member of The Gathering Field during their 1990s rise to prominence as a national recording group with Atlantic Records. Prior to that, Eric played bass and was a founding member of popular 1980s Pittsburgh new wave and dance band The Affordable Floors.
Please send correspondence and recordings to: Jim Price, 1104 S. Catherine St., Altoona, PA 16602. You can also e-mail me at jptheprofessor@gmail.com. And if you're into social networking, look me up on Facebook. SUPPORT LOCAL MUSIC!