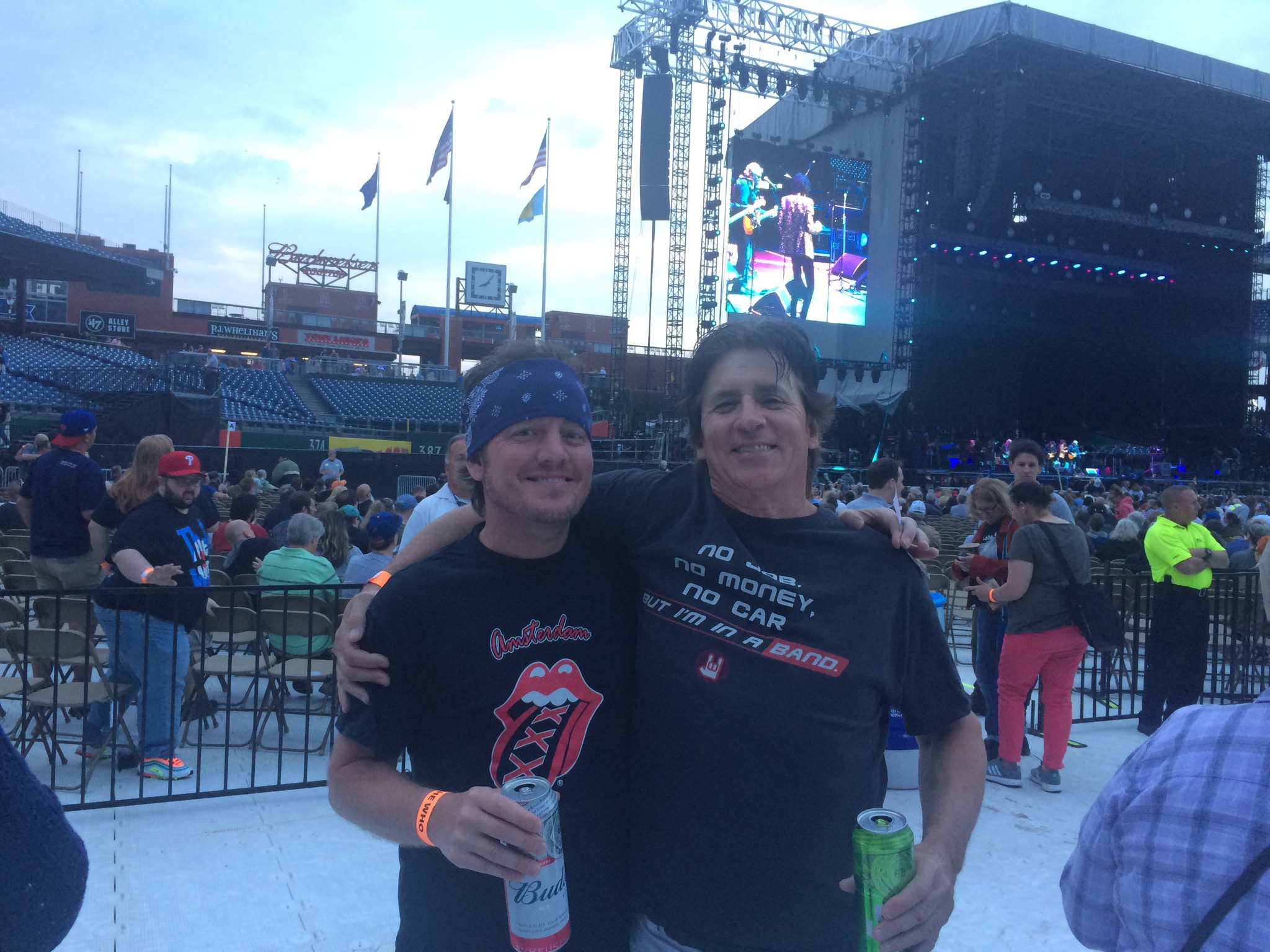 ---
By: Eric Hoffman
Greetings Rocker 'N' Rollers! The Summer concert season is shaping up very nicely with many big National bands touring including artists such as: Rancid, The Who, Blondie, The Menzingers, Fuel, Ratt, Aerosmith, Blink 182, KISS, Twenty One Pilots and The Rolling Stones, just to name a few. Last month, concerts were a bit quiet for myself due to traveling to the small island of St. Barths in the French Caribbean. However, I did manage a couple of music sights, including the home of Jimmy Buffett and the gravesite of Johnny Hallyday, an iconic singer dubbed the French version of Elvis, who is credited to bringing rock n roll to France in the 1960s.
Fortunately, I was able to catch The Hives and Refused at Franklin Music Hall in Philadelphia on May 18. Titled the 'Scream Team Tour' featured two of Sweden's most popular bands, who are traveling the States this Spring for 10 shows in 12 days. Refused were popular in the 90s and known for their non-conformist and far-left political lyrics. The Hives were once called "The Best Live Band on the Planet" by Spin magazine and continue to put on an incredible live show. The band delivered their popular songs, "Walk Idiot Walk," Hate To Say I Told You So" and "Tick Tick Boom."
Local favorites, Bridges and a Bottle, reunited on May 19 for their first show in 10 years. The band reformed to play a benefit for musician and friend, Ken Robinson. An all day event which featured 18 local bands including Nate Myers and the Aces, The Colt Wilbur Band, Don Johnson, Grumpy Old Men and Madison Ryan. Bridges and a Bottle once had a regional buzz with several record labels interested. WXPN named them Artist of the Day and their cd "Trojan Horse" was recorded by multi platinum Grammy nominated producer Jeff Glixman. The band were impressive and played all the fan favorites, including "18," "Carousel" and "Pistol." The great success of their recent show has rumors that Bridges and a Bottle will possibly do more.
Legendary band, The Who brought their latest tour "Moving On!" to Philadelphia's Citizen Bank Park on May 25. The English rock band that began in 1964 still features surviving members Roger Daltrey and Pete Townshend but also includes Zak Starkey (son of Ringo Starr) and Simon Townshend (younger brother of Pete). In each city The Who have chosen an orchestra to back the band. The 50-piece Chamber Orchestra of Philadelphia had played with the band before at The Mann and played this entire show, backing classics including, "Baba O'Riley," "Substitute" and "Pinball Wizard" My thanks to Steven Swisher of Swisher Sweets for making this evening possible.
NATIONAL NEWS: The Rolling Stones have rescheduled dates for this year's "No Filter" tour after Mick Jagger underwent heart valve surgery in April. The iconic British rockers will play 17 shows in North America. Demand remains exceedingly high for The Rolling Stones. Despite only staging 28 shows over 2017 and 2018 – 14 in each year. New dates include Washington DC's FedEx Field on July 3 and Philadelphia's Lincoln Financial Field on July 23.
Madonna has announced intimate theatre residencies in 7 major US. cities. The pop icon's "Madame X" tour includes 47 shows thus far and tickets will range from $60 to $760. These shows represent Madonna's first proper U.S. gigs since 2016. The Material Girl will release her anticipated 14th studio album "Madame X" on June 14. Madonna is the best-selling female solo touring artist of all time and her "Sticky & Sweet" tour, which took place from 2008 to 2009, is the highest-grossing concert tour by a female artist ever, with a final mark of $408 million. The tour visits The Met in Philadelphia on Dec 7, 8 and 11.
Sinéad O'Connor has signed with talent agency ICM Partners. "We are truly excited and honored to be working with such a talented, unique and groundbreaking artist," it was stated. "We cannot wait to see her performing in North America again." Returning to music by the name Shuhada Sadaqat in respect of her recent conversion to Islam, Sinéad O'Connor has left an indelible mark on the music world. The Irish singer's return to music comes after somewhat public struggles, during which she stated she was suicidal after losing custody of a son and later appeared on the Dr. Phil show to discuss mental health issues among musicians.
Lil Wayne and Blink-182 are taking on a full summer's worth of headline dates together for what is sure to be a unique tour. Neck Deep is coming along as support. In announcing the tour Lil Wayne and Blink-182 released a mash-up of their respective hits "A Milli" and "What's My Age Again?" Both acts haven't really been on the road in earnest since 2017. Blink-182 has cancelled dates in the past due to Travis Barker's medical issues involving blood clots in the drummer's arms. The tour visits Hersheypark Stadium on July 5 and Merriweather Post Pavilion on Columbia, MD on July 21
UPCOMING SHOWS: The Distillers – Philadelphia Union Transfer June 1. Rancid / Pennywise / L7 – New Jersey Old Bridge Raceway June 2. Twenty One Pilots – Atlantic City Boardwalk Hall June 8. KIX – Harrisburg Club XL June 15. White Reaper – Lancaster Kaleidoscope June 18. Perry Farrell – Philadelphia World Café Live June 18. Flock of Seagulls Reading Downtown Alive June 19. Teenage Bottlerocket – Philadelphia Kung Fu Necktie June 21. Ocean Blue – Lancaster Tells 360 June 22. Blondie – York Strand June 23.