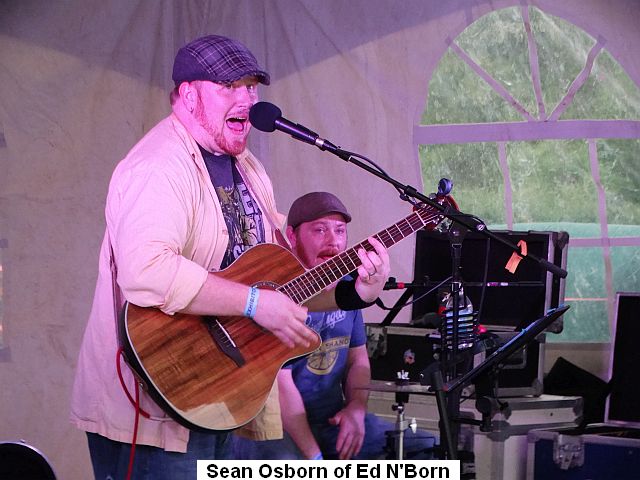 ---
By Jim Price
It's anniversary time again, as I begin my 33rd year of writing for Pennsylvania Musician Magazine! This journey continues to be exciting, and each month provides new and interesting adventures as I observe and report on the variety of live music happenings throughout the west-central PA region and beyond. Thanks again to main man Josh Noll, as well as founders Whitey and Robin, for allowing me to continue this journey!
Outdoor live music activities continued to pick up steam as summer approaches. Huntingdon hosted the 15th annual Mayfest celebration in late April. Live music again transpired on six different performance stages along a five-block span of downtown Huntingdon's Washington Street. Five different bands performed on the Desert Garden Day Spa stage; after my bandmates and I – the Backyard Rockers – kicked off the day's music on that stage, I saw Reboot as they provided musical fun. Singer and guitarist Josh Crownover, singer, guitarist and keyboardist Matt Kyle, bassist Brian Smith and drummer Chris Skipper mixed up an unpredictable variety of tunes spanning classic rock, pop, country, dance hits and more. Josh and Kyle handled most lead singing duties; Reboot mixed up tunes from Van Halen, Walk the Moon, 3 Doors Down, Bruno Mars, Charlie Daniels, Devo, Prince, Queen, AC/DC and more. They also fused together The Knack's "My Sharona" with Run DMC's "It's Tricky," and in what was probably the craziest moment of their performance, Matt did his best Lady Gaga on a version of "Bad Romance!" I then visited the Renaissance Faire stage to see Full Kilt, performing before Huntingdon's royalty. With the Queen (festival organizer Linda Dearmitt) looking on, the plaid-clad cast of singer and guitarist Mike Zerbee, bassist and singer Chris Myers, fiddler Mandy Passmore-Ott and drummer Jake Yarnish performed Irish-flavored folk and rock tunes; mixing their own original songs with numbers from Seven Nations, Garth Brooks, Carbon Leaf, Flogging Molly, Dropkick Murphys and more. Back at the Desert Garden Day Spa stage, Hawestone delivered country sounds, mixing original songs with modern country favorites. Singer and guitarist Ken Gray, lead guitarist Eric Smith, bassist Dick Shoemaker and drummer Tim Guthridge did numbers from Dustin Lynch, Jason Aldean, Florida Georgia Line, Luke Combs, Big & Rich and others, along with their own original songs "White Knuckle Ride" and "On Top of the World." I then came across youthful rockers Vinyl Stripes, performing at the Colonial Times stage. All in or entering their teens, lead singer and guitarist Nate McDermott, guitarist and singer Thayne Riddle, bassist Dayton Barger and (11-year-old) drummer Avery Miller did nice work on a variety of modern and classic rock numbers; doing songs from Green Day, White Stripes, CCR, Neil Young, Tom Petty, Deep Purple and more. And I caught a portion of Force Of Habit's performance on the Desert Garden Day Spa stage as Mayfest wound down. The roster of guitarists and singers Guy Kumpf and Steve Goodman, bassist Tim Rupert, keyboardist Mike Simpson and drummer/percussionist Chip Briggs mixed up rocking numbers from Lynyrd Skynyrd, Bob Seger, Eric Clapton, Procol Harum, 3 Doors Down, ZZ Top and more.
Craft brew connoisseurs converged on Altoona's People's Natural Gas Field early last month for the 12th annual Pints for Pets Brewfest, sampling craft brews from regional, local and national brewers to raise funds for the Central PA Humane Society. Live music was again part of Pints for Pets. Lauren & Joe and Bill Ferrell's Classical Edge Music entertained during the special VIP session, while Eric McCrum and Ed N'Born entertained during the event's public session. Accompanied by his Hope Fallacy bandmate Trey Carruthers on drums, Eric displayed a strong voice and witty delivery as he sang newer and classic rock and pop numbers from Fall Out Boy, Yellowcard, Dave Matthews Band, Goo Goo Dolls, Eagle-Eye Cherry, the Beatles and more. Highlights included a mash-up of Sister Hazel's "All for You" with Blues Traveler's "Runaround," and Eric's 'MC Rum' rapping midsection to the Cranberries' "Zombie." Ed N'Born followed with their wide variety of acoustic favorites, honoring requests along the way. Some of their setlist included tunes from Sublime, CCR, Garth Brooks, Alice In Chains, Billy Joel and the set-closing merger of Smash Mouth's "All Star" with Semisonic's "Closing Time." The beer sampling at Pints for Pets was good as well; my top three favorites were Robin Hood's Nitro Nuttingham Peanut Butter Porter, Rivertowne's Hala Kahiki pineapple beer and Boxcar Brew Works' 1896 (German) Pilsner.
Altoona native Jimmy Mowery's quest to win on NBC Television's popular talent search program "The Voice" ended in late April when he came up short on public votes to advance to the show's next round. Multitudes of appreciative fans, friends and family came out to cheer Jimmy during last month's homecoming visit to the area. He first played to a packed house at the Altoona Primanti Bros. location, before playing an outdoor set the next day as part of the Historic Hollidaysburg SpringFest in downtown Hollidaysburg. Flanked by a makeshift band of local music colleagues Ty Ayers and Ian Bennett on guitars and Trey Carruthers on drums, plus his bass player from Myrtle Beach, Jimmy performed a set of modern rock and pop favorites. He did songs that he performed during his recent run on "The Voice," including Charlie Puth's "Attention," Usher's "U Got It Bad" and Shawn Mendes' "Mercy." He and his group also did numbers from Matchbox 20, The Outfield and more; and after mentioning that he couldn't find anyone in his current home base of Myrtle Beach who wanted to do pop punk, Jimmy and company broke out Blink 182's "The Rock Show" and Lit's "My Own Worst Enemy." Along the way, Jimmy reflected on his "Voice" experience and referenced bands from his local music past such as Past Curfew, Dropout High and Like a Movie. The large crowd dug every moment of Jimmy's homecoming set, and gave rousing cheers after each tune.
Before Jimmy's performance, I also got to see sets from young performers Wilted and Coltt Winter Lepley during SpringFest. Wilted – lead singer and guitarist Christian Douglas, lead guitarist Julian Saborio, bassist Dylan Forr and drummer Dom Sisto – mixed original songs from their forthcoming CD with several favorites. Their sound blends elements of alternative rock and funk; some of their original songs included "When I Found My Way," "The Run" and "Dangerous Friend," while their cover selection included tunes from the Talking Heads, the Doors and Violent Femmes. Coltt Winter Lepley blended folk, pop, blues and other favorites with his own original songs. Coltt again showed his talents as a musical storyteller as he performed his own story songs "The Ghost of Emma" and "Bandito." And he covered an eclectic range of artists, including Bob Dylan, White Stripes, Bill Withers, Neil Young, Woody Guthrie, and even a sing-along version of Cab Calloway's "Minnie the Moocher" to end his set.
Happening the same weekend, I caught the second and final day of the annual Blair County Arts Festival at Penn State Altoona, and weather wasn't as cooperative this day. Rain and thunderstorms turned out to be a connecting thread of the day, as three of the five acts I witnessed had to cut their sets short due to rain-related issues. I arrived during R2B2's performance at the Food Court stage, and knew we were doomed the moment guitarist and singer Rick Wertz remarked that it wasn't raining. Within seconds, droplets began to fall as a developing thunderstorm made its arrival. I got to witness a few songs, though, as R2B2 – Rick, guitarist Ric Criste, keyboardist and singer Mary Villani, bassist Fritz Wyland and drummer Beau Saller – did funky hits from Cameo, Stevie Wonder, Pink and Morris Day and the Time. But increasing rain and a sudden shot of lightning cut R2B2's set short. I then proceeded to the relative shelter of the Misciagna Portico stage to see Randy Rutherford and Bob Scholl finish their set of jazz and pop numbers. Randy on guitar and Bob on sax sounded smooth as they finished their set with a version of Steely Dan's hit "FM (No Static at All)." With storm clouds clearing, I returned to the Food Court stage to see the Altoona Brass Collective. Numbering nearly 20 members, the Collective applied their collective brass talents to a variety of sounds – from John Williams' theme from the movie "1941" to Malcolm Arnold's "Prelude, Siciliano and Rondo" to the devotional song "On Eagle's Wings," a musical salute to the nation's Armed Forces and more. I headed back to the Misciagna portico stage to see the Full Kilt Duo of Mike Zerbee and Mandy Passmore-Ott, accompanied by guest Shawn Gority on bagpipes and Uilleann pipes. I was able to witness a version of Seven Nations' "Scream" and another song or two, before more arriving rain triggered a power outage to end their set early. I soon made one more trip back to the Food Court stage, believing that the stormy weather had passed and that Mother Nature wouldn't rain on Felix & the Hurricanes' set. I was wrong. The Hurricanes – this day lead Hurricane Felix Kos on vocals and guitar, Jeff Clapper on vocals and bass, and Bob Watters on drums and vocals – made it through much of their set, doing original song favorites and select covers. Some of their numbers included popular favorites like "Beale Street," "Keep On Rockin,'" "Black Widow" and their 'Russian surf music' instrumental "Whirlwind." But the sky darkened and a downpour quickly deluged the grounds, sending sound engineer Pat McGinnis and his staff to cover up speakers and gear, and prompting Hurricane Felix to quickly launch into B.J. Thomas' hit "Raindrops Keep Falling on My Head" as a number of audience members converged under the performance tent. A shot of lightning sealed the deal and ended the performance – and the Arts Festival.
New York third-wave ska legends Mephiskapheles visited the stage at McGarvey's last month. Leading off the show were Railroad City Murder Machines. The lineup of singers and guitarists Randy "Cheeze" Williams and Tim Mort, Dan Mort on bass and Billy Mort on drums mixed up high-powered rock'n'roll and punk sounds. These guys performed melody-based high-octane original rock'n'roll songs but could quickly accelerate into punk rock velocity on numbers like "No Mercy for the Victim." Former Marauders frontman Ben Dumm's newest project, Ben Dumm & the Prostitutes, then pimped their brand of punk-fueled, roots rock'n'roll. Ben on lead vocals and guitar, Darren Jones on bass and Steve Holtz on drums fired off new and older original songs from Ben's arsenal including the set-opener "Devil's Debt," and also offered high-octane takes on "Midnight Special," Elvis Presley's "(Marie's the Name) His Latest Flame," a Little Richard number and more. Mephiskapheles then raised some hell with their edgy brand of ska music. Seven members strong with a three-piece horn section, Mephiskapheles brought the party, delivering fiery, feisty original ska sounds that quickly had the crowd up and moving. Charismatic singer Andre Worrell delivered a booming voice and vocal sass as he led the group through numbers such as the group's self-titled intro "Mephiskapheles" into "Attack of the Geniuses," "Bad John," "Bad Toupee," their popular "Bumble Bee (Al) Tuna Song," the devil-themed "Satan on the Beach" and "Satan Stole My Weed," "Saba," "Break Your Ankle Punk," "Doomsday" and more. More and more folks danced, skanked and grooved as Mephiskapheles' ska party progressed; and when they called for the encore at set's end, the group responded with "Rank & File" and "Friends Like You" to close the night. My first time seeing this group in action, I was impressed with Mephiskapheles' high-energy, go-for-broke ska-driven good time, and I hope to see their return visit soon.
Another of McGarvey's big highlights recently was hosting New York City-based Tool tribute act Schism, sponsored by Cohocoholics Productions. This was a multi-band bill, featuring several local openers. Ed N'Born commenced the music with a short set of acoustic rocking favorites from Smashing Pumpkins, Foo Fighters, Cracker, Live, Sublime, Black Sabbath and more. Maul and Negan then performed sets that showcased their own original music, while reprising their Layne Staley Alice In Chains tribute from April. Maul presented their two-pronged vocal duo of Todd McKeone and Luke Patterson (who I incorrectly identified in last month's column, my apologies!) to capture the Alice In Chains harmonies on such tunes as "Them Bones," "Rain When I Die," "No Excuses" and "Rooster." Negan introduced several new originals during their set, including the scathing "The Boy" and "The Goat Whispers." Schism was phenomenal, accurately capturing the power, mysticism and technical prowess of Tool. The only Tool tribute endorsed on Tool's websites, Schism – singer Angelo Rivera, guitarist Keith Williams, bassist Sean Murray and drummer Donald Pusateri – played material from throughout the Tool catalog, mixing established favorites with deeper cuts. Opening with the title track to Tool's "Aenima" album, Schism played through familiar numbers such as "Stinkfist," "H," "Forty Six & 2," "Schism," "Sober," "Hooker with a Penis" and more; and they dug deeper for numbers such as "Intolerance," "Pushit," "Rosetta Stoned," "Third Eye" and others. An unexpected highlight was a special guest, young guitar player Kayla, who Schism welcomed on stage twice; first during "Vicarious," and later during one of the most complex numbers in the Tool catalog, the title track from "Lateralus" – Kayla excelled on both, much to the delight of both band and audience! Schism took no breaks during their nearly two-hour performance, and eagerly responded to encore calls with "The Pit" to end the night.
Music fans and dog lovers converged on McGarvey's in late April for the A Darrah Bull Birthday Bash. Proceeds from this event helped out A Darrah Bull Bully Rescue, a Blair County-based non-profit organization dedicated to caring for homeless dogs in the area through providing foster care until permanent loving homes can be found for them. State College's Same Old Haunt and Washington D.C.'s DoubleMotorcycle both performed before my arrival, but I got there in time to catch my first look at local punk rockers Jean Claude Trans Am. This group features a seasoned cast of performers from the Altoona punk rock scene – X's For Eyes' Tom Noel on lead vocals and guitar, former Lose The Name member Jimmy Skinny on guitar, The Flannels' Chet Lafferty on bass and Toby Hunter on drums. Together they rocked with fast-firing punk rock favorites from Bouncing Souls, Rancid, Diesel Boy, Descendents, NOFX and more. Jean Claude Trans Am's uptempo sounds triggered cheering and some dancing as their set progressed. The A Darrah Bull Birthday Bash raised more than $600.
Shallow 9 felt the power of the 4th within them and served as the cantina band at McGarvey's during the Star Wars "May the 4th Be With You" party. This was a unique Star Wars-themed edition of Shallow 9's high-energy dance party, complete with Star Wars music ushering in each set, Death Star beach balls bouncing around between band and crowd, light sabers adorning drummer Todd Harshbarger's drum kit and more. Shallow 9's three-pronged vocal presentation gets stronger with each show, with Erika Marino Ankeny, guitarist Ryan Weaver and soundman and singer Mike Stanley swapping and blending their vocal talents to rally folks onto the dance floor. Lots of pop, rock, rap and dance hits ensued from the likes of Fall Out Boy, Cheap Trick, Sublime, Wheatus, Lady Gaga, Amy Winehouse, Billy Idol, Bruno Mars, DNCE, Outkast, Panic at the Disco, medleys, mashups and more.
Also at McGarvey's, I caught the last leg of a punk-rock triple-bill last month, featuring The Flannels, Late Last Nite and Dave Hates Everything. I arrived just before Dave Hates Everything took the stage to celebrate the release of their brand new self-titled CD. Lead singer and guitarist Pat Orr, guitarist Shawn Doran, bassist PJ Lang and drummer Alec Plumley threw caution to the wind with their haphazard brand of punk rock, slamming forth new tunes such as "Nature Boy," "Modern Hero," "Jumpsuit Johnny," "Last Call" and more, plus "Weekend Warrior" (an older number that they update on the new CD) and others. Dave Hates Everything kept the music at breakneck velocity, yet never took themselves too seriously and had fun with the fans who stuck around for their set. Dave Hates Everything will be part of The Snipped's Father's Day Extravaganza show at McGarvey's on June 15.
And I caught much of the late April metal music triple-bill at McGarvey's, featuring SamarA, Darkness On The Radio and Deadside. I only got to see SamarA's last song, but was nonetheless intrigued by this group's unique merger of terse, dark-themed metalcore and mesmerizing video footage – in this case showing a cluster of swarming bees in conjunction with the music. Johnstown's Darkness On The Radio (DOTR) followed with their scathing brand of power metal, performing tunes from their "New Murders, Old Crows" EP plus some newer numbers. Demonstrating his Tasmanian Devil-from-Hell howl, frontman and guitarist Jason Straw – flanked by guitarist Jay Snyder, bassist Greg Hatch and drummer Jason Kirchner – scorched McGarvey's walls with tunes such as the EP title track, "Sons of Devilry," "Shallow or Six Feet," their closer "Judas Take the Wheel" and more. And Clearfield's Deadside capped the night with their scorching set of raging power metal. Frank Rumfola is still one of the region's most intense frontmen, again demonstrating the knack of going from quiet and soft-spoken to unbridled rage in mere seconds! He, guitarist Travis Hudson, bassist Alec McCracken and drummer Justin Strickland torched the stage with fierce numbers like "Anti," "Street Smarts," "Where Were You," "Viral" and more.
I caught up with Rust as they rocked Slammin Sam's in Johnstown last month. This trio again delivered the goods in a big way, bringing full thunder and finesse on a variety of 1970s and 80s rock classics. The roster of singer and bassist Mike "Griff" Griffiths, singer and guitarist Aaron Wolf and drummer Jared Fetcko were tearing through a take on the Doors' "L.A. Woman" as I arrived, and immediately followed it with Iron Maiden's "Flight of Icarus" to end their first set, with Aaron's soaring Bruce Dickinson-like vocals and searing guitar solo work quickly bringing me to full attention! The remaining two sets provide more such fireworks, as Rust rocked the house with tunes from the Beatles, Rainbow, Ozzy, AC/DC, Led Zeppelin, Judas Priest, Black Sabbath (the Ronnie Dio-era Sabbath classic "Children of the Sea"), Pat Travers' "Snortin' Whiskey" and more. For the night's finale, Rust unleashed one of the most malevolent-sounding versions of Rush's "Working Man" I have heard on a local stage – Aaron gave the full-shred display on guitar, and Griff boomed some of the most evil-sounding bass work I have heard on this Rush classic! Excellent show start to end; This Rust never sleeps, they deliver the goods!
I had not seen Morgan James perform on stage since he fronted popular Cambria County group Stix and Stones back in the 1990s…But I finally caught up with him as his current project – Morgan James & the Mojo Men – performed last month at the Loretto Pub & Grill. Saint Francis University had just completed finals week and graduating seniors filled the house to celebrate before getting their diplomas. Singing and playing guitar, Morgan plus his Mojo Men – his former Stix and Stones colleague Dave "Redawg" Solinski on zendrum (an electronic drum held and played like a guitar) and Jim Zemlock on bass – were up to the task of helping this crowd get happy and rowdy one more time before grabbing their sheepskins and heading into the working world. This group mixed up lots of classic rock gems; doing numbers from Them, Stevie Ray Vaughan, Bob Marley, Rolling Stones, the Beatles, Jane's Addiction, Janis Joplin, Social Distortion, Jimi Hendrix, Led Zeppelin, psychedelic Doors classics and more. They sounded strong, and it was fun to watch "Redawg" going bonkers on the zendrum, conjuring an entire percussion army on one electronic instrument! The dance floor saw more activity by the group's nightcap set, with students stepping up to help with backing vocals and even helping Redawg pound out his zendrum rhythms. A fun show – watch out for Morgan James & the Mojo Menas they bring rocking good times to area stages.
It had also been a while since I last saw popular Johnstown duo Walt & Jackie perform, but I took in their performance last month at B&L Wine Cellar's Bon Air location in Johnstown. Walt Churchey and Jackie Kopco made musical magic with their mix of classic rock, pop and folk favorites, done in their own distinctive way. Both accomplished solo performers, Walt and Jackie complemented each other nicely – Walt with his bold, resonant voice and Jackie with her dynamic range and clarity. Both played acoustic guitar, with Walt also contributing some shakers and other handheld percussion, and Jackie playing piano and ukulele. They often alternated lead singing duties, and their voices blended nicely on several duets. Several highlights for me included Jackie's treatments of Sara Bareille's "Saint Honesty," Elton John's "Goodbye Yellow Brick Road" and Carly Simon's "You're So Vain," and Walt's renditions of Bob Seger's "Turn the Page," Hootie & the Blowfish's "Let Her Cry" and the ever-popular Johnny Cash favorite "Folsom Prison Blues." Some of their duets included Kid Rock & Sheryl Crow's "Picture," Weird Al Yankovic's tongue-in-cheek "You Don't Love Me Anymore" and the show-ending version of Bon Jovi & Jennifer Nettles' "Who Says You Can't Go Home." Walt and Jackie's presentation was pleasant and warm, and they showed both a musical and conversational chemistry that hooked the audience in.
News and notes…Area motorcycle rallies will bring marquee entertainment during the weekend of June 20-23. Johnstown's Thunder In The Valley will feature Saturday headliners Firehouse, while Altoona's Pennsylvania Roundhouse Rally will present Thursday headliners Fuel and Saturday headliners Kix. (McGarvey's will present Jimmie's Chicken Shack on Saturday following the Kix concert.)…In conjunction with International Day of Music on June 21, ArtsAltoona, the Allegheny Ukulele Kollective and Greenbean Coffee House are partnering for "Make Music Altoona," which will celebrate the creation of music at locations throughout the city…The Clarks have released a new album, "Between Now and Then Volume 2," a collection of popular original tunes, deep tracks and cover songs from the past 10 years of The Clarks' career…Stephanie & the Wild Hearts have announced their new permanent bass player, Chad Morral…Pittsburgh heavy metal rockers Skell have begun work on their next full-length CD; Grammy-winning engineer Jimmy Hoyson will do the engineering and mixing on the album, expected out later this year…Popular West Virginia-based international show band Rick K & the Allnighters suffered the passing of their bass player, as Paul Alan Doege passed away unexpectedly on April 23 from health complications. Paul had been a member of the group for more than ten years. The group has been working with different bass players until a permanent replacement can be found.
Please send correspondence and recordings to: Jim Price, 1104 S. Catherine St., Altoona, PA 16602. You can also e-mail me at jptheprofessor@gmail.com. And if you're into social networking, look me up on Facebook. SUPPORT LOCAL MUSIC!