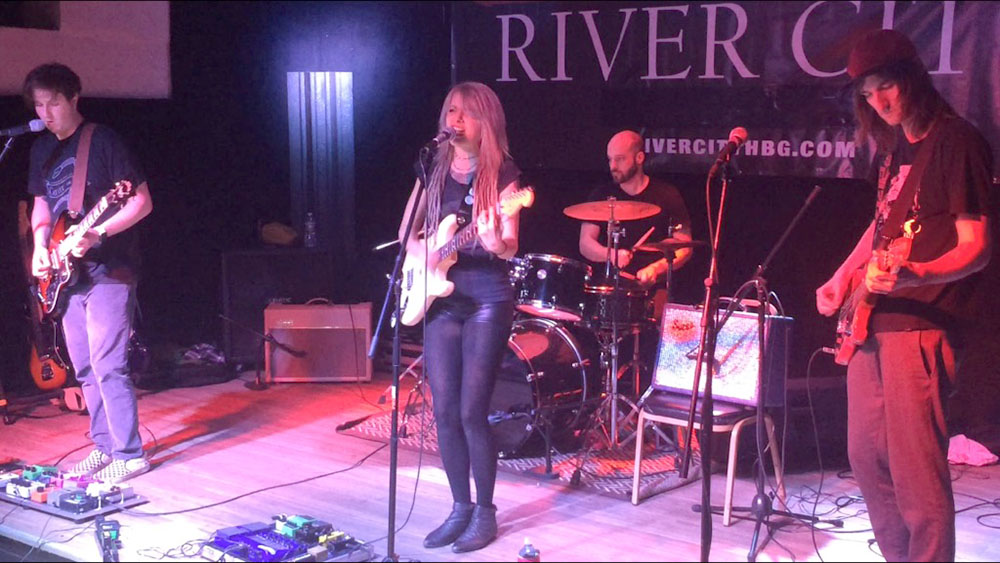 ---
By: Eric Hoffman
Greetings Rockers 'N' Rollers! Harrisburg's latest and largest nightclub Club XL continues to set the pace for bringing notable National acts. This past month Club XL hosted two really great artists Kurt Vile and the Violators on February 11th and The Glorious Sons on February 16th. Kurt Vile became a solo artist after being the former lead guitarist of The War on Drugs from Philadelphia. Vile put on a great show and his lo-fi indie songs are always good and sometimes truly exceptional. He currently has 62 concerts for 2019 and is touring his latest release 'Bottle It In'. I was fortunate to meet Kurt Vile after the show and talk, he was very down to earth, humble and even shy. Vile grew up in Lansdowne, PA and worked as a forklift driver before becoming a musician in 2003.
Canadian rock band The Glorious Sons also put on a memorable show with a sold-out performance at Club XL. It was also the band's largest venue to be playing on their current trek across the United States. The Ontario-based group has been gaining recognition with their hits "S.O.S. (Sawed Off Shotgun)" and "Everything Is Alright." The Glorious Sons have released two albums and had eight consecutive top-10 rock radio hits in Canada. Their current headlining tour will lead the band into Festival dates in April and May including the WMMR BBQ in Camden, NJ on May 18. My thanks to former radio DJ Bob Waters for introducing me to this band and for his passion of spreading the word about The Glorious Sons.
Harrisburg's annual Millennium Music Conference held its 23rd premier music event Feb 21-23. Over 250 acts from as far away as Canada, Scotland and Sweden performed at 25 venues in Central PA. It was great to catch bands like The Twindows, Running Late, Madison Ryan, Single By Sunday and Autopilot. The internet live stream of the Keynote address from Rock Lititz was very informative and educational. Congratulations to founder John Harris Jr. on another successful conference year.
NATIONAL NEWS: Ozzy Osbourne has been forced to cancel appearances in the U.K., Europe, Australia, New Zealand and Japan to give him time to recover from pneumonia. "Ozzy recently developed pneumonia and has spent some time in hospital Thankfully he is now through the worst part," Ozzy's manager and wife, Sharon Osbourne, said in a statement. "His doctors have advised that he stay at home to recuperate for a full six weeks with no travel." Last month, the Prince of Darkness had been diagnosed with flu like symptoms and a severe upper-respiratory infection. Ozzy stated, "I promise the tour with Judas Priest will be completed. It's being rescheduled right now to start in September. Again, I apologize to everyone. God Bless. Love you all, Ozzy." Osbourne's "No More Tours 2" tour visits Hersheypark Stadium on June 8th.
F.B.I. agents have reportedly begun investigating allegations that Ryan Adams sent sexually explicit text messages to an underage fan. In response to the claims, guitar pedal and amp companies have dropped their relationships with Adams and the release date for his upcoming album is apparently being pushed back indefinitely. A New York Times article included interviews with his ex-wife Mandy Moore and several other women such as musician Phoebe Bridgers, who detailed controlling and emotionally abusive behavior from the singer/songwriter. Adams' album Big Colors was scheduled for release April 19 but after sexual misconduct allegations it is on hold indefinitely.
KISS played an intimate show for SiriusXM's KISS Army Radio (Ch. 30) at the famous Whiskey a Go Go in California. Tom Morello (Rage Against the Machine) took the stage, raving, "You wanted the best! And you got the best! The hottest band in the land – KISS!" The band played a dozen classic songs to the 500-capacity West Hollywood club which is significantly smaller than the arenas on their End of the Road Tour. The 67-year old Paul Stanley and 69-year old Gene Simmons played songs, "Strutter," "Love Gun," "Like It Up," "Do You Love Me," and "Detroit Rock City" to a notable crowd including Red Hot Chili Peppers' Chad Smith, LL Cool J, Rob Zombie and DJ Rodney Bingenheimer.
The 2019 Grammys were conquered by female nominees and winners. Hosted by 15-time Grammy winner Alicia Keys, the evening had performances from Janelle Monáe, Lady Gaga, Brandi Carlile, Kacey Musgraves, H.E.R., Cardi B, Jennifer Lopez, Dua Lupe and St. Vincent, Chloe X Halle, Andra Day, Fantasia and Yolanda Adams. Kacey Musgraves took the night's biggest prize, with her Album of the Year win for the critically-lauded Golden Hour. Brandi Carlile took home three Grammys. Cardi B was the first woman to win Best Rap Album. Ariana Grande took home Best Pop Album. Music's Biggest Night also featured performances from legendary female artists Diana Ross and Dolly Parton (with Miley Cyrus, Katy Perry, Little Big Town).
Lindsey Buckingham underwent open heart surgery that left the former Fleetwood Mac guitarist with damaged vocal cords. Buckingham experienced chest pains and was taken to the hospital where he had the life-saving procedure. The 69-year-old rocker's wife, Kristen Buckingham, said that it's unclear if the damage after the surgery is permanent. She says the past year has been stressful, but she is thankful her husband is still alive. Lindsey Buckingham's last performance was Dec. 9 at the Sands Bethlehem Events Center in Bethlehem, Pa. Meanwhile, Fleetwood Mac is in the middle of a 31-date tour averaging $1.8 million per concert and selling an average of 14,000 tickets per show. The tour features original band members Stevie Nicks, Christine McVie, Mick Fleetwood and John McVie along with Neil Finn and Mike Campbell who joined the tour following the departure of Lindsey Buckingham.
Rock legend Roger Waters completed his Us + Them tour, capping a two-decade stretch of global touring that generated more than $835 million in sales from four major worldwide treks. It began in 1999 when he made a return to the concert stage as a solo headliner after a 12-year hiatus from the road. The tour showcased the hits from his years with Pink Floyd but also included music from his 1992 album, Amused to Death.
UPCOMING CONCERTS: Shinedown – Hershey Giant Center March 1. Satisfaction, Rolling Stones tribute – Sellersville Theatre March 7. Jackyl – Harrisburg Club XL March 8. Dropkick Murphys – Lancaster Marriott March 11. Genitorturers – Baltimore Soundstage March 15. Plague Vendor – Philadephia First Unitarian Church March 22. Plague Vendor – Washington DC RockNRoll Hotel March 23. Erin McKeown – Cape May Congress Hall March 30. Clash tribute / Jet Silver – Lancaster Tellus 360 March 31.