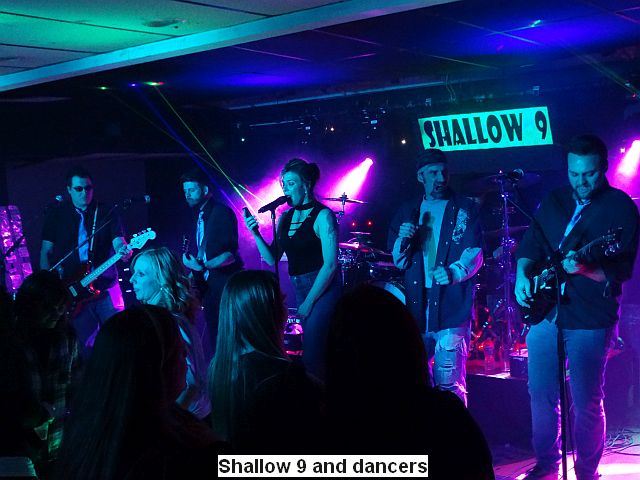 ---
By Jim Price
Last month's onslaught of winter storms and iced-up roads took a break to allow musicians and music-minded folks to attend last month's 23rd annual Millennium Music Conference in Harrisburg. PA Musician was in attendance; check out next month's issue for our conference recaps.
Despite the aforementioned wintry onslaught, I did get to witness some shows in recent weeks. The Semi-Supervillains made their first area appearance early last month at the U.S. Hotel in Hollidaysburg. A good-sized crowd – including band members' families journeying in all the way from the group's founding home base of Weirton, West Virginia – braved less-than-ideal wintry road conditions to see The Semi-Supervillains in action. Vinnie Longhi on lead vocals, guitar and keys, guitarist/singer Nick Longhi, bassist/singer John Pennacchio, guitarist/singer Zach Stadtlander and drummer/singer Tony Marino entertained that crowd over two sets with their high-octane blend of original rock and select covers. Their original song arsenal ranged from fast-firing rockers of the White Stripes/Jet variety to Beatle-esque numbers and more. Some of their numbers included retro-flavored tunes like the backbeat-geared "Champagne" and "She Put a Spell on Me" with its 1960s McCoys "Hang on Sloopy" vibe, the blue-collar themed "Breaking Me Down" (inspired by Weirton's declining steel industry) and more. The Semi-Supervillains also did a diverse cover selection, including Paul McCartney & Wings' "Let Me Roll It," Badfinger's "No Matter What," Jimi Hendrix's "Hey Joe," Red Hot Chili Peppers' "Dani California," Neil Young's "Rockin' in the Free World," Otis Redding/Black Crowes' "Hard to Handle," and – slamming the lid on the night – their rowdy take on The Who's "My Generation." These guys swapped instruments and singing duties several times during the night, and Vinnie also did a brief solo acoustic set during the band's intermission between sets. It was all sharp, energetic and fun, and the crowd enjoyed it, with several folks dancing and grooving along.
McGarvey's celebrated the arrival of the Chinese Lunar New Year with a special Chinese New Year celebration early last month with This Albatross providing the music. As a packed house of revelers indulged in a Chinese food buffet, This Albatross launched into their party, igniting steady traffic on the dance floor with their blend of rock, pop and country favorites. Despite several members recuperating from cold bug issues, This Albatross brought the energy as they mixed it up with tunes from Joan Jett, Aerosmith, Gretchen Wilson, Stevie Nicks, Madonna, Billy Squier, Roxette, Pat Benatar, Lita Ford, Pink, Shania Twain, Alanis Morisette, Janis Joplin and many more. Singer Autumn Grooves Wagner's voice was in good form, delivering power and range throughout the night – with Philly Grooves Wagner and Kirk Robison on guitars, PJ Kelly on bass and Shawn Gioiosa on drums providing the instrumental firepower behind her. Highlights included the Aerosmith double-shot of "Sweet Emotion" into "Walk This Way," the Blondie twin-bill of "Heart of Glass" into "Call Me," guest appearances by Naildriver frontman Matt Watson and Rich Johnson wielding the bass on Alice In Chains' "Man in the Box," and when the crowd shouted for the encore, the 'Grease'-laden sounds of "You're the One That I Want" to close the night. This Albatross made sure everybody's Chinese New Year of the Pig got off to a great start, and a good time was had by all.
After Shallow 9's scheduled January performance at Altoona's Four Dees Lounge was scuttled by a winter snowstorm, the group played a special Friday make-up show early last month. Shallow 9 did what they do best, firing up the dance floor party with their lively mix of rock, pop, funk and hip-hop hits. Erika Marino Ankeny and multi-tasking sound overseer Mike Stanley shared and swapped most lead vocal duties, with guitar man Ryan Weaver chiming in on a few numbers. Todd Harshbarger on the drums, Mitch Neuder on the bass and Tucker Landis on guitar helped to keep this party machine churning through the night. Shallow 9 kept the dance floor revelers busy with favorites from Pat Benatar, Amy Winehouse, Cee Lo Green, Britney Spears, Lit, Jimmy Eat World, Panic at the Disco, Outkast, and – of course – the group's popular signature freewheeling medleys of various funk, dance and hip-hop hits. Shallow 9's high-octane dance party returns to the Four Dees on March 30.
Fyre recently issued their second CD, 2 Keys, and have undergone some personnel changes. The updated mach edition of Fyre headlined a hard rock/metal triple-bill at McGarvey's early last month. Although I missed show openers Dilemma, I arrived in time to see Johnstown power trio Jug as they thundered out their brand of stoner/doom-esque metal. Singer/guitarist Jake Belz, bassist Robbi Rummell and drummer Ron Schinkle rendered thick, Sabbathy, full-distortion heavy metal originals upon a good-sized audience. Jug stretched each track out to its full intensity, with Jake scorching out solos as he switched between guitars. Robbi stretched out his thick distortion bass lines to transition between songs, and Ron levied booming drum thunder to power it all. Then introducing Awaken From Ruin alumni Logan Yablonski on lead guitar and bassist Corey Colledge to their roster, the updated roster of Fyre finished off the night by showcasing several of the tunes from the 2 Keys CD, and mixing in a few older numbers plus a heated cover of Dio's "Holy Diver." Frontman Matt Stoyanoff's voice was in good order, as he pierced the heavens with his high-flying pipes. Logan and Corey's contributions were clear, as they gave added edge and aggression to the Fyre attack, powered by Tanner Kaurudar's drumbeats and fleshed out with Sean Stringer's rhythm guitar. Fyre did tunes from their previous 3 Ghosts CD such as "No Remorse" and "Madness," and from the new album did numbers such as "Into the Void" and the set-closer "The One Who Sleeps." Fyre is already at work on new song material toward their next recording, and it will be interesting to observe their progress with the new blood in their line-up.
I also attended a punk-rocking triple-bill at McGarvey's in late January. Dave Hates Everything led off the night, before The Snipped took the stage to fire off their brand of "dadcore." Several of these pun k-rocking dads were under the weather, though, so they did a slightly abbreviated set that featured some of the songs off their Dadcore CD, including "Along These Streets," "Hand That Feeds," "Bus," "All We Know," "Friday Night" and more. It was still good, fun, high-velocity punk rock that fired up the house. Then lightheartedly proclaiming their brand of punk rock as "a**holekidcore," The Whatleys fired off a glorious extended set of their crazed brand of punk rock. This turned into a playful, punk rock party, even featuring revelers doing moshpit limbo on the dance floor. The Whatleys – Eddie on vocals and bass, Hiro on vocals and guitar, TJ on guitar and backing vocals and Jim on drums – kept it festive with their blend of original song favorites, new tunes and a few select covers. They broke out several from their American Party CD such as "Balloon Drops (Over Confetti Falls)," "History Lesson," "Broke Down in Murdertown," "Straight Edge Is Fun (Until You're 21)" and the set-finisher "CJ Ramone." Drummer Jim sang the lead on a take on Chuck Berry's "Johnny B. Goode," and The Whatleys also did a version of the Misfits' "Skulls." The Whatleys provided fast, furious, tongue-in-cheek punk-rocking fun, capping a good fast-firing show. They open for the Toasters at McGarvey's on March 1.
Johnstown's Inside Out is gearing up for a new recording and a big show later this year. I caught Inside Out in action during late January at The Arena in State College. Frontman/guitarist Tim Frick, bassist Larz Philip, guitarist Cody Williams and drummer Mark Gindlesperger hammered out their mix of hard-rocking original tunes and rocking favorites. The group broke out a few of their new original songs from their forthcoming five-song EP, including "Burn" and the fist-pumping anthem "Get Up." They also rocked the house with tunes from Jackyl, Disturbed, Ratt, Van Halen, Fall Out Boy, Motley Crue, P.O.D. and others, before ending the night with their established original "Demons Inside." Inside Out brought the fury as expected, and drew a few dancers onto the floor in the late going. Inside Out will open for 1980s-era rockers Stryper on May 22 at Jergels in Warrendale (north of Pittsburgh).
A new original music showcase debuted at Doggie's Pub in State College (formerly the Rathskeller) in late January. "From the Source with Jason Adams" happens on the last Thursday of each month through spring at Doggie's. During the debut, host Jason Adams introduced several performers and played several songs himself through the event. The spotlight performer this night was Shalom Dubas. A Floridian who presently calls State College her home base, Shalom did a short acoustic set of her music. Her style blended folk, pop and elements of hip-hop; her style was robust and edgy. She displayed a fast-firing singing style and cadence as she did songs such as the set-opener "Drive By," "Fatal Attraction," "Always About Me" and more. Guest sax player Dave Alexander joined in with Shalom on one song. Other performers this night included Joe Belle, who played a set of folk-based original songs, assisted by percussionist Chris Dilkes. And before I arrived, Jampact's Steve Treado and Lisa Bock had performed to open the night. Hats off to host Jason for providing a showcase to allow original music artists to shine; the next "From the Source" showcase takes place at Doggie's Pub on March 28.
Coltt Winter Lepley is a rising performer on central PA stages, and I caught his late January performance at Altoona's Railroad City Brewing Company. Coltt shared many of his original songs and the inspirations behind them, and mixed in a few acoustic country, folk and rock covers along the way. Coltt is a skilled songsmith and storyteller, and several of his original songs stood out – the corn liquor-inspired "Mama Didn't Raise No Bitch," his salute to his mom "A Hero of Mine," his ode to his girlfriend "I Need You," the addiction-themed "Amphetamine Latrine," the crowd clap-along "Sunflower Creek," "Christian Homeless Man" and his closer "The Bandito." Coltt's cover song selection was interesting and diverse, as he did numbers from Steve Earle, Woody Guthrie, White Stripes, Hank Williams Sr., Grateful Dead, Johnny Cash, Jim Croce, Leadbelly, Townes Van Zandt and more. He also enlightened the audience to rising Canadian folk/country artist Colter Wall. Coltt's voice was in good form, and his conversational presentation broke the ice with the audience early and kept folks around for the duration.
The Blind Liver Trio visited the stage at McGarvey's last month. Seth Shumaker – alias Blind Liver – played mandolin and sang vocals, with Andy Jenkins singing and playing guitar, and Kim Dull on percussion and vocals. The Blind Liver Trio mixed folksy original tunes and select covers; among the songs I witnessed were versions of Neil Young's "Powderfinger," the traditional folk song "The Wind and Rain," Bill Withers' "Ain't No Sunshine," a convincing folk spin on Hot Chocolate's disco-era hit "You Sexy Thing" and more. It all sounded good; Andy with his gruff-edged voice, Blind Liver with his mandolin accompaniment and accents, and Kim's busy rhythms behind it all. Watch for Blind Liver and his trio as they perform around the area.
And I caught up with the Unknown Legends duo of Eric Delozier and Kirsten Leigh last month as they performed at Shan Nicole's Irish Pub in Hollidaysburg. As always, I was again captivated by Eric's song selection, as he mixed up lesser-known new and old folk numbers with his own distinctive takes on familiar numbers, while Kirsten accompanied with her solid cello underscore. Some of the songs I witnessed included the John Prine standard "Angel from Montgomery," Danny O'Keefe's 1972 hit "Good Time Charlie's Got the Blues," James Taylor's "Fire and Rain," Elton John's "Rocket Man," and a few surprises – his folksy take on Blink 182's "Dammit," the Johnny Cash-leaning variation on Nine Inch Nails' "Hurt," and his male perspective version of Alanis Morisette''s "You Oughta Know."
Tragic news struck the regional music scene last month with the shooting death of Carverton singer and founding member Kyle Yorlets outside his Nashville home on February 7. A Carlisle native, Kyle co-founded Carverton in 2014, and the group relocated to Nashville in 2017. Kyle's surviving bandmates decided to release the group's new album, Chasing Sounds, last month as a celebration of Kyle's legacy.
News and notes… Another area musician has punched his ticket to appear on NBC Television's talent program "The Voice." An Altoona native now living in Myrtle Beach, South Carolina, Jimmy Mowery was selected to be a contestant on "The Voice" late last month, and selected Adam Levine to be his coach…Heaven Tonite is reuniting again, but this time resurrecting their popular Killer Queen tribute show; their Q: The Music of Queen will take the stage on March 1 at 120 Pub & Grub in Clearfield, and on March 2 at Blarney's Deck Stage at The Park Inn in Mechanicsburg…Altoona's Greenbean Coffee House and Family Services Incorporated present "Singing for Survivors on March 8 at Altoona's Bavarian Aid Society; performing will be Michelle Barnes, Asbury Lane, This Albatross and Shallow 9, with proceeds helping provide services to Blair County survivors of domestic abuse and sexual violence…The Steve Forgas Memorial Jam takes place March 22 at Slammin' Sam's in Johnstown, and will feature the bands Octane, Kindred Fury and Blue Collar Fate; proceeds help the surviving family of Steve, an area musician who passed away in November…Johnstown-based singer and songwriter Dan Stonerook has finished work on a new album, Stable Genius, which is slated for a spring release; in addition, Dan has assembled a full band, Wounded Moose, that will debut next month…Pensive Fear, the project brainchild of Altoona-based guitarist Tom Brown, will release a new album later this year; Code Name: Anaconda, Order in the Strike will feature new Pensive Fear originals plus remakes of four songs from Tom's 1980s metal band Anaconda…The McCaulley Project has disbanded, with members moving on to new projects…Bassist Nick Quinn is stepping away from full-time duties with Pittsburgh's Lovebettie and Willow Hill, to devote more time to his new role of being a father…Dave Smith, the longtime singer for Pittsburgh-based Rush tribute Distant Signals, parted ways with the group last month due to health reasons; the group announced Mark Bailey as his replacement… And we at PA Musician express speedy get well wishes to Jim Donovan. The leader of the Sun King Warriors and former drummer of Rusted Root logged hospital time recently from complications following a routine surgery.
Please send correspondence and recordings to: Jim Price, 1104 S. Catherine St., Altoona, PA 16602. You can also e-mail me at jptheprofessor@gmail.com. And if you're into social networking, look me up on Facebook or Google+. SUPPORT LOCAL MUSIC!