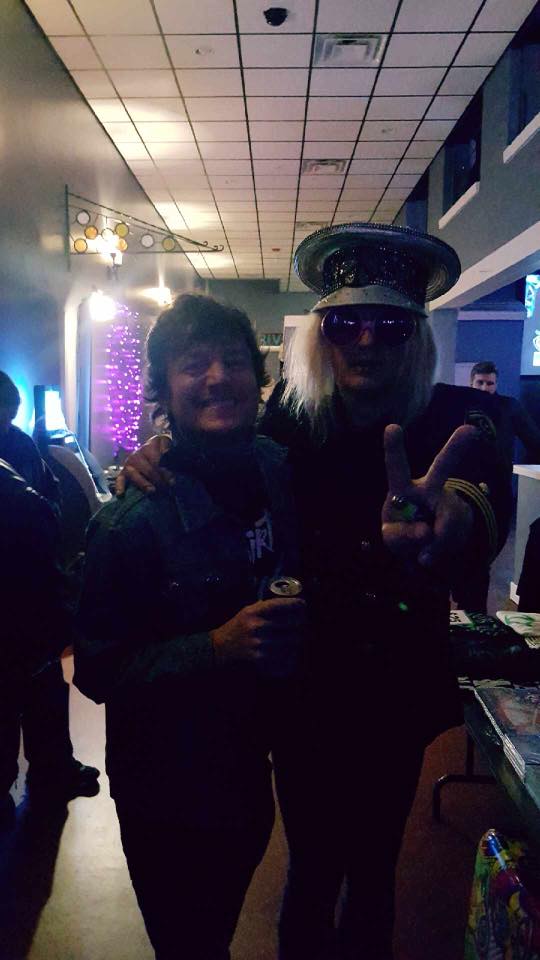 ---
Greetings Rockers 'N' Rollers! Fall began with a visit to the Bloomsburg Fair featuring a show of four artists from the 80's, including Tommy Tutone, Greg Kihn, Eddie Money and Rick Springfield. The tour titled "Best In Show" highlighted all the greatest hits from the musicians performing. Tutone and Kihn each performed five songs using Springfield's backing band. Eddie Money's show was more of a family affair with daughter Jesse on vocals and son Julian on drums. Rick Springfield headlined putting on a great show and is an extremely talented guitarist. A video montage was shown before leading into the massive hit "Jessie's Girl," with tv and movie clips over the decades showcasing how popular the song has been.
Merriweather Post Pavilion in Columbia, Md hosted indie rock band The National this past month. A crowd estimated over 15,000 filled the historic venue to catch the Cincinnati, Ohio based band. The band was touring their latest album 'Sleep Well Beast', which won the Grammy award for 'Best Alternative Music Album'. The National have released 7 studio albums since forming in 1999. A very memorable performance featuring songs, "Bloodbuzz Ohio," "I Need My Girl" and "Mr. November."
Heavy metal returned to Central PA with the reappearance of the BulletBoys and Enuff Z'Nuff at Club XL on October 13. Both bands had played Harrisburg previously in the late 80's – the BulletBoys actually played Club Met in March 1989 with a ticket price of $2. Unfortunately each band only consisted of one original member, lead singer Marq Torien of BulletBoys and guitarist (now vocalist) Chip Z'Nuff of Enuff Z'Nuff. Incredibly, the Bulletboys have gone thru 36 members since their inception in 1986. The night was filled with memorable songs, "Smooth Up In Ya," "For the Love of Money" and "New Thing," "Fly High Michelle." York-based band Dirt Cheap gave an awesome set providing support for the show.
The highlight of this past month was seeing Johnny Lydon aka Johnny Rotten of the Sex Pistols perform in Philadelphia. The punk icon performed with his other band Public Image Ltd on October 16 at Union Transfer. Lydon began PiL in 1978 after the demise of the Sex Pistols. When Lydon formed PiL he was eager to pursue a more experimental "anti-rock" project and created one of the most important albums of the post-punk era. It was fantastic to see Lydon still in great form belting out songs "The Body," "Rise" and "Public Image."
NATIONAL NEWS: Lindsey Buckingham is suing Fleetwood Mac for kicking him off the band's new tour. In the suit, the guitarist and songwriter is seeking his share of the tour because he says he still wants, and is able to perform. The suit names bandmates Mick Fleetwood, Stevie Nicks, Christine McVie and John McVie. Buckingham claims he was told five days after the group appeared at Radio City Music Hall in January that the band would tour without him. He says he would have been paid at least $12 million for his share of the tour proceeds. The more than 50-city tour began October 3, with Mike Campbell and Neil Finn replacing Buckingham.
Joe Perry is set to embark on his headlining tour this fall in support of his latest solo album, 'Sweetzerland Manifesto', via his own label, Roman Records His journey begins November 30 in Iowa and concludes in December with three Los Angeles performances. His touring band features Aerosmith bandmate Brad Whitford and Extreme's Gary Cherone as the lead vocalist. Fans can expect to hear tunes from Perry's solo catalogue and rare Aerosmith tracks such as "Toys In The Attic," "Get Your Wings," and "Rocks." 'Sweetzlerland Manifesto' was released in January 2018 and features musicians; Johnny Depp, Robin Zander, David Johansen and Terry Reid. Joe Perry visits Philadelphia's Electric Factory on December 5.
Stevie Nicks, who's already in the Rock and Roll Hall of Fame as a member of Fleetwood Mac, has been nominated for inclusion as a solo artist next year, along with other first-time nominees Def Leppard, Todd Rundgren, Devo, John Prine and Roxy Music. Nine other artists are returning to the ballot for another try, including Janet Jackson, Radiohead, The Cure and Rage Against the Machine. Generally, about five to seven nominees each year are voted into the hall, located in Cleveland, Ohio. Winners are announced in December, with the 34th annual ceremony scheduled for March 29 at Brooklyn's Barclays Center.
Ed Sheeran has had the No.1 ranking tour in 2018 having sold 4,377,488 tickets so far this year, with an overall gross of $383.2 million. Mind blowing statistics for the 27-year-old pop star with just a guitar, a microphone and 50,000 fans nightly. Those chart-topping figures come from 83 headlining concerts at 42 venues. Sheeran began 2018 with 106 performances under his belt and $125 million grossed from touring Europe, the Americas and Asia. Sheeran has already performed for 5.8 million fans.
Mexico, Canada and the U.S. are all on the menu for Twenty One Pilots' second leg of North American "Bandito" tour dates. The band is pushing tunes off its latest album, Trench, which released worldwide October 5. All U.S. dates sold out on the first leg of the tour plus – two sold-out Wembley Arenas in London within three hours. The success of Twenty One Pilots is giving rock fans solid evidence that their genre is in no way dead and also showing how religious and spiritual themes can influence bands' music in more subtle ways than in previous generations. New dates include: June 7 Pittsburgh, PA and June 8 Atlantic City, NJ.
Averting a murder trial, former rap mogul Marion "Suge" Knight pleaded no contest to voluntary manslaughter for running over and killing a Compton businessman and agreed to serve nearly 30 years in prison. The Death Row Records co-founder entered the plea after striking a deal with prosecutors, and has agreed to serve 28 years. A trial could have led to a life sentence. The 53-year-old was a key player in the gangster rap scene that flourished in the 1990s, and his label once listed Dr. Dre, Tupac Shakur and Snoop Dogg among its artists. Knight lost control of the company after it was forced into bankruptcy. He has prior felony convictions for armed robbery and assault with a gun.
UPCOMING SHOWS: Anthrophobia Harrisburg JB Lovedrafts Nov 10. April Skies Hershey Winery Nov 16. Tommy Conwell & Young Rumblers Ardmore Music Hall Nov 17. KIX Harrisburg Club XL Nov 23. The Sharks Harrisburg Club XL Nov 24. Menzingers Philadelphia Union Transfer Nov 24. Brom Bones York Spring House Brewing Company Nov 24 Timmy and the Christmas Thyme Harrisburg River City Blues Club Nov 24.