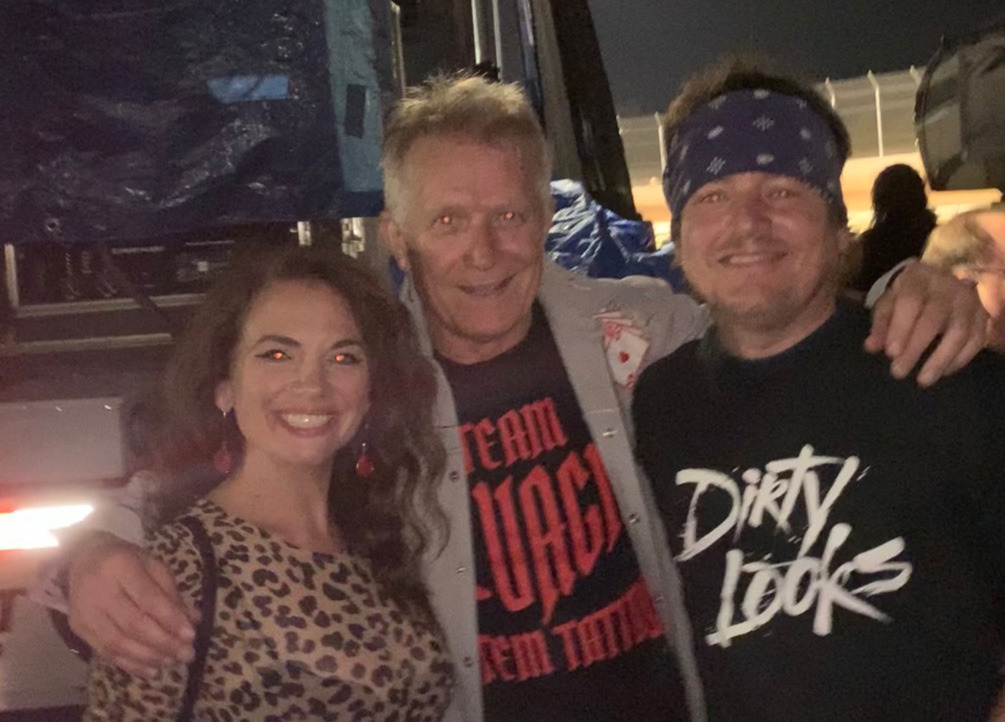 ---
By: Eric Hoffman
Greetings Rockers 'N' Rollers! Concerts continued to grow last month with many artists hitting the road with major tours. Lydia Lunch visited HMAC on Sept 7, Judas Priest began their North American tour in Reading on Sept 8 (but has recently been postponed because guitarist Richie Faulkner is in the hospital with a major medical heart condition). Kings of Leon put on a fantastic show at Merriweather Post Pavilion on Sept 10. Japanese Breakfast played HMAC Capitol Ballroom on Sept 12 and The Queers played HMAC Stage On Herr on Sept 12. The Sounds visited Washington DC's Black Cat on Sept 15. The Killers played an intimate show at Bethlehem's Wind Creek on Sept 21. Harrisburg University presented Cage The Elephant at Harrisburg's Riverfront Park on Sept 27.
A great highlight of the month was the reunion of hard rock band, Dirty Looks. The concert took place at Selinsgrove Speedway on Sept 18, which brought together original members Jack Pyers, Gene Barnett and Paul Lidel. It was the band's first gig since the passing of singer Henrik Ostergaard. Jason McMaster of Dangerous Toys filled in for vocals and did an incredible job. Thank you to Travis Fisher of Fisher Promotions for putting together an amazing night of memories and great rock n roll!
One last concert mention includes the annual MMRBQ in Philadelphia on Sept 25. The longtime rock station WMMR hosts a yearly event with many noteworthy bands. This year's lineup included: Jane's Addiction, The Offspring, Cheap Trick, Dirty Honey, Mammoth WVH, Dorothy, Ayron Jones, and Foxtrot & The Getdown. Jane's Addiction were simply unreal with legendary frontman, Perry Farrell, in rare form howling songs from early in the band's career including, "Mountain Song," "Been Caught Stealing," and "Ain't No Right."
NATIONAL NEWS: Faith No More cancelled all dates in the U.S., with frontman Mike Patton saying he's unable to perform as hoped thanks to mental health issues, partially exacerbated by the pandemic. In a statement, Patton wrote: Sorry to report that due to mental health reasons, I cannot continue with the currently scheduled Faith No More and Mr. Bungle dates. I have issues that were exacerbated by the pandemic that are challenging me right now. I don't feel I can give what I should at this point and I am not going to give anything less than 100 percent." The Faith No More dates were to kick off Sept. 16 in Saint Louis.
R. Kelly, the R&B superstar known for his anthem "I Believe I Can Fly," was convicted Sept 27 in a sex trafficking trial after decades of avoiding criminal responsibility for numerous allegations of misconduct with young women and children. A jury of seven men and five women found Kelly guilty of racketeering
on their second day of deliberations. The charges were based on an argument that the entourage of managers and aides who helped the singer meet girls — and keep them obedient and quiet — amounted to a criminal enterprise. Widespread public condemnation didn't come until a widely watched docuseries "Surviving R. Kelly" helped make his case a signifier of the #MeToo era, and gave voice to alleged victims who wondered if their stories were previously ignored. Kelly, born Robert Sylvester Kelly, has been jailed without bail since in 2019. The New York case is only part of the legal peril facing the singer. He also has pleaded not guilty to sex-related charges in Illinois and Minnesota.
Tool have announced a major arena tour for 2022, with full U.S. and European legs taking the band through May. The announcement says the band chose to kick off the tour in Eugene, Ore., as a nod to the abrupt halt to their 2020 "Fear Incoculum" tour. Like many artists in 2020, the band was in the middle of a major run when the world shut down due to the COVID-19 pandemic. That night's show was ultimately canceled along with the rest of the band's tour. Tool play Feb 20 at Philadelphia's Wells Fargo Center and Feb 22 at Washington, DC Capital One Arena. The Red Hot Chili Peppers are announcing a global stadium tour beginning in June 2022, Shawn Mendes will tour 64-arenas for his "Wonder: The World Tour", Dua Lipa will visit 28-arenas for her "Future Nostalgia Tour." Kacey Musgraves will hit the road in January and February for 15 major North American arenas.
Iconic troubadour Bob Dylan will embark on a North American tour in support of his 2020 album, Rough and Rowdy Ways, from Nov. 2 to Dec. 2. The tour information Dylan shared on social media listed the run as spanning "2021-2024," fueling internet speculation about what shape Dylan's touring might take in the years to come and what 2024 might mean for Dylan, who turned 80 earlier this year. Dylan's trek includes Hershey Theatre (Nov 16), The Met in Philadelphia (Nov 11-29) and eventually wraps at Washington, D.C.'s Anthem on Dec. 2. During the pandemic, Dylan continued to innovate. Rough and Rowdy Ways, his first album of originals since 2012, was widely hailed as a masterpiece.
Foo Fighters played a surprise show at Washington DC's 9:30 Club on Sept 9 to help reopen the venue. Dave Grohl and company played a near three-hour set in front of a sold out, fully vaxxed and masked crowd Grohl, while reminiscing about playing the original 9:30 Club on 930 F St, NW, broke the news that I.M.P. plans to open a replica of the club right next to the current one. No word on the timing for the new venue, but Grohl exclaimed "We'll open that one, too!"
Paul Stanley is the latest (vaccinated) artist to test positive for COVID-19. KISS broke the news to fans about the guitarist/singer in a post on its social media that the band's Pittsburgh show has been canceled. Stanley recovered but the band were forced to postpone more tour dates because Gene Simmons has now tested positive. Widespread Panic also postponed their tour because of the spread of the Delta variant and their singer/guitarist John Bell announced he had tested positive for COVID. Korn announced it was rescheduling six shows and canceling two dates of its upcoming shows after frontman Jonathan Davis tested positive for COVID. The String Cheese Incident also had to reschedule dates after a band member tested positive for COVID. The Doobie Brothers will postpone their four upcoming shows as a member of the touring personnel has tested positive with COVID-19.
UPCOMING SHOWS: The Menzingers – Philadelphia Ardmore Oct 9. The Super High-Tech Jet Fighters – Mechanicsburg Lovedrafts Brewery Oct 9. Black Pumas – Harrisburg XL Live Oct 12. Teenage Bottlerocket – Harrisburg HMAC Oct 19. Johnny Stanec – Harrisburg Zeroday Oct 28. Toilet Boys – New York Whits End Oct 29.