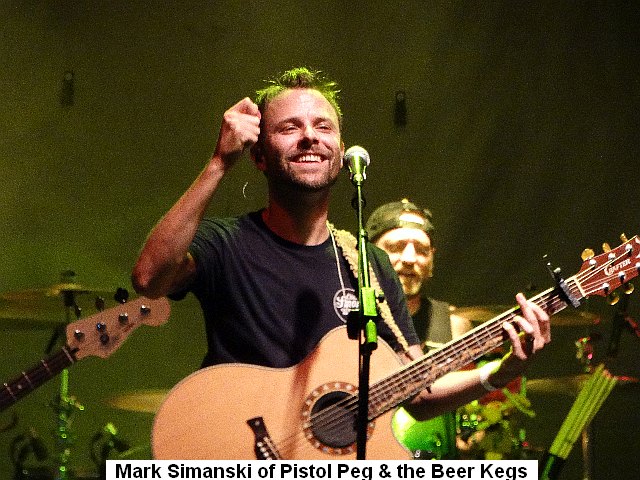 ---
By Jim Price
The first 'autumn crisp' in the air signifies the arrival of fall season, and also signifies that live music will start transitioning from outdoor to indoor events in coming weeks. Keep enjoying and supporting live music happenings outdoors and indoors while they continue to happen.
Again, most of my recent live music encounters have been outdoors…I witnessed 14 different bands and performers over two of the three days of the Route 22 Rock & Blues Festival, held in late August at the Lincoln Caverns Campground near Huntingdon. Nearby thunderstorms and some rainfall set a darker tone for the first night, Thursday, as harder and heavier-rocking bands took the stage. It made the near-perfect setting for festival-openers SamarA to unleash their fury of intense, tribal-rooted heavy metal. The group stormed through a number of their originals, and even tapped the back catalog of their previous band incarnations with numbers from the Whoreacts and Inversion days; vocalist, guitarist and percussionist Rvg even reprised his fire-breathing display toward set's end. Lloyd followed with their emotion-packed, indie and punk-infused rock. Frontman Nik Munyons provided the vocal tension on Lloyd's original songs, running the gamut from low-key and detached to full-scale neurotic releases on the mic. Black Sun finished off the first night with their mystic, heavy-rocking journey. Six members strong and featuring festival organizer Todd McKeone on vocals and Jason Feathers on lead guitar, Black Sun cut loose with their escalating, universe and doom-themed heavy rock and metal, rumbling the surrounding wilderness with original compositions such as "The Unveiling," "Under Mountain," "Moonlight," "Eighth Sphere" and more.
Previously-scheduled concert emcee duties kept me from attending Route 22's second day, Friday, but the clear highlight of that evening was the onstage marriage of festival organizer Todd and his betrothed, Betsy, with musician Jason Feathers presiding. The rest of that evening became the wedding reception, with Jason's new blues project, Juju Bone, performing, as well as Ed N'Born, Mediocre Gatsby, Walkney, The Roof and another of Todd's band projects, Maul.
I returned for Route 22's final day, Saturday, and its lengthy slate of performances. Crazed Visions kicked off the day before my arrival, but I got there just before the second act, Hot Fudge Mondaes, fired things up with their mix of alternative and punk-driven rock. The group alternated between original songs and covers, including tunes from Limp Bizkit, Foo Fighters, Fallout Boy, Nirvana and more. Highlights included guest Nik from Lloyd joining frontman Jake Mowery to help sing Blink 182's "Dammit," and Hot Fudge Mondaes' crazed take on Rage Against the Machine's "Killing in the Name" to end the set. With Todd "The Todd-father" Harshbarger subbing behind the drum kit, Bedford's Bad Luck Lover Boys continued the punk-rooted vibe with their all-original set, as the group played the entirety of their first full-length album, "Letters to Emily." The music then shifted acoustic with Huntingdon's Dylan Miller, who mixed early blues numbers with several of his original song creations. Serving as a member of the production crew all weekend, Rick Ramsey joined in to play his self-crafted washtub bass alongside Dylan on a couple of songs. Those punk-rocking dads The Snipped then showcased many new songs as part of their high-powered set of "dadcore" rock'n'roll, offering fatherly advice along the way; this day's advice was to invite the audience to learn how to jump-start a dead car battery afterward, as guitarist Jeff Reid needed that service to get to another Snipped gig later that night. Altoona-based trio Skyline Drive then followed with their fusion of rock, funk, blues and soul, doing original numbers plus tunes from The Stooges, Screamin' Jay Hawkins, Black Crowes and more. As night started to arrive, Donny Burns & the 3rd Degree roused the crowd with their high-powered, go-for-broke original rock; including tunes from their "Satisfied" album plus a new song, "Ripple." Returning after electrifying the crowd last year, young Altoona punk-rocking trio Abstentious – singer and guitarist Brayden Adams, bassist and singer Noah Keller and drummer Jake Hicks – again ignited the festival crowd with their high-velocity blend of original songs and covers from NOFX, Green Day, Propaghandi, Misfits and more; even triggering some moshpit action in front of the stage. The Jaded Lips then inspired some dancing with their upbeat and catchy original rock, plus their fresh update of Bill Withers' "Use Me." Festival newcomer Sijel Bee next brought a hip-hop presence to the festival with his original creations, mixing catchy song hooks, his soulful presence and relatable raps and words. This nicely set up for PennSoulvania's performance, as they mixed elements of soul, hip-hop, folk, reggae and light rock into a charged and moving display that had many folks grooving in front of the stage. Some of their songs included their title tune "Pennsoulvania," "Hustle Til the Morning," "Third Time," "40 Acres," "Day Has Come" and their closer "Pilgrimage." And Memory Collector – the electronica alter ego of Sascha Frost – provided the festival's finale and cooldown with his digital and keyboard creations; including many from his "Future Eyes" album plus several newer numbers such as "Bad Mantra," "Strange Truth" and more. Besides the music and good times, the Route 22 Rock & Blues Festival also raised funds to help out area musician Kirsten Leigh as she recovers from injuries sustained during an unprovoked dog attack, and the non-profit Kids Careers, helping area youth decide on their career paths.
I logged a lot of time in the Johnstown area in recent weeks. Returning on Labor Day weekend after missing 2020 due to COVID-19, the annual Cambria City Ethnic Festival drew me back to Johnstown's Cambria City neighborhood for all three days of live music and tasty ethnic food. The music happened at five locations spaced along seven blocks of Chestnut Street, and I saw performers at each. Upon my arrival on Friday night, I caught the tail end of The Frick Brothers's performance outside the First Catholic Slovak Bandhall; singer and guitarist Tim Frick and percussionist Ben Frick finished with Bon Jovi's "Livin' on a Prayer" and an acoustic rendering of their Blood Union original rock anthem "Lit." I then caught popular Johnstown party rockers Yum as they reconvened for the first of two nights outside St. Mary's church pavilion; a huge crowd watched, danced and grooved to Yum's uptempo party, as they mixed favorites from throughout the rock, pop and country spectrum. From there, I proceeded to the Venue Of Merging Arts (VOMA)'s 3rd Avenue Stage to see Black Cat Moan as they dazzled with their blues-driven original song creations. A late highlight of their performance with their fusion of "Baby Please Don't Go" with Golden Earring's "Radar Love." I then ducked inside Ace's Lounge to finish the night with Octane and their hard-rocking party, keeping the dance floor busy with classic and modern rock favorites.
I returned to the Ethnic Festival for a short time on Saturday, catching the last two songs by The Irish Pretenders at the ACRP (Alternative Community Resource Program)'s "Irish Corner," before fulfilling my annual culinary mission of the St. Mary's Catholic Church "grand slam" of kolbassi, halushki, halupki and pierogies – with the Rhythm Masters providing musical accompaniment with polkas and classic hits. (They even did an original song they wrote about this part of the world, the "Cambria City Song.") I then caught part of Undercover's performance as they brought the dance party with hits from Prince, DNCE, Black Eyed Peas and more.
Returning for the festival's final day, Sunday, I spent more time at the ACRP's "Irish Corner," first enjoying Altoona's Jaffa Highlanders. Ten members strong, the kilt-clad group performed a variety of Scottish highland music with some Irish and other numbers included. Each of the group's members was spotlighted throughout the performance; most playing bagpipes along with a bass drum player. Highlights included Tim Gatehouse's solo bagpipe rendition of the classical "The Vaunting" (a lengthy Piobaireachd; Tim played this piece for more than 15 minutes!), an Armed Forces medley, honoring a request for "Danny Boy," and the group's exiting rendition of "Amazing Grace." I then headed inside the ACRP (former St. Columba Church) basement for some Irish stew and traditional Irish and folk music from Dead Irish Blues. Four members strong, Dead Irish Blues gave hearty treatments to Irish folk tunes such as "All for Me Grog," "Free and Green," "No Irish Need Apply," "Poor Paddy Works on the Railway" and many more. I returned outside to see more of the Irish Pretenders, who performed Irish folk and pub songs. Lead singer John Skelley told stories behind many of the songs, including traditional and Irish rebel numbers. A highlight for me was Bob Mahood's passionate singing during a version of Phil Coulter's "The Town I loved So Well." I then headed up Chestnut Street to the VOMA stage to watch father-and-son duo Bo and Tucker Moore. Strumming acoustic guitars, the pair sang numerous classic rock and country favorites. And my Ethnic Festival experience ended at St. Mary's, where the Tom Katz played a blend of hits from the 1960s and 70s.
The following weekend, I returned to Johnstown's Lorain Borough Park to check out the second annual Homegrown Music Festival, a fundraiser for the Community Foundation of the Alleghenies. Ten bands and performers alternated between two stages throughout the event. Jeff Perigo & Friends opened with two sets on the main stage, and Mellissa Vella & Kenny Karlheim led off on the acoustic stage before I arrived. I got there in time to catch the last three songs from Lauren & Joe, including Lauren's excellent, full-throttled rendition of Janis Joplin's "Me and Bobby McGee" to end the set. Neon Belly followed on the main stage with their set of rock and funk-driven fusion. Featuring Afro N'at alumni Randy Penrod on guitar and vocals, drummer Elias Ghantous and conga player Mark Goncher, plus bassist Michael Berger; Neon Belly cut loose with expansive instrumental jam excursions that explored various time frames and musical space. They also did a version of the Allman Brothers' "Blue Skys" and closed with an Afro N'at number, "Fuzzy Pharaoh." Brad Fisher resumed the acoustic sounds with his blend of folk, country and acoustic rock, doing songs from Tom Petty, Alabama, Lumineers, Arlo Guthrie and more. Even The Odds followed with their mix of rock from the 1980s to present; doing numbers from Presidents of the United States of America, Modest Mouse, The Outfield (with guest singer Tammy), Modern English, Tom Petty, Neil Young, U2 and more. Ian Jeffreys then brought his hearty brand of bluesy folk to the acoustic stage. He took a wide variety of cover material and made it his own, interpreting numbers from Jonny Lang, The Strokes, The Clash, Hoagy Carmichael, Amy Winehouse, Pink Floyd, Bill Withers and others. Shades Of June then brought the party with their set. This was my first chance to see this group since singer Jill Gontkovic joined their ranks; she brings an added dimension to Shades Of June, enabling them to widen their scope of song material. Shades Of June triggered dance floor action with tunes from Led Zeppelin, Pat Benatar, The Outfield, Bon Jovi, Taio Cruz, the Cranberries and more. Closing out the acoustic entertainment was Justin Garman, who sank heart and soul into his wide-ranging set. Justin lifted many of his cover selections to passionate crescendos, especially his set-closing version of Bruce Springsteen's "Thunder Road." The night then finished with a stunning performance by the West Hills Allstars. Several established musicians from the Johnstown scene comprised this night's line-up, including Dave Distefano on lead vocals, guitar and keys; Joshua Ben on keys, Jono Poltrack on bass, Eric Suppes on guitar and Frank Tomaselli on drums. Opening with Dave's original funk-rocker "Light the Fya Get Down," the Allstars dazzled on a variety of original numbers and classics. Eric belted out a Paul McCartney-like vocal howl on a rendition of "Oh Darling," the group offered stellar musicianship on Traffic's "Low Spark of High-Heeled Boys" and another of Dave's originals, "Get Your Backs Up Against the Wall," and mixed more originals with tasty versions of David Bowie's "Young Americans," Stephen Stills' "Love the One You're With," and – when the audience demanded an encore – Otis Redding/the Black Crowes' "Hard to Handle." The Homegrown Music Festival was again a successful event with a decent turnout of music fans; plans are already under way for next year's edition.
The lure of ethnic food and music then lured me back to Johnstown for a third straight weekend, this time to take in part of the Johnstown Slavic Festival at the Heritage Discovery Center. Slavic and other eastern European food and drink, arts, crafts, traditions and music took the spotlight during the two-day event. The music happened on two stages; I first watched local accordionist Jim Vizzini on the courtyard stage, as he entertained with polkas and traditional accordion favorites, plus a few songs not often heard on an accordion like Journey's "Don't Stop Believin,'" Van Halen's "Jump," Toto's "Africa" and more. I then checked out Pittsburgh-based quintet the Gypsy Stringz, who performed a variety of Hungarian and eastern European folk music. Besides enjoying this group as they played traditional music, I also liked seeing families – and especially small children – dancing and enjoying this music, with one little girl even wearing a traditional eastern European-styled dress. These children are the hope for preserving this music and tradition for future generations. I also caught several songs from Bronco Toter on the courtyard stage, playing polkas and waltzes on his buttonbox accordion, alongside his wife Karen on bass guitar.
Italian food and music drew me to last month's 31st annual Italian Food & Heritage Festival at Delgrosso's Amusement Park in Tipton. Besides a wide selection of Italian food favorites, live music included strolling entertainment from the Faiella Father and Son duo. Father Benny played acoustic guitar while son Matthew played mandolin; both performed instrumental Italian folk favorites, and while I was watching, honored a woman's request for music from "The Godfather." Also performing on the main stage was Rochester, New York's Austin Giorgio, a contestant from Season 14 of NBC Television's "The Voice." Joined by Black Cat Moan guitarist George Byich and drummer Bill Coffey, Austin sang with a clear and strong voice, plus played some keyboard as he did a number of original songs. Mixing funk, pop and rock elements, Austin sang tunes such as "Walking" (his first song ever played on radio), "Cherry Skies," "Your Innocence," "So Gently," "One Last Flight" and others. He also did a few covers, including Stevie Wonder's "Isn't She Lovely" and his set-ending take on Elvis' "Can't Help Falling in Love."
Presented by the Vietnam Veterans of America Blair County Chapter 967, the 6th annual Vets Fest happened in late August at Altoona's Unter Uns Musical & Entertainment Society, raising funds and awareness to help out all area veterans. The event saw performances by six bands, including a reunion performance by longtime Altoona brass-rocking legends The U.S. Sound Theatre; as well as speakers addressing veterans' topics, a basket raffle and more. Taking place just days after the suicide bombing in Afghanistan that claimed the lives of 13 U.S. servicemen, a special table was set up in front of the stage with 13 glasses of beer in place in their memory. After the introduction to the event and the singing of the "Star Spangled Banner" by Anna Oberneder, Kickin' kicked off the musical performances with classic rock favorites spanning the 1970s to 1990s, followed by the Backyard Rockers with their acoustic blend of classic rock, country, folk and more. The Band OZ then took the music in a bluesier direction, followed by more classic rock courtesy of Flashpoint, and Skye 2.0's celebration of 1970s-era progressive and arena rock. Marking the 50th anniversary of their debut, the U.S. Sound Theatre provided the excellent finale to Vets Fest with brassy classics from the 1960s, 70s and 80s. Founding members Jim Pastore on lead vocals, Mike Pastore on bass and Ric Criste on guitar and vocals; along with guitarist and singer Rick Wertz, keyboardist Harold Hayford, drummer Jeff Crownover, and the horn section of trumpeters Jay Arnold and Don Emery, sax player Bob Scholl and trombonist Brian Rutter all packed the dance floor with songs from Chicago, Tower Of Power, Huey Lewis & the News, the Grass Roots, Steely Dan, Doobie Brothers, Wild Cherry and more. When the crowd demanded more, the U.S. Sound Theatre responded with Edgar Winter's "Back in the U.S.A." Vets Fest was again a big success, as more than $3,000 was raised to help veterans in Blair County and surrounding areas.
Two more concerts in recent weeks closed out the inaugural season of the Rockin' the Yard concert series in the upper parking lot of Altoona's Jaffa Shrine. The late August concert featured the area return of New York-based AC/DC tribute group Live Wire, with Altoona's Half Tempted opening. After Half Tempted kicked off the music with their mixture of hard classic rock favorites from the 1960s, 70s and 80s, Live Wire brought the "Thunder from Down Under" with two sets of favorites from throughout AC/DC's catalog. Singer Francis Crouse was convincing in the Brian Johnson role, delivering Brian's polecat howl and even staying in character off the stage; while Mike Hughes brought the guitar fury and electricity of Angus Young throughout the show.
And last month's return of Pistol Peg & the Beer Kegs finished Rockin' the Yard's first season. Cambria County's Ghostown Revelry started the night strong with their wide variety of classic rock favorites, including many not often heard on area live stages from the Beatles, Guess Who, Warren Zevon, Paul Simon, Bob Dylan, the Grateful Dead and more. Returning after a five-year layoff, Pistol Peg & the Beer Kegs – "Pistol Peg" Jill Renee on lead vocals, Mark Simanski on guitar and vocals, Joe Scott on lead guitar, Brandon Kane on rhythm guitar, Brad Davis on bass and Steve Holtz on drums – got the large audience moving and grooving as they fired up the country music party. It was as if they never went away; Jill's voice is still in excellent form, Joe's guitar solo fireworks were stunning, and the Beer Kegs sounded tight and together on favorites from Miranda Lambert, Sugarland, Tim McGraw, Luke Bryan, Little Big Town, Shania Twain, Dolly Parton and many more. When the end of the night came, Pistol Peg & the Beer Kegs encored with their popular closing rendition of Alabama's "Mountain Music."
National recording group (hed)PE arrived on McGarvey's stage in late August, headlining a five-act slate. Opening the night was Altoona's Hate Grenade, playing their first show since before the COVID shutdown. Hate Grenade quickly blasted away any rust with their incendiary brand of hip hop-tinged nu-metal, as they introduced a new song, "Hollywood," and played established tunes from their previous CD's. Next were strong performances from Houston-based soul and rap artist King Baby, upstate New York heavy metal rockers Northmen and Phoenix-based nu-metal performers Dropout Kings. Opening with "R.T.R. (Respect the Republic)" from their new "Sandmine" EP, (hed)PE launched into their high-powered set, mixing rock, punk, reggae and rap flavors. Frontman Jared Gomes took command of the crowd early on, as he sang, rapped and barked words to songs such as "Killing Time," "Let's Ride," "Waiting to Die," "Pac Bell," "Peer Pressure" and more. (hed)PE saved their most popular songs until the end, finishing with their radio song "Bartender" and the rebellious "Renegade."
Indiana-based foursome Midnight Lights visited McGarvey's stage for the first time early last month. Singer Ryan Sharp, guitarist Tommy Lyttle, bassist Timothy Card and drummer Alex Brewer won new fans with their spirited mix of modern rock, punk, power pop and more. This group showed serious energy and enthusiasm; Ryan delivered constant movement as he rallied the audience to join the festivities, and his bandmates were energetic and tight behind him. The group drew folks up to the dance floor and stage with tunes from Blink 182, My Chemical Romance, Good Charlotte, Fallout Boy, Offspring, Green Day, Killers and more. Midnight Lights' first McGarvey's foray went well; watch for a possible return visit soon.
Other performers I saw lately included Roadkill's "rot and roll" party at Drake's Bar & Grill in Huntingdon, Stephanie & the Wild Hearts as they braved rain and brought country music fun to Altoona's Valley View County Park, Chris Woodward & Shindiggin's first visit to the Williamsburg Farm Show in late August, Chad Patterson as he entertained on Labor Day during the Blair County Game, Fish & Forestry Association's annual Ox Roast Festival, Jim Donovan & the Sun King Warriors' return last month to McGarvey's, The Steinbeisers & Friends as they performed old-timey folk, country and gospel music during last month's Sinking Valley Farm Show at the Sinking Valley Fairgrounds, and the Rodeo Radio duo of singers and guitarists Rogan Allen and Jextin Pugh as they performed at McGarvey's.
News and notes…Again due to concerns and restrictions stemming from the COVID delta variant situation, this year's annual "Patched Together: A Day of Music for the Healing Patch" benefit in November has been cancelled for this year, and a virtual event will again raise donations for the Home Nursing Agency's Healing Patch program…Hate Grenade's annual "Trick or FEED" benefit for the Altoona Food Bank returns to McGarvey's on Oct. 31; performing will be Hate Grenade, Paradigm, Grampian and Ed N'Born…Two popular area dance-rock and party bands have announced that they are no more; Altoona's This Albatross announced that they are closing the book after a nine-year run on area stages, and Bedford-based Urban Myth is stepping away from live stages after a five-year run…After issuing four albums online over the past year and a half in his "Lost Season Sessions" series, Ted McCloskey has compiled 24 songs from those albums into a compilation CD being sold at his live shows, simply called "The Lost Season Sessions"…Victoria Brinker, a 9-year-old opera singer from Latrobe who at age 6 entertained an audience at Delgrosso's Amusement Park during the 2018 Italian Food & Heritage Festival, last month advanced into the top ten in Season 16 of NBC-TV's "America's Got Talent," before being eliminated as she tried to crack the top five.
Please send correspondence and recordings to: Jim Price, 1104 S. Catherine St., Altoona, PA 16602. You can also e-mail me at jptheprofessor@gmail.com. And if you're into social networking, look me up on Facebook. SUPPORT LOCAL MUSIC!