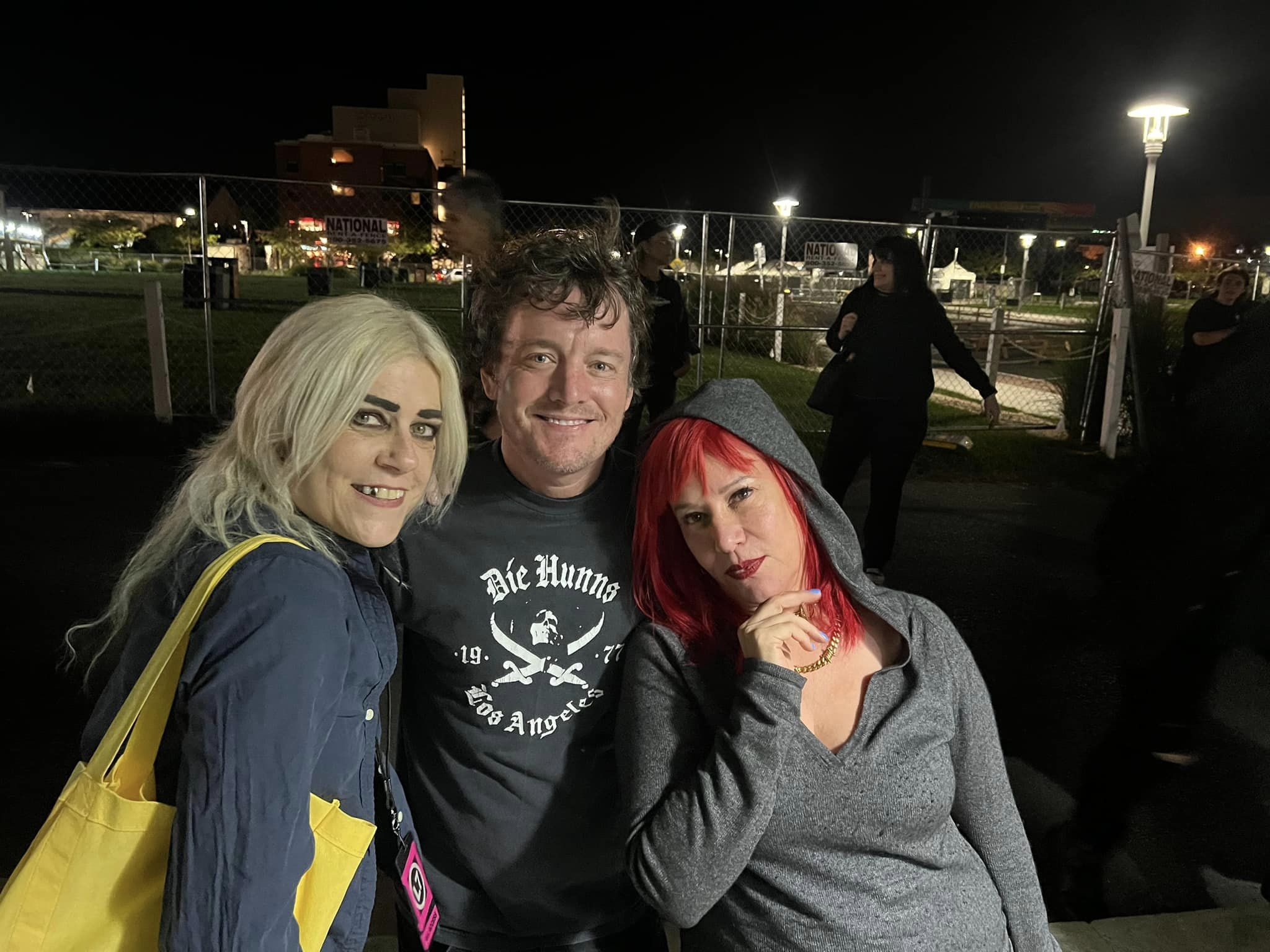 ---
Greetings Rockers 'N' Rollers! September began with an unforgettable performance by Aerosmith at Philadelphia's Wells Fargo Center on September 1st. It was the first night of the legendary rock band's farewell 'Peace Out' tour. The Black Crowes provided support and Aerosmith were simply astounding, beginning the show with "Back in the Saddle" and then all the hits including "Rats in the Cellar" and "Toys in the Attic." Original members, Steven Tyler, Joe Perry, Brad Whitford and Tom Hamilton were all outstanding. Drummer, Joey Kramer, has sat out the tour being replaced by his drum tech, John Douglas. However recently, Aerosmith has hit the brakes on their much-anticipated farewell tour. Frontman, Steven Tyler, recently suffered a vocal cord injury, causing the group to postpone their upcoming shows. Tyler said, "I'm heartbroken to say I have received strict doctor's orders not to sing for the next thirty days. I sustained vocal cord damage during a show that led to subsequent bleeding."
It was off to Asbury Park, New Jersey on September 14th for an intimate sold-out show at Wonder Bar with incredible 90s grunge band, L7. The all-female rock band is currently touring the US for their "In Your Space Tour." The band still consists of original members since 1989 and were just fantastic ripping through 22 hits "American Society," "Shitlist" and "Pretend We're Dead." Over the years, I've been fortunate to become friends with one of my favorite bands and their kindness is unmeasurable.
Another intimate sold-out show took place September 17th at Washington DC's newest venue The Atlantis with the iconic Billy Idol. The newly built venue is reminiscent of the original 9:30 Club with a capacity of 450 and to celebrate its 44th year in business with 44 shows at $44 per ticket including Foo Fighters, Joan Jett and the Blackhearts, Pixies, and Billy Idol among others. Billy Idol's set and voice were beyond impressive and the sound was impeccable. Billy Idol, being a big fan of Elvis Presley, brought an incredible presence and performance much like the King or even Tom Jones.
Central PA provided four great shows this past month including Teenage Bottlerocket at HMAC's Stage On Herr. The skate-punk band from Wyoming has been around since 2000 and put on a great fast Ramones-esque show. This was the band's third visit to Harrisburg since 2008. The Used played XL Live's South Side Stage on September 8th to a massive crowd. The Used are in the midst of a 24-date US tour with Sleeping With Sirens and Dead American. Shea & Swish played a fun and talented evening at Al's in Enola on September 22nd. And The Super High-Tech Jet Fighters visited the West York Inn again for a great show on September 9th. The Super High-Tech Jet Fighters revisit York again next month on October 21st at Skid Row Garage.
British rock band Bush announced today they will be embarking on a 16-date North American tour this winter to support their upcoming release, Loaded: The Greatest Hits 1994-2023. The band will have Bad Wolves and Eva Ender fire as supporting acts for the "Nowhere To Go But Everywhere Tour," which visits Hershey Theater on November 18th.
Bruce Springsteen & The E Street Band took an unexpected breather and postponed all their September shows, citing medical treatment. Springsteen announced via social media that he is being treated for symptoms of "peptic ulcer disease." The disease causes ulcers to form in the stomach or small intestine that can cause heartburn, nausea and stomach pain. "Over here on E Street, we're heartbroken to have to postpone these shows," Springsteen said. "We'll be back to pick up these shows and then some." Philadelphia's postponed shows are rescheduled for August 21st & 23rd, 2024.
Jimmy Buffett, who popularized beach bum soft rock with the escapist Caribbean-flavored song "Margaritaville" and turned that celebration of loafing into a billion-dollar empire of restaurants, resorts and frozen concoctions, died at the age of 76. "Jimmy passed away peacefully on the night of September 1st surrounded by his family, friends, music and dogs," a statement posted to Buffett's official website. Buffett's fan base are known as the "Parrotheads," devoted fans who for decades followed the sun, sand, margaritas and Buffett's celebration and communal live performances. Buffett is survived by his wife, Jane; daughters, Savannah and Sarah; and son, Cameron.
Taylor Swift's "Eras Tour" is coming to movie theaters. Swift announced that the concert film "Taylor Swift – The Eras Tour" will open in North American theaters October 13th. The theater chain AMC, anticipating high demand from Swift fans, said the film will play at least four times a day at all of its U.S. locations. "The Eras Tour has been the most meaningful, electric experience of my life so far and I'm overjoyed to tell you that it'll be coming to the big screen soon," Swift said. Prices will be higher than usual movie tickets. An adult ticket will cost $19.89 ( the singer's album "1989 (Taylor's Version)" is coming soon). The Eras Tour will continue until next year culminating being a 20-month 117-show run that could top $1.5 billion in gross.
Brian Johnson, the lead singer of AC/DC, recently expressed his enthusiasm for the potential of going on tour once again to support their latest album, Power Up, released in 2020. AC/DC's upcoming appearance at the Power Trip festival in California on October 7th, has fans hoping for additional shows. Johnson stated, "We started to rehearse again in Amsterdam. Phil Rudd was back on drums, I had this new earpiece that we'd invented. It was fantastic. Honestly, I've never heard the band so tight. For three weeks, I think we had one day off because we wanted to be there in each other's company."
Marilyn Manson appeared in a New Hampshire courtroom on September 18th to plead no contest to a misdemeanor simple assault charge related to an alleged incident with a videographer during a 2019 concert in New Hampshire. Manson was accused by the videographer of spitting and blowing his nose on her at the Bank of New Hampshire Pavilion. A no contest plea means Manson did not contest the charge and did not admit guilt. The singer will have to pay a fine of $1,200 and was sentenced to 20 hours of community service to be done within six months. Last year, Marilyn Manson was dropped by his record label after at least 15 women have accused the musician of sexual assault. Manson has denied all allegations, which he has called "horrible distortions of reality."
Danzig had to postpone two shows on his upcoming tour due to a "tour bus shortage." A Las Vegas concert and a Southern California show were both rescheduled. Danzig's upcoming shows will see Glenn Danzig and his bandmates perform their classic debut album in its entirety. "Danzig" was released in August 1998 via producer Rick Rubin's label Def American Recordings. It remains the band's best-selling album, having been certified platinum in the U.S. for sales in excess of a million copies.
Usher will headline the 2024 Super Bowl Halftime Show. The R&B crooner previously played the Super Bowl Halftime Show in 2011 when he appeared as a special guest during Black Eyed Peas' headlining performance. "It's an honor of a lifetime to finally check a Super Bowl performance off my bucket list. I can't wait to bring the world show unlike anything else they've seen from me before," Usher stated. Super Bowl LVIII is scheduled to take place on February 11th, 2024 at Allegiant Stadium in Las Vegas. Since 2019, the halftime show has been produced by Jay-Z's Roc Nation.
OCTOBER SHOWS: Satisfaction (Rolling Stones tribute) – Hershey Englewood Oct 6. Steel – Hellam Tourist Inn Oct 7. Blues Vultures – Thomasville Race Horse Tavern Oct 7. LIVE w/ Ed Kowalczyk – Harrisburg Forum Oct 17. The Chats / Cosmic Psychos – Philadelphia Fillmore Oct 20. The Super High-Tech Jet Fighters – York Skid Row Oct 21. Anthrophobia – West York Inn Oct 21. Amy and the Sniffers – Pittsburgh Roxian Theatre Oct 21. Depeche Mode – Washington DC Capitol One Arena Oct 23. Depeche Mode – Philadelphia Wells Fargo Center Oct 25. The Hives – Washington DC Union Stage Oct 31.