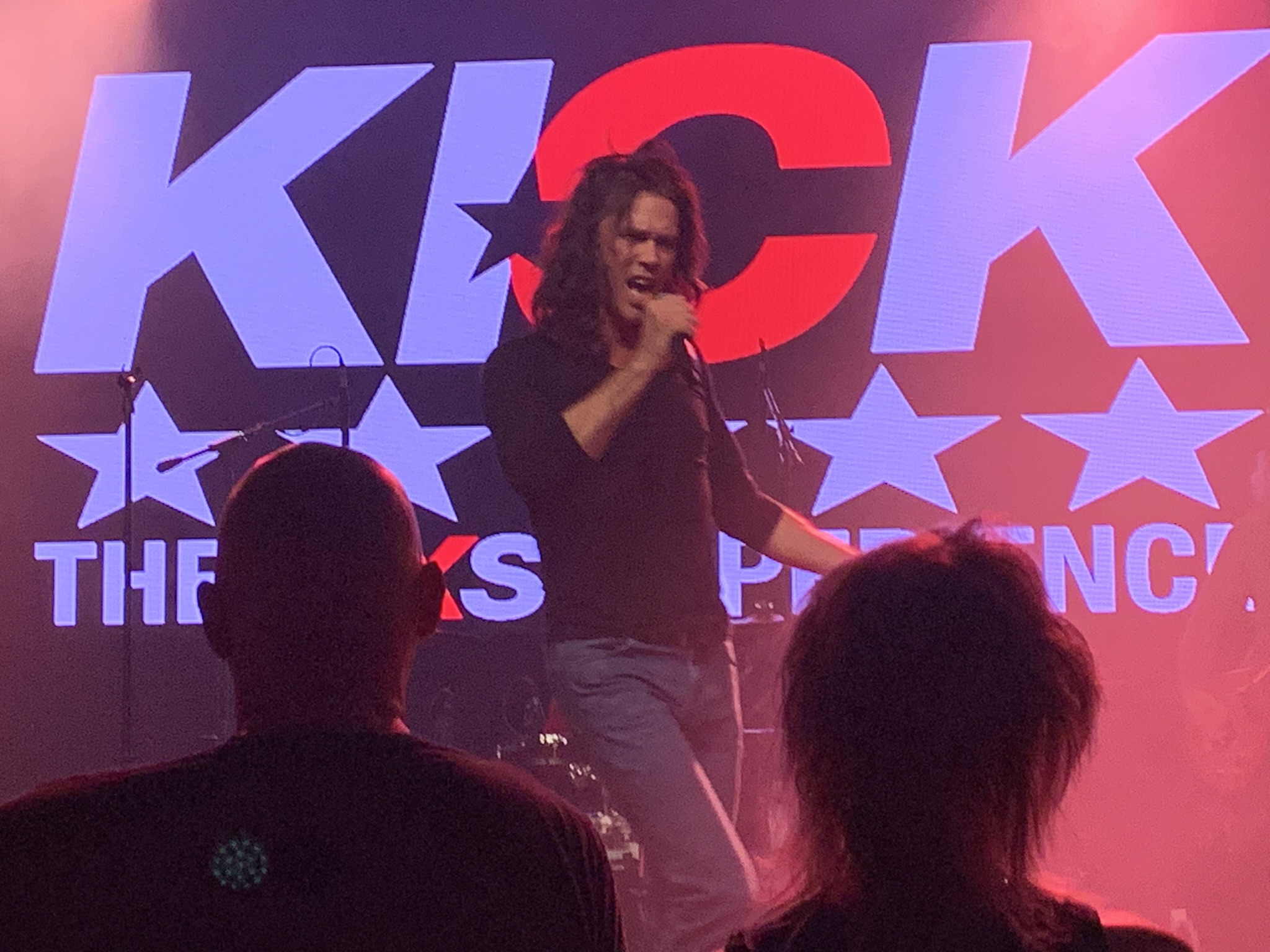 ---
September was another absolutely insane, yet fun-filled month. I have been super busy, but I wouldn't change a thing! Rocktober is looking rather awesome because I will actually be home most of the month and will be able to get out and support some local bands! One stop on my list for sure will be, Sat. Oct. 14th, The Children's Miracle Network Music Fest that Eric Dengler aka "Space" from Penntera organizes. It will be held at the Mechanicsburg Men's Club Picnic Grounds. This will be the 4th year for this awesome music fest and definitely something to look forward to! Lots of great music, food trucks, and ending the night, will be Penntera themselves! It's been way too long since I've got to bang my head with those guys! Hope to see you there!
September of course started out super awesome because it was my birthday weekend, and my family and friends went all out and spoiled me rotten! Friday started early with a date night with the hubby to Adventure Sports. Then I headed to Duke's in Wormleysburg to see Katz 22. A group of friends met up with me and of course the shenanigans began! Lots of dancing and laughing and great times! Katz 22, as always put on a great show. They had quite a group of people dancing in a very limited space! There were also some "WOOO!" competitions between songs! Since people can't buy me a drink for my birthday, I made them dance with me instead! Our final stop of the night was over to Flinchy's to catch the tail end of Matt Jameson Acoustic. Flinchy's has really become Matt's hometown bar, and he's developed quite a fan base there. The deck was packed and his tip jar was full, so it was definitely a great night for him and for all of us.
Saturday, my actual birthday, started off early with Matt Jameson playing at the Kipona in Harrisburg! We got there a little early and caught a few songs of The Highway Boys. These guys just started playing together in 2022, but they are getting quite a few shows throughout the area. They also posted an original song on YouTube called "Drunk Cigs" that has already gotten over 250k views in just 10 months. Keep an eye out for these guys, they are just getting started! Next up, Matt Jameson, took the main stage! I love seeing so many people see him for the first time; he quickly gets people bopping their heads and even dancing! After his show people were coming up to him complimenting him on his set and grabbing a business card, and I watched his Facebook followers climb. I'm very grateful to my friends that came out to hang with me on my birthday and listen to great music. After Matt's show we stayed for a few songs of Brenden Starr. I've heard so much about Brenden, I'm so glad I finally got a chance to see him in action. Shenanigator Entertainment did a great job bringing in some top notch entertainment to the Kipona this year. I'm so grateful that Matt got asked to play, it was awesome seeing him on a big stage instead of jammed in the corner of a busy bar.
We couldn't stay at Kipona for long, because our next stop was over to Jigsy's for Matt's 2nd show of the day. We had to get there early enough to eat some of Jigsy's award winning wings! I had to get there early enough so I could eat multiple meals in one night! Their wings were amazing, but after a while, I of course had to have some pickle pizza! Thankfully quite a few friends came out again to eat, dance and be merry with me on my special day. I had to wiggle quite a bit so I had room to fit in a slice of my amazing peanut butter pie! (Thank you Matt for making sure they had a whole pie just for me!) Another super awesome present was Holly getting home from her two week Tour of Duty and coming straight over to Jigsy's to be with me on my birthday, and of course to see her hubby, because I'm sure she missed him too! Thanks Holly for your service! You know how much we love you! Matt rocked Jigsy's amazing patio and had a few guest performers come up and sing with him too! He played both of my most requested songs, which was super special because he's usually too busy playing everyone else's requests to play mine, but I got them both right in a row! I also have to mention that my good friends Angie (who really doesn't love acoustic music) and Michele, not only came to Kipona and Jigsy's, but then we all went to Fratelli's to finish the night with Derek! I don't know if it was a look of fear or happiness when I walked in the door, but nonetheless, we are glad we made it over to rock the night away with Derek. I hadn't been to Fratelli's for a little while, it was nice to be back! It's always fun singing along with Derek; I know he appreciates it deep down in his heart. HA! That concludes my super busy and super amazing birthday weekend of music! Like I said I am spoiled and well loved and it truly shows all the time from my friends, not just on my birthday, and for that I am truly grateful.
And as if that wasn't enough the next day I got to go on a family float on the Juniata. Many memories were made on a truly beautiful day! Also for my birthday I took a trip to Florida to see my good friends Terri and Mike who recently moved down there permanently. I miss them terribly, but after my visit, I can definitely see why they moved down there. Time to start saving my pennies so I can do the same! I had a super-relaxing, amazing time at the beach!
On a Wednesday night I had the opportunity to head down to Sherwood Inn for some more Matt Jameson and to hang with our good friends and eat some delicious food. Wednesday nights are a busy night at the Sherwood, not only do they have live music, but it's also Seafood night, and they have some killer specials that people love. After Matt's show I swung in to Flinchy's to catch the end of Thom Lewis. I've heard so many good things about him, I'm so glad I finally caught a show. Thom has an awesome voice and is quite the story teller. Thom has been playing music for quite a few years, and he has the following to show it. He took a little break to raise his family, but he's back and ready to rock!
On a Thursday night I headed down the street to Susquehanna Harley Davidson for their Thursday Night Bike Night with Light Up the Moon on stage. There were quite a few familiar faces in the crowd enjoying a beautiful night of some good ole rock n' roll! Light Up the Moon just released their first full-length album "Love and War". You can find all of their amazing originals on any streaming platform. Joe has such a unique voice and all of the guys have been playing together for years so their music just flows together so effortlessly. It's always a special treat when I cross paths with these guys!
After Light Up the Moon I zoomed up the river to The Doyle in Duncannon for the end of Derek Henry's show. The Doyle definitely loves live music. Derek had the bar packed and people on the dance floor when I got there. It's always fun seeing people enjoying the music and having so much fun. One of those people was Mark Campbell, he took the time to tell me a magazine delivery story, back when he came to the rescue to help Mom and Dad get the magazines delivered. I've had so many people come to my rescue through the years. It's kind of amazing when I think about all of my delivery trips and the zillions of miles I put on my car. Thanks Mark for saying Hi, and telling me your story. And thanks once again Derek for the entertainment.
Friday night I finally made it back to Midway Bowling Alley for The Juice. My brother in law, David, is the drummer for The Juice, so it was also a family affair, I got the bonus of hanging with my sister Andrea, and my niece, Kate! The Juice are one of those bands that are fortunate enough to have 4 different singers in their band, so they are able to cover a huge range of different music. Tammy is their main lead singer, and she does an amazing job connecting with the audience, and getting everyone up dancing and having a good time.
After The Juice, since I was in Carlisle I also decided to swing in and catch the end of Colby Dove, the 12-String Wonder of the World at the Moose. Colby is another one of those crazy looper machine and effects pedal users that always amaze me. He's playing solo, but yet so many times it sounded like he had a whole band up there! It's always a pretty cool thing to see. Colby is out there busting his butt as yet another full-time musician, making his living doing something he loves.
The next day was super long, but tons of fun. It started off bright and early for Matt Jameson at the Linglestown Farmer's Market. He was a little nervous about such an early show, but he rocked it as usual. The crowd might've been a little thin, but we still had tons of fun, and the people that were there, loved him! Next I ran home to grab the hubby and take him on an adventure! It started at Lebanon's 8th St. Music & Brew Fest that was held in Coleman Park this year. It was a full day of music, food truck and tons of fun, we only had time to see one band, but lucky for us it was Vertigo Vultures! They only had an hour set, but they took advantage of every second and rocked hard for that full hour! It had been way too long since I saw those guys, and I'm so glad Kris had the chance to check them out! I knew he'd love their song selection. After the early day fun, it was time to get back to work. We then zoomed up to Mt. Airy Casino for the Amish Outlaws. This was a BRP Entertainment event, but it's always awesome when Kris gets to join me for the fun. He also really liked the Amish Outlaws. He of course loved their humor/banter, and the fact that they put on a great show! Mt. Airy is a beautiful resort and Kris and I really had a great weekend together. Definitely a bonus to my job is taking him along for the fun and entertainment!
On Monday even though I was still recovering from the weekend, I knew the show must go on, so I did exactly that and got off the couch and over to Lovedrafts in Mechanicsburg for yet another amazing night of music. When I got there I unfortunately missed Burden of Guilt, but I did make it in time to see Observe the 93rd. It was awesome to see such a packed venue at 7pm on a Monday, out supporting live music! There were so many people I had to go park across the street! Keep an eye and ear out because Observe the 93rd is getting ready to release their new Official Video of their song, "Go Ahead". The trailer is cool enough, I can't wait to see the whole thing. After Observe, it was time for the traveling bands, The Funeral Portrait, Conquer Divide, and Icon for Hire. All of the bands absolutely rocked. Of course I was a wee bit partial to Conquer Divide with a full female fronted band, these ladies definitely knew how to rock! I unfortunately was just so tired I couldn't make it to stay for Icon for Hire, but I'm sure they rocked it just by all the people I saw in the venue wearing their merch! I have to send out huge kudos to Nick Myers from 717 Entertainment for continuing to bring amazing acts to our area. Also kudos to Lovedrafts for making so many awesome and much needed upgrades to their venue. They got rid of the big huge awkward bar, made the stage bigger, cleared out a bigger area for merch, and they even have a nicer, bigger actual green room for the bands.
Last but not least this month I finally made it back to XL Live to help celebrate my good friend, Angie Finney's birthday, and to see KICK, the INXS Experience. I knew I've heard a couple of INXS songs, but I was amazed at how many I actually knew.They really put on a great performance and we all had a blast singing along, dancing and just having a good time! It was awesome to get back to XL Live. There really isn't another venue that compares in the Harrisburg area. There is so much room and all of their staff is top notch! Check out their schedule in this issue to see all of the amazing bands they have coming this month.
Well that's finally it for my fun filled birthday month! I hope Rocktober is as ready for me as I am for it! I could really use some good head banging! HA! Don't forget, if you see me Out and About, please stop me and say Hi! I love meeting new people! Hit me up at RachelRocks@pamusician.net and don't forget to check out our super cool website, at www.pamusician.net. Last, but definitely not least, get out there and Support Local Music!