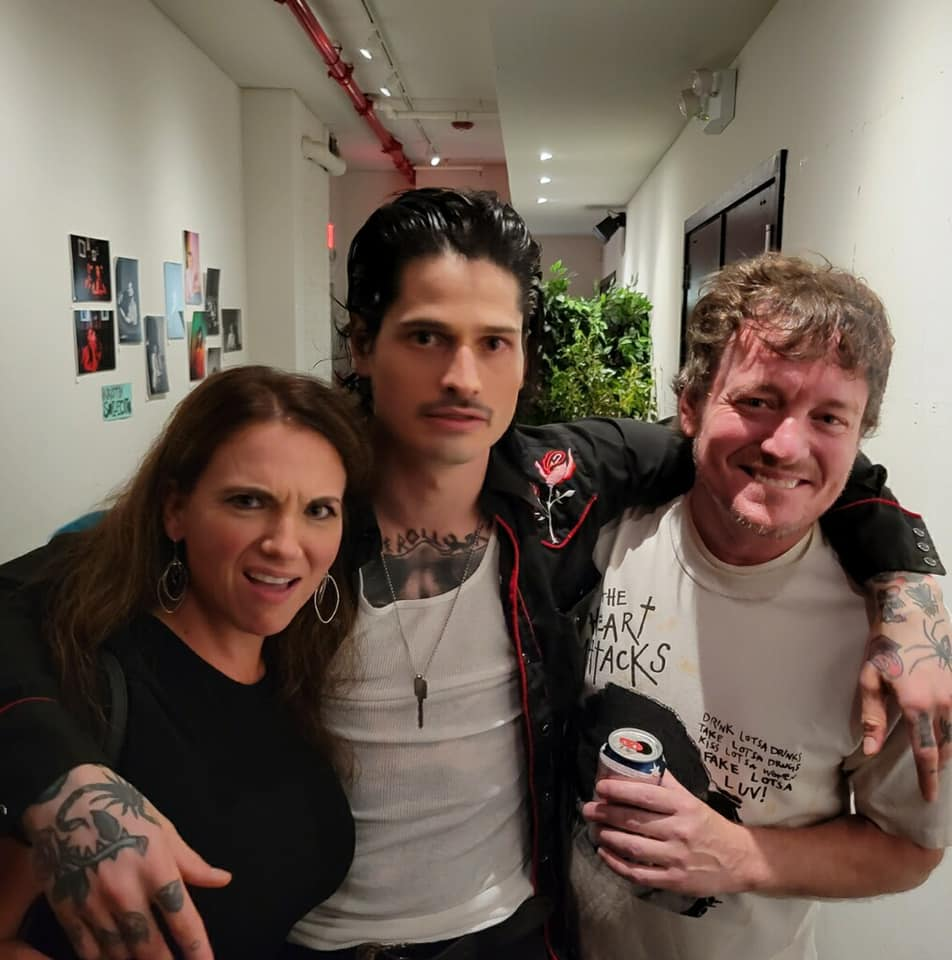 ---
By: Eric Hoffman
Greetings Rockers 'N' Rollers! Last month began with the return of Bright Eyes at Bethlehem's SteelStacks. It was the band's first tour in 10 years, they also released a new album last year titled, "Down in the Weeds, Where the World Once Was." Guns N Roses began the first night of their "We're F'n Back! Tour" at Hersheypark Stadium on July 31. Green Day also returned to the Stadium on Aug 13 with the Hella Mega Tour featuring Fall Out Boy, Weezer and The Interrupters. Harrisburg University also began their concert series downtown at Riverfront Park on Aug 27 with Young The Giant. A really great venue with a beautiful backdrop of downtown and the Susquehanna River. Harrisburg University will also bring; Jason Isbell, All Time Low, Grouplove, Cage The Elephant, Dawes, Portugal the Man, Frank Turner, Black Pumas, Saint Motel, Bishop Briggs and many more. The month ended with Dead & Co. at Hersheypark Stadium on Aug 28, the supergroup consisting of John Mayer, Grateful Dead members Bob Weir, Mickey Hart and Bill Kreutzmann, Oteil Burbridge, and Jeff Chimenti put on an amazing show.
There were great local band shows in August including Jet Silver on the 14th at American Bar & Grill in Lancaster, Timmy's Creepshow on 19th at Molly Pitchers in Carlisle, and Shea & Swish at Marysville Waterfront on the 20th. The highlight concert of the month involved a trip to Brooklyn, New York to see Wyldlife at the venue TV Eye. A fantastic young punk band that originated in 2009 and have great songs and tremendous energy. Wyldlife have released 3 studio albums, their latest called 'Year of the Snake.'
NATIONAL NEWS: Charlie Watts, the Rolling Stones drummer who helped anchor one of rock's greatest rhythms sections and used his "day job" to support his enduring love of jazz, died at the age of 80 on Aug 24. A spokesperson stated, "He passed away peacefully in a London hospital surrounded by his family." Last month, Watts had announced he would not tour with the Stones in 2021 because of an undefined health issue. He joined the Stones early in 1963 and remained over the next 60 years, ranked just behind Mick Jagger and Keith Richards as the group's longest lasting and most essential member. Watts was a jazz drummer in his early years and never lost his affinity for the music he first loved, heading his own jazz band and taking on numerous other side projects.
Don Everly, one-half of the pioneering Everly Brothers whose harmonizing country rock hits impacted a generation of rock 'n' roll music, died at the age of 84. Everly died at his home in Nashville, Tennessee, on Aug 21. His brother, Phil Everly, died in January 2014 at age 74. Their 19 top 40 hits included "Bye Bye Love," "Let It Be Me," "All I Have to Do Is Dream" and "Wake Up Little Susie." The two broke up amid quarreling in 1973 after 16 years of hits, then reunited in 1983, "sealing it with a hug," Phil Everly said. Their breakup came dramatically during a concert at Knott's Berry Farm in California. Phil Everly threw his guitar down and walked off, prompting Don Everly to tell the crowd, "The Everly Brothers died 10 years ago."
Many many artists are cancelling tours and shows due to the rising COVID cases across the country. The Pixies cancelled its 11-date September run. The band said it had "determined that with the current surge in COVID cases made worse by the Delta variant, this is the right decision for their fans, crew members and themselves, and ask that their fans stay safe and healthy." Widespread Panic also broke the news that it was postponing their shows because of the spread of the Delta variant. Earlier this month Widespread Panic singer/guitarist John Bell announced he had tested positive for COVID. Other artists who have recently switched up their tour schedules because of COVID include Garth Brooks, Florida Georgia Line, BTS, Neil Young, Nine Inch Nails, The String Cheese Incident and Korn. Korn has announced it is rescheduling six shows and canceling two dates of its upcoming shows after frontman Jonathan Davis tested positive for COVID. Michael Bublé postponed 10 of his US tour dates concerned with the "rising number of Coronavirus infections that continue to sweep America led him to this decision." "I do not want to put my fans at risk, nor my band and crew, by putting them in a situation that could possibly affect their health and therefore their friends and family." Fall Out Boy missed two shows on the "Hella Mega" stadium tour co-headlined by the band along with Green Day and Weezer after someone on Fall Out Boy's team tested positive for COVID-19. Phoebe Bridgers is going to take it outside. With rising COVID cases across the country, the indie rocker announced that she's moving indoor shows on her fall "Reunion Tour" to outdoor venues and updated the tour's health and safety requirements.
Music venues are beginning to require vaccinations or negative COVID results for events. Live Nation's COVID strategy has been further clarified, with the company saying that, as of Oct. 4, all artists and fans to will be required to show proof of COVID vaccination or a negative COVID test before attending events at its fully owned and operated venues and festivals in the U.S. "Vaccines are going to be your ticket back to shows, and as of October 4th we will be following the model we developed for Lollapalooza and requiring this for artists, fans and employees at Live Nation venues and festivals everywhere possible in the US."
The Offspring' drummer will not play on the band's current tour. Drummer, Pete Parada, claims that the rest of the pop punk band doesn't want him on its upcoming tour dates because the drummer has declined to get the COVID-19 vaccine. He explained that his doctor advised him not to get the vaccine because of his "personal medical history and the side-effect profile of these jabs." The drummer added, "I caught the virus over a year ago, it was mild for me – so I am confident I'd be able to handle it again" Parada, who has played drums with The Offspring since 2007, didn't specifically say he's been fired from the band but noted, "Since I am unable to comply with what is increasingly becoming an industry mandate – it has recently been decided that I am unsafe to be around, in the studio, and on tour. I have no negative feelings towards my band," Parada wrote. "They're doing what they believe is best for them, while I am doing the same. Wishing the entire OFFSPRING family all the best as they get back at it! I'm heartbroken not to be seeing my road community, and I will miss connecting with the fans more than I can express in words.
Insane Clown Posse made a heartfelt announcement onstage revealing Violent J has been suffering from heart failure. As a result, ICP will embark on a farewell tour next year. Violent J has noticeably slimmed down over the years. The rapper chose to lose weight after suffering from serious knee issues, which were exacerbated by his obesity. Violent J stated he felt winded just from short walks, "We went to the hospital to see what's going on. They did an ultrasound. I was told to go straight home, get in bed. In the morning they told me to go back to the hospital. Doctors basically just came out and told me I have heart failure. That scared the shit out of me." He underwent multiple procedures to treat Atrial Fibrillation, but continued to experience an irregular heartbeat. ICP plans to do one more world tour in 2022.
The Cure bassist, Simon Gallup, says he's left the band "with a slight heavy heart," writing that he's "fed up of betrayal." Gallup joined the band in 1979 and is The Cure's second longest-serving member behind Robert Smith. Gallup stated of the band, "Good luck to them all …" In 2018, Robert Smith said that if Gallup were to leave the band, then "it wouldn't be called The Cure." Smith added that he and Simon's relationship is "without question" the most dangerous combination within The Cure. "For me, the heart of the live band has always been Simon, and he's always been my best friend," Smith said.
A new lawsuit filed in Manhattan Supreme Court accuses Bob Dylan of having drugged and sexually abused a 12-year-old girl in 1965. The suit claims, Dylan, aka Robert Allen Zimmerman, allegedly supplied the girl with drugs and alcohol, establishing a relationship for the purpose of sexually abusing the pre-teen. The plaintiff claims to be "depressed, angry and anxious and suffers from issues related to it to this day." Dylan's representative stated, "The 56-year-old claim is untrue and will be vigorously defended."
Spencer Elden, the man photographed as an infant for the cover of Nirvana's Nevermind album, has filed a lawsuit against the band alleging "child pornography." Elden has often expressed frustration over the image, because he was so young he couldn't consent to such an image. Nevermind has sold more than 30 million copies worldwide and is generally considered the most important rock album of the 1990s.
SEPTEMBER CONCERTS: The Ocean Blue – Lancaster Tellus 360 Sept 4. Judas Priest – Reading Santander Sept 8. King Of Leon – Merriweather Post Sept 10. Inhaler – NYC Mercury Lounge Sept 16. Dirty Looks – Selinsgrove Speedway Sept 18. The Menzingers – Lancaster Tellus 360 Sept 18. The Killers – Bethlehem Wind Creek Sept 21. Cage The Elephant – Harrisburg Riverfront Park Sept 23.