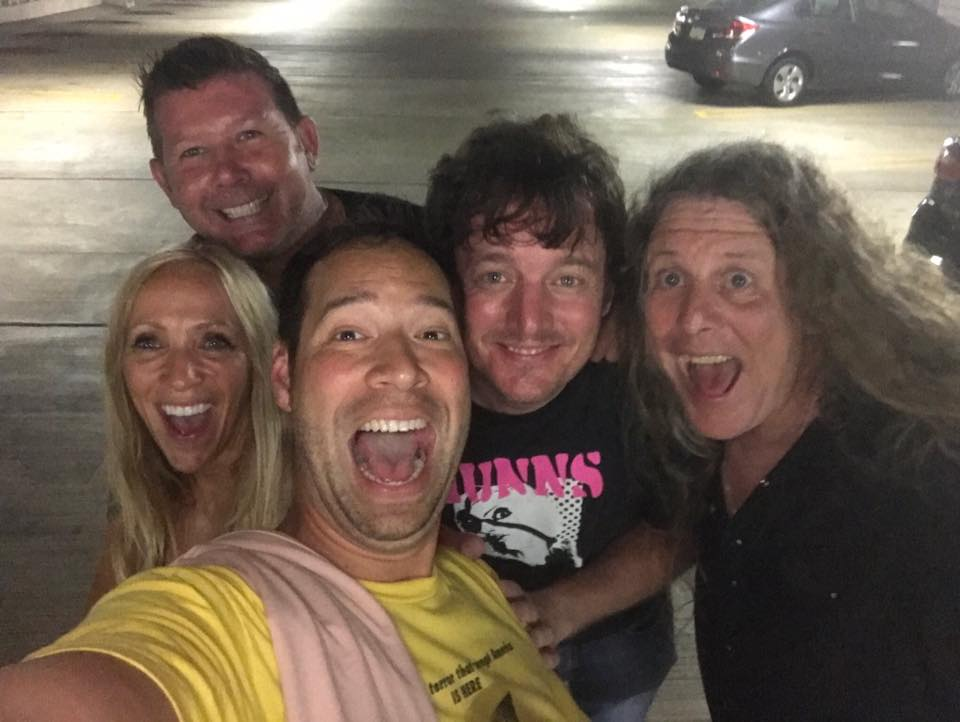 ---
by Eric Hoffman
Greetings Rockers 'N' Rollers! The past month began with the return of glam-metal band Faster Pussycat. Singer Taime Downe continues to lead the Los Angeles based band touring with them yearly. Thank-you to the venue, Reverb, in Reading PA for putting on a really great show and having really great employees. Faster Pussycat are the real deal and knocked out their hits, "House of Pain," "You're So Vain" and "Slip of the Tongue." The band just completed a tour of the States with 42 shows in 53 days.
Scranton natives, The Menzingers also come back for three quick dates including Lancaster, Uncasville CT and Bethlehem on August 18th. The indie-punk band recently sold-out their show in Harrisburg back in May. The Menzingers are currently taking a break before headlining a Fall tour of 22 shows across America. They put on a fantastic infectious concert and continue to build their following with each performance. Their fall tour will include Pittsburgh, Washington DC, Brooklyn and Philadelphia's Union Transfer on November 24th.
Harrisburg's newest venue Club XL held a really fun night on August 25th with a free show featuring Depeche Mode tribute band Strange Love. The band really did an amazing job replicating an actual Depeche Mode experience. Based out of Pasadena, CA their current US tour brings them to many bigger venues like the House of Blues and Fillmore, and also includes dates in Mexico. Local DJ legend Ray Rossi started the night and was followed by a new local band The Super High-Tech Jet Fighters – both openers did a great job. Many thanks to Club XL and their really good staff.
Lastly, the incredible Future Islands began their latest tour at Lancaster's Chameleon on August 26th. I believe this was primarily a warm-up show because Chameleon is much smaller than the 3,000 capacity venues they are touring. The band thanked the venue for always supporting them in their early days and their performance was unbelievable, leaving the sold-out crowd drenched and amazed. Future Islands will perform 29 shows in the next 34 days across Northern America, with a final show at Washington DC's Anthem on September 27th.
NATIONAL NEWS: Eagles' album 'Their Greatest Hits (1971-1975)' has retaken the spot of best-selling album of all time in the United States, passing Michael Jackson's 'Thriller'. According to the Recording Industry Association of America, the 1976 compilation has been certified 38x platinum. 'Thriller' has been bumped to second at 33x platinum, while another Eagles album – 1977's 'Hotel California' – is the third-best selling album at 29x platinum.
Vans Warped Tour held its last outing this summer and reported one of the biggest annual grosses in the tour's history. Kevin Lyman and Co. in 2018 reported a $21.3 million gross, hitting 38 cities for a total of 540,688 tickets. The averages were impressive, with 14,229 tickets per show, and an average gross of $560,857. The average ticket price was $39, tied for its highest ever. The festival was hugely popular with pop-punk bands featuring a full day of music, skateboarding, and good vibes. From 1997-2018 Warped Tour grossed $367.2 million, and sold an estimated 10.6 million tickets.
American music legend, Aretha Franklin passed away at the age of 76, on August 16th at her home in Detroit from pancreatic cancer. Her passing follows a long illness that caused her to cancel concert appearances earlier this year and led to a 2017 announcement that she would cease touring. Her final concert was on July 29th, 2017 at Filene Center at Wolf Trap in Vienna, Va, with a sellout crowd of 6,970 in attendance. Franklin was the first woman to be inducted into the Rock 'N' Roll Hall of Fame in 1987. She was also a Kennedy Center honoree in 1994 and a recipient of the Presidential Medal of Freedom in 2005, named by President George W. Bush. She won 18 Grammy Awards. 'The Queen of Soul' was entombed at Woodlawn Cemetery in Detroit.
Aerosmith will bring the "Deuces Are Wild" residency to the Park Theatre at Park MGM resort in Las Vegas, with 18 dates so far from April to July. The residency kicks off April 6th at the 5,200-seat Park Theatre, where the show will feature never-seen-before visuals and audio from Aerosmith recording sessions. Park MGM is the latest addition to the Las Vegas Strip, and will also host Lady Gaga's Vegas 27-date residency that debuts near the end of 2018. Gaga will perform two different shows, the "Lady Gaga Enigma" show, which is described as an odyssey of her pop hits and also "Lady Gaga Jazz & Piano," which will be classics from the Great American Songbook and stripped-down versions of her hits.
The Rolling Stones recently completed a second European "No Filter" tour leg with 14 sold-out stadiums during the May-July dates, ringing up nearly $116.6 million grossed and averaging 57,763 tickets sold per show. It's not known whether Mick and the boys will return to the States, when questioned, promoter John Meglen answered, "They never said that was the end!"
With a new album on the way, Elvis Costello & The Imposters are hitting North America in November and December, focusing mostly on theatres. The dates kick off November 2nd at Sands Bethlehem Event Center in Bethlehem, PA, and run just over a month. The group's upcoming album "Look Now" is due out October 12th. Costello recently had to cancel much of his European summer tour after undergoing surgery for a "small but very aggressive" cancerous tumor, but apparently he will be well enough to tour again by November.
Singer Demi Lovato was rushed to a Los Angeles hospital "after suffering what appears to be a heroin overdose." The 25-year-old was transported from her home and is undergoing treatment. Lovato has publicly fought substance abuse for years, and recently said she was six years sober, although in a new song called "Sober" she seemed to apologize for failing to stay clean. Lovato's representative stated, "Demi is awake and with her family who want to express thanks to everyone for the love, prayers and support. Some of the information being reported is incorrect and they respectfully ask for privacy and not speculation as her health and recovery is the most important thing right now."
UPCOMING SHOWS: The Give Take at Lebanon Scott Church Studio September 7th. Yeah Yeah Yeahs at Philadelphia Electric Factory September 8th. Gene Loves Jezebel at Philadelphia Kung Fu Necktie September 8th. Ozzy Osbourne at Camden BBT Pavilion September 12th. Southern Culture on the Skids at West Reading Fall Fest September 15th. FIDLAR Philadelphia Union Transfer September 16th. Jeffrey Gaines Harrisburg Stage On Herr September 23rd. Rick Springfield / Eddie Money Bloomsburg Fair September 26th. The National Columbia MD Merriweather September 28th. The Ocean Blue Washington DC Union Stage September 28th.