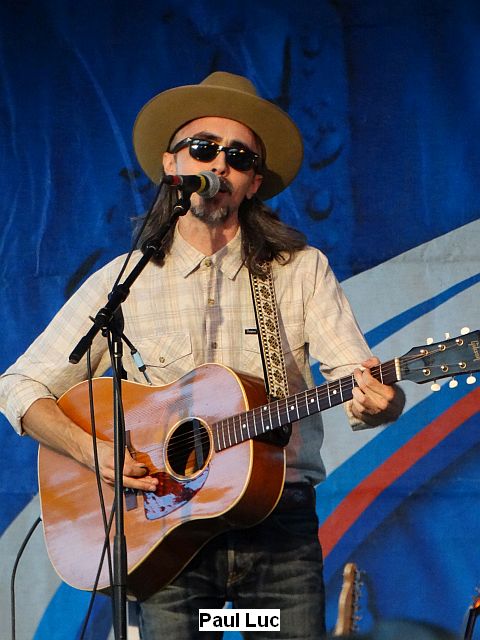 ---
By Jim Price
Another summer winds down and transitions into fall this month, and outdoor live music activity will begin to gradually wind down as well.
But late summer has been busy. Fairs and festivals brought a few nationally-known performers to the region in recent weeks. Blues Traveler and Pure Prairie League helped headline the Saturday leg of the two-day Flood City Music Festival in Johnstown, after the Devon Allman Project featuring Duane Betts headlined on Friday. Blues Traveler frontman and harmonica master John Popper gave a disclaimer at the start of their performance, disclosing that he had recently injured his shoulder but was still going to soldier on. John left the stage a few times during the performance, possibly to nurse that shoulder. This gave his bandmates – guitarist Chan Kinchla, bassist Tad Kinchla, keyboardist Ben Wilson and drummer Brendan Hill – opportunities to improvise, free-jam and transition toward various songs in the set. When he was on the stage, John feistily displayed his fast and furious harmonica talents, and it was interesting to observe his facial gyrations as he made those harps sing; he even tossed a few harmonicas out to the audience along the way. Blues Traveler did a number of songs from their forthcoming new album Hurry Up and Hang Around, including the set-opener "The Wolf Is Bumping," "When You Fall Down," "Accelerated Nation" and "Ode From the Aspect." The group also performed favorites from their 30-year career such as the hits "Run-Around" and "Hook," "The Mountains Win Again" and more. They also broke out a version of Charlie Daniels' "The Devil Went Down to Georgia" with the harmonica being the subject of the musical duel, as well as the Grateful Dead's "Scarlet Begonias," and for the encore, ZZ Top's "La Grange." Preceding Blues Traveler on the 1st Summit Stage, country rock pioneers Pure Prairie League celebrated their lengthy career. The group's current roster – singer/guitarist Donny Lee Clark, keyboardist Randy Harper, pedal steel player John David Call, bassist/singer Mike Reilly and drummer Scott Thompson – performed songs from throughout the group's career, plus shared stories and insights from that career. Among the numbers they performed were 1970s numbers such as "Two-Lane Highway," "Misery Train" and their breakthrough 1975 hit "Amie."
I caught other performers as well during this day at Flood City Music Festival, including the maximum party set by Los Angeles' Andy Frasco & the U.N., who mixed up high-powered soul, blues, rock and funk…The return of local roots rock favorites The Marauders after a 10-year hiatus. Singer/guitarist Ben Dumm, guitarist Brian Dumm, upright bass player Chris Lawson and drummer Abe Weber resurrected many of the group's past favorites, including "Kill Pop Radio," "My Revolver," "Late Night Livin,'" "Lonely Road," "Johnny Don't Like It (When You Call Him Elvis)," "Alibi" and more…Pittsburgh singer/songwriter Paul Luc with his distinctive brand of Americana rock…Pittsburgh's Stevee Wellons Band, generating spirited blues, soul and R&B, including original numbers plus stellar renditions of the Allman Brothers' "Whipping Post" and Stephen Stills' "Love the One You're With"…Pittsburgh's Neon Swing X-Perience, jumping, jiving and rocking with a blend of swing, rock'n'roll, even some swaggering polkas and more…and Gentleman East, uniting Badlees alumni Bret Alexander, Paul Smith and Ron Simasek with former Breaking Benjamin guitarist Aaron Fink. They performed new Americana-geared rock songs, Badlees favorites such as "Fear of Falling" and "Angeline Is Coming Home," a version of the Beatles' "While My Guitar Gently Weeps" and more.
The 158th annual Clearfield County Fair also featured several renowned marquee performers – including Great White, Vixen and Faster Pussycat on Saturday, and Collective Soul and 3 Doors Down on Friday. I attended Friday's concert…Prior to the main event, I caught my first look at Rattletrap Jack on the Grove stage. This was my first time seeing singer/guitarist Scott Robleski in action since the Heaven Tonite years; Scott, lead guitarist/singer Matt Day, bassist Kevin Fry and drummer Adam Westover delivered a high-powered mix of country-flavored originals and favorites with classic rock numbers. The group switched between country and rock, doing numbers from Fleetwood Mac, Little Big Town, Brantley Gilbert, Bad Company, Queen, Head East and more. Highlights included a rockabilly spin on Johnny Cash's "Folsom Prison Blues," a rock-meets-hillbilly rendition of Leadbelly/Ram Jam's "Black Betty," the fusion of Lynyrd Skynyrd's "Sweet Home Alabama," Kid Rock's "All Summer Long" and Warren Zevon's "Werewolves of London," and original songs such as "Bullets and Bourbon" and "Lonesome Road." Scott still has the voice, and Rattletrap Jack sounded tight and powerful, earning cheers
from the audience from start to finish. I soon made my way to the Fair's Grandstand stage for the main event. Opening the show, Collective Soul mixed new songs with classics from their catalog. Two songs in, singer Ed Roland tapped out a piano interlude that led into the group's 1993 breakthrough hit, "Shine." From there, Ed, his brother Dean Roland on rhythm guitar, lead guitarist Jesse Triplett, bassist Will Turpin and drummer Johnny Rabb continued with the popular FM radio tracks "Why Pt. 2" and "Heavy." Collective Soul also did such numbers as "World Shakin' Me Down," "December," "The World I Know," "Gel" and "Where the River Flows." Ed expressed gratitude to the audience, telling them "Thank you for giving us a life!" This led into the final number, "Run," which evolved into a sing-along that trailed off as band members departed the stage. Next was 3 Doors Down, who proudly celebrated their brand of southern hard rock. The group's current roster of singer Brad Arnold, guitarists Chet Roberts and Chris Henderson, bassist Justin Biltonen and drummer Greg Upchurch mixed favorites with newer song material. Opening with "Duck and Run," 3 Doors Down mixed it up between hard rockers like "It's Not My Time," "Going Down in Flames," "Citizen/Soldier," "Still Alive," a fiery cover of Charlie Daniels' "In America," "Loser" and their breakthrough hit "Kryptonite," and ballads such as "Away from the Sun," "Be Like That" and more. Brad continuously thanked the audience and exuded a nationalistic furvor through the set, and the group's execution was tight and powerful. When the crowd demanded an encore, 3 Doors Down answered with their hit ballad "Here Without You," before Brad saluted veterans, police, EMS and their families by dedicating "When I'm Gone" to them to end the night.
Altoona's Railroaders Museum has remained busy in recent weeks. The Museum hosted the inaugural Altoona First Frontier Festival in late July, featuring four local, regional and national roots-based groups. Rising local favorites RailTowne commenced the music with their mixture of modern country hits. Lead singer and guitarist Ty Ayers, guitarists Kenny Murdick and Eric Wertz, bassist Paul Rainey, keyboardist Nate Beatty and drummer Zac Grace warmed up the arriving crowd with popular tunes from Dwight Yoakam, Kip Moore, Miranda Lambert, Randy Houser, Zac Brown Band, Jason Aldean and more. Mama Corn then followed with their blend of traditional bluegrass, original folk and bluegrass numbers, grassed-up covers and more. Singer/guitarist Bruce Forr, banjo player/singer Jeremy Nelson, upright bassist Bryan Homan and dobro player, singer and harmonicat Johnny Stevens did tunes from their CD's such as "About a Minute Ago," "Someday Knock on Wood," "In the High Rise," "Sing!" and "The Hanging of Alfred Andrews," as well as numbers from Tom Paxton, Crosby Stills & Nash and more. Next was the first Altoona appearance by Pittsburgh soul rockers The Commonheart. Ten members strong this day, The Commonheart stirred up the festival crowd with hearty, pulsing and soulful sounds as they mixed original tunes with a few select covers. Singer Clinton Clegg sank full heart and soul into his commanding throaty growl – it's hard to avoid comparisons to the late Joe Cocker here, but Clinton has that voice! And he and The Commonheart did two songs that became classics from Cocker, the Randy Newman-penned "You Can Leave Your Hat On," and for the finale – the fired-up Cocker take on the Beatles' "With a Little Help From My Friends." The group also mixed songs from their Grown CD with some newer tunes; from the CD they did "Questions," "You Need a Man," "Cannonball," "Aloysius" and their version of Al Green's "I'm A Ram." The Commonheart's performance was full of spirit and energy, from Clinton's fire-and-brimstone vocals to Mike Minda's scorching guitar solos, Lucas Bowman's organ groan, sassy brass from trumpet man Nate Insko and sax lady Abby Gross, bright backing harmonies from Mariko Reid, Kenny Stockard and acoustic guitarist Mike DeLuca, and the steady rhythm foundations from bassist Anton DeFade and drummer Shawn McGregor. The First Frontier Festival crowd loved it, with many folks giving a standing ovation at the end of the performance! Headliners The HillBenders finished the festival with their unique undertaking, as they converted The Who's Tommy from a rock opera to a 'bluegrass opry' to end the day. The Missouri-based lineup of mandolin player Nolan Lawrence, bassist Gary Rea, guitarist Jimmy Rea, banjo player Mark Cassidy and their "Keith Moon of dobro," Chad Graves pulled it off, interpreting the music of Tommy in their own string music vibe, and offering narration of the rock opera's story line along the way. Once they completed Tommy, The HillBenders closed their set with several of their own songs, including "Gettysburg," "On the Radio," "Hey Boys" (co-written by Ozark Mountain Daredevils founder Randle Chowning) and more. The first Altoona First Frontier Festival was well attended and was a great event start to end, and organizers hope to grow and expand this event in the years ahead!
The Railroaders Museum's Alive at Five Summer Concert Series continued in late July with a performance by Philadelphia-based Genesis tribute Trespass. Star 69 opened the night with an upbeat set that spotlighted mostly 1980s-era rock favorites. Star 69 features a seasoned cast of Bedford County musicians: singer Dustin Reisling, keyboardist/guitarist/singer Jeff Goss, guitarist/singer Larry Grube, lead guitarist Scott Diehl, bassist Dustin Lybarger and drummer John Jones. They entertained the arriving Railroaders Museum crowd with "80's music without the hair," doing solid work on hits and favorites from the J. Geils Band, Romantics, Escape Club, Bon Jovi, Poison, Robert Palmer, Rick Springfield, Def Leppard, Tommy Tutone, Michael Jackson and more. Star 69 had fun, and even triggered some early dance action during their set. Trespass followed shortly, specializing in the early Peter Gabriel-fronted progressive rock years of Genesis. These five musicians – keyboardist Michael LaBuono, guitarist Marc Britton, Flip Britton on bass and 12-string guitar, drummer Brian Powers and singer/flutist Brian Filone in the Gabriel role – captured the early Genesis sound and vibe almost perfectly. From the moment they opened their first set with "Watcher of the Skies," and singer Brian donned Peter Gabriel's overlord alien bat-wing costume, I was hooked! Trespass spotlighted deep and lengthy cuts from the early Genesis catalog; including "The Musical Box" (with Brian donning an old man head mask, representing the ghost character Henry from the song), "Get 'Em Out By Friday," "Firth of Fifth," "The Cinema Show" and the 20-minute-plus "Supper's Ready" (with Brian wearing a flower head and geometrical headgear). For the nightcap set, Trespass focused on the latter stage of Peter Gabriel's tenure with Genesis, performing mostly numbers from The Lamb Lies Down on Broadway album, as well as the start of the Phil Collins-fronted era with material from 1976's A Trick of the Tail. They opened the set with "The Lamb Lies Down on Broadway," and also did "Back in N.Y.C.," "Counting Out Time" and "Carpet Crawlers" (with Brian wearing Gabriel's 'lawnmower' headgear). From A Trick of the Tail they did "Dance on a Volcano" and "Squonk," before closing out the performance with "I Know What I Like (in Your Wardrobe)" off 1973's Selling England By the Pound album. Trespass was musically superb – Michael was a wizard on keys, providing many stunning solos and displays through the performance. Drummer Brian, and Marc and Flip on the strings were tight and coordinated as well, and impressively pulled off this complex song material with its shifts in tempos, chords and dynamics. And Brian Filone was unbelievable in the Peter Gabriel role – you could close your eyes and think you were hearing the real deal! He pulled off Peter Gabriel's sound and look, even capturing his hairdos from various points of early Genesis. This was easily one of my favorite shows to hit the Railroaders Museum stage so far, and took me back to my early years of discovering progressive rock!
Several church picnics and festivals provided late August musical highlights. St. Bernard Church in Hastings hosted their annual three-night Homecoming Picnic, featuring live music each night. I attended on the first night, Friday, and saw Johnstown's Flood City Brass in action. Nine members strong this night, Flood City Brass struck up the music and dance party with their brassy blend of classic rock, soul, pop and funk favorites. Singers Natalie Kurchak and Tom Pavic both delivered potent and soulful voices, with Natalie paying homage to recently-departed "Queen of Soul" Aretha Franklin with stirring renditions of "Chain of Fools" and "Respect." The horn section of trumpet player Dan Perich, sax players Jen Shuty and Greg Maiocco shined on brassy classics from Chicago, Blood Sweat & Tears, Ides of March, Steely Dan and more. Randy Rutherford delivered precise and stunning guitar solo work, and Luis Gonzalez III dazzled with his keyboard solos and fills. Anchoring the sound was the strong rhythm section of drummer/singer John Homerski, Jr. and bassist Andy Heinze. Flood City Brass kept the large Homecoming crowd happy with numbers from Bruce Springsteen, Wild Cherry, Blondie, Doobie Brothers, Donna Summer, Sam & Dave, Abba and more.
Our Lady of Mt. Carmel Polish National Church in Lilly kept with tradition and presented their annual Polish Picnic in late August. Leading off the afternoon's music were The Hallmarks, who played a mix of polkas, waltzes, obereks, standards and more. Six members strong, The Hallmarks stirred up some polka dancers and smiles with such numbers as "The Lovesick Polka," "The Early Morning Oberek," the "I Love You Polka," a polka medley including the local "Nanty Glo Polka," "In Heaven There Is No Beer," "They're Always in the Way Polka," "Apples Peaches Pumpkin Pie" and more. Providing the nightcap music was Raging Slagg, mixing country and vintage rock'n'roll. Led by guitarist/singer Chet "Pop" Harker, Raging Slagg quickly packed the dance floor as they did numbers from Dwight Yoakam, Del Shannon, Keith Whitley, Brooks & Dunn, Don Williams, ZZ Top and more.
During summer season, Vale Wood Farms near Loretto hosts "pasture parties," featuring local food vendors, children's activities, the farm's ice cream and other dairy treats, and live music. I caught the latter portion of Vale Wood's August Pasture Party, with Striped Maple Hollow providing the music. Singers Jayna Mood and Sonya Giuffre, guitarist/singer Micah Mood, mandolinist Adam Milkovich and bassist Leo Drager performed a selection of traditional folk, bluegrass and original songs. Their final set of the evening included numbers such as Hank Williams' gospel song "I Saw the Light" and the traditional "Bury Me Beneath the Willow," before a sudden close lightning strike from an approaching thunderstorm forced an early end to their set and the party.
I also saw Lux & Company as they entertained at the Roxbury Bandshell in Johnstown during late July. My own band, the Backyard Rockers, started the evening, before Lux & Company – the Lux brothers Mark, Mike and Darien – followed with a variety of acoustic classics from the Police, CCR, Queen, Pink Floyd, America, Phil Collins, Bon Jovi and more. Mark shared a few stories along the way, and the group wrapped up the show with a sing and clap-along edition of Neil Diamond's "Sweet Caroline" just before raindrops began to fall.
Raining Blue – joined by Ron "Music Man" Balestino – performed at Altoona's Valley View Park Amphitheater in late July, part of the Blair County Recreation Commission's summer concert series. The Raining Blue pairing of Walt Yatta and Amy Williamson plus Ron entertained a good-sized audience with a pleasant mix of light blues, funk and jazz-flavored takes on pop and rock'n'roll favorites. Amy and Ron alternated singing duties throughout the performance, with Amy switching between basses and Walt switching between keys and ukulele. I thoroughly enjoyed this group's fresh and innovative spins on their song material; some of the highlights included Amy's bluesy, jazzy arrangement of the Beatles' "Ticket to Ride," the Brazilian/samba-leaning take on Steve Miller's "Abracadabra," the Ron-fronted version of the Youngbloods' "Get Together," and Paul Simon's "Me and Julio Down By the Schoolyard," where shakers and tambourines were passed out to audience members to play along. The trio also did tunes from Eric Clapton, Zac Brown Band, Rick Nelson, Queen, Stray Cats, Bob Seger, Tom Petty, Ray Charles, Dobie Gray, Eagles, Loggins & Messina and more.
I escaped for a week of vacation early last month, returning to North Carolina's Outer Banks in the Kitty Hawk area. Again, the Wednesday afternoon part of my vacation week was spent at Scarborough Faire Shopping Village in Duck, North Carolina, which hosts the weekly Wednesday "Faire Days" celebration during summer season. I caught up with some musical friends I have seen before here, local favorites Bill & Friends. Bill is singer and bassist Bill Downing, and his musical friends this afternoon included guitarist Chris Francis, drummer Roger Deaton and keyboardist Steve Utt. These guys played two sets that mixed original tunes with classic rock, blues, folk, pop hits and more. They did numbers from Santana, Allman Brothers, Bob Marley, Emerson Lake & Palmer, Slim Harpo, Bob Dylan, Bobby Bland, Chuck Berry and others. They also did original numbers such as the combo "Nags Head/Nobody Loses" off their CD I'm Do'n Good, plus some newer songs as well. Bill & Friends had fun as they kicked back and made music together; and shoppers and passers-by showed their appreciation.
Indoors, I caught several shows at McGarvey's in recent weeks, including the first area visit of Maryland's Offensive. Harrisburg's Kevin Brem sings lead, flanked by guitarists Steven Shreve and Leon Sohail, bassist Michael Murphy and drummer Brett Bronstein. Offensive mixed 1980s-era classic and power metal with hard-hitting original songs. They introduced original numbers such as "Mankind" and "King of the Underworld," and did impressive work on tunes from Judas Priest, Dio, Black Sabbath, Metallica, Misfits, Motorhead and more.
Other shows I caught recently at McGarvey's included the heavy-rocking triple-bill of It Is Written, Naildriver and Klockwick…the three-band bill of Negan, Washington, DC's DoubleMotorcycle and Small Town Horror Show…And the punk-fueled triple-bill of Dave Hates Everything, The Flannels and Rik Golden.
News and notes…Wheatus, Sophie B. Hawkins and Left Lane Cruiser will be the headliners at this month's Northern Appalachian Folk Festival, happening Sept. 8 throughout downtown Indiana…Hosted by Simple Gifts, the Greenwood Furnace Folk Gathering event will take place at Greenwood Furnace State Park from September 7-9, and will feature two concerts, workshops, jamming and dancing open to all ages and experience levels…Greenbean Coffee House is presenting their inaugural Open Stage event on Sept. 16 at Altoona's Railroaders Museum; the day will feature live music from many of the performers during the Coffee House's weekly Thursday Open Stage open mic night, plus live art, live theatre, dancing, vendors and more…The Johnstown Area Heritage Association will present a free concert with zydeco favorites Nathan & the Zydeco Cha Chas at People's Natural Gas Park in Johnstown on Sept. 15…The Johnstown Blues Festival and Volkswagen Show will take place Sept. 28-29 at the Freight Station near downtown Johnstown …Altoona metal rockers Fyre have a new lead guitarist, as former Awaken From Ruin guitarist Logan Yablonski replaces Zach Kensinger, who left Fyre to further his education…Drummer Pat Boland has announced that he is retiring from live performing at the end of this month, and will be stepping away from popular area Irish rockers Full Kilt…Ember's Fall is seeking a new drummer to replace Josh Sheesley, who left the group to tend to personal matters…The Chrome Hearts have issued their debut CD, called Oh No!
Please send correspondence and recordings to: Jim Price, 1104 S. Catherine St., Altoona, PA 16602. You can also e-mail me at jptheprofessor@gmail.com. And if you're into social networking, look me up on Facebook or Google+. SUPPORT LOCAL MUSIC!