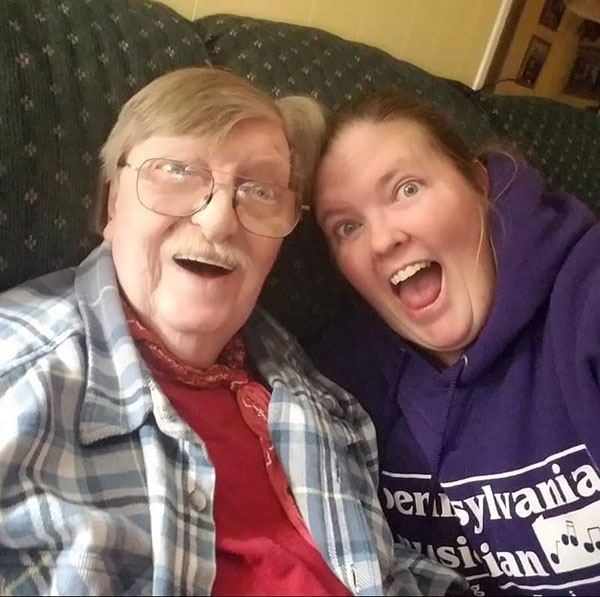 ---
By: Rachel Rocks
If you follow me on Facebook, chances are you've already seen that Dad, aka Leroy "Whitey" Noll passed away on Friday, January 29th. Even though he just had a clear PET Scan a few months ago, and we were told he was cancer free, on January 12th we were told he had terminal lung cancer and he was going to be sent home from the hospital on Hospice. Needless to say, it was a huge shock. We were told he had months, weeks, or days left to live. Luckily our hospice nurse was actually a good friend from High School, and she shot it to us straight and told us to plan more on weeks… if that. I have to give a HUGE shout out to Homeland Hospice for helping us and guiding us through Dad's final days. They were absolutely amazing, and helped make this process not be quite so terrifying. Dad was able to say his goodbyes to a lot of family and friends. We were able to tell stories, sing songs, laugh, cry, and just be there for each other. His final week I moved in and helped Mom, it was a time I will never forget. I have to also give a HUGE shoutout to all of my Facebook friends, I know that I was never alone, you were all so amazing and kept us laughing, smiling, and reminiscing til the bitter end. When it was time for the end, we were able to get enough notice to have everyone there: hugging him, loving him, and eventually watching him pass peacefully into his eternal rest. Dad was an amazing Father. We had our differences, but he still taught me many things thru life that I will never forget. He's had an amazing influence on this music community. We have him to thank for being a trailblazer on how to promote live music, through the PA Musician Magazine. We really hope everyone will continue to support us and help us keep his legacy alive. We will be having a Celebration of Life for Dad on June 19, 2021 up in Liverpool, PA. Please, mark your calendars, and be ready for one heck of a party!
Obviously, this month I was a little preoccupied, but luckily I did sneak out twice to hear some music. Friday, January 8th was my hubby's birthday. He wanted a steak dinner for his birthday, and there is no better place to go for Prime Rib on a Friday night, than the Fredericksburg Eagle Hotel. We weren't even aware of the amazing birthday specials at the Eagle Hotel. He got 50% off an appetizer, his entrée, and his desert, plus he got a free beer or a shot! Talk about a cheap date! Everything was delicious from start to finish. The icing on the cake, was that while we were eating we were able to enjoy live music by DMC Duo. Kris has heard so much about them, it was awesome that he finally got a chance to hear them. Don't forget the Eagle Hotel has amazing food specials and they are back open for indoor dining, and/or take-out.
The next night I finally made my way up to the Sherman's Creek Inn for Derek Henry. I haven't been to The Sherman's Creek Inn for years. They really fixed it up nice and opened up the dining room so they have a lot of seating for their patrons. They also have a nice sized stage, and have been booking full bands and acoustic acts. They have live music every weekend, and even karaoke, open mic nights and trivia during the week. Their food was all delicious and our server was great. I will definitely be back there again to enjoy more entertainment. Derek did a great job at entertaining us all night long. He even had us singing along, and we even snuck up and danced for a few songs! Yes.. DANCED! It was very refreshing.. I'm so glad I was able to have this super special night with my friends.
This month is the special month for the Millennium Music Conference. Thanks to Covid the 25th Anniversary MMC will all be virtual. It will take place on February 26 & 27 from Harrisburg, PA. There will be live streamed concerts from 6pm to 11pm EST.. We know it can be difficult to get people together during a pandemic and we got a few artists that have compiled clips from previous live shoots. Please take a moment and check out your Showcase Performers initial listing at:
Conference Panels, Workshops and Clinics: They are planning on full days on Friday and Saturday on Feb. 26 & 27 from 10 or 11am to 6pm. All showcase performers will have direct access to the virtual conference content. Others can watch it on our MMC Facebook page for free. The plan is to have a Virtual Exhibition Hall, Lounge and Mentoring for 2 hours prior to the panels and access is only for our selected performers and their team members. So far topics include: Publishing Panel/Royalty Roulette, Navigating the Copyright Maze, Your Music for Film & TV, Legal Issues for Indie Artists, A Streaming Panel and a streaming workshop, Making & Marketing Videos, Revenue Streams for Indie Artists, Producers Panel, Songwriting Clinic, NIVA Venues Panel, Urban Music/Hip Hop Panel, Crowd-fundiing, Vocal and Social media for musicians workshops. Make sure and follow their Facebook, Instagram and twitter pages for now because you will see updates there first. It will be sad not seeing our friends, but I'm thinking maybe we can somehow have a zoom after party or something from the comfort of our own homes where we can at least all see each other and have a few good laughs to unwind after a long day.
I'm thrilled to say that the MMC have been giving out awards to people and recognizing them for their support over the years of the MMC, and the first award was given to my parents, Whitey and Robin Noll. It was nice that all of their dedication to the local music scene was recognized.
Another special event sneaking up on us is the 2nd Annual Central PA Music Awards. All of the votes have been turned in, and now we are counting them all up. There were over 75k votes this year! The event will be Thursday, March 25th. Unfortunately, the Sunoco Theatre at the Whitaker Center has been sold out, but you can still watch the show through a live Facebook feed for free. Everyone is also welcome to come to Arooga's on 2nd St. for one crazy after party when the award show is over. There will be special LIVE performances by The Badlees, Jeffrey Gaines, and Pentagon, plus who knows whatever tricks are up their sleeve. One thing I know is I am looking very forward to this show and can't wait to see who the winners will be!
Well that's all for this month, but thank you once again for all of your love, support, and stories about my Daddy. Getting through such a tough event in life is not easy, but it does make it a little easier when I'm surrounded by so many friends and family. Thank you also to Mom's Abundant Harvest Church for providing us with delicious food, and thank you so much to my co-workers for providing food to my hubby and boys back home. It allowed us all the extra time to just focus on Dad and have the strength to do so.
Here's to hoping that February is just a fun, music-filled month! I'm looking forward to going Out and About and seeing some amazing music, and friends. Have any suggestions on where to go, please send me an email to RachelRocks@pamusician.net. I hope to see YOU Out and About.. Supporting Local Music! Don't forget to check out our website, www.pamusician.net.