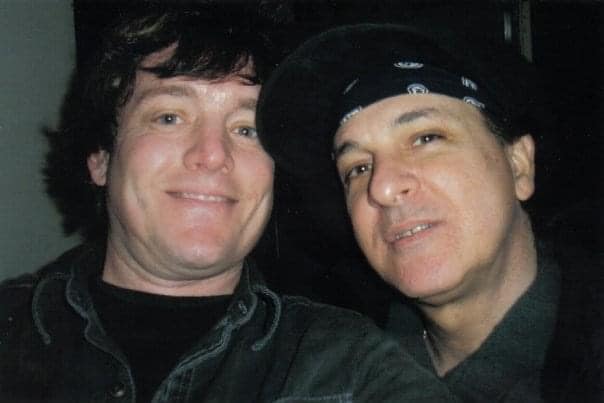 ---
By: Eric Hoffman
Greetings Rockers 'N' Rollers! WHITEY THE MIGHTY! Whitey Noll is the founder of the PA Musician Magazine. He is the reason this publication exists and the reason you are reading this very issue. It all began in November 1982 when Whitey published the first issue with KIX gracing the first cover. Long before the internet, this very publication was the most relevant source to find out about local concerts, bands, venues, etc. The PA Musician Magazine has endured for the past 39 years and weathered thru many trying times and still exists due to the passion and commitment of the entire Noll family, all to the initial idea and creation of Whitey. Sadly, the man who created this legendary local magazine has developed lung cancer and passed into eternity January 29th, 2021 at the age of 79. His memory, his music, his idea and his kindness will forever be remembered. Thank you Whitey for letting me be a part of your idea. God bless Whitey Noll!
Sylvain Sylvain, the legendary guitarist and co-founder of the New York Dolls, died January 13 after battling cancer, his wife Wanda Mizrahi announced via Facebook. He was 69. The band led a music movement that bridged punk rock and glam in New York City in the early to mid-1970s. The New York Dolls broke up in 1977 but reunited over the years for albums, the last being 'Cuz I Sez So' in 2009. While never reaching commercial success, their influence is undeniable. Sylvain was born in Cairo, Egypt, to a Jewish family, but his family fled in the 1950s, first to France and finally to New York. The guitarist announced he had cancer on April 27, 2019.
R&B star Jazmine Sullivan and country singer Eric Church will join forces to sing the national anthem at the Super Bowl on February 7th, where Grammy-winning singer H.E.R. will perform "America the Beautiful." The performances will take place at the Raymond James Stadium in Tampa before the big game and halftime show starring The Weeknd. It will air on CBS. Jay-Z's Roc Nation company is executive producing the halftime show for a second year.
Lady Gaga sang the national anthem at Joe Biden's inauguration and Jennifer Lopez gave a musical performance on the West Front of the U.S. Capitol when Biden was sworn in as the nation's 46th president on January 20th. A proper parade and celebratory inaugural balls were not able to take place. Instead, Tom Hanks hosted a 90-minute primetime TV special "Celebrating America" which celebrated Biden's inauguration. Music performers included Bruce Springsteen, Foo Fighters, John Legend, Justin Timberlake, Jon Bon Jovi, Demi Lovato and Ant Clemons.
Phil Spector, the eccentric and revolutionary music producer who transformed rock music with his "Wall of Sound" method and who later was convicted of murder, died on January 16th. He was 81. California state prison officials said he died of natural causes at a hospital. Spector was convicted of murdering actress Lana Clarkson in 2003 at his castle-like mansion on the edge of Los Angeles. After a trial in 2009, he was sentenced to 19 years to life. Spector had been hailed as a visionary for channeling Wagnerian ambition into the three-minute song, creating the "Wall of Sound" that merged spirited vocal harmonies with lavish orchestral arrangements to produce such pop monuments as "Da Doo Ron Ron," "Be My Baby" and "He's a Rebel." By his mid-20s his recording style had resulted in nearly two dozen hit singles and made him a millionaire. John Lennon called him "the greatest record producer ever."
Glastonbury, the U.K.'s most famous music festival, won't take place this year. After being forced to cancel what would have been the 50th anniversary of the iconic event in 2020 because of COVID-19, promoters announced that 2021 "will be another enforced fallow year for us." With deposits on tickets being rolled over, the 2022 edition of Glastonbury Festival is already sold out. However, any tickets for which the deposit is refunded, or the balance is not paid, will be made available in a resale in April 2022.
Neil Young has become the latest musician to strike gold with his song catalogue, selling a 50 percent stake in his music to a British investment company. The Hipgnosis Songs Fund said it had acquired half of the copyright and income interests in some 1,180 songs written by the 75-year-old rock star, composer of "Heart of Gold," "Rockin' in the Free World" and "Cinnamon Girl." Terms were not disclosed. The deal comes a month after Bob Dylan sold publishing rights to more than 600 songs to the Universal Music Publishing Group for a reported fortune of between $300 million and a half billion dollars. Stevie Nicks sold an 80 percent stake in her music to Primary Wave for a reported $100 million. In an industry where music sales have dwindled and the concert industry is on hold due to the coronavirus pandemic, song publishing is seen as an increasingly valuable asset. The companies generally push for use of an artist's songs in movies, video games and advertising. Young has released some 70 albums as a solo artist and with bands like Buffalo Springfield, Crazy Horse and Crosby, Stills, Nash & Young.
Dr. Dre says he will be "back home soon" after the music mogul received medical treatment at a Los Angeles hospital for a reported brain aneurysm. The rapper and producer is recovering at Cedars-Sinai Medical Center, "I'm doing great and getting excellent care from my medical team, I will be out of the hospital and back home soon. Shout out to all the great medical professionals at Cedars. "One Love!!" Dre, whose real name is Andre Young, was born in the Southern California city of Compton, he broke out on the music scene as a co-founding member of N.W.A., producing the group's groundbreaking 1988 debut album, "Straight Outta Compton." He's won six Grammys and founded Beats Electronics in 2008 with Jimmy Iovine and six years later they launched a streaming subscription service, Beats Music. Apple acquired both in a $3 billion deal in 2014.