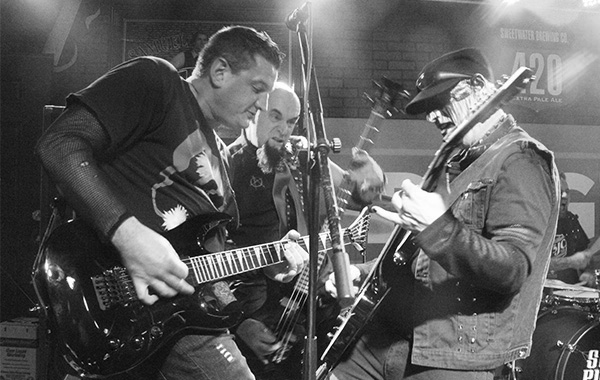 ---
By: Rachel Rocks
Happy New Year!! I can't believe it's finally January and 2022 is here. It's amazing how a new year brings so much hope to a better life. The chance to restart on anything in your life that needs restarted! I would once again like to hope that live music gets back to normal. We are really struggling as a music community. Some places are back and packed, and some places are closing or struggling to survive. I'm not sure what the magic answer is for the bands and the venues, but hopefully things balance themselves out soon.
This month was as normal a very busy one. It all started a long time ago with Ed Varner at PJ Whelihan's on Union Deposit Road. I love going there for their wings and fried pickles, and now I'm very excited they are also doing live music! Ed couldn't believe they made him wear shoes, but alas, he was still able to rock out and have a good time. Ed does a fantastic job interacting with the crowd. It was cool to see him connecting with tables of teenagers, and everyone was having a blast, even the parents. Ed is able to take requests and play just about anything. He had the restaurant dancing and singing along and a fun time was had by all!
The night was still young, so next I headed to the Winner's Circle for the DMC Band. Every now and then when requested DMC Duo (Darrell and Marisa) pull together some extra musicians, and play as a full band, this night it was Kyle Schoenly on guitar, Wade Corbin on drums, and new to their show was Jared Adam on bass. It's always fun seeing them as a full band and seeing how much more versatile they can be. They had the dance floor hopping! I love watching people line dance. I wish I was coordinated enough to figure it out. It always amazes me how easy it looks, when I know it's nearly impossible.
Next up I finally got to see Buckskin Whiskey at Johnny Joe's. These guys have been working hard writing and recording new music. I've been able to listen to their music online, but it was awesome to finally get the chance to see them live. They've been touring around throughout PA and beyond promoting their EP "Roll On" and they are now recording their first full length album at Rock Mill. Josh has a great voice for their growly southern rock songs, and the band really does a great job backing him up. They really got the party started at Johnny Joe's.
The next day I had the privilege to "judge" (more like give constructive criticism) to the Central PA Music Hall of Fame Youth Music Showcase. It was an awesome afternoon at the Englewood getting the opportunity to see 10 youth artists/bands perform. Chris James and Phil Freeman were my fellow judges and all of us were blown away by the talent of every performance. If an artist was just a solo artist they were also backed up by the "house band" which consisted of Logan Bedard on drums, James Klippel on keys, Rod Goelz on guitar, and Liam Galiano on bass. It was an awesome opportunity to give these young artists a chance to play with a full band and a very talented one too!
The first artist was 18yo Gillian Smith, a country/pop artist from Mechanicsburg who played "The Champion" by Carrie Underwood. Gillian has been performing all over the place, even down in Nashville, I've seen her usually accompanied by the amazing Sarah Sheriff on guitar. Gillian kicked off the show, because later that day she was headed to Rams Head Live to open for Chris Lane!
Next up was Alex Warner (13) and Najeeb Moore, Jr. "Junior" (14). These guys were an instrumental/blues/rock band from York. Their song was "Voodoo Child (Sight Return" by Stevie Ray Vaughan, obviously originally by Jimi Hendrix! Yeah.. 13 and playing Hendrix!! And I later found out that it was the first time he was playing with a wireless guitar, so he actually walked off stage in front of the crowd all while wailing away on his guitar! These boys had all 3 of us judges, plus many others sitting there with our jaws dropped! Keep your eye out for these 2! What a combo!
Next, we had Nail Bite, this was a full heavy metal band from Lancaster. They played "The Devil in I" by Slipknot! These artists were not messing around! All of their song choices were just shocking. Then when you see a young lady take the mic as the lead singer we were all like WHAT?!? But wowzers! What a performance! Even Phil told her that she was doing it right with her growling and her overall vocal performance. That was one heck of a compliment, and very well deserved. I of course loved that all of them were headbanging and had one heck of a stage performance! Chris Rider Photography got some amazing shots of the entire day. They just released a full length album, "Lost Travelers" and they have quite a few shows already lined up for 2022. They were the winners of an ad in the PA Musician Magazine, so check out their ad, and get them booked at your venue, go support them at a show or at least check out their music online.
Another full band, Before the End, a teen rock band from York, played the song "Come Together" by The Beatles, and they again killed it! Out of 5 members in the band, 4 of them were singers and they had amazing harmonies. Not only did they have an amazing performance, but they also had super cool graphics, their own merch stand set up, and they even mentioned their name and website from the stage! They checked all of my boxes for an organized band, and they are all under 18!
Heather Woleslagle (18), a performer from Mechanicsburg, played "Your Cheatin Heart" by LeAnn Rimes. She definitely has that country twang and did an amazing job at connecting with the audience. She is already a vocal student of Phil's and he was very proud to see her do such an amazing job for a live performance.
Carsyn Kinneman (17) an alternative rock/punk artist from Camp Hill did the song "Blister in the Sun" by Violent Femmes. At just 17 she's already been performing all over central PA, every opportunity she gets. She had the punk rock look down to a T, including stickers on her guitar! She had a very unique voice. She's currently working on her first EP, which will hopefully be released soon.
Faith Noel (16) a singer/songwriter from Gettysburg performed the song "Born This Way/Stupid Love (mashup)" by Lady Gaga. She started playing the keys, but then broke away and really started belting out the song and connected with the audience. She's already released an original song called "Believe" and she also knows how to play the ukulele, mandolin, and guitar!
Christian Yeager (18) is a country singer from Mechanicsburg, performed "Walking in Memphis" by Marc Cohn. He even bought some blue suede shoes to wear for the special occasion. He nailed the performance! Christian was recently on our Cover so I was able to learn a lot about him. He released his first single in May called "Born for a Friday Night" that is currently charting on MusicRow Magazine's Top 80 Country Breakout Chart. It's been getting lots of airplay on country music stations throughout PA and beyond! Congrats Christian!!
Addi Grace (12) is a performer from Palmyra. Even though she is the youngest in the competition, she broke out with "Ain't No Rest For the Wicked" by Cage the Elephant and she nailed it! Just days before the competition she was tempted to change songs because it is definitely not an easy song to sing, but she conquered it! Addi was the CPMA Winner in 2020 for the Best Youth Artist. She is so humble, but she is very talented and definitely an artist to watch!
Last but not least, was Emme Ryan (18) an Americana Singer/Songwriter from Shillington, performing the song "The Story" by Brandi Carlisle. It was awesome to see these young kids choosing and playing such old school songs. Emme released her debut EP "Roots" back in July of 2021. All day I was absolutely blown away by all of the talent!
The best part of the showcase was that there were no winners or losers, at the end of the day all of the artists were awarded with amazing opportunities or items from Central PA Businesses, everything from free recording, merch, advertisements, etc.. Brandon took the time to interview each performer and see what benefited them the most and hooked them all up with these amazing prizes.
The 3rd Annual Central PA Music Awards will be held at the Hershey Theatre on Thursday, March 24th. The tickets go on sale on January 7th. This is an amazing event every year and something you don't want to miss! The nominees will also be announced on January 3rd, so keep your eyes and ears out so you can vote for your favorite artist, business, etc, to be this year's winner!
My next night out was one we were looking forward to for months, The Glorious Sons at XL Live, presented by Harrisburg University. I first heard The Glorious Sons at XL two years ago, and I was so excited when I saw they were coming back! Based out of Canada these guys were on lockdown for a while, but they are finally back out on the road touring. It was awesome to get a bunch of friends together for a great night of music. Just rocking out and having a fantastic time! Brother Elsey opened up for the Glorious Sons and I quickly was addicted to their music too. With Harrisburg University and XL
Live, they are both bringing in amazing shows to our area. If you've never heard of a band that you see on their schedules, do yourself a favor and Google them, because chances are it is a band you won't want to miss! All of their artists are top notch! As a little disclaimer, it is true that some artists are requiring Vaccinations, or proof of a negative test to attend their shows. Please remember this has nothing to do with the venues decision no matter where you are seeing a show, it is completely up to the musicians. It's all a little crazy, but if it makes the musicians feel a little safer, then so be it.. but please don't take it out on the venues.
The next night I zoomed down to the Racehorse Tavern for Emily's Toybox. It turns out Emily's Toybox was actually paid to be there for a birthday party. His wife surprised him by bringing his favorite band to the Racehorse. It was awesome of them to still have the venue opened to the public because the public definitely showed up for this show! The Racehorse was packed and there were plenty of shenanigans happening! The venue was standing room only, but that's ok because most of us were up dancing anyway! It was awesome to hear them playing in a venue that doesn't make them sensor their show. Yes, Mike sometimes does get a tad bit harsh, but of course you can't help but laugh after the shock"er" wears off.
The following night started out early with a road trip to Shippensburg to see Derek Henry at Maxie's Brew House. Derek was totally shocked when Matt and I walked in. I love surprising people! We might have a little too much fun harassing Derek on stage, but he's able to roll with it, and make it a super fun night! Derek has a lot going on in January and February with not only his acoustic shows, but also Observe the 93rd. Make sure and like and follow his Derek Henry Acoustic page for all of his shows and details and come out and party with us. Derek is also nice and lets Matt play during his break, and I even broke out the ukulele for a song. Matt has an amazing and unique voice and I can't wait til he is out there playing a full show and letting Derek play during his breaks! Ha!
After Derek we zoomed to Johnny Joe's. We unfortunately missed the openers The Cretins, a Ramones Tribute Band, but I heard they put on a great show. We did get there in time to hear Spinebelt. Another band I've heard of for years, but finally got the chance to see. Butch Boyer again killed it on lead vocals and the whole band kicked A**! Definitely another band to keep on my radar, and hopefully our paths will cross again soon. The main reason for our trip there was to see the Suicide Puppets, who also happen to be on our cover this month. It's been a while since I got to see a full show, and we had a blast head banging the night away! Everyone was unmasked for the show except Donnie. It is crazy seeing the guys without their makeup, but if you want to find out why, check out their cover story in this issue. The Suicide Puppets had a super busy 2021, and already a lot of amazing opportunities on the horizon in 2022.
The next night out was another long one. My day started very early from a birthday sleepover with Mason and then with a trip up to Mom's to make Christmas cookies and celebrate her birthday! But on my drive home I couldn't resist, there were too many cool things happening in one area, so I drove past my exit and headed out to Snitz Creek for Devon Beck. Devon has been having a blast living in Nashville and having lots of amazing learning opportunities playing in Writer's Rounds and doing other shows, but she still loves her trips up North to play for her family and friends. When I got there I also saw Addi Grace and her parents, it was nice bumping into them too. They get Addi out everywhere they can to be exposed to as many musicians as possible. It's awesome to see musicians supporting other musicians.
After a set with Devon I ran down the road to the Winner's Circle for Whiskey on the Rocks who were playing as part of a benefit for the PA Wounded Warriors. The Winner's Circle was packed with people. It was awesome to see such an amazing turn out for the event. The dance floor was packed with so many line dancers, I really don't know how they manage to not fall on top of each other! I haven't heard Whiskey on the Rocks for a few years, but every time I do hear them I'm impressed! They played their new original "Captain America" that will officially be released on February 7th. It is a great song and one you definitely want to check out!
After a set from Whiskey on the Rocks, I finished the night down the street at Hollywood Casino with
Light Up the Moon. With three lead singers in their band there is never a dull moment! Every song is a surprise with such a vast expanse over the past 3 decades, you never know what they will play next. Rob even switched rolls with Joe and came out from behind the kit to take over the stage. They definitely had everyone dancing and singing along. I always have a blast people watching at Hollywood. They have a very crazy clientele for sure!
The last band of the month and of 2021 was the Vertigo Vultures at Riverside Camping Association. Angie, Michele, and I decided to take a road trip to finally check these guys out. We've heard so much about them, and we were happy we finally got the chance to see them! I never saw their lead singer Kyle Schnitzer before, but he is definitely a force to be reckoned with. He has the perfect voice with his bluesy growl to sing the classic and southern rock tunes they can pull off effortlessly. Steven Austin and Sam Sweigert I knew from Banished for Life, and then Kyle Hetzel on drums, and John Fischer used to play together years ago in a band called Full Moon. All of the guys together make one heck of a sound. Angie was very excited to even hear some Rolling Stones! Steve even added a keyboard to the mix, showing off his musical talents even more! We had a blast dancing the night away with these guys, and I'm sure our paths will cross more in 2022!
It's hard to believe that's a wrap for 2021! Again, it was another year of amazing musicians who ultimately have become my friends. I couldn't imagine my life without any of you. Music is definitely my therapy, and when I can't go out for one reason or another, I can definitely tell. I'm extremely grateful to everyone who has supported me and the magazine throughout the past year. By working together, we can make the music scene continue to happen in Central PA and beyond! Don't forget advertising is a great way to build your band or business. We have business cards for as low as $30/month. You can even pay in advance, and get it even cheaper! Give Josh a call and he will hook you up with a great deal… 717-636-4203.
Last but not least.. I need to shout out Happy Birthday to my beautiful sister, Andrea Green on January 6th! She's an amazing sister that I love ever so much!!!! And then January 8th, is my hubby, Kris Boob's birthday! He's my rock and there wouldn't be a Rachel Rocks if it wasn't for him encouraging me to get out of the house and have some "me" time.
Everyone have an awesome January! And if you see me Out and About please stop me and say Hi!! If you have any questions or comments feel free to hit me up at ,RachelRocks@pamusician.net. SUPPORT LOCAL MUSIC and SMALL BUSINESSES!