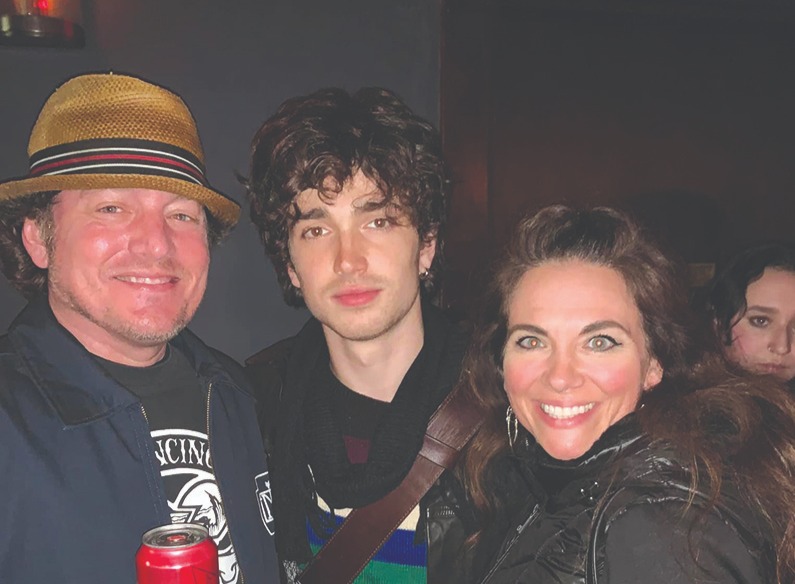 ---
By: Eric Hoffman
Greetings Rockers 'N' Rollers! Happy New Year! The live industry is projected to return bigger than ever in 2022 with an expected increase in ticket prices and fans eager to get back to live shows. Huge tours from major artists are being announced daily including: Jack White (49-dates), Tim McGraw (17-dates), Bob Weir (17-dates), Bonnie Raitt (19-dates), Nick Cannon (23-dates), Shinedown (24-dates), Billie Eilish (65-dates), Red Hot Chili Peppers (35-dates), Elton John (80-dates), Foo Fighters (39-dates), Eagles (13-dates), Justin Bieber (102-dates), Tenacious D (7-dates), Bright Eyes (12-dates) , Jack Johnson (30-dates), 'Weird Al' Yankovic (133-dates), Andrea Bocelli (5-dates), Iron Maiden (23-dates), Keith Urban (48-dates), Chris Stapleton (27-dates), Judas Priest (24-dates), Twenty One Pilots (23-dates), Greta Van Fleet (24-dates), Robert Plant & Alison Krauss (18-dates), Brian Wilson & Chicago (25-dates), Styx & REO Speedwagon (35-dates), Journey & Billy Idol (40-dates) and The Cure (44-dates in Europe). And the tour announcements show no sign of slowing.
Last month, Philadelphia legends, The Hooters visited the mid-state with a show at Harrisburg's XL Live on Dec 4 presented by Harrisburg University. The band combines elements of rock, reggae, ska and folk music to create their sound and gained major commercial success in the mid-80s due to heavy radio airplay and MTV rotation. The Hooters are most known for their hits, "All You Zombies," "Day by Day," "And We Danced," "Time After Time" and "Where Do the Children Go." In 1985, The Hooters opened the Philadelphia portion of the infamous Live Aid benefit concert.
On Dec 8, REO Speedwagon played to a packed Penn's Peak in Jim Thorpe, PA. The legendary band which formed in 1967 in Champagne, Illinois continues to tour frequently and is currently touring to celebrate the 40th Anniversary of their best-selling Hi Infidelity, which contained four US Top 40 hits and sold more than 10 million copies. The band has sold more than 40 million records in their career and had two number one hits, "Keep On Loving You" and "Can't Fight This Feeling." In March 2020, REO Speedwagon, appeared in an episode of Netflix tv series Ozark, which reentered four of REO's songs into the Billboard rock charts.
Canadian band, The Glorious Sons, returned to Harrisburg's XL Live on Dec 9. The band had visited Central PA once before in February 2019. The Glorious Sons have released three albums since forming in 2011 and are known for hits, "Everything Is Alright," "White Noise" and "Sawed Off Shotgun." They have eight consecutive top-10 rock radio hits in Canada.
The highlight of this past month included a trip to New York City to see two incredible shows. Inhaler (from Dublin, Ireland) played an amazing sold-out show at Mercury Lounge. The young band is gaining popularity at an alarming rate, with sold-out shows and a recent appearance on the Jimmy Kimmel late-night tv show. Inhaler sound reminiscent of early U2 music – possibly in part to singer Elijah Hewson being the son of singer Bono. Inhaler return to the States in March – nearby shows include Washington DC's 9:30 Club on March 7 and Philadelphia's TLA on March 8. The following night, Toilet Boys opened for Lunachicks for a sold-out show at Webster Hall. Both legendary New York City punk bands were awesome and hadn't played together in over 20 years. There is a distinct feeling of something truly incredible when original New York City bands play their City.
NATIONAL NEWS: Eddie Vedder is ready to take his new band on the road. After making their live debut at Vedder's own Ohana Festival in September, the Earthlings will join the Pearl Jam frontman for a run of dates in February. The Earthlings feature drummer Chad Smith, keyboardist Josh Klinghoffer, bassist Chris Chaney, guitarist Glen Hansard, and guitarist Andrew Watt. Eddie Vedder's new album, Earthling, due out Feb. 11. The album marks Vedder's first new solo project since 2011's Ukulele Songs. The 8-dates tour begins with two nights at the Beacon Theatre in New York Feb. 3-4.
Bright Eyes will resume their reunion tour next spring. The band's upcoming trek will see them performing songs from their most recent album, 2020's Down in the Weeds, Where the World Once Was. The band's spring shows also include stops in Pittsburgh (Apr 5), Philadelphia (Apr 8), Washington, D.C. (Apr 9). After wrapping up their North American tour dates, Bright Eyes will hit the road in Europe. Bright Eyes announced a 2020 tour in January 2020 that was moved to 2021 due to the coronavirus pandemic. Due to the outbreak of the Delta variant over the summer, Bright Eyes canceled the indoor shows on their rescheduled 2021 tour.
Foo Fighters announced a North American summer tour that will take the revered alt-rock band to stadiums, amphitheaters and festivals. The Foos first hit the road in May, with dates at The Pavilion at Star Lake in Burgettstown, Penn. (May 14), Merriweather Post Pavilion in Columbia, MD (May 16 & 18) and Philadelphia's Lincoln Financial Field (July 24). Foo Fighters were leaders in live music's return this year, staging the first full-capacity concert at New York's Madison Square Garden since the pandemic began on June 20, which doubled as one of the first arena shows in the country since coronavirus' March 2020 arrival.
Jack White announced an extensive 2022 tour that will take the legendary rocker to arenas, theaters, amphitheaters and festivals in North America and Europe. White kicks off "The Supply Chain Issues Tour" in his native Detroit. Live Nation will produce the tour, White's first headlining run on his own in four years. Stops include: Pittsburgh's Petersen Event Center (April 14), Washington, D.C.'s Anthem (April 19), Baltimore's Pier Six Pavilion (Aug 24). In November, White announced plans to release two new albums – his first since 2018's Boarding House Reach – in 2022, with Fear of the Dawn arriving April 8 and Entering Heaven Alive dropped July 22.
Midnight Oil announced the routing for its final tour, set to launch Down Under in early 2022 and titled "Resist" after its new album. "Having always tackled every tour like it's the last – this time it actually will be," said singer Peter Garrett, adding, "We've reached people in ways we never could have imagined. Our desire to create and speak out is undimmed." The iconic band created global waves since the late 70's with anthems about social injustice, indigenous rights, nuclear nightmares and environmental issues. In 2017 Midnight Oil returned from a long hiatus for an epic "Great Circle Tour," selling out 77 shows in 16 countries.
Bruce Springsteen has sold his publishing catalog to Sony for a reported $500 million. The musician has sold his masters and his publishing to Sony Music in a combined deal. Springsteen has remained with Sony's Columbia Records since he launched his career and has sold 65.5 million albums. Springsteen joins a list of artists who have parted ways with their publishing rights, including Bob Dylan, Paul Simon, Stevie Nicks, Lindsey Buckingham, Mick Fleetwood, Shakira, Jimmy Iovine, and David Crosby. Neil Young explained to fans after news of his deal broke, "Time is passing. I want to cover my family and my art … A good father plans on how to take care of his children."
Michael Nesmith, the wool-hatted, guitar-strumming member of the made-for-television rock band The Monkees, died at the age of 78. Nesmith, who had undergone quadruple bypass surgery in 2018, died at home Dec 10 of natural causes, his family said in a statement. Nesmith was a struggling singer-songwriter in September 1966 when "The Monkees" television debut turned him and fellow band members Micky Dolenz, Peter Tork and David Jones into overnight rock stars. The Monkees had 6 songs become Top 10 Billboard hits during the show's two-year run. Three others, "I'm a Believer," "Daydream Believer" and "Last Train to Clarksville," reached No. 1.
This month marked record breaking guitar auction sales. Paul McCartney's Yamaha BB-1200 electric bass guitar that was played on tour and in the studio with Wings sold for $496,100, overtaking Bill Wyman's 1969 Fender Mustang bass that sold for $384,000 last year. Eddie Vedder's placid-blue Fender Telecaster that was smashed during Pearl Jam's show at Wrigley Field on August 20, 2018 during a cover of The Who's "Baba O'Riley" and signed by the frontman, sold for $266,200 – which broke the record for highest-selling smashed guitar at auction.
The Rolling Stones were the highest grossing tour of 2021, bringing in $115.5 million and more than 516,000 tickets over the course of just two months. The World's Greatest Rock & Roll Band, outdid themselves nearly 60 years into their infamous career. What the Stones achieved in 2021 with the restart of their "No Filter Tour" stands out as among one of the legendary group's greatest accomplishments. The immense loss of Charlie Watts, the original Rolling Stones drummer. His passing at age 80 on Aug. 24, 2021, just a month out from the "No Filter" kickoff, was a blow for The Stones, "We knew he was in the hospital, but we thought he was doing okay. He had insisted we do the tour without him if he wasn't going to be able. We were hoping that he would come back somewhere in the middle of the tour, but he insisted we do it, and so we did." With the Stones 60th year approaching, the band's marketing department was asked whether the band will tour, their reply "We can't talk about it." Which is a far better answer than no.
UPCOMING SHOWS: Menzingers – Harrisburg HMAC Jan 7. The Super High-Tech Jet Fighters – York, West York Inn Jan 8. Jet Silver – Lancaster Tellus 360 Jan 14. Jimmie's Chicken Shack – Millersville Phantom Power Jan 14. Martini Bros – Hershey Englewood Jan 22. Anthrophobia – Bensalem Broken Goblet Jan 21. Anthrophobia – Pottstown Rivet Jan 22.