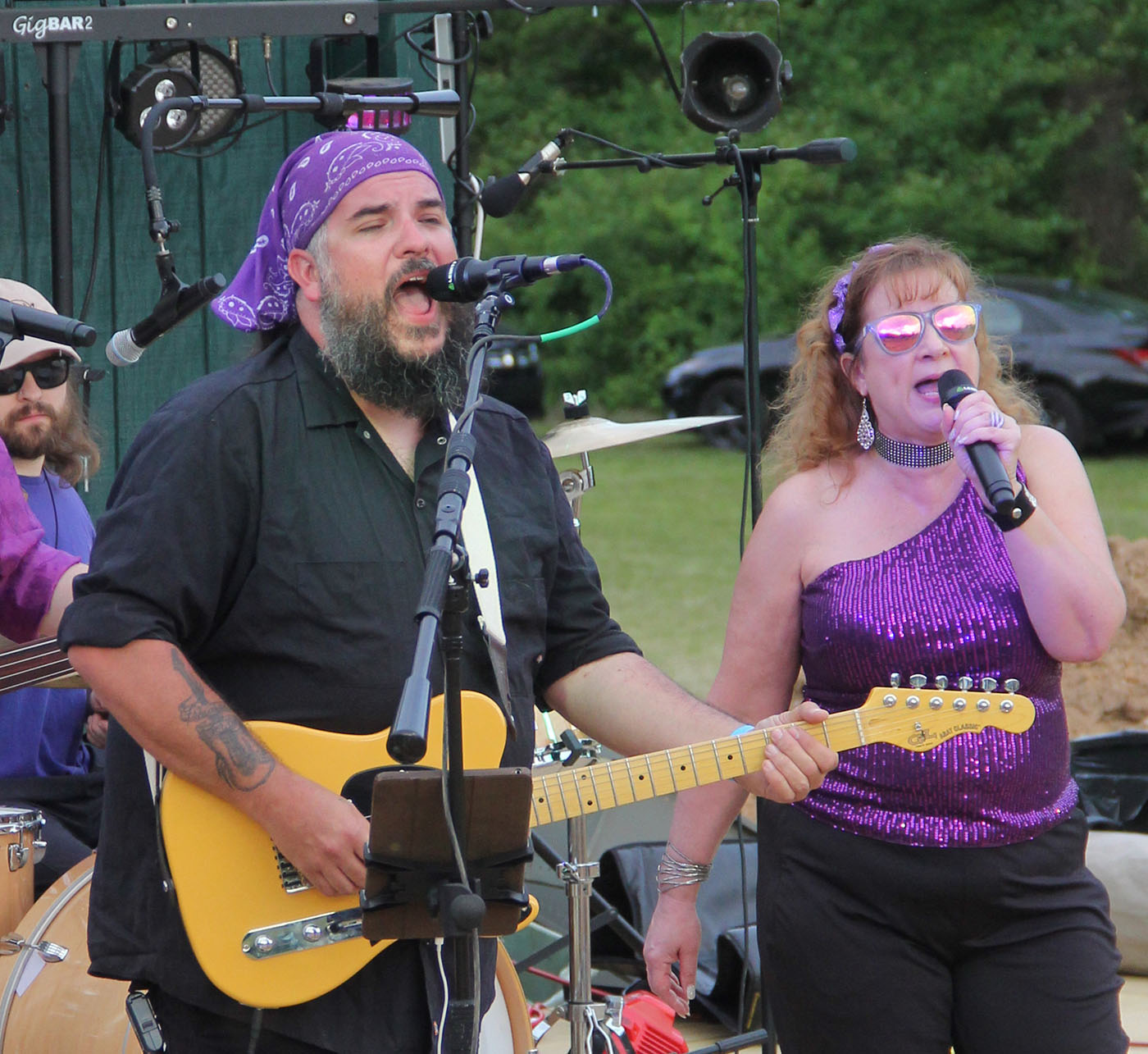 Colin Alvarez Band At Free Spirit
---
It sure is a steamy day here in PA! Summer is definitely here! I had a super long month filled with super fun events, inside and out, and all around the world!
My fun starts off way back on Memorial Day Weekend. My job with BRP Entertainment had me busy traveling around deadline time so I had to get my article done a little early last month. After lots of laughs with Rodney Carrington I flew home and immediately flew down the road in my car to Jen-Jen's Rhythm & Brews to see Steel. We all know how much I love these guys, so I'm always super happy when our schedules align! Did you ever see a bass player play a keyboard with his feet while he's playing bass with his hands? It's quite the interesting trick that Dave has become the master at doing! Trevis has also added in some electronic pieces to his kit to help make some other crazy sounds! (As if he's not already crazy enough!) Kyle is really finding his footing and make himself home behind the mic. Aaron, well.. I just absolutely love to see him shred away on his guitar with a huge smile on his face. They've added in so many new songs to their show! Every time I hear them, I hear something new! If you haven't seen Steel in a while, do yourself a favor and get out to one of their shows. Check out their schedule in this issue!
The next day I headed up to Free Spirit Music Festival for some music and camping! Two of my most favorite things! Sunday started with MItch Gregory Blues. It's kind of crazy to say it, but Mitch's Blues really do make you smile. He puts his own twist on some favorites all while cracking jokes and interacting with the crowd. He's also his own little one man band with all of his little percussion instruments. Matt Jameson was up next, he had a few of his fans from The Doyle come out to see him play, and he also brought some campers down the hill to check out his set. Matt's upbeat sing a long songs had the crowd hootin' and hollerin' and having a good time. Kenny Jenkins and the Good Little Americans played next and kept the party going! The crowd was starting to fill up, and get a little rowdy. I never heard them play before and I was surprised at their song choices. Last, but not least, was the Colin Alvarez Band, another new band for me! By the end of the night they had everyone out of their seats and on their feet, dancing and singing along! Colin and Joann do an amazing job sharing lead vocal duties, but also harmonizing and backing each other up too. It's always cool to hear the versatility of bands with multiple singers. They also had the multi-instrumentalist, Virgil, who also sang lead on a few songs too. They were definitely a great band to end the night! The Festival was a lot of fun. I know the attendance was way lighter than they were hoping, but I know the people that were there to support it definitely had a good time! They are having another music filled weekend July 21st-23rd for their Earth Festival, check it out at www.peacefulpeoples.info. Free Spirit is a nice family friendly campground in the middle of Perry County. If you're looking for a fun place to camp and have some awesome live music, Free Spirit is the place to be!
On a Tuesday I had the opportunity to volunteer at the Masonic Home with my BRP Entertainment team. We visited with residents and also had Roy LeFever come in and entertain them, tickling those ivories. We also brought our Chief Happiness Officer, Sally, a Cocker Spaniel, who really helped bring smiles to many faces. Roy is a man of many talents and also is very close friends with Mr. Claus! We had a great day giving back to our community.
A big event this month was my nephew, Robert Greene graduating from High School. Before he graduated he had a special performance at school that they recorded to put on youtube, it was a special Tiny Desk Concert at Big Spring High School. Robert wrote all of the music, lyrics, etc. His good friends, Addison Brough, and Andrew Malick played the bass, his Dad, David Greene played the drums, his music teacher, Edward Wilson was on keys, and Robert sang and played the electric guitar. Robert's music is a fine mixture of pop rock and blues. His lyrics are very heartfelt and at times emotional. Quite impressive Robert! The sky is the limit, and I can't wait to hear what you create next. Papa would be so proud!! I know I sure am.. You can check out Robert's concert here: https://www.youtube.com/@BigSpringsTinyDesk/featured
On a Thursday night I was able to catch Derek Henry at the Doyle Hotel. The Doyle is such a cool spot, always filled with people who love music. Derek had a nice little crowd. My Mom picked me up for this show, so she was finally able to see Derek perform and see some live music. She now understands why I like to go see him so much! HA!
Matt played at least 24 shows this month, so of course I caught a few of them, especially since I didn't have a license for the month of June and I relied on Matt and Holly for my rides! We made a trip to Shy Bear in Lewistown which is an awesome place to catch any band. They really have a neat set up, not to mention delicious food and beverages!
On a Saturday we had a super long, yet very productive day. Matt first played at Battlefield Harley for Roots for Boots who was raising funds for Navy Veteran, Jason Berry. Next we zoomed up to Love Shack where he was provided some vocal assistance by the upcoming star, Jackson. He's only 6, but that boy loves to be on stage and he helped Matt sing a few songs. We then made it in time to catch Mike Foltz outside under the tent at Shermans Creek Inn. Mike had the tent full of people singing along, enjoying his music. He was just getting the party started because next, it was inside at Shermans Creek for Ten Ton Stone. I caught Ten Ton Stone once before, and I was glad our schedules finally aligned once again. Ten Ton Stone quickly had the dance floor packed and everyone was having a great time. Their energy was definitely contagious to everyone around them. They also passed around the lead vocal role and could cover a large amount of music. We didn't last long after a very long day, but I'm glad I was able to catch them for a while.
On a Wednesday, Michele came to pick me up and we headed down to the open mic at Blue Sky Tavern. We had a delicious dinner and listened to a few of the first acts of the night. Erica cut the open mics back to 6:30pm to 8:30pm for the Summer, so if you want a spot, come early and get signed up! After dinner we headed to Flinchy's for RJ Moody. It was a beautiful night to sit out on the deck and listen to good music. RJ plays a majority of country, but this night he was getting a lot of rock requests so he was playing a little bit of everything. It was an awesome night of music, friends, and shenanigans!
The next day I headed out to Hollywood at the Meadows for Trace Adkins on Amtrak. The train is an awesome and very affordable way to travel, but it's not quite so awesome when the train engine breaks down and you have to wait for a new engine! We had about a 4 hour delay, but eventually we got chugging along. Trace Adkins put on a great show, if you ever get a chance to check him out I highly suggest it.
The next day was another busy one, I hopped back on the train and headed back to Harrisburg. Holly came to pick me up at the train station, and we immediately drove to Appalachian Harley Davidson for their birthday bash with Road Case and Back in Black. It had been way too long since I got to see either band, so when they were both playing together, I knew I needed to be there. Road Case was in full swing by the time I got there. The entire pavilion was packed full of people. It was a super beautiful day so there was a sea of motorcycles, filling the parking lot! Chris Redding's vocals tied in with the singing guitars of Chris DellaPorta and Clint Lyons are unmatched in the area. Add in the backline of Jeff and Ed, and it's one heck of a show! So glad there were no train delays on the way home so I could make it to the tail end of their set. Road Case will be playing July 15th with Hot & Dangerous at Shermans Creek Inn. That will definitely be a party you won't want to miss!
When Back in Black took the stage a sea of people converged on the pavilion, and all of the area around it. It would've been cool to see some drone footage of that pavilion bursting at the seams! These guys always put on one heck of a show! It was great to see so many faces I haven't seen in a long time out there rockin' on a beautiful Saturday afternoon. It is kind of crazy seeing some people during the daylight that you usually only see at night. HA!
This day wasn't over yet, next we went to Jigsy's to see Matt Jameson finally perform out on their gorgeous patio this season. It was a beautiful night and the patio was filled with people enjoying the show! Jigsy's has the most amazing Old Forge pickle pizza that I always rave about, but seriously all of their food is top notch! They might be a little small in size, but they are mighty!! If you want to have a fun night out on the town give Jigsy's a try! You can check out their ad in this issue to see their full schedule and more information.
And believe it or not, this day still wasn't over! Next stop was at the Underground Live for none other than Penntera!!! Again, this show was on my radar for months, exhaustion was not stopping me for getting there to bang my head at least for a little while! We literally ran through the door and instantly started moshing, dancing and having a good time! I'd have to say the guys in Penntera were happy to see us come through the door for sure! The Underground Live has really done a lot of improvements! The lights and sound are top notch, and it's currently BYOB, so in the end it turns out to be a pretty cheap date for some amazing music! Check out their ad in this issue to see their full schedule, and get out there and support live music!
A few hours later, my family jumped in the car and took an adventure to Maine which was absolutely stunning! I highly suggest a trip up North if you've never been. Believe it or not, I still found a couple beaches up there! And I even walked across a sand bar to an island at low tide! Fun times all around!
When I got back I was quickly picked up and hauled around to a few more of Matt's shows, and I even caught another Derek show at the Sherwood Inn. We were able to surprise Derek which is always fun! Last but not least Kris drove me out to the Fredericksburg Eagle Hotel to see DMC Duo. The HOTel was steamy yet super fun! And the food is always fabulous! DMC Duo didn't let their sweat stop them! They played some great music and kept us all thoroughly entertained. I'm glad I got there in time for a couple of their originals! They really are great songs. Just ask Alexa to "Play DMC Duo," and find out for yourself! DMC Duo won't be back to Fredericksburg Eagle Hotel until December, but you can catch them all throughout the midstate til then. You can also catch a lot of other great shows at the Hoootel, check out their ad in this issue to see their full schedule.
Well, even without a license I covered some good distance. Don't drink & drive friends. The penalties really aren't worth it, I promise.. Once I get my wheels back in a few more days, I'm hopefully going to be bopping all over the place, catching live music wherever and whenever I possibly can. If you see me Out and About please stop me and say Hi! Don't forget our website is finally updated and ready to rock thanks to the amazing Dave Moore. Check it out at www.pamusician.net.