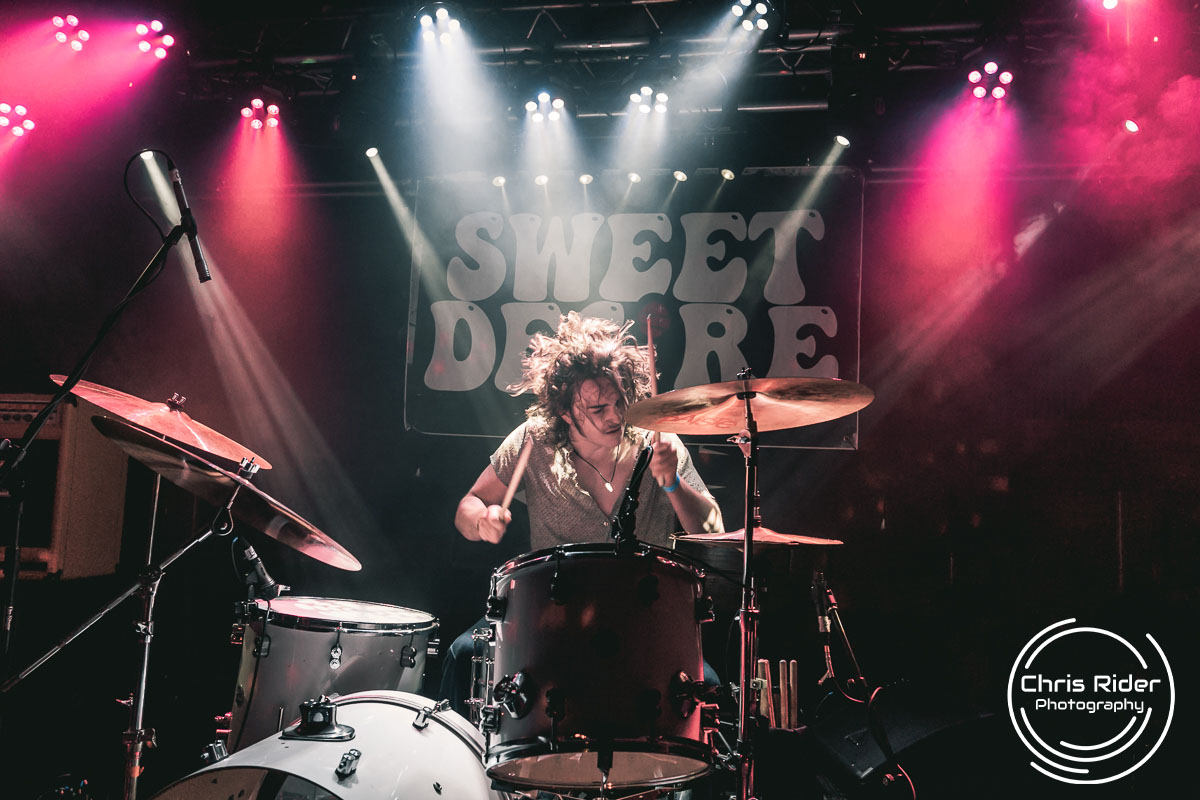 Sweet Desire
---
As I'm starting to type my article and waiting to see if these thunder storm warnings actually materialize in to anything real, I get to sit back a bit and reflect (occasionally interrupted by my dogs running laps through the house LOL) on the music I had the pleasure of enjoying over the last few weeks. Once again, this month confirms that our live music scene that we have here is not only full of talented musicians, but good people as well. It's always fun for me to meet the artists when I get the chance to and just talk to them…about music, about life, about whatever comes to mind really. It helps, at least for me, restore some faith in humans when much of the media is just so full of negativity. This month was insanely busy for me outside of the music scene, but I still managed to get out and see some great music.
Our first trip was up to Iron Vines Winery in Sunbury to see The Dream Catchers play an energetic set of music for a great crowd. Covering songs like Brown Eyed Girl, Dancin In The Dark, Black Horse and the Cherry Tree, and Runaround; Ken and Bonita do a great job playing for the crowd and interacting with them throughout their set.
Next up we headed to The Vineyard and Brewery at Hershey for the Central Pennsylvania Music Hall Of Fame's Open Mic event. Each performer got to play three or four songs for the crowd throughout the event. Performers included John Rossey (also the host of this Open Mic), Tommy B, Dave Kaminski, Chrissy Rossi, Vince Yarnell, Kopper and Kash, Zack Herse, Cory Rosen (of The Story Podcast), Josh Brokaw, Casey Walton and Jon Garcia. It was a wide mix of styles among all of them and each of them did a great job. This is a monthly event and will have a new host each month. July's event will be hosted by none other than Shea Quinn on July 9th. It'd be awesome to see even more people at the next one. The wine is tasty, the view is beautiful and the music will absolutely be worth listening to!
A few days later I decided to visit The Doyle Hotel in Duncannon for an artist I wasn't familiar with playing country music. Talking to Marcus Pearson, I found out that the reason I wasn't familiar with him was that he'd recently moved to the mid-state from Arkansas. I had a blast talking to him for a few minutes between sets, what a really cool guy. Marcus played a mix of country covers and well written and heartfelt originals as well as a few rock covers. His smooth acoustic guitar work combined with smooth vocals worked really well and made me an instant fan.
The following night I trekked down over the Shermans Creek Inn in Shermans Dale. I'm starting to think Troy should rename the Creek to Cheers as it has that sort of vibe to it for me LOL. This evening, Cody Ross Smith brought his solo acoustic country act to the Creek for a house that was pretty well packed. Playing a mix of covers and originals with a classic country style mixed with a dash of outlaw, his deep and sometimes booming vocals carried throughout the joint and had lots of fans singing and dancing along.
The next day, I stopped by the Roadhouse Pavilion at Appalachian Harley for a bit before I had to head out to a private party. The folks there were celebrating Appalachian's 22nd birthday with a huge crowd. Road Case was blasting them from the stage with their classic rock covers like Bad Motor Scooter, Delivering The Goods, School's Out, and a ton more. I'm not sure who was having more fun between the crowd and Chris and the guys on stage.
My final show to see for the month was one that I'd been looking forward to for a while. Darlene Hassinger (did you see her article & pics in here the other month?) had told me about a band from Altoona that was going to blow me away, and I was finally going to see if they held up during this show that they headlined at The Underground LIVE in New Cumberland. Opening up the show was Quarryville based Downwind From Gettysburg, a four piece rock band whose oldest members are eighteen years old. They've been together for only around a month and were playing their second show this evening. I have to say, I never would have guessed they were such a relatively new band as they played with skill and had a solid stage presence. Female fronted, with killer instrumentals behind her, the band covered songs like Mississippi Queen, House Of The Rising Sun and Sweet Child of Mine. If that wasn't enough, they busted out a few originals (that they're currently in the process of recording!) like Something To Feel (coming to streaming services soon) and Comanche, which was a song about "weasels or something" according to them LOL. Headlining the evening was Altoona based Sweet Desire, a four piece band of guys ranging from seventeen to nineteen years old that play with a style that makes me believe they were born several decades later than they should have been. The guys have been playing for about two years now and are entirely self-taught. They played a number of covers from bands like Led Zeppelin, The Doors, Humble Pie and more, as well as several originals including their newest release 'Raspberry Joe Blues' (which I think I've listened to at least a dozen times or more so far on Spotify). They have a huge classic rock style and energy with a very full sound. Their confidence and incredible presence on stage belies their age beyond a doubt. Seriously…if you get the chance to see them play, do yourself a favor and do it. I promise you won't regret it!
So there it is, my month of music through my eyes and ears. Just a reminder:  if you've got a show coming up that I should see; make sure to send me an invite, shoot me an email or a message, let me know about it. Venues: please don't hesitate to reach out to me as well. The majority of the shows that I go and shoot I find out about through invites from all of you or your friends. Hit me up on facebook: @chrisriderphotography or email: chrisriderphotography@gmail.com, stop me if you see me and say hi. Until next month…go find some live music and give them and the venue your support, they truly need it more now than they ever did.