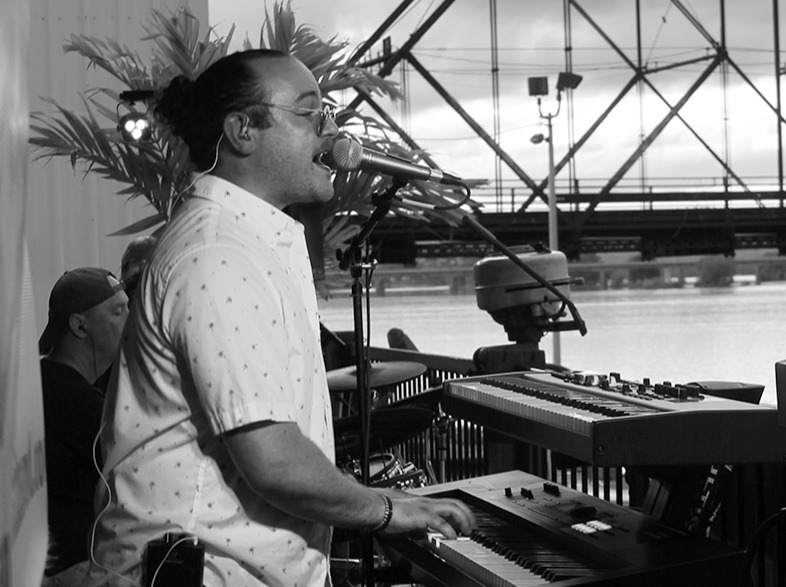 ---
By: Rachel Rocks
What a whirlwind of a month! Every month it is the same thing, I feel like I hardly saw any bands, and then I start to review what I did see.. Here's the list: Brotality, Voice the Chaos, Nail Bite, Living Dead Girl, Fate Destroyed, Phil Cannizarro Acoustic, Six Bar Break, Ten Ton Stone, Shine Thru the Shade, Derek Henry, Matt Jameson, Emily's Toybox, Staying Vertical, If Not For Me, Dead!, Dave Gates, Franchise Band, Little River Band, Trailer Park Ninjas, and Katz 22! Whew! I better start typing…
It all started a few weeks ago at Lovedrafts for the super special Nail Bite show. Living Dead Girl and Fate DeStroyed were touring through the area, and who would be better than Nail Bite to open for 2 rockin' bands with female lead singers. Nick from 717 Entertainment got the show all lined up and ready to rock! Local bands, Brotality and Voice the Chaos were also on the bill. As the show got closer, we heard word that Danny Wimmer Presents was going to fly in from California to do a live stream at Lovedrafts during the show. Needless to say, everyone was very excited! What an amazing opportunity for these kids! It seems like every time I scroll through my feed Nail Bite has another exciting announcement. Brotality kicked the show off. This band was formed by two brothers based on faith, love, and heavy music. Their energy immediately got the crowd pumped up. When there is a crazy line up like this one I should've known it would be an energy packed show! Brotality is releasing a new album in June, go check it out! Voice the Chaos didn't let up on the gas! I loved watching them play again. They are a local band and our paths have crossed before. Nail Bite was very pumped up for this show. Their energy was infectious and they had the crowd moshing and having a good time! It was awesome how Living Dead Girl and Fate DeStroyed both have female lead singers. It's not too often you see female fronted metal bands, but these ladies definitely don't mess around, but no one quite had a growl like Lonna from Nail Bite! Overall it was a fantastic Thursday of music!
My next night out started with Phil Cannizzaro at High Road Taproom in Walden in Mechanicsburg. High Road Taproom is a new venue. It's just a little place, but they have quite a few taps with different beers from local breweries. Phil recently released his very first single "Runaway" featuring Tyler Adkins. Phil gave us a little listen before the official release. The song is a great mix of rock/pop and will definitely be added to my playlist.
After Phil we headed across town to Springate Arcona for Six Bar Break. This is another new venue for me, and I loved it. I haven't seen Six Bar Break for a while so it was great to cross paths with them again. Six Bar Break always records their shows and then after some editing, they share the videos on their social media pages. It is a great way to get some more exposure for their music, but also allows other people to see and hear what they sound like on the various stages throughout the midstate and beyond. It's a fantastic way to promote your band. You can check out Six Bar Break's full schedule at www.sixbarbreak.com, get out there and support live music.
I guess it was the month for female fronted bands, because my next night out, I went to Big Bottom Brewery in Dillsburg for Ten Ton Stone. With so many singers in the band they can easily cover all of your hard rockin' favorites from Guns n' Roses to Alice in Chains! They were playing in the back parking lot this night for a big birthday celebration. Everyone was having so much fun, they even played til it was completely dark outside and you could barely see the band on stage! Ten Ton Stone didn't even miss a beat and just kept rockin quite literally, the night away!
After they ended we hopped down the street to Devil's Eye Brewing Company for Shine Thru the Shade. They are an acoustic duo with Andy and Kevin from Adrian Blitzer. I was shocked to hear some of the songs they covered like "What's Up" by 4 Non Blondes, but I loved every choice! It was a great way to finish off the night.
On a Wednesday night I had this month's first Derek Henry sighting at the Dillsburg VFW. They love getting Derek to play for their bike nights. I just love it since it is Wednesday live music! My weekends are so jam packed, especially now, so I will be looking for more weekday shows. If you have a weekday show, make sure and hit me up at RachelRocks@pamusician.net. It's crazy to see how many shows Derek is getting. Over Memorial Day weekend he had 5 shows, 3 on Saturday alone! I have no idea how he can sing and play for 9 hours in one day. My hand cramps up after an hour, and I only have 4 strings! Oh to be young again! You can keep an eye on Derek's schedule at facebook.com/derekhenryacoustic or through Observe the 93rd's website, www.observethe93rd.com.
On a Friday night I zoomed out to Hollywood Casino for Emily's Toybox. I love seeing those guys every chance I get. They are always so much fun! I was a bit bummed because I heard that Millhouse brought back the Saxophone. It's awesome watching him wail away on that thing! I was thrilled to see Jay Hunter from iRockRadio take a night off to party with friends. We had a blast dancing the night away to some great music performed by ETB.
Saturday was a super special day because it was my turn to be on stage again with my duo partner Matt Jameson, in our project Staying Vertical. We played at the Millerstown Pool's special event called the Sip n' Dip at the Newport Fairgrounds. Unfortunately, that was a cold and rainy Saturday, but I was thrilled that there were still some die-hards that showed up, and of course our families! One thing for sure, to be successful in music, you really have to have a strong family base, and we are truly blessed! We also had another show later in the month at Copper Pub and Grille in Linglestown. It was a beautiful night so we had the deck filled with family and friends! It was bittersweet because as it turns out, I just got a new Part Time job working with BRP Entertainment as an Entertainment Liaison, so therefore I will be even busier which of course takes time away from me playing music with Matt. He's still going to persevere and play on his own, you can follow him and check out his schedule at www.facebook.com/mattjamesonacoustic. Ya never know what shows I'll be home for, and every now and then you might see me up on stage to sing a song or two. Matt and I will always be friends, so I'm sure we will both make sure I continue to work on my ukulele skills. And the best part is, as I travel, my uke is small enough to fit in my suitcase! You definitely haven't seen the last of me yet.
After our show in Newport we zoomed back to Lovedrafts in Harrisburg to catch the DEAD! Show. DEAD! Is a My Chemical Romance Tribute Band. Derek is the lead singer, but he plays along with six other guys for this band. Logan, Dylan, Mitch, Evan, Greg, and Brandon. You can usually find most of these guys in some part of the Rock Mill Industries group, but it's always awesome seeing them all up on stage together rockin' out! The energy at a Dead! Show is absolutely crazy and usually includes at least a few crowd surfers and this night was no different. The show was sold out and Lovedrafts was packed, but the staff did a great job at handling us all, and overall it was an awesome night! DEAD! Usually only comes out around Halloween, so it was awesome to see them for Cinco De Mayo. They have another super show planned for XL Live around Halloween, keep your eyes out for the date.
This year I didn't get to go to the beach with my Mom and my sister for our annual beach trip, so I decided to grab my dog Rocky and head to the Harrisburg Beach Club so at least I could see the "beach" on Mother's Day. Much to my surprise Dave Gates was there entertaining the crowd. For those that don't know The HBG Beach Club is at the end of City Island. They completely redid the old bath house into a very nice bar area, and even a private party room. Outside is filled with comfy chairs and couches and of course it is on the banks of the mighty Susquehanna River. Everyone loved Dave so much that they asked him to play an extra hour which I heard turned into an hour and a half! It was awesome seeing such a great musician get so much love from the crowd. Dave plays all over the place! When you see him out there stop by and give him a listen, you won't be disappointed.
My next weekend was my first weekend working for BRP Entertainment. I had to go work with the Little River Band at Holly Casino at the Meadows out by Pittsburgh. Meadows has a walking bridge to the Hyatt Hotel, so it was super easy and convenient to stay right at the casino. We hopped on the train from Harrisburg to Pittsburgh. The train was a super awesome experience, so relaxing! Much better than driving out thru all the unpredictable traffic and paying tolls! Friday night I decided to go check out the H Lounge and I'm glad I did because I was able to catch the Franchise Band. They are known as Pittsburgh's ultimate dance band, and they definitely live up to their reputation. They had the dance floor packed and people were having a great time dancing and singing along. The Franchise Band is filled with fantastic singers so their variety of songs they could cover was awesome too! It was an awesome night of music and a great welcome to the Pittsburgh area. Saturday was the fun filled day the arrival and set up of the Little River Band. It's pretty cool seeing all of the pieces align and seeing all of the behind the scene details. Plus the other super cool part is after the show starts, I just get to sit back and enjoy the show! Even though Wayne, the lead singer, is the only original member, they still take their harmonies very seriously for their unique sound. It's quite impressive, and they make it seem so easy! The Little River Band has been rockin' the world, one show at a time for over 40 years and they don't plan on stopping anytime soon! After we got the Little River Band back in the tour bus and on the road, I had some time to go back to the H Lounge for the Trailer Park Ninjas. They played a lot of the sing-a-long party songs that everyone loves. After a great weekend of music and fun it was time to hop back on the train and back to reality. Working for BRP Entertainment is definitely an exciting new job for me. Even though I will miss a lot from my immediate local scene I'll still be Out and About supporting live music wherever I go!
The next band for this month was Katz 22 at Dockside Willies. Dockside Willies takes a minute to get used to because they set the band up a level along a deck railing so people can see the show from either deck outside. The lower deck is more of the party area with sand under your toes and palm trees all around! I can't believe Katz 22 did their opening song as a Journey song! They definitely don't waste any time at playing all of your favorites and making sure you are thoroughly entertained. With Kathy, Rusty, and Zach all singing they can really cover an insane variety of music to keep everyone entertained and amazed. It was cool to see John Hawk back behind the kit too! Katz 22 has quite a few shows lined up for the Summer. Check out their ad in this issue and get out there and dance the night away with Katz 22!
The last act of the month was Matt Jameson Acoustic at American Legion Post 974 for their very special Memorial Day Event to honor and remember those that gave their all for our freedoms. Matt has been learning so many new songs. He's having an absolute blast back on stage and he's only getting started! Matt plays all of your favorites from the 80s, 90s, and today! It's so awesome watching him do what he loves, and that's play music! You can check out Matt's ad in this issue to see how you can get him booked at your venue or private party! You can also check out some videos at facebook.com/MattJamesonAcoustic.
Fortunately for me, but not so fortunately for Harrisburg is that I will literally be in town one weekend in the month of June. If you have weekday shows please let me know, and I'll see what I can do, RachelRocks@pamusician.net. Don't forget about the Cannabis Health Expo event in Steelton on June 4th! There are so many great shows happening all over the place. Please turn the pages of the magazine, check it all out and make your plans to get out there and Support Live Music! You can check out the full Digital Issue at www.pamusician.net.