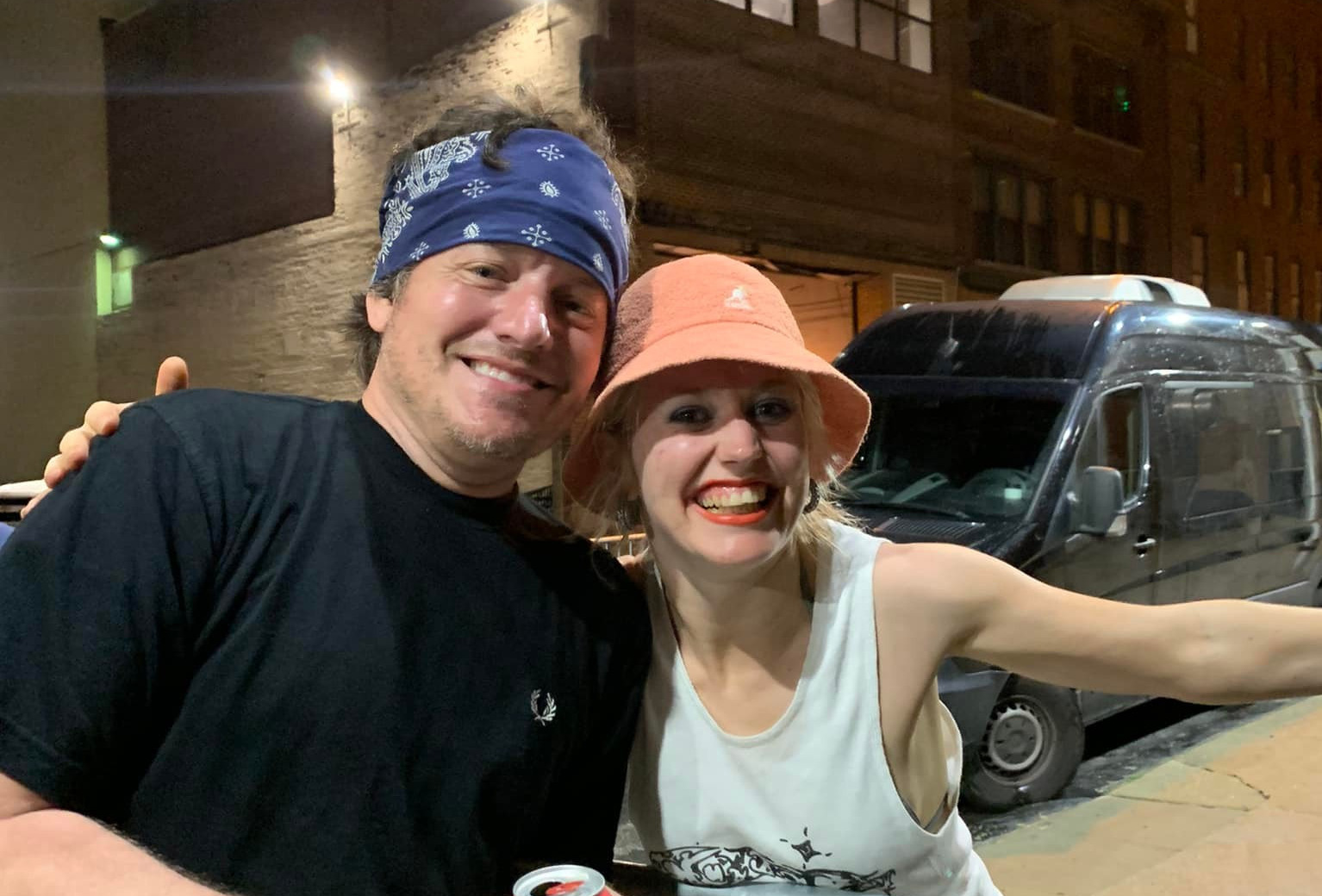 ---
By: Eric Hoffman
Greetings Rockers 'N' Rollers! Ronnie 10/10 Younkins of KIX made his live return to the stage at Racehorse Tavern in Thomasville, PA on May 13th. His side-project band 'Blues Vultures' opened for York's 'Dirt Cheap.' A great night of great Rock 'N' Roll and Ronnie 10/10 was in great form. According to KIX last December, "Ronnie has been working hard on his rehabilitation and he is still on the long road to recovery. We love him and can't wait to welcome him back to where he belongs when he's 100% ready." KIX are playing Harrisburg XL Live on June 17th but no word whether Ronnie will play.
Rap/rock band, Limp Bizkit, brought their 'Still Sucks Tour' to the East Coast this past month and played Baltimore UMBC Arena on May 15th. An extremely fun concert loaded with hits, "Rollin" "Nookie" and "Break Stuff." Limp Bizkit's music is marked by singer Fred Durst's angry vocal delivery and guitarist Wes Borland's sonic experimentation. The band has sold over 40 million records worldwide and released their sixth studio album 'Still Sucks' in Oct 2021.
The highlight show in May was the return of Australian punk band, Amyl and the Sniffers. The incredible band returned to North America to tour their latest album, 'Comfort to Me' with 14 shows in May. Amyl and the Sniffers put on two unbelievable concerts at Philadelphia's Underground Arts on May 21st and Baltimore's Rams Head Live on May 22nd. The band recently played the Late Night show with Seth Myers and will return to New York City's Terminal 5 on Sept. 23rd.
The guitar Kurt Cobain used in Nirvana's "Smells Like Teen Spirit" video sold at auction for $4,550,000 to the Jim Irsay Collection. Irsay, who owns NFL team Indianapolis Colts now preserves the left-handed 1969 Fender Mustang which Cobain used in studio sessions for both Nevermind and In Utero, as well as numerous prominent Nirvana live performances.
Robert Smith of The Cure assured fans the long-awaited 14th album 'Songs Of A Lost World' will release before they tour in October Smith noted, "It'll be worth the wait. I think it's the best thing we've done. A lot of the songs are difficult to sing, and that's why it's taken me a while." The album is more than a decade in the making and will follow 2008's '4:13 Dream.'
Aerosmith announced the front man Steven Tyler has voluntarily entered a substance abuse treatment program after suffering a relapse. As a result, Aerosmith's Las Vegas residency in June and July have been cancelled. Aerosmith also stated, "Our beloved brother Steven has worked on his sobriety for many years. After foot surgery to prepare for the stage and the necessity of pain management during the process, he has recently relapsed."
Covid cancellations: Pearl Jam's current tour in support of 2020's 'Gigaton' album has been postponed multiple times due to the COVID-19 pandemic. And again had to cancel two recent shows due to bassist Jeff Ament testing positive. Pearl Jam played previous gigs without drummer Matt Cameron due to his COVID situation and replaced him with a handful of drummers including original drummer Dave Krusen. Southern Culture on the Skids also cancelled their May dates due to a band member testing positive for COVID. Ironically, legendary guitarist Eric Clapton has tested positive and had to cancel two shows in Europe. Clapton recently noted for his outspoken statements regarding not playing venues with vaccine mandates and also penned an anti-vaccine protest anthem, "This Has Gotta Stop."
The Yeah Yeah Yeahs are gearing up for a massive return with the news that the art-punk trio has signed to a new record label, Secretly Canadian, and that fans can expect new music this fall – marking the band's first release in more than nine years. To ramp up the excitement, the trio has also unveiled two upcoming headline shows in NYC Forest Hills October 1st and LA Hollywood Bowl October 6th. The Yeah Yeah Yeahs will be performing throughout the UK and Australia over the summer.
Eminem, Lionel Richie, Carly Simon, Eurythmics, Duran Duran and Pat Benatar have been inducted into the Rock & Roll Hall of Fame, a list that also includes Dolly Parton, who initially resisted the honor. The induction ceremony will be held November 5th at the Microsoft Theater in Los Angeles. To be eligible, artists are required to have released their first record 25 years prior to induction. Other artists and groups that failed this year for induction are A Tribe Called Quest, Rage Against the Machine, Dionne Warwick, Beck, Kate Bush, DEVO, Fela Kuti, MC5 and the New York Dolls.
Live Nation Entertainment shattered records in the first quarter of 2022, and is on track for a pandemic-busting year with more than 70 million tickets already sold for shows during the year, the company announced as it released its Q1 earnings statements May 5. "Artists are back on the road and fan demand has never been stronger, a reflection that live events remain a clear priority for consumers as our social lives restart," CEO & President Micheal Rapino said. Live Nation also noted in the primary ticketing market, that some of that pace was driven by higher ticket prices.
Lady Gaga has added a few more stops to her long-awaited "The Chromatica Ball" global stadium tour. The new dates include August 28th at Hersheypark Stadium, marking her first time performing in the city. The tour, which now features 20 shows, launches July 17th in Düsseldorf, Germany. An announcement promises "a full-scale, Lady Gaga pop show featuring fan favorite hits, and the first ever public live performances from the #1 selling, critically acclaimed, and Grammy-winning 2020 album Chromatica."
Bruce Springsteen & The E Street Band return to the road in 2023 for their first tour since "The River Tour" that concluded in February 2017. They'll launch in February with a string of to-be-announced U.S. arena dates, followed by European stadium shows kicking off on April 28th in Barcelona and a second North American tour leg starting in August. "After six years, I'm looking forward to seeing our great and loyal fans next year. And I'm looking forward to once again sharing the stage with the legendary E Street Band. See you out there, next year – and beyond," Springsteen said in announcing the long-awaited return to touring.
Justin Bieber's North American "Justice World Tour," just came to a close and will now travel to over 30 countries on six continents, playing more than 125 shows from May 2022 through March 2023, and has sold in excess of 1.3 million tickets. Harry Styles announced the "Love on Tour 2022," with multi-show runs at five arenas, including 10 shows at NYC Madison Square Garden and 10 shows at LA Kia Forum.
Other major tour announcements include: Ghost with Mastodon and Spiritbox. Gorillaz will perform 20 North American shows with EARTHGANG and Jungle. Kendrick Lamar's "The Big Steppers Tour" with Baby Keem. Scorpions and Whitesnake. Stevie Nicks with Chris Stapleton and Leon Bridges. The B-52's farewell tour. And The Smashing Pumpkins and Jane's Addiction will embark on a 32-date "Spirits On Fire Tour" arena tour in October thru November.
Naomi Judd, the Kentucky-born singer of the Grammy-winning duo The Judds and mother of Wynonna and Ashley Judd, died at the age of 76. The daughters announced her death, "Today we sisters experienced a tragedy. We lost our beautiful mother to the disease of mental illness. We are shattered. We are navigating profound grief and know that as we loved her, she was loved by her public. We are in unknown territory." Naomi Judd died near Nashville, Tennessee, said a statement on behalf of her husband and fellow singer, Larry Strickland.
JUNE SHOWS: Smithereens – Harrisburg XL Live June 3rd. Tom Keifer (Cinderella) Philadelphia Keswick June 4th. Gene Loves Jezebel – Millersville Phantom Power June 7th. Anthrophobia – Mechanicsburg Lovedrafts June 7th. Jesse Malin – Lancaster Tellus 360 June 9th. Yam Yam – Harrisburg XL Live June 10th. Tom Keifer (Cinderella) Jim Thorpe Penns Peak June 10th. KIX – Harrisburg XL Live June 17th. Frank Turner / The Bronx – Silver Spring Fillmore June 18th. Midnight Oil – NYC Hammerstein Ballroom June 19th. Bouncing Souls – Baltimore Ottobar June 22nd. Rye Rye – Baltimore Ottobar June 25th. Psychedelic Furs – Harrisburg HMAC June 27th.