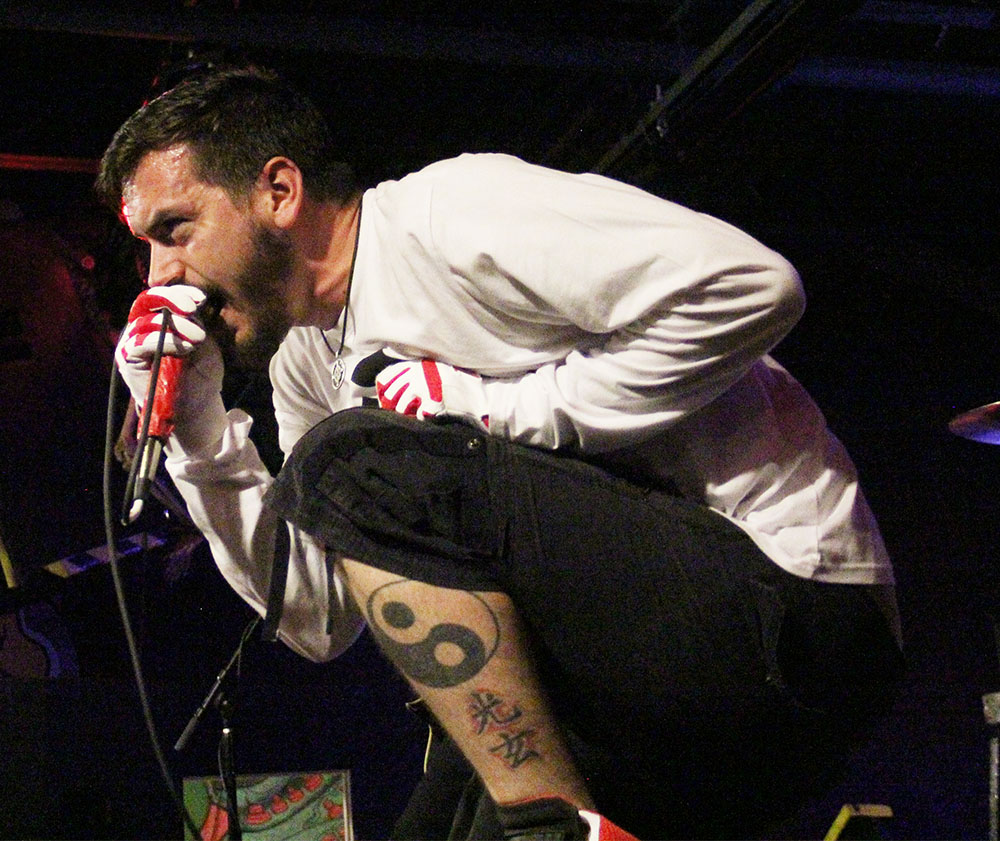 Hate Grenade At Lovedrafts
---
WhooHOO! Summer is here! Decks are open, music is outside, the weather is warm and wonderful! It's definitely my favorite time of the year. June also marks Josh's 5th Year Anniversary as the Editor/Owner of the PA Musician Magazine. I can't believe it's been 5 years! I remember laughing out loud when he said he was going to take over the magazine, but in true Josh fashion, when he puts his mind to something he excels at it, and he never gives up! It's awesome to see the magazine still going strong with no end in sight. Congrats Josh! I love you oh so much! Speaking of which, my deadline is looming, so I better keep typing!
This past month I had the opportunity to go to two open mics at Blue Sky Tavern. I love open mics because not only are they on a Wednesday, but I also have the opportunity to see so many different musicians in one place. Two big standouts this month were Markus Pearson and JJ Beauvais. Markus Pearson and his little family moved up to PA from Arkansas. Markus's wife is a visiting nurse, and one amazing thing is music travels, Markus didn't let any grass grow under his feet, he was at the open mic before he even slept in his new bed! Markus played some good old Lynyrd Skynyrd, but also played two originals. All of which were fantastic! He already got some local shows booked, if you see his name at a venue near you, stop and give him a listen.
JJ Beauvais is originally from Pottsville, PA, him and his family have been living in an RV and traveling the country sharing the gospel through music, but they are back in town for a few months. He's out there, hitting up open mics and trying to work his way back into the scene, JJ has an amazing voice and not only has a bunch of original music, he also plays covers as well.
Cinco de Mayo hit a little differently this year as a sober person, but it was still a night to get out there and celebrate! It all started with a trip to McSherrystown Moose for Matt Jameson. In true Matt fashion by the end of the night he had the requests flying and people on the dance floor. One of them even joined him on the stage, well technically two, because Chris Redding from Road Case also got up on stage with Matt and sang "She Talks to Angels," what a special treat! Matt Jameson Acoustic is on our cover this month, if you'd like to read all about his adventure into the music world, you can read all about it in the cover story.
My next stop was at Sierra Madre for Swisher Sweets annual Cinco de Mayo show. I got there later in the night, but I had friends who were there since 3 o'clock in the afternoon! I couldn't believe the amount of people jammed in the Sierra Madre, they even brought in tents outside for more covered seating. People were glued together in that place! It was nearly impossible to move from one side to the other. Sierra Madre definitely knows how to throw one heck of a party, and the Swisher Sweets did a great job at keeping the party flowing all night long!
I finally had a free solo Saturday and I took full advantage of this very rare opportunity. I started out early with a trip to The Vineyard and Brewery at Hershey for DMC Duo. It was a gorgeous day, and they were able to play to a packed patio of people enjoying the music and the weather. DMC Duo perform a lot of songs that people can't help but sing along too, they had a whole table of women even using their wine bottles as microphones to sing along to "Total Eclipse of the Heart" it was just beautiful! Don't forget DMC Duo have now reached into the realm of original music, so ask Alexa or anyone to play "DMC Duo" on any/all of your favorite streaming services.
After their show I zoomed to the Doyle Hotel in Duncannon for Blind Accuracy and The Cretins. I've seen quite a few acoustic shows at the Doyle, but this was my first ballroom show. It's awesome how they have this other option for music in Duncannon. Blind Accuracy ia an original punk/ska band that really has some amazing originals that quickly get you up and dancing around. Their energy is infectious and their lyrics are hilarious yet heartfelt! You can't help but smile and dance along, all night long. They were a perfect fit to get the night started for The Cretins, a Ramone's tribute band. The Cretins also put on one heck of a show with all of your favorite Ramone's songs. It's definitely a unique tribute band to the area and a lot people love the Ramones so therefore, they have a great fan base that was out in full force to support live music. Since I recently caught The Cretins I stuck around for a couple songs, and then I continued on with my adventure.
Up next was a zoom out the road to Shermans Creek Inn for Stonewood. Stonewood plays so many shows, it's surprising I don't see them more often. The Shermans Creek Inn was absolutely packed and everyone was dancing and singing along. The members of Chasin' Whiskey were in the house out supporting a fellow local band, that always hits me in the feels when I see musicians supporting musicians. Shannon is an amazing front woman! Not only is she an amazing singer, but she's right out there with the crowd dancing her heart out. She's also backed with an amazing band filled with awesome vocalists so their song list is all over the place, you never know what they will pull off next! One thing guaranteed is every Stonewood show is a party! If you like country music, do yourself a favor, check out their schedule, and make your plans for a wild night out on the town!
You would think that was enough for one day, but when I was heading home I realized I could make it to Hollywood Casino in Grantville for Nicks in Time's last set, so I zoomed by my house and out to Grantville. Nicks in Time was playing in the H-Lounge and they had the dance floor packed when I got there. Kathy MacFeat (Stevie) does an amazing job, not only with obviously her vocals, but also her moves.. The whole band really put on a fantastic job. Tara Reber was Kathy's back up vocalist and also sang lead on a few songs and they nailed every song. I'm glad I found the energy to zoom out and see their last set, it was well worth the drive and the lack of sleep.
Racehorse Tavern had a special Sunday evening show by Faith Noel to kick off their St. Jude Benefit Week. The Racehorse Tavern had a full week of guest bartenders and acoustic acts, topped off with a Saturday full of music all day long! In the end Racehorse Tavern was able to donate $9,270 to St. Jude! That's pretty darn amazing! Thanks to all who donated their time and their talents to this amazing cause. I was out of town pretty much all week, but I'm so glad I made it down for Faith Noel. I've never seen Faith perform a whole set and she absolutely killed it. Faith won the CPMA Award for Best Youth Artist for 2022 and you can definitely see why. She is writing amazing originals and covering some artists better than the artists themselves, all while having the time of her life. Just this past week she officially graduated from High School! Congrats Faith on keeping it all together, a job, school, and your musical goals! It will be awesome watching to see what you do next!!
I also finally had a free Tuesday so I could go to Lovedrafts and check out one of 717 Entertainment's killer line-ups. Nick is bringing in some amazing touring bands all days of the week! You really need to keep a close eye on his schedule in his ad, or on his website, www.717Entertainment.com, so you don't miss an amazing opportunity to see one of your favorites! On this night Dropout Kings had to unfortunately "drop out" at the last second for personal reasons, but I'm so glad the show went on! Nail Bite kicked things off, and I was so happy to see these crazy kids again! They are just popping out originals like candy with so many twists and turns, and they've really been honing in on their craft making every song even tighter if that's humanly possible! They keep releasing songs, videos, and announcing tour dates, so they must be doing something right!
Next were the men of Defiant! Way too long since I've seen these guys! They are also crushing it in the music world, releasing new music and videos that are getting lots of attention! Right before they took the stage they found out their latest song "Ignite the Sky" hit #25 on the Secondary Market Mainstream and Active Rock Charts! Congrats guys!! "Ignite the Sky" is definitely igniting the ears and hearts of music lovers across the US and beyond! It's been amazing watching these guys rock area stages. June 21st they will be back at Lovedrafts opening the night for The Native Howl, alongside Observe the 93rd. That's definitely going to be a killer show!
Hate Grenade continued to blow up the stage with their energy and their music. Another group I haven't seen for quite some time since they are from the Altoona area. I'm glad they made the trip and helped my neck hurt just a little bit more the next day! Even though I don't see them, it's important to remember to keep adding our original artists to all streaming platforms so we can continue to support their original music! Just because you don't see bands on the stage doesn't mean they aren't out there grinding away!
Speaking of grinding I never saw Through Fire before but they did an awesome job at stepping up to be the headlining act! They came out with full-force energy and the crowd gave it back to them 10 fold. The mosh pit lit up, and the crowd was loving every second. It constantly amazes me how many bands/artists I discover every month where I say, "where have you been all my life!" Thanks guys for the entertainment!
My month ended with lots of weekend travel, but I did manage to squeeze in some acoustic shows during the week. I saw Derek Henry at Fratelli's in New Cumberland. It has been a while since I made it into Fratelli's, I'm so glad they had Derek back in there for a night of fun with friends, oh and of course Derek. I also managed to catch Derek at Thea's in Mechanicsburg, it's awesome that they are hosting live music on a Tuesday. That allows for opportunity for full time musicians to get another night to perform. Derek has really been focused on his full band, Observe the 93rd, they've been busy touring and releasing new music. Their latest release, "Mad as a Hatter" has already been featured on 105.7 the X, and is a song packed with emotion with a musical riff that quickly draws you in and makes you turn the music up! Observe the 93rd will be opening for Puddle of Mudd at XL Live on June 3rd, but they also have some other local shows coming up you don't want to miss. Follow along and hear all of their music on their website, observethe93rd.com.
I also of course saw Matt Jameson Acoustic at the Union House and Copper Pub just to name a few! Not only does Union House have live music, but their food is delicious, and from previous visits there, I can tell you, their drinks are delicious too! The Union House is one of those off the beaten path places that deserves a special trip to enjoy and appreciate all they have to offer. Check out their schedule in this issue and get out there and support live music and a small business! This was Matt's second time there, and it was awesome to see some tables reserved and people came prepared with requests and ready to party! The Copper Pub was packed with fans, friends, and family as well. We all definitely had their servers hopping all night long. It was an absolutely gorgeous night. The deck wasn't big enough for this party, they luckily are able to extend their seating into the parking lot with picnic tables, and you can even bring your own chair if you prefer to make sure you have a seat! It's so awesome to see familiar faces at Matt's shows. I can promise you, I'm not his only groupie! HA!
BRP Entertainment kept me busy this month, working with the Village People, yep.. YMCA!! And I have to hurry up and finish this article so I can catch my flight to go catch a few laughs with Rodney Carrington!! When I get back from Indiana, I plan on hitting up Free Spirit Campground for their MusicFest 2023, so that will have to wait to be mentioned in my July article!
I hope you all have a happy and safe start to kick off your Summer! Please get out there and support live music, and if you can manage to throw a couple bucks in their tip buckets, I'm sure they would appreciate it. If you can't do that, you can always just follow and like them on all social media sites, and of course continue to stream their original music! Thanks for reading, and please stop me and say Hi when you see me Out and About.. And I know I've been talking about it a while now.. But soon, very soon. We will have an updated, super awesome website! www.pamusician.net.