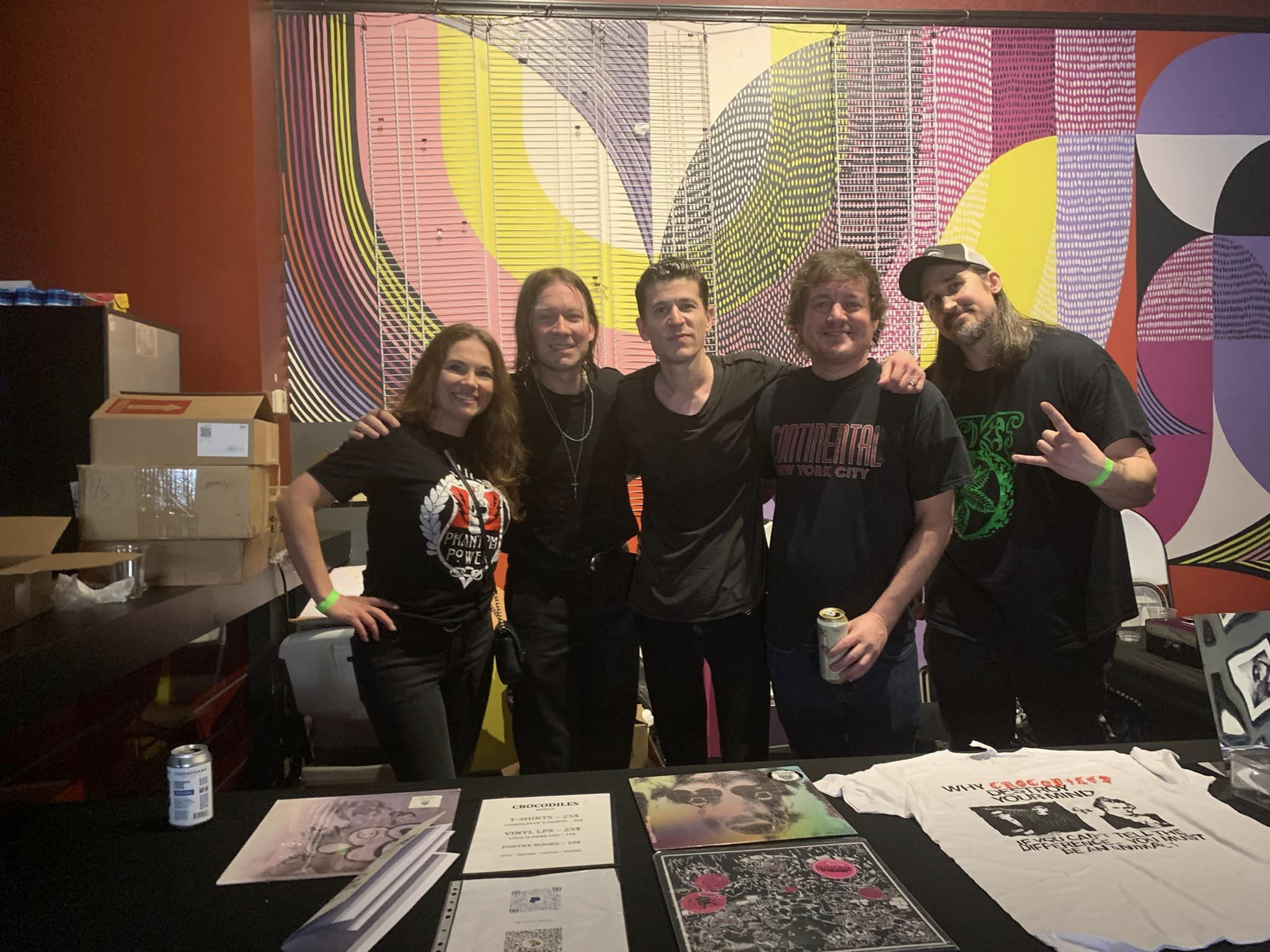 Crocodiles at Baltimore's Metro Gallery
---
Greetings Rockers 'N' Rollers! The Yeah Yeah Yeahs began their current tour at Washington DC's Anthem on May 3rd. The NYC indie rock trio reunite infrequently for just a few performances a year. The band is currently promoting their first album in 9 years, "Cool It Down", with 13 concert dates in America. Yeah Yeah Yeahs opening night sold-out Anthem's 6,000 capacity and the band ripped through an amazing set of 15 songs.
San Diego noise pop band, Crocodiles, returned to the East Coast in the midst of their 21-date North American Tour. The band played Philadelphia's Kung Fu Necktie on May 5th and the following day played two shows, a matinee at Baltimore's Metro Gallery and an evening show at Washington DC's Pie Shop. Crocodiles have a new record titled, "Upside Down in Heaven", and once played Harrisburg's Stage On Herr in October 2017.
A new punk venue opened in York on May 12th – Skid Row Garage is now legit after years of DIY garage shows in an alley. The new location at 243 W. Market Street hosted legendary street punks The Virus for its grand opening along with Fless Terror and Olde Tigers. Congratulations to MC Hyser on his business success which will bring many great punk shows to York.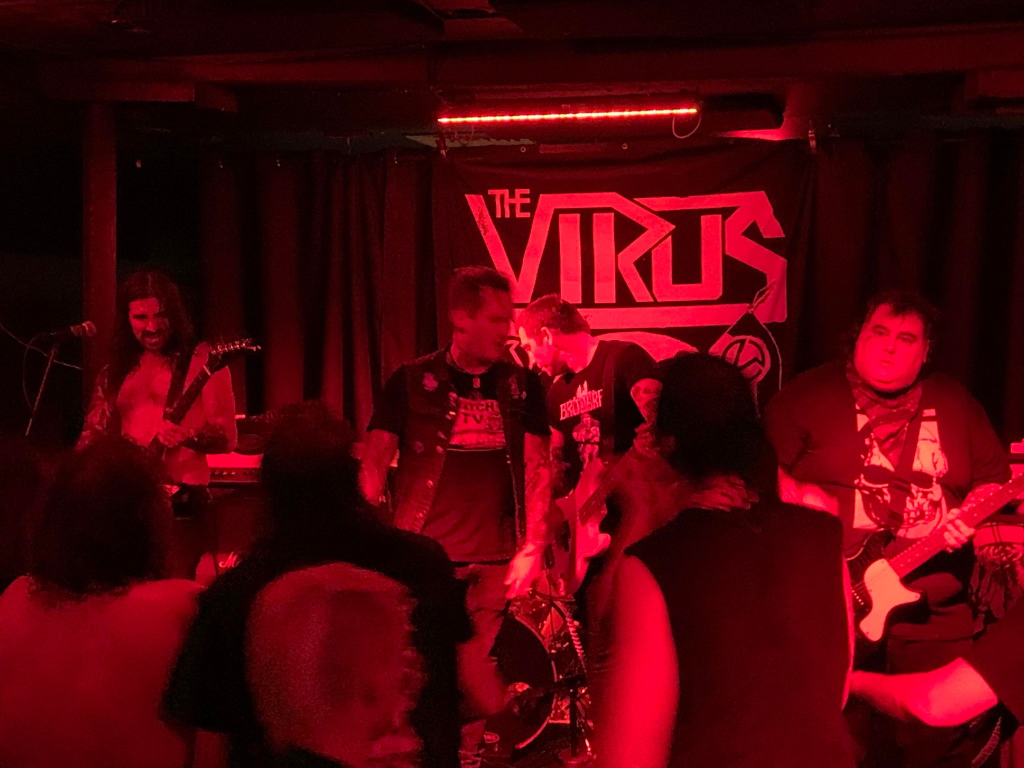 The Menzingers returned to Harrisburg for a third time at HMAC's Capitol Ballroom on May 13th. The Philadelphia based-band, originally from Scranton, sold-out HMAC for the final show of their current tour. A Wilhelm Scream and Ramona provided support for a really great show.
Harrisburg University continues to fill the Capital City with live concerts, recently Father John Misty at The Forum on April 27th and Frank Turner at XL Live on May 9th. Congratulations to talent buyer Frank Schofield of Harrisburg University on completing his 100th concert endeavor with the Frank Turner performance. It's amazing to think of all the shows that were complete sell-outs including, Rick Ross, Muna, Waterparks, Alt-J, Elle King, Turnstile, Lord Huron, Wet Leg, All Time Low, Black Pumas, Teddy Swims, among others.
Tina Turner, often hailed as the "Queen of Rock & Roll" died near Zurich, Switzerland, after a lengthy illness. She was 83. Turner's career consisted of two distinct and historic acts – as a performer with her ex-husband Ike & Tina Turner, which she walked away from after years of domestic violence. She re-emerged as a solo artist soon after but exploded back onto the charts with her 1984 release of blockbuster album, Private Dancer, with hits including the title track, "What's Love Got To Do With It," and "Better Be Good To Me." With admirers ranging from Beyoncé to Mick Jagger, Turner was considered David Bowie's favorite female singer. Her trademarks were her growling contralto, bold smile and the muscular, quick-stepping legs she did not shy from showing off. Turner is survived by her second husband, Erwin Bach, who she met in the mid-1980s when she flew to Germany for record promotion and he picked her up at the airport. She wed Bach in 2013, exchanging vows at a civil ceremony in Switzerland.
After 45 years, veteran rockers KIX will play their final show on September 17 at Merriweather Post Pavilion in Columbia, MD. The Baltimore-based act, which formed in 1977, announced their plan to call it quits at the recent M3 Rock Festival at Merriweather. While onstage, singer Steve Whiteman announced the final show, "I think we're gonna call it a career. My health is failing. Jimmy's health is definitely failing. It's sad, but it's just time." In Nov 2022, drummer Jimmy Chalfant collapsed onstage while suffering a cardiac arrest. Whiteman claims he has neuropathy in his feet. Guitarist, Ronnie Younkins has been unable to tour the past couple years battling alcoholism. And most recently, on May 20th, guitarist Brian Forsythe was admitted to the ER for unknown reasons missing KIX's performance in Solomons, MD. Both, Ronnie Younkins and former guitarist, Brad Divens, will play as guests at the final show. KIX have been unequivocally one of the most popular and greatest bands to ever play Central PA for over 4 decades and we have a chance to see them one more time on stage in Harrisburg as KIX will be performing at XL Live June 16th.
Mechanicsburg native, Bret Michaels, has announced his return to the mid-state bringing his Parti Gras Tour to Grantville's Hollywood Casino on August 26th. The Poison frontman states, "An incredible concert, honoring our hometown heroes and going to honor all of our hometown musicians. A celebration of the fans, the bands, the music, the food, the fun all things Central PA." Michaels, was in Grantville on May 19th to promote the event. Glam metal band, Warrant, will provide support for the show.
Aerosmith unveiled their final tour dates as the band bids farewell to the road. The last run features support from The Black Crowes on all 40 dates. The Live Nation-produced trek kicks off on September 2nd in Philadelphia, with stops in Pittsburgh on September 6th and Washington DC on September 27th. "It's not goodbye, it's PEACE OUT!" Aerosmith said in a joint statement. "Get ready and walk this way, you're going to get the best show of our lives." Joey Kramer will be absent from the tour, "to focus his full attention on his family and health."
Foo Fighters revealed Josh Freese as the band's new drummer during a livestream promoting the bands upcoming summer tour that marks their first performances in the wake of late drummer Taylor Hawkins' death last year. Freese most recently worked with the Offspring, and has contributed to records by Lana Del Rey, Rob Zombie, Bruce Springsteen and more. Freese also has experience touring having been a member of Devo, Guns N' Roses, Nine Inch Nails, Weezer and more throughout his live career.
Post Malone announced he will be back on the road this summer with the "If Y'all Weren't Here, I'd Be Crying" tour to promote his much-anticipated fifth full-length album, "Austin". The Grammy-nominated artist will visit 24 cities in July and August. "I love y'all so very much and I'm so excited to get out and do some more shows for y'all," Post Malone said in a statement. "Help me put a baby through college and come on out. Some cool new production, new songs, and a very, very handsome man up on stage. Sending love to you and yours." Post Malone, an eight-time diamond-certified global star, will visit Burgettstown, PA on July 12th and Camden, NJ on July 25th.
Steve Nicks has added 13 more dates to her 2023 Tour. The renowned singer-songwriter of the legendary band Fleetwood Mac had a successful run in 2022 and is carrying that momentum into this year. Nicks, will play Pittsburgh's PPG Paints Arena on September 27th and Allentown's PPL Center on November 4th.
Pearl Jam have announced Fall Tour dates with nine new shows in Minnesota, Illinois, Indiana and Texas. Inhaler will join as support in Chicago, Indianapolis and Austin, while support for St. Paul and Fort Worth will be announced in coming weeks.
Sting and Shaggy have unveiled their collaborative festival, 'One Fine Day', which takes place at The Mann Center in Philadelphia on September 9th. The festival features two stages with Sting and Shaggy joining as headliners, including a joint set. Thundercat, Koffee, Tank & The Bangas, G. Love & Special Sauce, Kes, Flor de Toloache and Giordana Angi all join Sting and Shaggy for the one-day event.
U2 continues adding dates to its extended "U2: UV Achtung Baby Live At Sphere," run – don't call it a residency – in Las Vegas with eight new dates, bringing the total to 25 shows that will kick off the concert experience at Sphere at the Venetian resort. The new dates take U2's run from September 29 through November 4th. With more than 1 million ticket request registrations already taken these performances mark U2's first live shows in four years.
With an April 8th performance at Baltimore's newly renovated CFG Bank Arena, Eagles completed the "Hotel California Tour" that commemorated the band's iconic 1976 album with all its songs played beginning to end, along with a set of the group's greatest hits. With 90 concerts performed in North American markets, combined grosses show a total box-office haul in the $250 million range and the tour drew over 1 million fans.
Live Nation Entertainment reported $3.1 billion in revenue for the first quarter of 2023. "2023 is off to a tremendous start," stated Live Nation. "For the first time in three years, all of our markets are fully open. The common theme we are seeing around the world is that live experiences are a high priority for fans. The company has sold 90 million tickets for 2023 shows thus far, 20 percent higher than the same point in 2022. Ticketmaster should also deliver record activity, with around 600 million tickets managed globally this year."
JUNE CONCERTS: Rye Rye – Baltimore Inner Harbor Amphiheater June 3. The Pixies – Washington DC Atlantis June 6. Bryan Adams / Joan Jett and the Blackhearts – Baltimore CFG Bank Arena June 6. Jeffrey Gaines / The Badlees – Fort Hunter Park June 10. Love & Rockets – Silver Spring Fillmore June 11. KIX – Harrisburg XL Live June 16. Tom Keifer – Reading Santander Arena June 23. The Cure – Merriweather Post Pavilion June 25. lovelytheband – Harrisburg XL Live June 27.