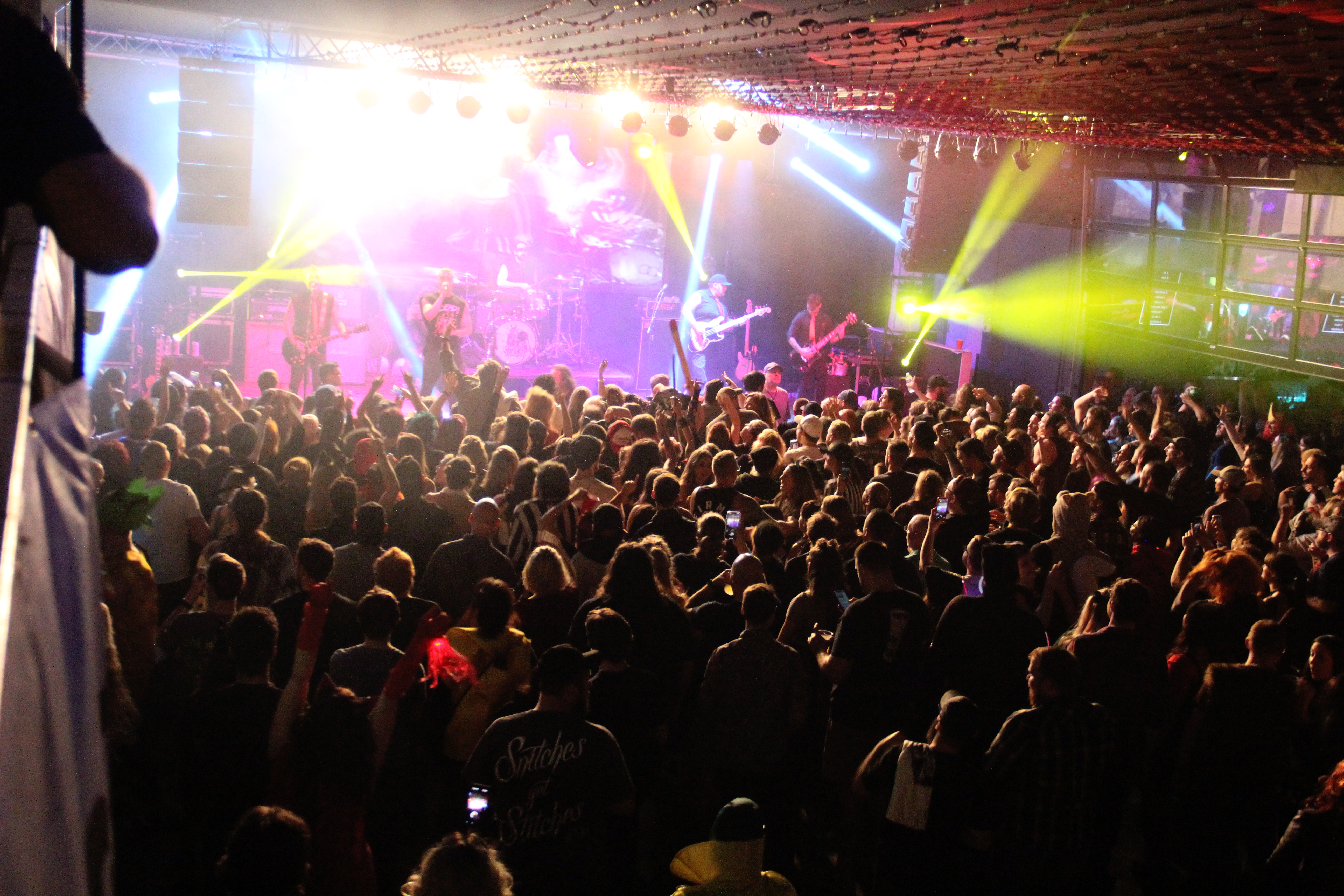 ---
By: rachel Rocks
40 YEARS! It's hard to believe this magazine has been in existence for 4 Decades. I know for a fact we've had children of musicians grace our pages, and even a few grandkids! We would never be, without all of our advertisers, and all of their support. Some months have been way easier than others. I am 43 years old to say that this magazine has been a HUGE part of my life is an extreme understatement. I couldn't imagine how different my life would be without the PA Musician Magazine then and now. I know I had my qualms when Josh first took over the helm of the magazine, but I can't imagine how boring my life would be without it. Josh is completely amazing. In pure Dad fashion, when he puts his mind to something and has an idea, he doesn't stop until the idea is completed to the best of his ability. If you would've seen the cover shot of Crazy John Kerecz this month before Josh's creative eye took over, you would know how truly amazing he is! Thanks Josh for keeping Dad's legacy alive and thanks so much to all of the bands and businesses that continue to support us! It truly is a group/family effort!
Rocktober definitely didn't disappoint. Even though it was a very busy month, I still managed to squeeze in a few bands. One super special band was my own. That's right folks, I finally took the stage with my Dad's trusty ukulele and my friend Matt Bynum, and my son Zack, even sang Dad's original song, "Questions". Dad would've been so proud, I know I was! We called ourselves Rachel Rocks's Family Fun Band, and we definitely had fun! Our gig was at the Millerstown Fall Fest in support of the local Millerstown Swimming Pool. My good friend Mary Kissinger asked me to play, and with 2 months to spare we started practicing super hard, and we managed to learn 8 songs. Kudos to all bands for knowing hours worth of music. I have such a greater appreciation for every note you play and every lyric you sing. Matt has the patience of a saint and helped me not only learn how to play but also encouraged me enough that I even sang, "Count on Me" by Bruno Mars, all by myself to end our official set. Special Thanks to Holly Bynum for putting up with all the practicing! We are super thankful to all of our friends and family that came to our show. It was awesome to be surrounded by everyone that loves and supports us! During "Count on Me" a bunch of my friends even stormed the stage for one big selfie (paybacks for all of my selfies at their shows!) It was so awesome and super sweet! Derek Henry came to our show and when we were trying to fill space at the end, Matt sang a few solo songs, and then Derek even got up to play the Pixies for me! It was overall a great day! I could feel the love from everyone! Word on the street is that we will be playing the Spring Sip n' Dip on May 7th, but that is yet to be determined. If anyone out there needs an opener, or like 45 minutes of entertainment, let us know, we'd love to bring our show to your town! Kris, my hubby, recorded the whole show and it can be found on YouTube for all of your viewing pleasure.
We had such a blast playing music, that we all loaded up and went to listen to music! We headed to the new Lovedrafts location on the Carlisle Pike. They have an awesome set up with a nice high stage with a decent sized dance floor, but yet still plenty of area for tables for the people who like to sit back and enjoy a show. When we got there VoidHidden was on stage. I haven't seen these guys for so long, but they are always fun to watch. They all have a fantastic stage presence and have plenty of long hair flying in every direction! Their originals are awesome and definitely worth a listen. You can check them out online or at their next show! Up next was Observe the 93rd. It was awesome to see them playing at a new venue to a full house! Observe the 93rd has recently released a new video for their song "TRL". It's an awesome feel-good kind of video and well worth checking out! OT93 has been pushing harder than ever to get songs recorded and released. It's awesome watching them grow as a band, they are like my kids, I first saw them at a Battle of the Bands at the Chameleon and look at them now! I'm one proud fan! Every show is a blast and gets me dancing like a maniac! (No surprise there.) Check out their music and make plans to make it to their next show by checking out their ad in this issue or by visiting their website, www.observethe93rd.com.
The night wasn't over quite yet! Johnny Joe's was right down the street and the Suicide Puppets were on the stage, so I zoomed over there for their last few songs. I was a little sad that I didn't see more of their show. There is nothing like a Suicide Puppets show, or rather "experience". Suicide Puppets go above and beyond to make every show a night you won't forget! The Suicide Puppets just got off of their tour with Soulfly, and it was awesome watching their tour experience through pictures on Facebook. To get the opportunity to play with a band like Soulfly was awesome enough, but to play in so many new venues and make so many more fans truly made it an unforgettable experience! It was definitely an action-packed day, but finally it was time to call it a night!
The following weekend started with a trip to Hollywood Casino in Grantville for Stonewood. I am so happy that Hollywood has opened their doors to some new bands. I had to go to Mason's football game, so I got there in time for the last set, and I was thrilled to see the dance floor packed! Shannon does such an amazing job at interacting with the fans. Even at Hollywood she still came off the stage and danced and sang with her fans. She can easily do that with confidence when she knows her band has her back! I know for sure Stonewood made some new fans that night! You can check out Stonewood's ad in this issue to make plans for your next night out on the town! Just make sure and wear your dancing shoes!
My next night out was to another new venue for me, The Carlisle Moose, for The Famous. I have a Moose Membership that I barely use, but I might have to start using it a bit more. The Carlisle Moose is a huge venue! You wouldn't think it was looking at it from the street, but it has an excellent sized dance floor, plenty of tables, and a nice big bar to sit at. Not to mention The Moose has delicious and super cheap food! I had some quesadillas and fries that were delicious! I hadn't seen The Famous since pre-covid, so it was awesome to finally have a rocking night with them and a few of my friends. Joey and Shelby can cover so many awesome songs and their harmonies are just awesome! Again, I have such a greater appreciation of how hard that is to figure out and to perfect, like they do! It felt so good to be on the dance floor dancing the night away with friends! I'm so glad to see full bands again! You never realize how truly awesome something is until it's taken away for a little while.
To finish off the night I headed back to Johnny Joe's, this time for the Colt Wilbur Band. It was pretty packed, but luckily there was still room to squeeze in for their show. All of the guys in the Colt Wilbur Band are amazing musicians and they are always having so much fun on the stage! I heard my good friend Shannon Bobb opened the show. I'm bummed I missed his set, hopefully I'll catch him next time. It's awesome to see and hear how the Colt Wilbur Band supports other local musicians. During the show they also brought Colt's cousin Nick Minahan, up on stage for a couple songs. Nick has been making a name for himself, playing solo shows throughout the area. The Colt Wilbur Band play so many country classics that not too many bands in our area take the time to play. It's definitely easy to keep the dance floor full when the crowd loves every song!
The next weekend started with one of the most anticipated shows of the year, the DEAD! Show at XL Live! It was such a bummer to miss this show last year because of Covid. We were all ready to have an awesome night, some of us even planned for a couple days of recovery afterwards. It was a night packed full of tribute bands. It all started with Enema (Blink 182). I missed them this night, but I have heard them play before. I never realized I loved so many Blink 182 songs. Enema does a great job at pulling off every one, and reminding me why I love Blink 182 so much! The next band was the Big Fat Meanies playing some Paramore. Hearing their brass section play the Paramore songs was super awesome! The only local band I know that can pull off the full brass section is Into the Spin. It is very rare, but I wish you heard more brass, even if it's just a saxophone! Then you had The Worst (it's not what I thought, that's just their name) (Limp Bizkit) tribute band. I don't know how many hidden talents Todd Williams has, but not only is he an awesome tattoo artist at Laser Fang Tattoo Emporium Extrordinorium within Rock Mill, but he's also a ukulele player, which I recently found out, and now I see him on stage as the front man of this band! I guess these guys just started playing together. They completely caught me by surprise. Next up was Old School Hollywood (System of a Down). It was super cool to see my good friend, Trevor back behind the mic, that guy definitely needs to be in a band! So much super cool talent. Not to mention seeing Tyler back on bass, supported with Dylan on the drums. Those two have some crazy cool chemistry. Last, but not least, DEAD! (My Chemical Romance). The crowd intensifies and just goes crazy for the entire show! So much energy everywhere! So much dancing and craziness. DEAD! Puts Derek's stage presence at a whole new level, I'm sure it helps that he's able to put the guitar down and just let loose. It's hard to believe that these 6 guys only get together and play one show a year. We have so many talented musicians in our area. We are truly spoiled. We even saw the one and only Logan Summey, come out from behind the drum kit and play bass! It was such an awesome night of music and a great time with friends. And yes, I'm very grateful that I had nothing going on the rest of the weekend.
The final band of the month for me was Road Case at Johnny Joe's. It had been entirely too long since I saw these guys. We had a crazy night planned, our night started at Kim's Krypt in Spring Grove. If you are one of those weird people that love going to scary things, I suggest Kim's Krypt over any other Haunted Attracation in the midstate. I was absolutely terrified!! When I was first driving on our way to Johnny Joe's I thought I was going to have to let Matt drive because I kept closing my eyes thinking something scary was going to jump out of the corn fields at me! Luckily, we made it without any issues to Johnny Joe's in time to hear Road Case's full show. We are bummed we missed South Mountain Social, Jackie Cassatt's new project, but I hope to catch them soon, I heard they were fantastic! Road Case rocked the stage as usual. Imelda and I got in another fitbit step race which always makes the dancing a little extra crazy, but so much fun. I was beating her for a little while, but in the end, she beat me by like 300 steps! That woman is crazy and hard to keep up with! I was exhausted. But yet again, another night with an awesome band and even more awesome friends!
I could write it a zillion times and it still wouldn't be enough.. I'm truly THANKFUL for all of my friends I have made along the way, going out and doing what I love. October technically marked my 15th year as Rachel "Rocks". In 15 years I have met so many amazing people. People often say I bring the party when I show up, but trust me when I say the party is already there! My good friend Linda Kyle posted on Facebook the other day, "It's not just music. It's family. It's how people feel alive. It's their safe haven, where they go to escape the world, even for a little while. Music is so much more than people realize. The family that is created by the people that go out and support live music is a strong one! I love all of you so stinkin much!
My back story for those that don't know it. How I became "Rachel Rocks".. I always wanted a huge family, lots of kids! After losing a brother at a young age I knew that your babies are precious. After years of trying, we finally got pregnant and had Zack, after more years of struggling and 3 miscarriages, along came Mason our rainbow baby and true miracle! His whole pregnancy was a terrifying nightmare. When he was born I couldn't recover, I was an emotional mess, post-partum depression is so real. Kris, my hubby, and Mom got together and came up with a plan to get me out of the house, I was a stay at home Mom, and never went anywhere or did anything except care for my babies. Mom said she could really use someone to cover live music in our area, and Rachel Rocks was born. I went out to see Steel at Angie's in Highspire, and I haven't stopped since. Music definitely brought me back to life! The amazing friendships I've formed and the people I've met have just been a super awesome bonus! I had so many lectures from Dad, I don't think he ever liked the idea of his baby girl going out to clubs alone, but thanks to the bonds and the music family he formed with so many people going "out and about" for so many years, I was never truly alone. So many of the people he met, and the family he created were there waiting for me with open arms. Oh my, the stories I've heard! So THANK YOU all my wonderful family! For helping me be alive! For helping me be the outgoing crazy person I am. I look forward to every night out and about, and there are always more seats at our table. So, if you ever see me out and about, know that you're not alone, just pull up a chair and join in the fun!
Ok, that's enough mushy stuff! November is bringing a lot of awesome bands to the area. Welcome back to Reverb in Reading! I'm hoping to get back down to the Union House soon too! Tomorrow I'm hopefully heading to the Racehorse for a Zombie Apocalypse with Ten Ton Stone! Music is everywhere!!! HMAC has some awesome shows, XL Live of course is bringing all kinds of entertainment with the help of Harrisburg University. Music, Music Everywhere!! Get out there and support it! And thank you for reading this article and for supporting us!!! Want me to come see you… ADVERTISE!!! 717-636-4203. Check us out online, www.pamusician.net. SUPPORT LOCAL MUSIC!