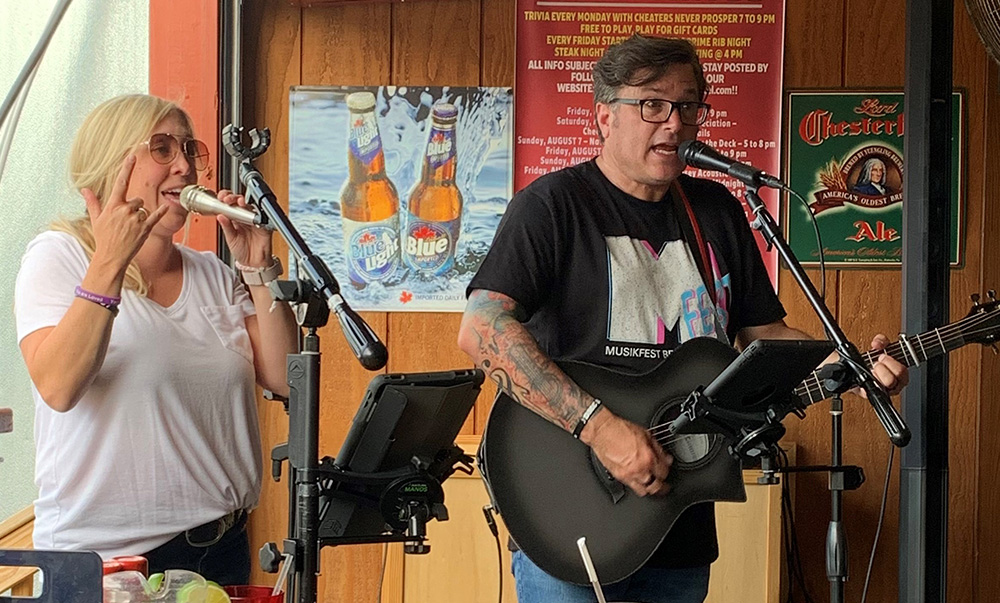 ---
By: Rachel Rocks
Ahhh.. Finally, a month at home! Which means lots of music to see and hear! Even though I was home I didn't let much dust gather on my feet! Lots to see and do! Music is definitely in full swing in central PA. It's so refreshing seeing so many events, and also so heartbreaking at the same time because I wish I could clone myself and go see it all, but alas I am only one person. September looks to be the same amount of craziness, but I will be traveling two weekends in Sept, but I will still do my best to get Out and About as much as possible.
This month started at the Dillsburg VFW for Derek Henry. He plays a lot of their bike nights for them. The patrons love him there, so it's always a great night. Plus, now that I'm working at Bob Ruth Ford in Dillsburg, it was right down the street after work on a Wednesday! Middle of the week shows are my absolute FAVE! There's nothing like music to fly you over that hump in humpday! The Dillsburg VFW also has some delicious food, which makes it an even better place to head to after a long work day. Derek has been really working hard and adding a lot of new songs to his set list. If you request a song, he might not be able to play it on the spot, but he does try his hardest to learn it for ya the next time! You can see Derek's schedule online at facebook.com/derekhenryacoustic.
On a Friday night Matt Jameson Acoustic got his first shot at playing the Stoney Creek Inn. They needed a fill in at the last minute and he jumped at the opportunity. Everyone loved him, and he will be playing there again on October 7th. Stoney Creek also has amazing food! This night I actually got my husband to come along for a hot date! It's such a beautiful setting, and an awesome place to hear live music. Matt has also been working hard learning new songs and honing in his craft. It's so awesome seeing everyone else appreciate his talent as much as I do. He's getting rebooked at lots of venues, and has a month full of shows. He has a super wide variety of music, he plays everything from Johnny Cash to Slipknot! Check out his ad in this issue for a listing of all of his shows, and keep an eye on his Facebook page for any changes, facebook.com/mattjamesonacoustic.
After Stoney Creek I headed home and grabbed my nephew Chad and took him out on the town. XL Live was having their first outdoor concert with a bunch of bands. I heard we missed a lot of amazing music, but at least we made it for Back in Black and we were able to check out their new stage. It is a super cool set up, and a way for them to have even a bigger area to bring in bigger acts and a lot more people! I think I heard they can safely have 4,000 people there! They have a separate entrance for GA tickets, and VIP Tickets, but no matter where you are, you can easily see the show! The stage is super high so everyone has a nice clear view, even short people like me! GA people have plenty of porta potties to use, but VIP has a special entrance on to the patio and in to XL with flush toilets, and of course both areas have their own bars. XL Live continues to bring all kinds of music to their club. It has been quite a while since I've seen Back in Black. I love rockin' out with those guys! They always put on one heck of a show, and they were the perfect band to break in this stage!
After Back in Black we headed out to Hollywood Casino in Grantville so Chad could play some Roulette and we were able to catch the tail end of the Grant Bryan Band. Grant is obviously a great singer, but I equally love watching Sarah Sheriff rip away on the guitar! That lady is magical! Sarah plays alongside a few different musicians, and she always adds to the show. The H Lounge at Hollywood Casino is pretty cool how they have such a huge demographic of people that come to the casino, that no matter what kind of music is playing in the H Lounge you usually see people coming in and enjoying the music off the casino floor. People were loving the Grant Bryan Band and they were in there boot scootin' and boogeying til the very end!
The weekend still wasn't over though, to finish it off on a Sunday night, Matt and I headed out to see Nail Bite at Lovedrafts! Since I originally did their interview back in March, my body has been put through the ringer, but I was finally all healed up and ready to ROCK. When we got there, Take the Name was on stage and doing an amazing job, heating up the stage, and getting everyone moving. When Nail Bite took the stage we were all primed up, and Nail Bite saw a side of me they never saw before! We had a blast moshing, head banging, and having an absolute blast! It was one of those put down the camera, and take of the glasses moments! Nail Bite has had so many amazing opportunities and moments, and they are just getting started! In September, you can catch them at the Louder Than Life Music Festival in Louisville, Kentucky! It's pretty awesome watching their musical career take off! Kudos to Nick Myers of 717 Entertainment, for getting back into promoting bands and hosting awesome shows at Lovedrafts!
Unfortunately, this month Derek wound up with a nasty respiratory infection and was unable to play a few shows, but luckily Matt Jameson was able to step in and help out, on a Thursday night he was able to fill in for Derek at Fratelli's in New Cumberland. Even though it was a last minute show, his fans stepped up and still made it out to support him. Again, Matt was able to secure another show at Fratelli's on Sept. 16th from 6-9. If you haven't seen him yet, you really should check out his schedule and get to a show soon!
Friday night I took a break from the music, and headed out into the darkness with my Mom and my Sister, Andrea, for a Full Moon Kayak Float! We were finally able to see the moon in all of it's glory! We've been trying for literally YEARS to do a full moon float, but something always comes up, or the weather is crappy, but this night it was perfect!! I'm so blessed to have a Mom and Sister that like to go on crazy adventures with me, and extremely grateful we always have Josh on standby if things don't go according to our crazy plan!
On a Saturday my musical adventures started early with the Canned Jam in Lower Paxton Twp's Heroes Grove. Ethan Erb is a boy scout in Troup 368 in Paxtonia. For his Eagle Scout project he decided he wanted to put on a music festival to help raise awareness of food insecurity right here in Central PA. The Central PA Food Bank was there to receive food and cash donations, but overall Ethan donated almost 1,000 lbs of food to the Food bank! And I didn't even hear how much cash he raised. Pretty amazing for a 17yo putting on a festival! I didn't get to stay too long at the Canned Jam, but I was able to catch the Colin Alvarez Band and Tommy B. I never heard the Colin Alvarez Band, they really put on a great show and had quite a few fans out there supporting them! Tommy B brought all of his one man band gadgets and put on one heck of a show and got the crowd singing along and having a great time. Ethan kept the festivities going all day long! Kris, my husband was his Scoutmaster for a while, so we are definitely proud of all of Ethan's dedication to scouting. Him and his whole family really helped Kris whenever it was needed. Congrats Ethan on your successful Eagle Scout Project!
I had to leave the Canned Jam to head down to Gettysburg for Gettysburg Rocks! Gettysburg Rocks is another amazing event to support the Four Diamonds and help them conquer childhood cancer! Gettysburg Rocks has been happening for the past 8 years or so, and has raised a ton of money for Four Diamonds! Matt Jameson had a time slot at the Bourbon Mill in New Oxford so that was our spot for the night. The show started with Jason Cyr out of Maryland. He had a great sound, and played a lot of the same kind of music Matt plays, a great mix of 80s and 90s, rock, country and so much more. Luckily the sets are short enough that they both had plenty of music to not have to overlap songs since Matt was up next! Matt "Jameson" was a great match for the Bourbon Mill! Ha! Hopefully they start having live music there regularly and get him on there schedule. The venue was full all night long, so you can tell their patrons definitely appreciate live music! After Matt, Jeff Trish, who was also the soundman for the night, took the stage. JT reminded me so much of Dad. He played a full original set of music, with his guitar and harmonica. It was refreshing to sit back and listen to his music. Marissa Porter was the last act of the night at the Bourbon Mill, she played a mix of covers and her own originals as well. Her voice was very unique, and she also put on a great show. The talent all night long was amazing! Next we zoomed down to the Battlefield ABC for Sweet Corn & Peanut. These two haven't played out in forever, like pre-covid, but it was time for them to brush off their vocal chords, and put on one heck of show! It was a great way to end the night. It was awesome to see so many people out supporting Gettysburg Rocks! I haven't heard how much money was raised this year, but I'm sure it was a lot!
Next up was another Sunday show! After church Mom decided to come down and hang out, and DMC Duo was playing on the deck at the Fredericksburg Eagle Hotel, so we decided to go support them and have some delicious dinner! I hadn't seen DMC Duo for a little while, and they also added quite a few new songs to their arsenal. They also have their new original "Loved You Anyway" out on all of the streaming platforms. I love asking Alexa to play DMC Duo! Mom and I had a great Sunday Funday at the Hoooooottteelll! Check out the Eagle Hotel's ad in this issue for their specials and of course the full schedule of all of their music on Fridays, Saturdays, and Sundays!
On a Wednesday I got lucky and had yet another live music opportunity! Gemini was playing down at Mt. Gretna Hideaway. It is a little bit of a drive for me, but the venue and live music is so worth it! It was the first time I was able to catch Gemini, so I was pretty excited, and they did not disappoint. They play a great mix of Classic and Modern Rock and Country with their own unique twists. They have great harmonies and Jeff really compliments Missy as they rock the night away. Missy even has a secret weapon, a harmonica! That was the first time I saw a lady wailing on a harp, and it was pretty darn cool! I'm so glad our schedules finally connected, and I was able to catch their show. You can also catch one of their shows, check out their ad in this issue, and make plans for a fun night out on the town!
Friday night Angie and I headed out to Hollywood Casino to catch the Vertigo Vultures debut performance! It was awesome to see so many of their fans out there supporting them, dancing the night away! The Vertigo Vultures have been stirring things up in the local scene rocking every venue they can get their claws on! Kyle's stage presence behind that mic is something in itself worth going to see. But with all of the seasoned musicians backing him up, this band truly knows how to put on epic show that's worth checking out!
Saturday I headed down to Hershey Vineyards for the Wallflowers. Derek Henry and The Gregorys opened the show. It was Derek's first show back after being sick, and he did an amazing job and had a lot of people asking who he was since he absolutely sucks at self-promoting himself from the stage!! I understand when you're so busy entertaining the masses, but seriously it is so important to take a few minutes to mention who you are and where you can be found online! The Gregorys were a pleasant surprise, I never heard them before, even though they've been playing in the area for a while. Their harmonies were absolutely amazing! It's interesting to see how Hershey Vineyards takes advantage of every nook and cranny of space to be able to pull off a big show! After The Gregorys it was nice to be able to go sit out in the Meadow with my friends to enjoy the Wallflowers.
The following Thursday was another show for Matt Jameson. It was his premiere show at Boneshire, and ironically enough it was the first show he ever booked! Even though he's played quite a few shows already before this show, it was still super special. It was that first moment when he realized that this could actually happen, he could play out by myself! It was awesome for him to see so many people show up for this show. Boneshire was absolutely packed, poor Alexis got slammed, but handled it as the pro bartender she is! Matt's friends brought their daughter Charlee that was absolutely amazed by Matt, and she is definitely now a super fan! Boneshire is a great place to bring the family and enjoy some delicious pizza, live music, and of course, delicious beer!
Friday night I saw Sarah Staub posting that the Abbey Bar was having live music again, and I had to get out there and support them. I missed the openers but when I got there at 10pm, the Scott Pemberton band was grooving and the place was packed! It was crazy to see that at 11:30 he just paused the music and people started shouting song requests like they thought the show was over, after all, since Covid doesn't all music have to be over before midnight so we don't all turn into pumpkins?? But in fact, he looked out at everyone and said, "Do you think the shows over? This night is just getting started!" I couldn't believe my ears! And to all of our amazement we didn't turn into pumpkins! Everyone was dancing, and having an amazing night of music in the Abbey Bar!! Til I get home from work on a Friday, feed my family, play with my dogs, etc.. most nights by the time I'm ready to go out, the shows are already over! It was 10pm when I headed to the Abbey Bar, just like pre-covid times, it was absolutely amazing!! I'm not saying shows have to go til 2am.. but I always appreciated 9:30-12:30 shows.. or even 10-1. I know bars are struggling to keep staff, but a girl can dream.. right?!? I hope to see many more shows at the Abbey Bar in the very near future!
The very last show of the month was up at the Doyle Hotel in Duncannon for I'm sorry, but Matt again. We already know he's great, but the amazing transformation of the Doyle Hotel is awesome and deserves a mention. Not only did they renovate the bar area, but I also got a tour of the hotel part too! It's pretty awesome that every room now has their own bathroom and a/c, and they have an area upstairs, that will hopefully eventually be an area for events and bands, but first they have to get their liquor license fixed up. They also recently acquired an old train station that they are hoping to convert into an entertainment facility for events like weddings, parties, and of course live music events!! Ahh it would be awesome to have a place for bands to play in Duncannon again! Matt will be back at the Doyle Hotel on 9/22, a special Thursday night show!
September is another month filled with music and shenanigans!!! One event to try and check out is the Fogleman's Wounded Warrior Music Festival on Sept. 10th. Yes, tickets are $30, but they include all you can eat food, music all day long, you can bring your own coolers for beverages, etc. They have crazy 50/50s all day, tons of amazing raffles, etc.. Last year, in one day they raised $104,000 for the PA Wounded Warriors!! This festival is no joke and so professionally ran, it had record attendance last year with a whole pop-up canopy village. It was simply magical to see so many people together for such an amazing purpose!! You can check out their ad in this issue, or go to www.foglewwfest.com. You can also order your tickets in advance online!
That's all for this month. Please hit me up with shows to see at RachelRocks@pamusician.net. Don't forget you can also hit me up if you have a car to sell! I'm also part of the Vehicle Buying Center at Bob Ruth Ford in Dillsburg. I'm a busy girl, but I love it!!! Get out there and SUPPORT LIVE MUSIC!! If you see me Out & About, please stop me and say Hi!