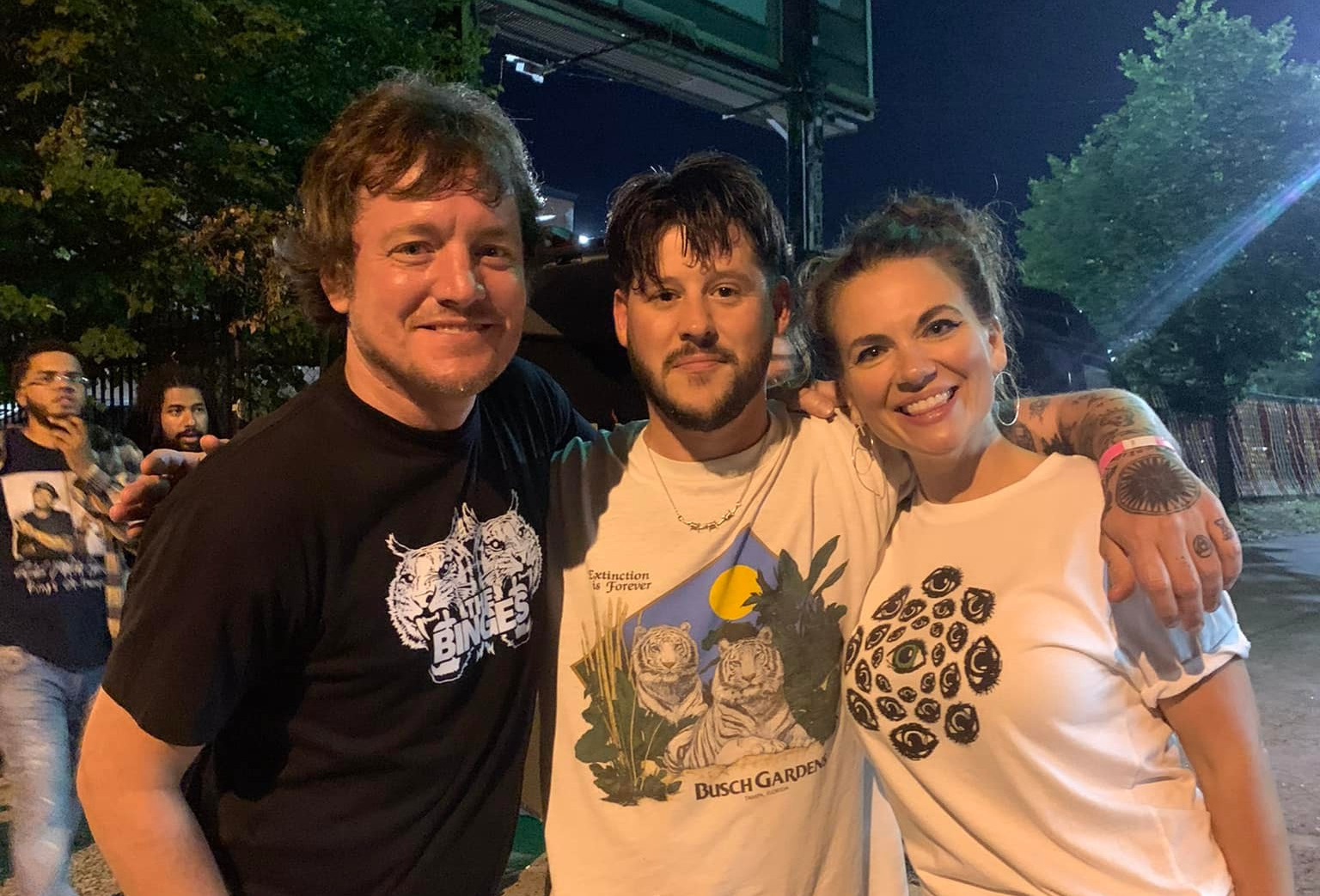 ---
By: Eric Hoffman
Greetings Rockers 'N' Rollers! Legendary PA hard rock band, Dirty Looks, reunited for the second time since the passing of their lead singer, Henrik Ostergaard, in Selinsgrove, PA on July 30. Original members; Jack Pyers, Gene Barnett and Paul Lidel have recruited Jason McMaster (Dangerous Toys) for lead vocals along with David Beeson on second guitar. The band sounded incredible and McMaster is an amazing singer, professional and frontman, giving Dirty Looks great validity again. Ostergaard, began the band in Erie, PA in 1984 but unfortunately passed from liver failure in 2011. Dirty Looks also played the Masquerade Festival in Philadelphia the night before on July 29. The band plans to play more concerts in the future with the possibility of recording new material.
There were plenty of National artists visiting the mid-state the past month including: Hop Along at Millersville' Phantom Power (July 26), The Supersuckers at Harrisburg's Stage on Herr (Aug 18), Rick Springfield at Grantville's Hollywood Casino (Aug 20) and XL Live brought Ani Difranco (Aug 3) and Courtney Barnett (Aug 12) as well as opening their outdoor Southside Stage on Aug 5 for the first time. With a capacity of 3,000 XL's Southside Stage will bring following artists: Lil Skies, UB40, and two nights with Disco Biscuits (Sept 9-10).
San Diego based-band, WAVVES, returned to the East Coast for a slew of shows celebrating the 10th Anniversary (12th due to pandemic) of their album, 'King of the Beach'. The record was named the 24th-best album of the year (2010) by Spin magazine. The surf pop punk band has released 7 studio albums and packed Baltimore's Ottobar on Aug 13.
Comedian, Don Jamieson, visited Harrisburg's Best Western Premier on Aug 16 for a private show. Jamieson, is widely known for co-hosting VH1's That Metal Show for 14 seasons and as a comedian opening for Andrew Dice Clay and Metallica.
Local band, The Armadillos, reunited in Kutztown, PA on Aug 20 – the special event held by alumni had been rescheduled twice due to the pandemic. The band which originated in the 80's while all members were students of the University grew popular and was eventually signed by Media Five Entertainment. It had been decades since The Armadillos played together and proved to be a very exciting night.
On Aug 21 Millersville' Phantom Power held a fantastic afternoon show to celebrate the 70th birthday of the late Joe Strummer, singer of The Clash. The event featured a performance from Jet Silver as well as members of Jellybricks, The Split Squad and The Innocence Mission. All the money raised that day was directly donated to The Joe Strummer Foundation, an organization carrying out Strummer's vision to bring people together through music. Later that night it was off to Merriweather Post Pavilion for Lord Huron and more importantly opening act, First Aid Kit. The Swedish folk duo consists of sisters Johanna and Klara Soderberg are known for songs, "Emmylou" and "My Silver Lining." The tour played Harrisburg's Riverfront the prior night with Harrisburg University's largest crowd attendance of over 5,000 fans.
NATIONAL NEWS: Rock guitar god, Jeff Beck is returning to North America this fall in support of "18", his recent musical collaboration with actor and musician Johnny Depp. The tour will kick off on Sept. 23 in Texas, where Beck will share the bill for the first six shows with longtime musical friends, ZZ Top. According to the announcement, "Jeff Beck found a kindred spirit in Johnny Depp when the two met in 2016. They bonded quickly over cars and guitars and spent most of their time together trying to make each other laugh. At the same time, Beck's appreciation grew for Depp's serious songwriting skills and his ear for music. That talent and their chemistry convinced Beck they should make an album together." The tour visits Washington DC's Anthem on Oct 4.
A shooting at Musickfest in Bethlehem, Pa., injured one victim and reportedly caused chaos as fans fled the area, with police shutting down the event "as a precaution for the safety of patrons." The shooting happened on the streets shortly before 11pm. The incident between two individuals involved a single gun shot which caused thousands of concertgoers to panic and run. The festival resumed the next day with this year's featured performances by Willie Nelson, Counting Crows, Ja Rule and Ziggy Marley. Musickfest bills itself as the world's largest unticketed live music event.
Dead & Company announced they are returning to Mexico Jan. 14-17 for the 2023 edition of their "Playing In The Sand" concert vacation experience at the Moon Palace, Cancún. Formed in 2015, Dead & Co. continue the Grateful Dead's historic live legacy and includes the Grateful Dead's Mickey Hart, Bill Kreutzmann, and Bob Weir as well as musician John Mayer, Allman Brothers' bassist Oteil Burbridge and Fare Thee Well and RatDog keyboardist Jeff Chimenti. The band's set-lists, which are widely known to include rarities and oldies, included some 115 songs performed during the summer tour, six of which made their debut.
Metallica, Mariah Carey and The Jonas Brothers will headline a free concert in New York's Central Park next month marking the 10th anniversary of the Global Citizen Festival organized by the international nonprofit fighting extreme poverty. The Sept. 24 event will also feature a concert across the globe in Accra, Ghana, with Usher, SZA and H.E.R. But the day will be less a celebration and more of a call to action to immediately address numerous international crises. As with all Global Citizen events, tickets to the concerts are free. However, to get the tickets, people must join Global Citizen and take action on a series of the campaign's issues.
Joe Walsh is reuniting his first band, the James Gang, along with special guest Dave Grohl, and bringing along a slew of other Ohio born-and-bred artists including Nine Inch Nails, The Black Keys and the Breeders, to take part in his sixth annual VetsAid concert, taking place Nov. 13 at Nationwide Arena in Columbus, Ohio. Dubbed "One Last Ride" for the James Gang – Walsh, Jimmy Fox and Dale Peters – VetsAid 2022 will be hosted by Cleveland's own Drew Carey. The home of the Rock & Roll Hall of Fame can also claim the James Gang and Nine Inch Nails as native sons. Walsh hails from Columbus, Ohio, while The Black Keys call Akron home, The Breeders cite Dayton and Grohl is native to Warren, Ohio.
Country superstar Dolly Parton, who made a big donation to help fund coronavirus vaccine research in 2020, is among this year's Carnegie Medal of Philanthropy recipients. The award, presented by the international family of Carnegie institutions to honor innovative philanthropists. Parton's $1 million dollar donation to Vanderbilt University Medical Center has received plenty of attention. Parton stated, "I've always believed that if you are in a position to help, you should help. Whether through my Imagination Library or giving to COVID-19 research, I try to support things that have a special meaning for me. I hope everyone can find something they're passionate about supporting and do what they can to help make this world a better place."
Stevie Nicks has unveiled the second leg of her 2022 tour with a 12-date fall headline run announced today featuring special guest Vanessa Carlton. The routing will find Nicks taking the stage at Asbury Park, NJ Sea Hear Now Festival on Sept 17. "Here we go! I'm so excited to be back on the road and can't wait to see everyone," Nicks posted on Instagram. 2020 saw the release of Nicks' live album and concert film with recordings from 2016 and 2017's "24 Karat Gold Tour."
Joni Mitchell thrilled fans by taking part in a surprise performance at Newport Folk Festival during the July 24 set billed as "Brandi Carlile and Friends." The iconic singer/songwriter had to relearn how to speak and walk after suffering a debilitating brain aneurysm in 2015. Her website points out, "The last time Joni performed with guitar in hand in front of a paying audience was 8,660 days ago, on her 55th birthday." Mitchell and Carlile were joined on stage for the historic performance by a group of musicians that included Wynonna Judd, Marcus Mumford, Celisse, Taylor Goldsmith of Dawes, Allison Russell, Lucius and Blake Mills.
SEPTEMBER CONCERTS: WYLDLIFE – Jersey City Pet Shop Sept 3. Jeffrey Gaines – Harrisburg Stage on Herr Sept 9. Tom Jones – Hershey Theatre Sept 13. Pearl Jam – Camden NJ Freedom Pavilion Sept 14. Southern Culture on the Skids – York Appell Center Sept 15. Joan Jett & Blackhearts Frederick Md Fair Sept 18. Amyl and the Sniffers – Washington DC 9:30 Club Sept 24. Joan Jett & Blackhearts – Bloomsburg Fair Sept 26. Melvins – Lancaster Tellus 360 Sept 27.