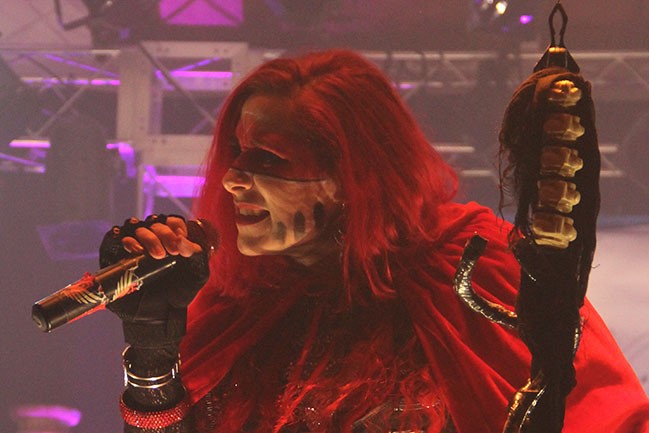 ---
By:Rachel Rocks
April Showers… It's been raining all day, so I guess it's a good day to write this article. We live in Rainsylvania, so I guess we just need to accept that mud is our friend, even with dogs. Even with all of the rain there are still plenty of beautiful days and soon enough the decks will be open and filled with music. It's hard to believe deck season is right around the corner. Let's not get ahead of ourselves, first let me tell you about all of the fun I had throughout March.
It all started a long time ago at Crostwater Distillery in Lewisberry for DMC Duo. It's sort of overwhelming how many Distilleries and Breweries we have in our immediate area and all throughout the state. The really cool part is that so many of them are supporting live music. It's really an acoustic musician's dream. DMC Duo is Darrell on guitar with Marisa on vocals. Marisa has a great range and they cover songs from the 70's to today, and everything from Janis Joplin to Justin Bieber! There are plenty of sing-a-long songs, and even some songs that easily get people up and dancing. DMC Duo has a special Thursday night show at Blarney's on April 11th as part of their new acoustic Thursdays. Blarney's has been having acoustic Thursdays, with the last Thursday of the month being an Open Mic. Get out there and support live music!
After DMC Duo we stopped in at Newfangled Brewery which is also a new brewery in Lower Paxton Township, off of Locust Lane. When people said a brewery was going into the development, I really just pictured a small little place, but Newfangled is huge, and it has a full restaurant, Koda attached to it. It's sort of odd how it's nestled right amongst homes, but so far it seems to be working. Dan Jamison runs the music at Newfangled, and if you want on their schedule you have to go through him. Every time I've been there he's always on stage, so I'm not sure if he's actually booking "other" bands there or not. This night he was playing with Brandon and Ryan. We didn't stay too long, but it seemed that they had quite a few people there because of the music, so that's a good thing. They have a cute little stage area with lights, PA, etc. It's a cool set-up, hopefully he starts getting various musicians in there to help spread the love.
The next night I headed over to Blarney's for the Queen Tribute Band, when I arrived the opening band was playing. I'm pretty sure the opening band was Heaven Tonite, or maybe the Queen Tribute Band was called Heaven Tonite, but when the opening band went on their break they said the Queen Tribute Band will be up next, the same band came back on stage, but 'Freddie Mercury' was on stage with his exotic clothes and his huge front teeth, and 'Brian May' showed up with his wild curly hair. I just watched Bohemian Rhapsody the day before, so it was cool seeing them get into character. I only stuck around for a few Queen songs and then it was time to head out on my next adventure.
My next stop was over at Johnny Joe's for The Curly Jeffersons. The Curly Jeffersons are pretty new to the scene, and are showing their newness by also playing mainly newer songs sticking with the 90's and newer. It started out with three friends Darrin, Chris, and Jay, but now they added in 2/3rds of Observe the 93rd with Dylan on drums, and Tyler on bass. The Curly Jeffersons had their friends out in full force and Johnny Joe's was hopping. People were dancing the whole last set, and not only in front of the stage, but on the sides and all the way to the back of the bar. Johnny Joe's was literally hopping! A lot of the cover bands stick with the 80s and "older" party songs it was cool to see and hear a band pulling out some newer songs.
The next night was jam packed with craziness. It was the night of the big Jackyl show at Club XL, but also Illusions of Grandeur was having a CD Release Show at HMAC. I started my night out early at XL, 1st catching our advertiser, Road Case's opening set. It was awesome to see how many people were already at XL at 8pm. So many times the venue doesn't fill up til later in the night, but everyone was there and ready to rock. Road Case killed it as usual. Chris Redding from Steel has now taken over the helm as Road Case's lead singer. Tony's schedule is just too busy with Back in Black, and their schedules were just too much for him to do both. Chris is doing a great job, and lucky for us the show can go on. Road Case is fun to watch because all of the musicians in the band have played in enough bands for enough years, that now for them it is definitely all about having fun and entertaining the crowd. They always play with such passion it's easy to get caught up in their energy and enjoy the show. The crowd was yelling for more when their set was over, that's pretty awesome for an opening band to experience, but with Road Case it is well deserved.
Adrian Blitzer took the stage next and continued warming up the crowd in true Blitzer fashion. They had everyone jumping, dancing, and singing along. It was awesome seeing Adrian Blitzer on a nice big stage again. They were able to really run around the stage and entertain the masses. After I listened to a few Adrian Blitzer songs, I had to go to my next stop, but I was hoping to make it back for the tale end of Jackyl. Unfortunately for me, Jackyl was done just before midnight and I missed them!
My next stop was over at HMAC for Illusions of Grandeur's CD Release Party. I.O.G advertised this Record Release Show in the magazine so I wanted to get out there and support them. I never saw them before but after googling them and watching some videos, I was definitely intrigued. When I arrived I unfortunately missed Mutiny at Midnight, but From Dawn Til Death was on stage. I've seen these guys a few times now and as usual they were rockin' the stage and giving it all they got. It's awesome to see them out playing more shows locally, keep an eye out for these guys, and get out there and support local music.
Finally, it was time for Illusions of Grandeur to take the stage. Their website describes their music as a "Theatrical Hard Rock/Fantasy Metal Band", one word I would use to describe their music is intense! I'm often complaining about bands and their lack of stage presence, but that is definitely NOT the case with I.O.G. They come to the stage with make-up on, props and tons of energy. It was a very cool show just to watch, let alone here. They were celebrating the release of their songs on their new album "The Songs of the Siren". They played the complete album from start to finish. Unfortunately, it's just a teaser because the album isn't completely released yet, but will be soon. I originally only planned on sticking around for a couple songs, so I could make it back to Jackyl, but in all honesty they had me so hooked in I lost all sense of time and just enjoyed the show. I've seen Jackyl use a chain saw on the stage before, but I've never seen anything like this! It's hard for me to believe the Illusions of Grandeur is from right here in the Lancaster Area. I've said it 1,000 times, we are absolutely surrounded by amazing music, I'm grateful that Illusions of Grandeur advertised their show so I was able to learn about who they are and enjoy their music. I'll definitely be keeping an eye out for future shows and ultimately their album release!
The rest of the month was a blast from the past… I feel like I stepped back in a time bubble. The first reunion show I went to was Fuzzy Bunny Slippers at the Union House. The Union House was packed and was standing room only, I guess I wasn't the only one that missed these guys! I'm glad to say they still know how to get the people up dancing and having a great time. Throughout songs they were throwing out Fuzzy Bunnies which were a huge hit and a very coveted item. I was thrilled to see they didn't just come out and play the same set list they were playing 10 years ago, they learned some newer songs and shocked the crowd. I always find it extra entertaining when band members can easily swap instruments and vocal duties without missing a beat, and the Fuzzy Bunny Slippers did that with ease continually. Overall it was a great show and it was awesome to see Union House so packed for this special event. I hope we see more reunion shows from Fuzzy Bunny Slippers, it was tons of fun!
The next blast from the past was seeing a Deezle Church acoustic show at Crostwater Distilllery. Deezle Church hasn't played since 2009! It's hard to believe it's been 10 years. Jim has been getting the itch to get back on the stage, so he grabbed Mike and Darrell and they packed the Crostwater Distillery. When you have original bands like Deezle Church who have such awesome originals and then they break up it's so heartbreaking because not only do you lose a great band, but you lose their music too. It was awesome to hear their music again. They also had Pam Weaver from the old band Steel Kitty come up and sing some Janis Joplin for us. Hearing Pam sing is always a special treat. Hopefully Jim and the boys keep scratching that itch and get out there and play more shows!
The last band of the reunion tour was Bubba! I guess they still play every few months, but I just haven't seen them in a really long time so it was like a reunion to me. I think the last time I saw them was at the Drinkin' Bone, so it's been quite a while, although some people said they last saw them at the Metron, so that goes to show you how long these guys have been out there playing. Tonight they were playing at Cliff's. Again, it was great to see Cliff's packed to the point of being standing room only. Bubba really brought out some people that you don't regularly see such as Gretta and Rochelle from Take 147. It was awesome to see old friends, make new friends, and have a great night Out and About.
All of the reunion shows reminded me of how great it is to see packed venues. I strongly feel that technology is one of the biggest hurdles of the music scene. So many people communicate every day on their phones thru Facebook, FaceTime, Snapchat, whatever… they don't have the desire or the need to get out there and actually see their friends face to face. These shows were a perfect example of that, probably most of the people at all 3 of these shows were, I'll be nice and say 35+, but where in the world are the young people? Where do the 20 somethings hang out? How can we get them off their gadgets and out to a show?? I know I'm calling all of us hard rockers old fogies, and that's ok, at least us old fogies still know how to rock and have a great night out and about actually seeing, hugging, and interacting with our real friends.
On a super special side note, I have to put out a huge apology to The Redacted. I did see them way back in February, but unfortunately they were part of my faulty memory card nightmare, so I lost their pictures, and then with everything I had to write for the MMC, I just honestly forgot to mention them, but they are definitely worth mentioning. The Redacted are some of the old members of Jughead, but they also have Sarah on vocals. Sarah's range is ridiculous and the songs she can cover are off the hook amazing! Mike Bonilla is on drums and he used to be the lead singer of Jughead so who knows maybe they'll convince Sarah to learn a couple songs behind the kit so Mike can come out front too. He's also a great frontman so it was sort of shocking to see him back there being loud but in a different way. The Redacted has a full schedule coming up this month, so please check out their ad and get out there and support them!
Please make sure and check out the full magazine and see everything happening this month. It is packed with schedules with amazing bands and venues that all support, play, and love live music! There are amazing events happening too. One of those is the Racehorse Tavern is hosting a Benefit and Bike Ride for the York County Children's Advocacy Center. The Bike Ride starts at 11am at the Conewago Inn, and the Live music starts at the Racehorse at 4pm, with at least 5 bands they have a little bit of something for everyone, including the newly added Time Bomb! Check out all of the details in Racehorse Tavern's ad. Also, there always seems to be one insanely busy day of the month for me, and this month it is April 6th. I have The Juice playing at Three Pines in Mt. Holly Springs, and Road Case is playing at Blarney's for the first time, The Record Company is playing at XL Live which is part of the Harrisburg University Concert Series, and I'm sure there is even more.. that's just all I know about BEFORE I read the latest issue of the mag.
Please get out there and support live music! Put your phones down and have a good time interacting with REAL people! Make new friends, have fun, live life to the fullest!! If you see me Out and About please stop me and say Hi! Don't forget to "Like" Facebook.com/PAMusicianMagazine page where you can see tons of pictures and also get reminders of upcoming shows throughout the month. Hit me up at RachelRocks@pamusician.net SUPPORT LIVE, LOCAL MUSIC!!!