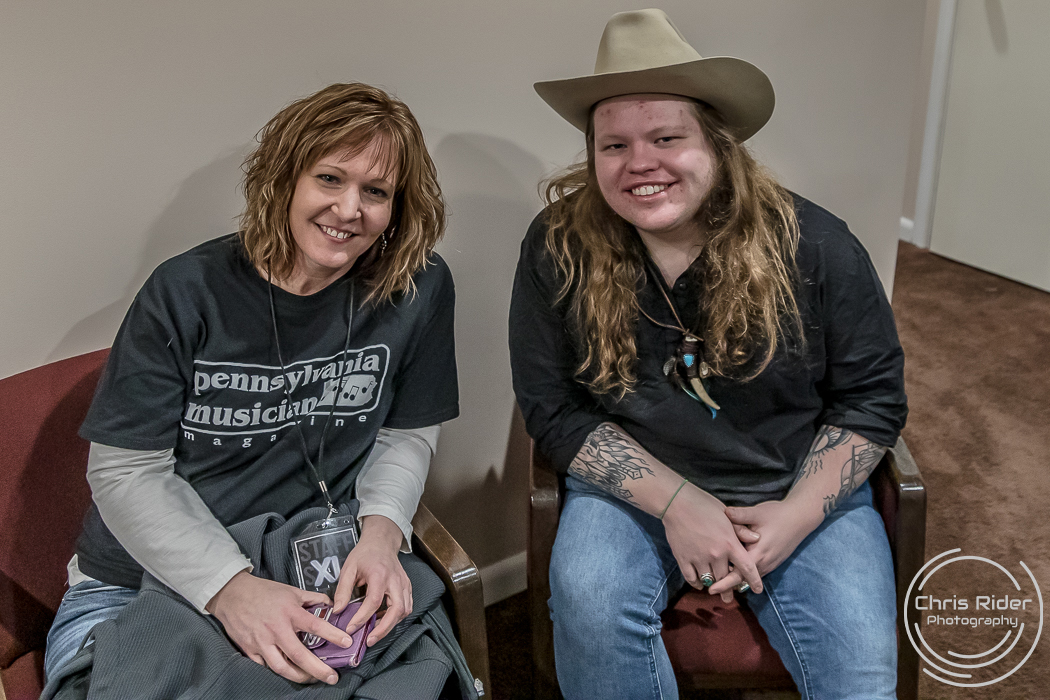 ---
By: Michele Kelley
Welcome Spring! I didn't think it would ever get here! I am so glad to leave the snow and cold weather behind us. Last month, I promised to include our first experience with The 23rd Millennium Music Conference. So, where do I start? The amount of music you see and hear is just mind-blowing. I could write a whole article just on MMC and everyone we got to see. Maybe that will be my plan for next year.
We arrived early on Thursday night of MMC to check out what this bag stuffing thing was all about. It's just what it sounds like, stuffing bags with band and venue goodies. Boss-man Josh put us to work right away. Rachel Rocks can tell you that timing is everything! She had to pick up her friend at the airport and arrived just as we were finishing. Lucky girl! Joking aside, it was surprisingly fun. You get to meet lots of people and have some very interesting conversations. After the bag stuffing, we headed over to Blarney's Pub for the start of the welcoming party. We saw some amazing performances from a wide range of genres and from all around the world. Chelsea Takami, NY, Abby Lappen, NY. Autopilot, Canada. The Bad Verbs, FL and Single By Sunday, Scotland. These guys were so much fun to watch and were a very tight group. They got everyone up dancing. They even had a band member table surfing and playing on the bar. It was a great kick off to weekend.
The next day offered several great panels during the conference and an open mic stage, which was probably one my favorite parts of the conference. All open mic performers did an outstanding job! The evenings highlighted over 250 artists/bands performing at 28+ venues around the Capital Area. Friday night we were covering Keller Williams and The Accidentals at Club XL in Harrisburg, so we did not get to see any of the showcases around the area that evening. Check out last month's article for Keller Williams Accident. I was able to talk with a bunch more people on Saturday during the conference. I sat in on one of the panels at the end of the day that was very informative. The talk was about social media and music. We then went over to Blarney's Pub to grab a bite to eat and we got to see a solo performance from The Accidentals. An extremely talented trio from Michigan. Seeing them with Keller Williams and then alone as a band was cool. They highlighted their sound and their personalities were able to shine through much better. After dinner, we ended the long weekend at the showcase hosted by Club XL. There we got to see nothing but Pennsylvania bands that included: Observe The 93 from Mechanicsburg, Nearly York from Lancaster, The Stonewall Vessels from Lancaster, Medusa's Disco from Lancaster, and Big Fat Meanies, also from Lancaster. All of them were great and I encourage you to check out their Facebook pages and go see a show near you. Hats off to PA Music! I am already looking forward to 2020's MMC! The interactions you get with musicians, singers, songwriters, producers, talent scouts and everyone working in the music industry is well worth the time. So, for next year, if you are a musician, or work in the music industry, get to the conference. If you just love live music, go see a showcase or two and support LIVE music!
Now on to March's shows. We kicked off the month seeing JJ Grey and Mofro at The Whitaker Center in Harrisburg. JJ Grey and Mofro is one of Chris's favorites, and high on my top favorites as well. We got to see JJ a few years ago in Johnstown and Chris captured an awesome picture of JJ. We were able to have him sign it at this show and JJ commented on what a cool picture it was. JJ Grey and Mofro perform a genre mix of swamp-blues, funk, and southern soul-rock. JJ has a way of capturing the audience with his lyrics and storytelling. All the songs JJ sings reflect the area he grew up around in Jacksonville, FL. Every lyric has a deep meaning that pours out to his fans. It is an experience that you will never forget. They started out in the mid 90's when John, aka JJ Grey, and Daryl Hence signed with a UK label and did a tour in Europe as "Mofro Magic". After the tour ended, they returned to Florida and started a band called "Mofro", a nickname given to JJ from a former co-worker. After enduring some shame from his Grandmother, JJ later changed the band's name to JJ Grey and Mofro. They have released several albums over the years and are known for their extensive touring and festival appearances. You will be surprised where they pop up. Check out their website or Facebook page to see where they will be this summer.
A few days later, I was honored to meet one of my top favorites. The Marcus King Band. They played at Club XL in Harrisburg on March 9th. We arrived a little early with hopes of sitting down with them to do an unofficial, mini interview. When we arrived, they were on stage doing a sound check. When finished, Marcus came off the stage, introduced himself to us and we had our opportunity. Only then did I realize that I probably should not have left my questions at home. Duh! Nerves kicked in and I fessed up to my error to Marcus. He was so cool about it and made me feel at ease. He is very laid back and has a dynamic southern charm that makes you feel very comfortable. Just an ordinary guy playing music. During our talk he answered "yes ma'am" to one of my questions. I wasn't sure it was a southern thing or that I am twice his age. Joking aside, they are all great guys. When I found out he was coming to Harrisburg, I was so excited and surprised that few people in this area knew who he was. Marcus has been playing guitar as long as he can remember. He is a 3rd generation guitar player and 4th generation musician. His father, Marvin King still plays today. His grandfather played guitar and fiddle and his great grandfather played the fiddle. He grew up listening to folk, country, and blues. He recorded his first track at age 11 and later went on to study Jazz. This goes to show, he is not new to music. The band is a self-described Americana band from South Carolina. Although, Marcus told me he recently moved to TN. The band released their first album 'Soul Insight' in 2015. In 2016, they released a self-titled album, produced by one of the best musicians, in my opinion, Warren Haynes. So, if you have been reading my articles, this might shed some light on how I found Marcus King. Their latest album, 'Carolina Confessions', released in October and they are touring now to promote it. When talking with Marcus, he said this one is going to be a long tour, lasting into September. That will give you all plenty of time to make plans to see them play. They will be coming back to PA in July to perform at Peach Music Festival at Montage Mountain in Scranton. I know I have talked a lot about Marcus but his band is equally as talented as he is. Members include Jack Ryan: Drummer, Stephen Campbell: Bass, Justin Johnson: Trumpet/Trombone, Dean Mitchell: Sax and DeShawn Alexander: Keyboard. If you haven't heard of these guys before now, check them out.
Before The Marcus King Band took the stage, we had the pleasure of seeing Grammy-nominated singer-songwriter Gabriel Kelley. He has an amazing story and I hope you stick around to read it. Gabriel was raised outside of Athens, GA and is now living in Nashville, TN. At 16, he spent time in Sweden as an exchange student at a music school. After returning to Georgia and completing his senior year, he spent a couple of months at the University of Georgia and set off for the road for 2 years playing for anyone that would have him. He landed a job in Nashville and signed with a Nashville publishing company that most musicians would dream of having. He spent many long days writing songs for big named artists. Being unfilled writing country songs that he could not relate to, he sold everything he owned and moved to Guatemala, where he helped raise funds to start a music program at an orphanage. He toured around Sweden and wrote songs for Jill Johnson and appeared in a hit Swedish TV show. Upon returning to the US, he continued to write, this time for himself and about his life experiences. He completed a very successful Kickstarter campaign in 2013, raising over $35,000 in 60 days to record the album 'It Don't Come Easy'. In 2016 he released 'Lighter Shades of Blue' gaining him recognition and he started months of touring and supporting artists like Chris Stapleton, The Allman Brothers, Old Crow Medicine Show and more. In 2018 he released a 5-song album 'Free Your Heart'. He has a self-titled EP coming in May. At the show in Harrisburg, he sang the song "Come & Go Blues' in honor of Gregg Allman, I think I have found a new favorite singer-songwriter.
The next band, Royal Benson from Lewisburg, was a band we covered back in September and have been waiting to see them again. They have been quiet over the winter and I happened to notice they had a couple shows lined up, one being at Spyglass Ridge Winery in Sunbury, so we had to get out and see them. They performed a cover song that surprised me. It was a funky, jam version of Paula Abdul's, 'Straight Up' and I have to say, I may like that song now. They also performed some originals and other covers. I believe my favorite of the day was "Don't Let Me Down" by The Beatles. Members include Tim Myers: Bass/Vocals, Adam Tarin: Keyboard/Vocals, Matt Fern: Guitar/Vocals and James DeVoss: Percussion. As I write this, they do not have any shows lined up on their Facebook page but they are a great band and a must see, so keep an eye out. Owner Tom made an announcement of some incredible shows coming to their Backyard Concert Series this summer. Bands like Chicago, Marshall Tucker Band, Molly Hatchet and Big & Rich. More big news from Spyglass coming very soon. If you have not been to one of their Backyard shows, you must! The whole team at Spyglass does a wonderful job hosting these events.
When then set north to see my long-time friend's band, Trip the Light. Now Keith and I go back a long time. From the days of bus trips with the Marching Millionaires to meeting my best friends from high school to introducing me to the person that would give me my amazing daughter. It was just a matter of time that I cover this talented drummer. TTL played at The Valley Inn in Duboistown and they had people tapping their feet from the first song. By song three, people were hitting the dance floor. TTL is a high energy, 9-piece party band from Williamsport. They include a horn section, which I really enjoyed. Members include Diane Freynik: Vocals, Keith Bashnick; Drums, Kato Clark: Keys/Vocals, Chris 'Bart' Bartley: Bass, Ted Kipp: Trombone, Tyler Crossley: Guitar, Dee Waddell & Len Cagle: Sax, Jeff Johnson: Baritone Sax and Doug LeBlanc: Trumpet. Len and Jeff were not able to make this show. Fill in performers were Victoria Ricedorf: Tenor Sax and Jerome Bennett: Aux. Percussion. We were not able to stay for the whole show but I was glad we were able to catch them play. What a fun time! Great job guys!
The final entry for the month is Otis. We only were able to stay for a few songs but enjoyed what we heard. OTIS is a band from Kentucky that is self-described as Blues Flavored Southern Rock and Roll. They played at The Bar on Market in Williamsport and are very good musicians. Members include: Boone Froggett: Guitar/Vocals, Steve Jewell: Guitar, John Seeley: Bass and Andrew Gilpin: Drums.
Well, that about wraps up part February and March for us. It looks like April will be a busy month for us so stop and say hello if you see us out. Upcoming shows for us are April 6th – The Record Company and April 20th The Frank Turner Band at Club XL in Harrisburg as part of the Harrisburg University's 2019 Spring Concert Series. We are going to try to get out to see Lotus at Club XL on the 18th. I am super excited to see Uptown Music Collective presenting "Running Down A Dream: The music of Tom Petty" at The Community Arts Center in Williamsport. It will run April 12th-13th. These kids and staff do such an amazing job! When people ask me what UMC is, I refer to it as the real-life version of Jack Black's 'School of Rock'. It is sure to be a good show and consider coming if you can. Mostly Mutts will be at Spyglass Ridge Winery in Sunbury on April 27th and music by our friends from Prairie Dogma. So much music! I have a feeling it's going to be a music filled summer for us. Thank you to the musicians that have been sending me invites to your events. I am adding them as quickly as I can. Check out my Facebook page @MichelePAmusician if you're looking to support LIVE music. No doubt there is something for everyone near you! As I have mentioned before, we run strictly off advertising, venues and bands, please check out our really affordable pricing at www.pamusician.net and give Josh a call to place your inexpensive and painless ad. See you all soon and have a great Easter!