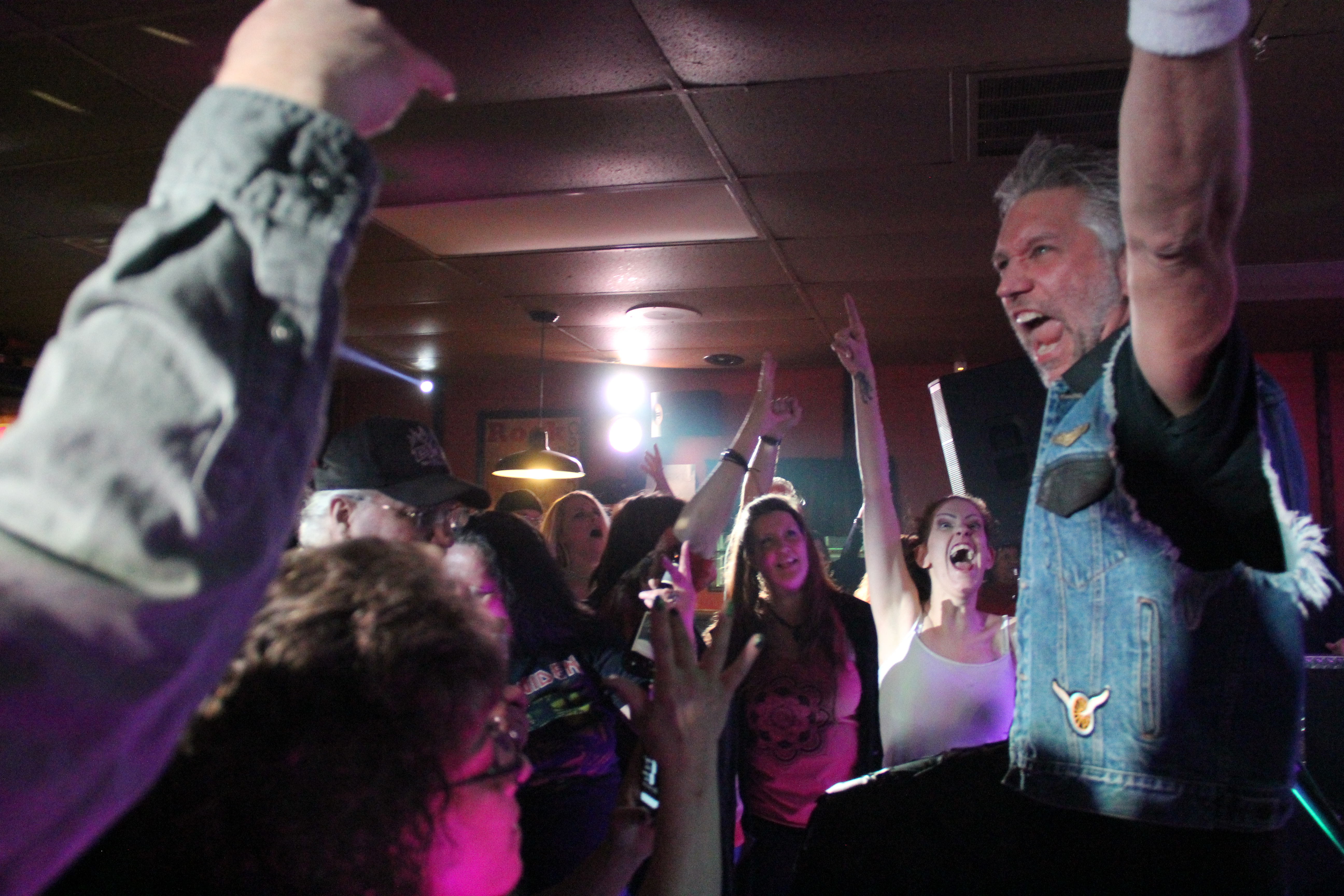 ---
By: Rachel Rocks
April is almost here!! And we will finally be able to go in a bar and not have to eat! And if we are truly lucky.. live music will come back everywhere! We've been lucky to have a few shows here and there to see and enjoy, but I can't wait to have even more options.
My first stop of the month was super close to home at Newfangled Brew Works here in Harrisburg. RJ Moody was on stage playing to a full house when I arrived. When I walked in RJ was playing Lee Brice, so I knew I was going to like this show. While I was there he seemed to play quite a few of the modern, very popular country songs, but he would still throw in a couple of classics that he knew the crowd would like. Newfangled seems to be growing in popularity and getting a pretty steady crowd. It's great to see for them. I hear they are getting a whole new menu in May, with more small plates to keep it social, sharable, and affordable. Plus they have a schedule full of live music on Friday and Saturday nights which is music to my ears.
Talk about music to my ears, I was able to see two FULL, head banging bands at Racehorse Tavern, Stricken and Maiden America. I knew it was going to be a great crowd with not only one, but two amazing tribute bands, but the Racehorse was packed! It was so refreshing to see a full band rocking out in all of their glory once again. When we got there Stricken already had a bunch of sweaty dancers on the dance floor. It's amazing to see how all of these bands have been able to keep their stage show at 110%. It's been so long since they've had the opportunity to play in front of a crowd, but they acted like this was something they were able to do every day. I know if it was me up there, I'd be so winded just from moving around, there is no way I'd be able to play or sing, especially with such intensity! Obviously, these guy put in lots of work on a regular basis. It's awesome watching them perform. I'm so glad Racehorse is giving bands the opportunity to get back on the stage again.
Next up was Maiden America. Talk about guys that are crazy on the stage! Their lead singer, Gordon is all over the stage jumping, running, singing, etc. I never had the opportunity to see Iron Maiden on stage, but I am glad I get the opportunity to see Maiden America. All of these guys put on such a great show. I always say the Tribute Bands have to work even harder since they have to perfect the artist they are paying tribute to. It's always awesome watching them play the music they've loved for so many years. I know it meant a lot to Jim at the Racehorse to see such a great crowd out supporting live music and his venue again. When things were closed with no end in sight, he couldn't help but wonder if we would ever even come back, but I think this night proved that we are all willing and ready to come back in droves! It's awesome to see live music getting such an awesome response. I can't wait until more places open and hopefully the people will continue to come out and support it!
Next up was a night out very locally, to Spring Gate, to see my friend Jeff's new side project, ideally called "Side Hustle". They are a new duo, Jeff plays guitar and sings and Amy plays the Cajon, and also sings as well. Jeff does a great job at interacting with the crowd and adjusting his song selection to make the crowd happy. Right at the beginning of the night a Bachlorette Party came in, and he quickly through in some Nellie which got the whole crowd dancing, singing and having a good time. He does a great job at doing his best to muddle thru song requests, even if he doesn't do all of them perfectly, the crowd still appreciates their hard work at trying! Spring Gate has music most Fridays, Saturdays, and even Sundays, they have a great set up. You can no longer bring in your own food, but they usually have delicious food trucks as options if you're hungry. Spring Grate is a winery and brewery, so there are lots of options there for everyone while you sit back and enjoy some great live music.
Unplanned nights always get a little crazy, and this night was no different. I had dinner with Mom and Andrea and the boys. Mason went home with Mom for the weekend, so I decided to swing in to Moe's. At Moe's I convinced a group of friends to pile in my car and we zoomed down to Carlisle to the BarBQ Tavern for Derek Henry's acoustic show. The BarBQ Tavern is a tiny little place, so it was packed! Lucky for us a table opened up and we could all pile in and enjoy the show. Darrin once again sat in with Derek for a few songs which is always a special treat. Derek and Dylan have been very busy releasing new songs and videos for Observe the 93rd. They are also now on Spotify, so if you haven't already, add them to your Playlist! I'm so glad Derek is doing the acoustic thing so we at least have some entertainment, but I do REALLY miss seeing the full band, Observe the 93rd. I love finding new places that support live music. The BarBQ staff were very friendly, fast, and just super awesome! In such a tiny venue I can't imagine what it is doing to their business to not be able to have people sitting at the bar, 50% of the venue was just bar space with all the stools taken away… I am really hoping that after everything opens April 4th, it STAYS open. This is getting beyond crazy. Please stay safe, but when you can and when you feel comfortable, get out there and support small businesses, especially small businesses that host live music!
The last stop for this month was to see DMC Duo at the River House Bar & Grill in Middletown. It was nice seeing them at a new, local venue. When I arrived DMC Duo was playing to a nice, full dining room. I had some delicious wings and fries and enjoyed the show. Darrell and Marisa always put on a great show. I couldn't believe how skilled Marisa is getting with not only, obviously her vocals, but also her tambourine! If and when these two come to your town, don't miss their show!
If you haven't already, please check out the Cover Story and learn all about The Austens. I interviewed them about 10 days ago, and when we talked Nick mentioned that he recently started a TikTok page. I've seen a few TikTok videos, but I was never really on it too much, but now I'm addicted. Nick has posted quite a few crazy cool videos. Some are funny, but some are educational. Like his "How to Learn to play Ukulele in 15 seconds".. well I watched, and guess what, I learned! It took me more like 15 minutes, but within 15 minutes I was playing and singing Happy Birthday to my Grandma. Now I'm learning "Amazing Grace" and now the sky is the limit! I'm a Ukaboom Girl! It really breaks my heart that I didn't take the time to learn from Dad while he was still here. He tried to teach me so many times, and I would attempt to learn, but I never really practiced the way I should. It's my friendly reminder that you never know what day will be your last, or your loved ones last. Love every moment, absorb every minute. I've been going through so many tapes that Dad recorded of not only himself, but our whole family. Every one is so priceless. I know we are very lucky to have his recordings, and I know he's up there smiling down every time I pick up his fluke and start strumming the strings. I wonder which song I should learn next…
Speaking of Dad, we are also working hard on planning his Celebration of Life. It will be Saturday, June 19th, outside on a farm in Liverpool with food trucks, and one heck of a line up of bands and entertainment!! There will be an actual Memorial to Dad at 3:30 where Pastor Tim from Abundant Harvest Church will have a little service followed by a little family jam with family members and a few friends playing some music. The Syn D'Cats will kick things off at 5pm, followed by The Sharks at 6pm, The Martini Bros. at 7pm, and the Inciters are sneaking in there somewhere, then Road Case and closing the night will be Suicide Puppets. It's going to be an amazing night of music. Dad spent a lot of time with these bands and we look forward to hearing them all play. DJ Ray Rossi will also be there spinning tracks between bands and keeping everyone entertained. This is a FREE Event but we will be accepting donations to help pay the bands, sound guy, Keith Hummel, etc.. Parking is EXTREMELY limited. Please car pool if you can!! The property is gated, if it gets to the point that we can't safely park vehicles the gate will be closed.
I can't wait to get April started so we can try out their new regulations here in the state of PA. I'm hoping the extra capacity will help venues start to bring back live music too. I hear there will be some live music happening soon at XL Live and HMAC which is very exciting news! I think most venues will start with smaller acts, and will hopefully get back to "normal" soon, even though we don't really know what the new normal will be. If you see me Out and About please stop me and say Hi! If you have any tips on what songs I should learn next on the ukulele let me know. You can email me at RachelRocks@pamusician.net. Please get out there and Support Live Music and Small Businesses!