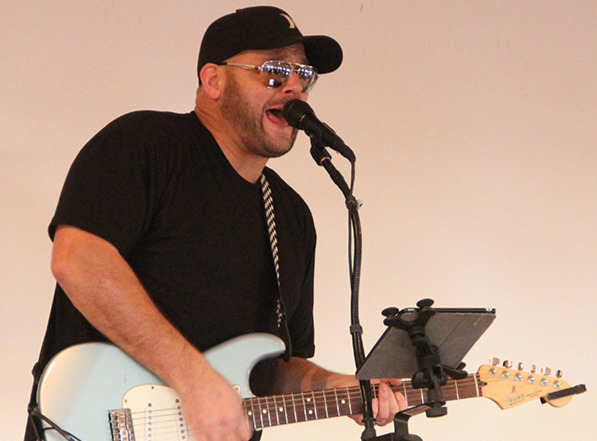 ---
By: Rachel Rocks
It's hard to believe we are already on month two of 2022. It's refreshing to see new venues opening throughout Central PA and beyond, and it's even more exciting to see bands' schedules getting busier and busier. I know a lot of us our bracing for the next shutdown. Hopefully that will never happen, but in today's world, one thing we know for sure is that there are no guarantees. We just need to get out there and support music, venues, restaurants, and businesses while we can.
This month starts out with no other night, but New Year's Eve! I usually stay home on NYE and welcome the New Year with my family. This year as my boys get bigger they have their own adventures and plans, so I decided to venture out on the town with Holly and Matt. We started the night at HMAC. They were having a party upstairs in the Capitol Room with a champagne toast at midnight and 4 bands! The first band of the night were The Sorters, they are based out of the mountains of Pennsylvania, but they had no problem taking the big city by storm. Even though their drummer couldn't make the show, they didn't let that stop them, Sam just worked a little harder playing the cajon on some songs, but then also playing the harmonica and mandolin on other songs. With Spencer's crystal clear lyrics you could definitely connect with every song. I'll definitely be keeping my eyes out to catch more of these guys. Next up, ironically enough, was Lives Lost based out of Hummelstown. Just a few weeks earlier I was walking along the Swatara Creek Trail and I saw a band I didn't recognize recording a music video under a bridge. I snuck a picture from a distance and found out later, that it happened to be Lives Lost. It was super awesome seeing them play under the bridge in the freezing cold, but it was also awesome to hear that I was definitely correct, when a band is pushing that hard, I knew they must be good, and they definitely didn't disappoint. Lives Lost was definitely harder than The Sorters, but that just got us ready for Observe the 93rd. OT93 has been working tirelessly at releasing new singles, and making amazing videos to go with them! You can check them all out on their website, www.observethe93rd.com. Not only is Observe the 93rd nominated as the Best Alternative Band for the Central PA Music Awards, but Derek is also nominated for Best Male Vocalist, and their song "Awareness of Death" was also nominated for the Best Song of the Year! People are starting to harass me and say why do you always go see those guys.. Simple answer.. They are FUN! Very entertaining, the sweetest guys ever, and Angie, Derek's Mom is super awesome to hang out with! Oh and did I mention they advertise!! After OT93, we decided to zoom over to City Island to watch the Strawberry drop. We unfortunately missed Garrett Shultz and the champagne toast, but it was a beautiful night and I always wanted to check out one of the local "drops". City Island was absolutely jam packed with people. We didn't even try to get in the actual stadium. We just walked around the outside and at the strike of midnight we hurried up and jumped in the food truck lines! We were starving and before midnight the lines were ridiculous. They only had 2 food trucks. I think the city of Harrisburg was just as shocked as we were to see so many people there. Overall we rang in the New Year full of adventure, and we hope it continues throughout the year.
My next adventure took me to a new place, Jen-Jen's Rhythm N' Brews in East Berlin. Yes, again Observe the 93rd was playing there, so I decided to go check it out. When I'm going by myself to check out a new place it's always good to know there will be people I know there. Jen-Jen's reminded my of Double K, yes it was smoking, but you can also tell how much they love and will continue to support music. I was impressed with how well run everything was. The place was so packed they actually had the doorman outside the door just to make more room! Even though they were absolutely packed, they still had amazing service. They had a great system and it worked! Everyone had a blast and I didn't hear anyone complaining about not being able to get a drink. OT93 were the opening band this night so when I got there they were already playing and had fans on their feet dancing! Angie didn't have anywhere to set up her merch, but that didn't stop her, she had a box under her table, and she was still selling merch! That lady is crazy! The headlining band this night was Number of the Sun, based out of Dillsburg they were the hometown band, and they brought out a great crowd. The two bands were a great mix for a night of original/alternative music. Number of the Sun also played a fair amount of covers which kept people on the dance floor singing along. Overall it was a great night of music. I'm sure I'll be back down to Jen-Jen's soon!
My next night out was a special Thursday night show at Sturges' Speakeasy in Harrisburg for Derek Henry's acoustic show. Thursday night live music is very normal for Sturges' and they had the place packed with people ready to enjoy the night. I like going to new venues with Derek because it's awesome watching people hear him for the first time, and watching him play his guitar "backwards" since he is a lefty. Derek once again handled all the craziness in the club with ease and continued to entertain us, taking requests, and laughing at some of them! But at least Angie did get to hear her favorite song, "Country Roads". During Derek's break, Matt Bynum was out with me, so he took advantage of the empty guitar and he jumped up and played a few songs for us. When the other musicians realized the Mic was open, a couple more jumped in to the fun, one of those was Chuck Britton, he's frequently playing throughout the area, I was glad our paths crossed once again. After Derek got back up there, he also played "What's Up" by the 4 Non Blondes, with Ariana, who is also the lead singer for Throwback 202. Like I said it was packed with musicians, and in true Derek fashion he has no problem sharing his stage with fellow musicians and friends.
The next night I zoomed down to Racehorse Tavern for their Annual New Year party. They always close on the actual NYE so their staff can be with their families, and then they celebrate 2 weeks later with a Horse Drop at midnight with a champagne toast, party hats, noisemakers, and of course live music. I unfortunately got there right in the middle of both bands, and before Silver Mountain got a chance to take the stage I got a call from my son that he needed a ride. When duty calls, and it's one of my kids, I go! So, yes it was a long drive to Racehorse, and a long drive home, but it was well worth the try! Jimmy and his crew always put on one heck of a party and I heard it was an amazing night like usual, I'm bummed I technically had to miss it.
The next Friday night started out early when I had the special privilege to "judge" the 11th Annual Mini Thon tryouts at Cumberland Valley High School, along with Derek Euston from Green Room Recording Studio, and Brandon Valentine, President of the Central Pennsylvania Music Hall of Fame. They made the tryouts also a fundraising event so the kids could raise money during their performance for the Four Diamonds Fund, all together the kids raised $5,712 in just 2 hours! We picked 5 groups to perform at their Mini Thon there at CV High School, with a potential of getting chosen for the BIG thon even at Penn State University. The talent was all super impressive! I can't imagine being that good in high school. We also heard some performances by teachers and staff just to up the entertainment factor. It was a cool night of supporting music and at the same time, the Four Diamonds Fund. Thanks to Todd Bedard for inviting me to be part of such a cool event!
Since the night ended early I stopped in at Lovedrafts in Mechanicsburg for Social Class Dropout and ending the night was Observe the 93rd. I'm so glad Lovedrafts opened when they did. It has a great setup for bands and their fans. They have a nice sized stage and dance floor on one side of the room, and the other side is all tables where people can sit down and enjoy the show if that's what they so choose. I believe it's safe to say that Lovedrafts is now OT93's hometown bar. Their fans were out in masses to support them, and the guys put on one heck of a show!
On a Saturday I finally had no plans, so why not go see some live music. Lucky for me, Jason Carst was having an early show from 2-5 at Hershey Vineyards and Brewery so I was able to get the day started early! Jason plays a huge variety of songs, I'm pretty sure he said he knows over 300 songs. I know about 8 and I'm overwhelmed! Jason not only played his acoustic guitar, but he also broke out a very fancy electric Strat! It was beautiful. He also played with a looper machine which always amazes me. I'm glad I caught his show, it was a great way to start the night! You can check out Jason's ad in this issue to see where he is playing next.
Next after I ran some supper home to the family I bopped over to Spring Gate for Six Bar Break. I haven't heard these guys in forever, so it was nice to finally catch a show. This time it was only Ben and Dave rockin' the stage. Six Bar Break hasn't had too many live shows, but they've still been releasing new original music every first Friday in 2021, and they are continuing the craziness into 2022. One thing about Covid, it has definitely given people a lot more time to focus on writing original music. You can check out all of their music on their website, www.sixbarbreak.com.
The 3rd stop of the night was off to Englewood to see the Martini Bros. I unfortunately got there a little late and only caught about 3 songs, but I heard it was a fantastic show. When I got there they had the dance floor hopping, rockin' the night away! That was the best crowd I've seen at the Englewood. It's awesome to see so many people still out there supporting live music.
The 4th and final stop of the night was out to Hollywood Casino for Light Up the Moon. I love watching experienced bands like these guys, they just flow from song to song, practically mashing them all together. They really know how to keep everyone entertained and singing and dancing along. Light Up the Moon also sneaks in some original songs which is always an awesome surprise. I'm so glad Hollywood Casino has live music on Friday and Saturday nights. It's a fun place to go to end the night!
My last stop of the month I finally made it back to Boneshire for John Rossey. When he's not playing a solo show, he can also be found on stage with the band Cold Spring Union. Boneshire has live music every other Thursday. It's always an extra bonus when I can find music during the week. John has an amazing voice and it was awesome to sit back and hear him play a few songs. John's voice just draws you in and it's like each song turns into a story. It was an awesome night of music, and a great way to celebrate on Friday Eve.
That's all the bands I was able to catch this month, but before I go I wanted to say Thank You to whomever nominated me as the Best Live Music Photographer as part of the Central PA Music Awards Show. Thanks also to everyone who took the time to vote! It's really an awesome feeling knowing that people do enjoy and support my work. There are a lot of super amazing photographers out there! Another nominee is my fellow writer Chris Rider. It's pretty awesome that we (The PA Musician Magazine) have two photographers that have been nominated, it will be very interesting to see who wins! You can also see it for yourself at the 3rd Annual CPMAs on March 24th. You can order tickets for the show by going to The Central PA Music Hall of Fame's website at www.cpmhof.com. There will be a super fun Red Carpet experience with David Earl Reed interviewing bands and fans as they walk the red carpet. The show starts at 7pm. With 37 different categories there are tons of amazing talented musicians and businesses nominated. It will also be bittersweet to see someone else receive the Lifetime Achievement Award in Dad's honor. It is awesome to see so many people in the Central PA Music Community all together in one room. It's like a giant family reunion! There will also be an After Party at The Englewood. The After Party is also open to the public, so come on out and celebrate Central PA with us!
That's all for this month, I can't wait to see what February brings! It's a real bummer to not have the Millennium Music Conference to look forward to this month, but I'm sure I'll find plenty of fun to be had! If you see me Out and About please stop me and say Hi! If you have any shows or events you would like me to know about I highly suggest advertising!! Or at least email me at RachelRocks@pamusician.net. Get out there and Support Local Music!!!! And Small Businesses!!!!!!