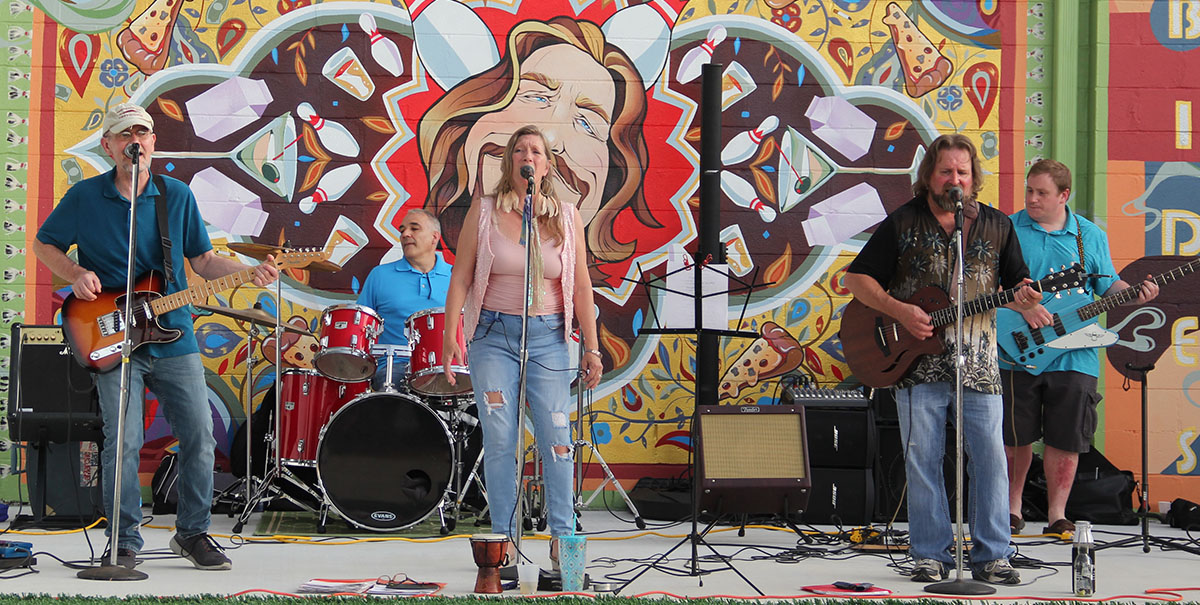 ---
Green! Green is not quite the green light we all expected, but at least we are moving forward. It's interesting to see how every person, band, business, etc. is doing their own thing, but I'm just glad to finally be able to get together with family and friends, and to hear live music again!
The first night out I was so excited to go bar hopping again. There was so much live music everywhere! I started out early by heading to Home Slice on Walden for Derek Henry. Home Slice is located in a "suburb" of Mechanicsburg, it is literally the main street of a development, Walden Way, that has everything you possibly need: pizza, dog grooming, a full restaurant, art gallery, restaurant, winery, etc. We ordered take-out pizza from Home Slice that was delicious! We also walked down the street to Spring Gate on Walden for wine slushies and beer. Then we sat on a bench and listened to Derek. After so many Thursday night live streams it was so refreshing to hear him live and in person! It's so great to see his schedule filling up again. Don't forget to check out his ad in this issue to get him booked at your venue or private party.
After Derek I headed down to the Racehorse Tavern for Grant Bryan and Sarah Sheriff live on the patio! Grant and Sarah were in full swing, singing all of your country favorites mixed in with some fantastic originals! I'm happy to say Grant even played my personal fave, Lee Brice! I've heard a lot about Grant, I'm so glad I finally got the chance to hear him play. It seems like the "guidelines" or rules are constantly changing, and I'm impressed at how quickly the businesses have been adapting. In just a matter of a week after Jim found out they could serve food and drinks outside on the patio, him and his staff moved very quickly, they purchased more tables to be able to extend their patio within Social Distancing parameters. He also used the base of a shed he had and quickly constructed a full bar. It wasn't a perfect bar situation, so super kudos to the Racehorse Staff that did what they had to do to make it all work. Jim also managed to get acoustic acts scheduled all weekend, because of course, the Racehorse is going to have live music. Missy Jo from Mad Hatter Entertainment jumped at the opportunity to book shows again, and quickly helped Jim get some great acts lined up for not only this weekend, but every weekend. I've heard a lot of good things about Mad Hatter Entertainment, if you need bands for your venue, or if you are a band looking for a show, reach out to Missy Jo, and she will help you out. Check out the Mad Hatter Entertainment ad in this issue for more details.
My 3rd and final stop of the night was at Flinchy's in Camp Hill for a solo performance by Joey Dalto. Joey just released his first solo single on June 5th, "Miss Lonely". If you haven't checked it out, you really should! At this show I was also able to snag a copy of his Full Album, "All For You". It will officially be released on July 5th, with hopefully, the big CD Release Party in August at XL Live! More details to follow soon. When I listed to "All For You" I was honestly impressed that I didn't reach for the skip button on a single song. Every song is unique and interesting and has a great story! I usually only like 2-3 songs on an album, so the fact that I could listen and enjoy all 10 songs is impressive! You can catch Joey performing solo, with The Swisher Sweets, or The Famous.
I received an invite to a Private Party where Road Case and Back in Black were playing, and I have to say I was a bit ecstatic!! Unfortunately to have full bands back in all of their glory, the only way to make that possible for a while is a private show. It was actually a private party that they have every year to honor the 1st Responders. It was very awesome and well attended and an absolutely great idea! I heard they literally sent a letter to Gov. Wolf asking for permission to still host the party and he said, "Go for it!" so they did. I got there just in the nick of time to catch the tail end of Road Case. Since Road Case was the last full band I saw live at Johnny Joe's it only seemed fitting that they would be the 1st full band show after the pandemic too! It was good to hear the guys didn't miss a beat, and they were ready to rock and entertain the masses as much as we were ready to hear them!! It was awesome to see people up dancing and having a great time.
They switched things up with the 2nd band it was the Janelle Verones Band. They are definitely a variety band covering all genres of music: funk, pop, jazz, classic rock, alternative, etc. They made sure they got people up dancing and having a good time. Janelle has one heck of a voice, it was amazing all of the different artists she could cover.
The last band of the night was the very muchly missed, Back in Black! I haven't seen these guys play in forever, so it was awesome to see and hear them again! To be able to hear Tony yell, "SOCIAL" and watch everyone salute was super awesome!! After such a long hiatus I was impressed with how much Angus, aka Dan, was able to still run, jump, dance, and play the night away.. When you see him off stage he seems so calm, I guess he's just storing it all up for the stage! It was also super cool to see Aaron Zimmerman from Sonic Productions running the sound and lights. He helped put on one heck of a show. If you need production for your show or special event, check out Sonic Productions ad in this issue for all of the details.
The next night there was a special Sunday afternoon show at the Fredericksburg Eagle Hotel with DMC Duo. I watched a couple of their Facebook Live shows, but again it's so much better seeing people perform in person. The live streams were definitely an awesome way to keep the music reaching our ears, but hopefully live music never reverts back to that. DMC Duo sings a variety of acoustic rock, pop, and country. Marisa does most of the singing, but it's nice that Darrell can give her a break once in a while too. They are definitely a band that makes you want to get up and dance, but with the current no dance rule, we were all stuck doing the hand jive instead. I also have to mention the amazingly delicious food at the Eagle Hotel. They have crazy amazing specials and are doing take out and outdoor dining for right now. Hopefully in the next couple of weeks we will be able to eat inside too! Make sure and check out the Eagle Hotel's ad in this issue for their upcoming entertainment and specials.
The one problem with outdoor dining and entertainment is weather… The following Friday night was a stormy one. Many acoustic acts were canceled, but as I was cruising Facebook I saw that at Champions in Highspire they relocated Olivia Farabaugh inside, so I zoomed out there to hear some more live music. With their garage door walls inside is practically just like outside at Champions, and even though there were storms earlier in the evening, later it was absolutely gorgeous. You can't help but smile at Olivia show, her smile just lights up the room, and it must be contagious. Her voice is just beautiful and she sings everything so effortlessly. Her original music is amazing too! Check her out if you haven't already…
The final band of the month was The Juice at Midway Bowling Alley. I have to admit, even though I love The Juice, I was a little bummed to be going to Midway, I didn't know what to expect, but most people said it was old and ran down.. Let me tell you, those people don't know what they are talking about. Midway has done some major renovations and it is absolutely amazing, inside and out! Outside they have an gorgeous privacy fenced in patio area. The patio area is HUGE with several sitting areas with Adirondack Chairs, Couches, etc.. some around fire pits, tables, etc. It was a variety of seating for whatever makes you comfortable. Obviously, this isn't a big secret because they had a fabulous crowd! It is definitely the nicest outside seating area I've seen anywhere in Cumberland County, and probably Dauphin County too! The patio is so nice, there is no smoking on the patio either. Smokers have to go completely outside. Even the bowling alley seemed upgraded with nice flat screen TVs, nice pool tables, foose ball, etc. They definitely are drawing in the college crowd, but there was a good mix of us "older folks" there too. They have crazy drink specials and even have some of their own special whiskeys that they made. Even though my toes were in some sand, the band themselves had a nice large cemented area. It wasn't covered, but luckily for them, it was a beautiful night. I've seen The Juice a few times the last few years, and it's crazy to see how they've grown as a band just in the past 2 years. They also cover a wide range of songs that people couldn't resist and I did see a couple people dancing! The dance area was big enough that you were still able to "social distance". I was definitely impressed, I've heard they have bands Friday and Saturdays and acoustic acts for brunch on Sundays! Check it out!!
WOW! It feels so good to be back, and so good to write a "normal" article!! Thank you so much to all of the bands and businesses that continued to support us during this wacky time! I know the online issue wasn't ideal, but at least we kept the word out there about our amazing PA Musicians. Don't forget if you were ever excited to see one of us: Me, Jim, Chris, Josh, Eric, etc.. show up at your show, or even if you wish we did.. PLEASE Advertise!! We are only here because we are supported by the ads in this magazine.. Without our faithful advertisers we wouldn't be!! If you would like to talk about advertising feel free to give Josh a call, 717-636-4203, or throw me and email: RachelRocks@pamusician.net. I hope to see you Out and About, and when you do please say Hi! I'm still hugging people, so if you don't want a hug.. WATCH OUT!! Don't forget to check out our Facebook page, and our website, www.pamusician.net. SUPPORT LOCAL MUSIC!!!