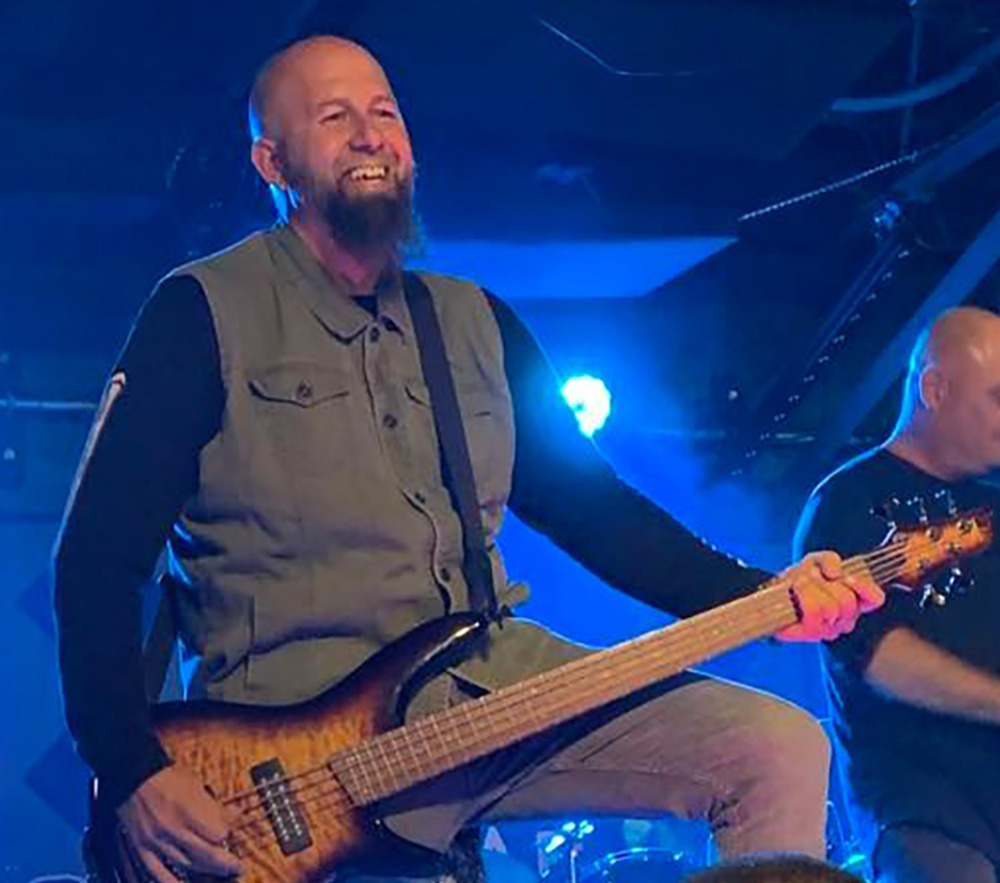 ---
By: Rachel Rocks
Rocktober definitely didn't disappoint. Wow! I was a busy girl and I really did A LOT and heard A LOT! I better just get crackin…
It all started many moons ago on a Wednesday night I headed to the Yam Jam at HMAC. The jam is hosted by none other than a "Side of Yams", which would be 3 members of Yam Yam. Confused yet?!? Me too! The Yam Jam is also sponsored by the Central PA Music Hall of Fame, so they asked me to go make some announcements. The CPMHOF has been sponsoring different events throughout the area, they also have been doing Original Music Showcases too. The nominations for the CPMAs starts on November 11th, get ready to nominate your favorite, band, business, or musician. The BIG Ceremony will be Thursday, March 30th, so mark your calendars now! You don't want to miss it! But anyway, back to the music. At the Yam Jam you can choose to get up there and play by yourself, or you can also have other musicians Jam with you. There was a great mix of both, and a room filled with talented musicians. The Yam Jam happens every Wednesday from 8-11, and is first come first served, all instruments and talent levels are welcomed! Hopefully I'll see you at a Yam Jam soon!
Matt Jameson Acoustic got a last-minute call for a cancellation at Flinchy's and he jumped at the opportunity. He recently took a big leap of Faith and quit his day job, and is now taking a run at being a full-time musician! I am super proud of him for taking this huge step. It's awesome to see how the music scene has embraced him and his talent. He's getting shows booked all over the place, and is getting asked back to play again, so he must be doing something right. He is available anytime, any day to entertain the masses, please give him a call and get him booked at your venue, or private party! You can check out his ad in this issue for all of his booking info, and his full schedule, so you can make your plans to catch a show!
One nice thing about acoustic shows is they end early, so I still had time to run over to the Tribute Night at Lovedrafts to catch Stricken's set. Stricken is obviously a Disturbed Tribute band if you don't already know. I haven't seen these guys in a while, but every time I do, I'm amazed at how precise every song they play is. Stricken had their fans up moshing along and having a great time! I was excited to see quite a few familiar faces in the crowd, some people I haven't seen in a really long time! Lovedrafts is a huge supporter of all types of live music, original, covers, etc. They have shows all different days of the week, it's super hard to keep track of all the amazing talent that is playing on their stage! Check out Stricken's ad in this issue to see what they have coming up next and to get them booked at your venue too!
Saturday was another BRP Entertainment Event at the Hollywood Casino at The Meadows in Washington, PA. This time I had the pleasure of working with Rick Springfield. It's hard to believe that the most recent song he wrote was from 1989, and at 73 years old, he's still out there ripping off his shirt and making the ladies scream! I'm not sure how some artists songs get discovered and so ingrained in people's heads, but it sure is crazy! His show was the first show where we had a wacky woman trying to sneak her way backstage. Music definitely has an effect on people, that's for sure!
The following week started early with Derek Henry's Acoustic show at the Dillsburg VFW. It was the final bike night show of the season. Now that I'm working in Dillsburg it is quite convenient to have a 6pm show right down the street! There was a great turn out, and it was awesome to see so many people talking to Derek between his breaks telling him how much they've enjoyed having him play there. Hopefully he gets asked back next year!
On a Saturday afternoon Holly and I got all pumped up for the .5k "The Race for the Rest of Us".. It is a super fun "race" hosted by The River, 97.3, and it supported The Harrisburg River Rescue. It was hilarious how short the walk was, we literally got to walk around the perimeter of the Senator's baseball field. On the 3rd Base line we grabbed a Coors Light beverage, on the first base line we got a Donut from Karns, and then it was back to the finish line on the 3rd base line.. Stressful I tell ya! The whole walk took 10 mins, and that was with LOTS of photo opportunity breaks. Next year we are going to tailgate for this amazing event!
The rest of the weekend I took a quick beach trip with my Mom and my sister, Andrea. We had an amazing trip to Dewey Beach. Dewey was always Dad's favorite beach, and we all had an amazing time remembering our funny beach stories with Dad. While we were gone, Andrea's husband, David Greene, finished up a very special recording he had been working on, it was a cover to one of Dad's last original songs he recorded, "Carry Me". David worked with his good friend Curtis Blubaugh, on guitar and backing vocals, and also his son, Robert, also on backing vocals. It was awesome to hear David not only played drums, but also played the ukulele. It truly is an awesome cover of a great song! A friend and fellow musician of Prairie Dogma, Michael Lundy, started hosting The Rec Room Radio Hour on Tuesdays at 6pm on WXPIradio.org and tunein.com. Michael features locally sourced music from the Susquehanna Valley, after hearing David's cover, Michael aired it on his show. Again awesome, super awesome! If you have music you'd like to get on the airwaves, check out The Rec Room Radio Hour and get your music submitted to Michael.
The next week started early once again with an Open Mic at Devil's Eye Brewing Company. My good friend Mike Nesmith told me about this open mic a while ago, and with Matt trying to get booked as many places as possible, we decided it would be good to hit up as many open mics as possible. Devil's Eye has an open Mic every Thursday starting at 7pm. Mike Slusser is the host and he does an awesome job at moving things along and getting as many people as possible on the stage. They have a great built in crowd of musicians. It was great to finally meet Linda Null in person and hear her play. Hopefully one of these days I'll see her playing with her duo partner Tim, together they are Acoustic Moose. Matt had great response, and with lots of encouragement, my uke even found its way back on stage for a song or two.
After hearing a couple performers we headed up to the Doyle Hotel to hear the tail end of Dave Gates's show. Dave is also a full-time musician and he has really taken Matt under his wing and has taught him quite a few tricks of the trade! It's awesome when musicians can work together instead of seeing each other as competition. Dave has an extensive library of music and isn't afraid to take requests and play almost any song off the cuff with the support of his technological gadgets, but still even with the words in front of you, I know how hard it is to have the right rhythm, etc. It's pretty magical what he can do! Hanging out with two full time musicians on a work night probably wasn't my most intelligent idea, but I made it… barely.
Friday night started off early with Matt Jameson at Official BBQ & Burgers. This place is literally about 10 minutes from my house, I was amazed I had never been there. They had absolutely delicious food and yummy beer too, it is also known as the Official Brewing Company. Kris went with me, we both love some good BBQ! It was a great night of music, food, and friends! Matt will be back there from 6-8pm on Fri, Nov. 18th.
Since it was an early night, I ran and picked up Angie, and again zoomed to Lovedrafts for Emily's Toybox. I've only seen Emily's Toybox at Hollywood Casino lately, so it was nice to see them at a regular venue where they can let loose, and let me tell ya, they definitely did! Sometimes it is quite "Shocker" oh I mean shocking.. but who doesn't love Mike in all his glory! I keep hearing stories of their new awesome 50s medley where Millhouse brings the sax back to the stage, and Mike gets on the bass, but I keep missing it, hopefully next time I'll get there in time to catch it! Emily's Toybox always puts on one heck of a show! Unfortunately I couldn't stay too long because again I still had to drive to Washington, PA to cover another show for BRP Entertainment.
Saturday, I had the amazing opportunity to work with WAR at The Meadows. Even tho Lonnie is the last original member, these guys put on one heck of a show! They all are such seasoned musicians, every song was so tight! "Why Can't We Be Friends" has always been one of my favorite songs ever, so hearing it live from the original artist was super awesome! But when they broke into "Low Rider" the place went crazy! Hearing all of their songs and the amazing mix of Funk, Soul, and Rock N' Roll was an awesome experience. It was fitting that it was the last show of the season at The Meadows. I can't wait til next season to see what opportunities come my way.
The following week of fun started earlier yet with another open mic, this one was at Copper Pub hosted by Erica Everest. We didn't make it to this one in quite a while, it was awesome to see everyone out, so much that by the time we got there all the slots were full! Matt and I stuck around listened to some musicians, we were also able to hear Dovetail, a new young guy, Chase Gillis, playing some hilarious country hits, we got the sweet treat of hearing Chris Purcell jam with Chris Auxt, Linda Null and a bunch of friends got up and jammed together which really helped a bunch of musicians get a chance to play, including Matt! By the end of the night a spot was open that Erica could squeeze him into. Last but certainly not least, Mitch Gregory finished up the night. It's awesome to see so many musicians so eager to play in our area. It's a blast going to the open mics and getting the opportunity to get a little snippet of so many musicians. A huge part of success in the music community is networking! We are a family, and we are all in this together.
Wednesday Night was a super special show, The Glorious Sons were playing at HMAC. The Glorious Sons have made their way to the Harrisburg Area 4 times now, I'm sad to say I missed them the first time, but I have caught their last 3 shows! Brother Elsey was on tour with them last year too, so it was awesome getting to hear them again too. We all had a blast singing and dancing the night away! I can't wait for their next visit!
Thursday night, Derek Henry finally had his debut performance at Boneshire Brew Works. It was awesome to see the brewery full of people there to enjoy the live music. Venues that support live music, need to be supported! When you know they have live music, no matter who it is, get out there and support it! Live music is so important for the soul. Derek has really been adding so many new songs to his sets. I know his true heart lies in playing as a full band in Observe the 93rd, but for a full time musician it's awesome that he has the flexibility to do his solo thing too! Derek has a bunch of acoustic shows all throughout November, but he also has two awesome OT93 shows! Thanksgiving Eve they'll be rockin' Lovedrafts on the Carlisle Pike with August Winters, Dinosaurs in Paris, and the Big Fat Meanies. Saturday the 26th they will be at Mickey's Black Box for the Home Town Holiday Show with Small Town Titans headlining, and also playing will be Blind Choice, and Defiant! Oh man, I have a feeling that November is going to be another super busy month! Check out their full schedule at www.observethe93rd.com.
Friday night I went to Funk Brewing at Laser Alleys for Matt Jameson. It was their special Halloween Brews N' Boos night. Tons of great costumes, and special treats all night long! Matt got asked to play there on New Year's Eve! For how awesome a Halloween Show was there, I can't imagine what will go down for New Year's Eve. Luckily I already got a room booked at the Holiday Inn down the street, because I'm sure it'll be a good night to Uber!
The last night was a long and crazy one! I headed down for the first time to Mickey's Black Box on Rock Lititz's campus for the special Halloween, "What's in the Box?" show. This was a show organized by Eternal Frequency and Defiant to raise money for Symbol of Hope, Lancaster. Symbol of Hope provides emotional support to sick children and families in Lancaster County. The mascot of Symbol of Hope is Batman. I'm not sure who the real man is behind the mask.. he likes to remain a mystery. I was able to catch a picture of Batman watching from the 2nd story of Mickey's Black Box while Eternal Frequency was on the stage, in typical Batman fashion he was lurking in the shadows, making sure everyone was safe. I can tell you, we were all safe, having a blast listening to some amazing bands!
I got there a little late, but I did have time to hear The Art of Deception, Dinosaurs in Paris, Lyndhurst, Cold Spring Union, Defiant (Acoustic), and of course Eternal Frequency. All bands put on one heck of a show! I have to give a special shout out for my friends in Defiant. Unfortunately, their drummer, Paul, got hit with the sickness, and couldn't make the show, but in true Defiant form, they didn't let it stop them, they grabbed their acoustic instruments and put on a special acoustic show with the help of Mark, the drummer from Lyndhurst on the Cajon. I loved their acoustic set, and when Al's wife Sarah got up and sang with them on "He's Watching" was the icing on the cake, and they sealed the deal with their newest song "Viva La Revolution" where Aidan, Joe's son, played guitar, and Ed from Lyndhurst came out and sang backing vocals. It was definitely a group effort, but a super successful one! Eternal Frequency came out ready to rock the roof off, and they certainly did! The whole band went above and beyond for this special event, and it was a huge success! On a side note, if you haven't been to Mickey's Black Box yet, it is a very awesome venue! I really want to get down there sometime to check out all of the restaurants, brewery, etc. The whole Rock Lititz Campus is quite the impressive compound, they have a little bit of everything that every musician could ever possibly need!
That's all the music for this month, but one more special Happy Anniversary shout out for Mom, and the PA Musician Magazine. It's crazy to believe that in 1982, Mom and Dad started this endeavor, and here we all are, 40 years later, still making it happen! It's crazy to think of how the process of creating a magazine has changed in 40 years, but one thing remains the same, our love and devotion to the local music scene! Thank you to everyone for all of your continued support, we obviously would be nothing without our advertisers, and we wouldn't have advertisers if it wasn't for our readers and long time supporters! It truly does take a village and we truly have a great one! Kudos to Josh for taking over the helm and keeping Dad's legacy alive. I know it's not easy.. but I can't imagine how boring my life would be without it!
Well as usual if you see me Out and About please stop me and say Hi! Get out there and Support Live Music, Support Small Business, and continue to support the PA Musician Magazine!!! Thank you for reading, don't forget you can check it all out online at www.pamusician.net.